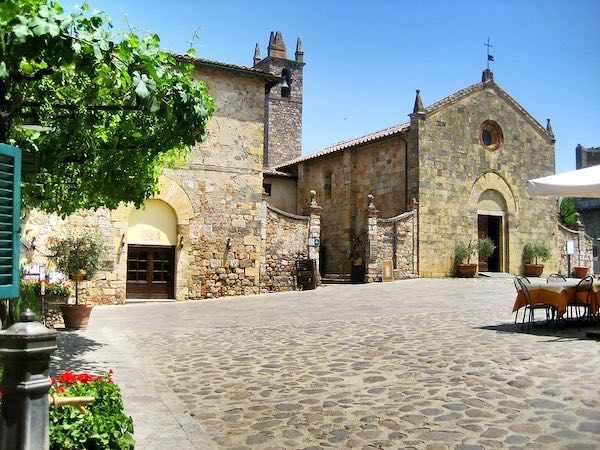 14 days Italy itinerary: how to spend two weeks in Italy with kids and see Italy's highlights
14 days Italy itinerary for families: family-friendly Italy itinerary ideas to spend 14 days in Italy with kids of all ages.
One of the most frequent questions I get about traveling to Italy with kids is what is the best way to plan a 14 days Italy itinerary with children that touches on as many Italy highlights as possible.
Places that top the request are Venice, Florence, the Tuscany countryside, Cinque Terre, Rome, Pompeii and Amalfi Coast.
These are very many places to see in a fortnight and, in many respects, they are too many, once you factor in changing accommodation, packing etc.
That said, it is possible to see pretty much all of them in one form or another, if you are happy to be on the go and chance accommodation often.
With the 14 day Italy itinerary below, I share how this can be done while striking between seeing as much as possible but without getting exhausted.
Is this the best two week italy itinerary?
I believe yes, it is the best two week Italy itinerary for families who want to see many destinations and don't find changing accommodation too daunting in terms of packijng / uppacking etc.
If your family enjoys a slower place vacation, travels with a lot of luggage, multiple strollers etc, then I recommned you slow it down a notch.
If that's you, I recommend you look at our 10 day Italy itinerary for families in sad and stay longer in the locations that attact you most.
You can also use the search function at the top of this page to find my guides to specific areas and focus your time on one of those.
I have written it on the basis of my own experience traveling around Italy with my children and I believe they strike a good balance between seeing many things, getting some fun in for the kids and not get overly exhausted.
You can use it are or you can use them as a draft to then tweak them to suit your personal needs and taste.
Please note: this post contains affiliate links. Should you make a purchase though them, we might make a small commission on qualifying purchases.
14 days in Italy with kids: train or car?
The first big decision when planning 14 days in Italy is whether you are happy to drive in Italy or not.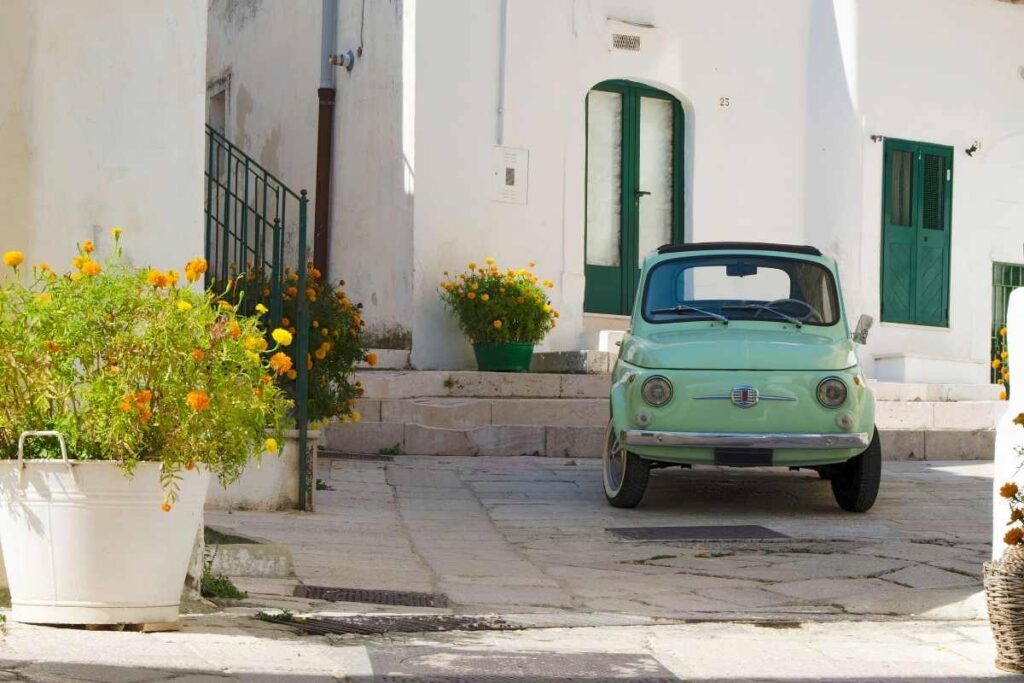 If you are unsure and have heard horror stories about Italy drivers, don't let them deter you just yet!
First, read our post about driving in Italy and then see if it is for you or train is a better option.
The choice lies with your comfort levels driving abroad and the areas you want to visit.
Some areas are easy by train while in others, the lack of a personal vehicle really limits you.
At a glance:
The train is best to visit the main Italian cities (Rome, Florence, Venice, Milan, Verona, Naples, Bologna), Liguria and Cinque Terre, the Amalfi Coast.
The car is best to visit Tuscany, the Dolomites, Puglia and the South of Italy in general.
If you can, the best way to go about your 14 day Italy itinerary is to mix train and car. In the itinerary below, I will give both options do you can tailor itt your needs at best
14 days Italy itinerary with kids by train and car: stops and tips
Day 1: Arrival in Venice and settling in
Your first day will all be about settling in, potentially dealing with jet lag and finding your bearing.
I suggest your spend your first day taking a stroll around Venice, take in the canals, Rialto Bridge and St Mark's Square, then have an early dinner close to your hotel.
Stay in one of our tried and tested Venice hotels for families or pick your favorite Airbnb in one of these areas >> best area to stay in Venice.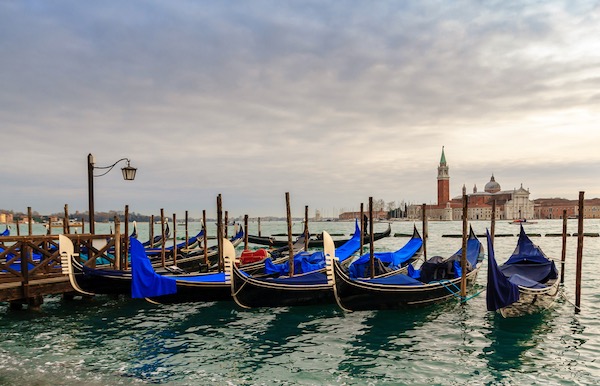 Day 2: Venice
Explore Venice in the morning, allowing yourself to get lost in its pretty center (don't worry, you won't stay lost for long as you'll always find a landmark to get your bearings back!)
If you want to visit the Doge's palace inside, make sure you get skip the line tickets here.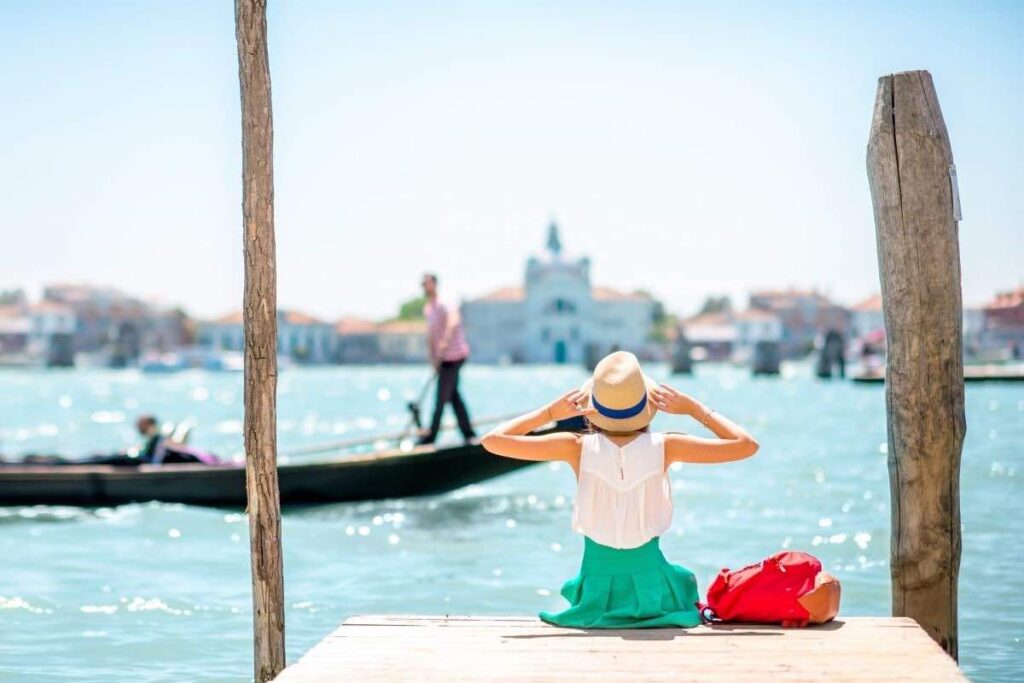 In the afternoon, take a treasure hunt with Macaco Tour to mix a fun activity for the kids with a chance to explore the city with a guide.
Read our review here to see why we recommend it for kids!
If you have teenagers who may not enjoy a hunt, I recommend instead booking a Street food / Cicchetti tour instead which will get you to taste amazing Venetian food in authentic places
Day 3: Venice islands
Many people will say at this point you are ready to leave Venice; however, I believe that a day visiting the islands is worth it and a great way to slow down an otherwise too busy couple of weeks.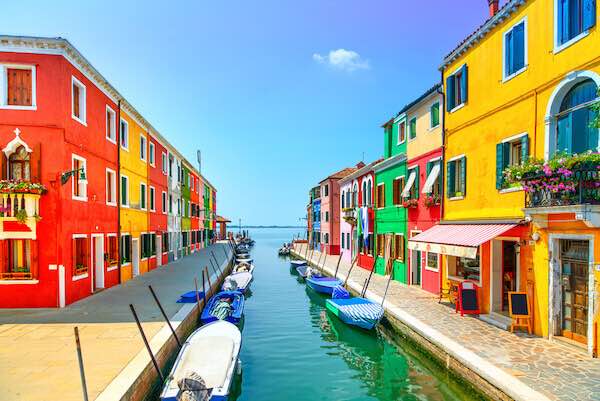 The islands of Murano and Burano and just in front of Venice and while we call it a 'day trip', they are so well connected it really is no more tiring than staying in Venice proper.
Murano is famous for its glass-blowing artisan shops.
We like Ferro Toso, which offers glass blowing demonstrations and the option to make your own glass creation (also for kids) at reasonable prices.
In Burano, enjoy the colorful houses and take a tasty break with Buranelli biscuits, a local specialty!
Find here >> our guide to Burano
Head back to Venice for dinner: the lagoon as the sun starts to set is magical!
Day 4: Florence city center and drive to agriturismo
Catch the train to Florence.
If you arrive early enouhg, leave your luggage at the station and have a stroll around Florence city center.
Make sure you pass by the Duomo, Piazza della Signoria and Ponte Vecchio, all very close to one another and to the station.
With small kids, have a stop at the merry go round in PIazza della Repubblica. If in Florence for lunch, have a quiet meal in Nerocarbone.
Head back towards the station and pick up your car rental to head to your agritusimo of choice in Tuscany.
For this first night, I recommend you ask your agriturismo for dinner so you know you can rest and leave the car for the rest of the day.
You can find our selection of favorite agriturismo for families in Tuscany here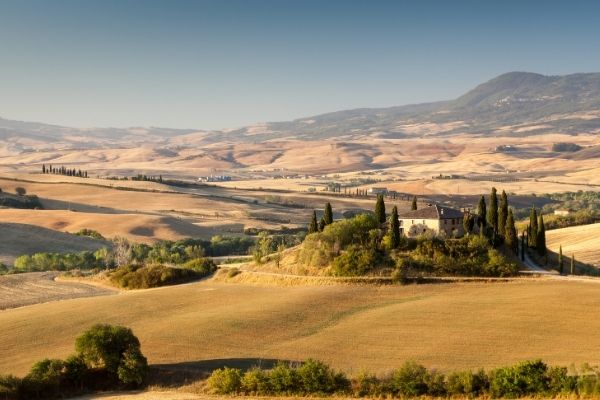 Day 5 – Tuscany towns
Spend the day exploring Tuscan towns.
Depending where exaclty your agritirismo is located, you can choose between many pretty towns.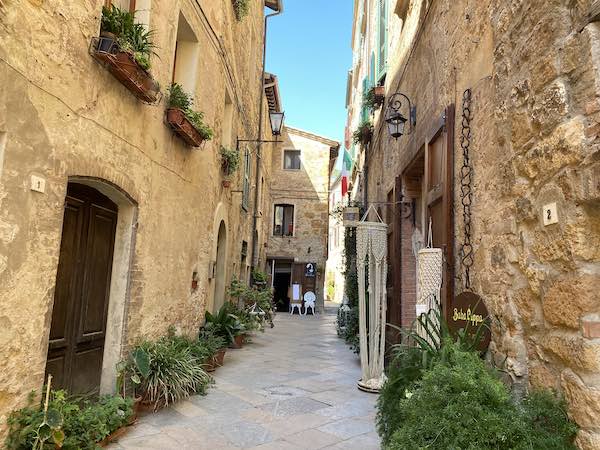 San Gimignano, Monteriggioni, Pienza, Bagno Vignoni are all wonderful but in different areas of the region.
Pick one of two, based on what is closest to you.
Find here >>> the most beautiful small towns in Tuscany
Spend the night at your agriturismo.
Day 6 Tuscany town hopping or agriturismo day
Pick one or two more towns and use the car to exolore a different part of Tuscany from the day before.
If you prefer, you can also spend the day in the agriturismo, maybe taking a cooking class or letting the kids play.
Since the following few days will be of travel, I highly recommend you take this day to relax, take in the views and slow down: Tuscany is ideal for that!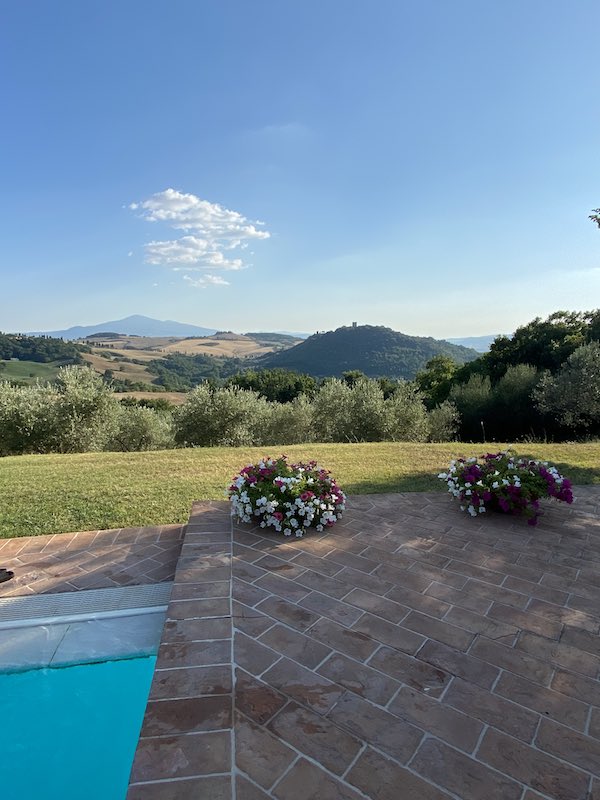 Day 7 Cinque Terre
Drive back to Florence or up to La Spazia to leave the car and then hop on the train to Cinque Terre Area.
Stay in Monterosso or Levanto if you have young kids or pick any of the pretty Cinque terre Towns if you have older kids or teenagers.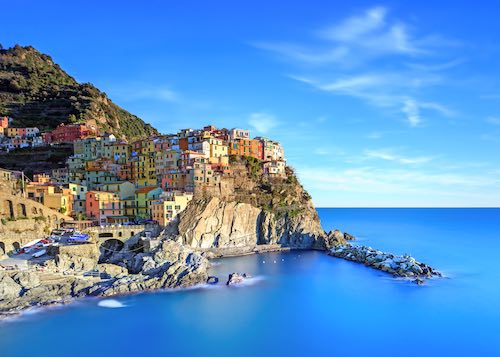 Spend the afternoon in your town of choice and enjoy the stunning Cinque Terre sunsets!
Find here >>> our recommendations to visit Cinque Terre with kids
Day 8 Cinque Terre
Spend the day exploring the lovely Cinque Terre towns.
The towns are all connected by train and, in the good season, by local ferries. Famously, they are also connected by hiking trails so you have lots of options on how to explore!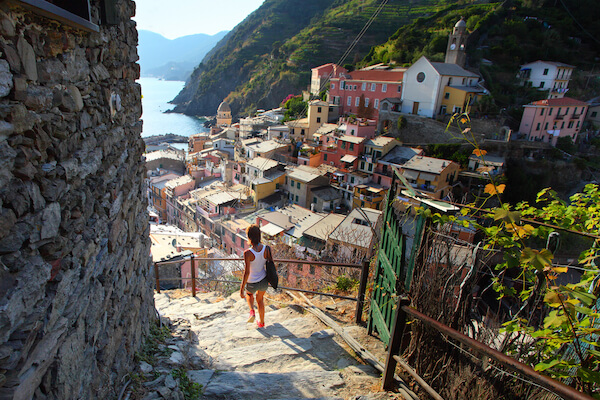 With kids, my favorite way to explore the area is by ferry.
If you have older kids or teenagers, then the trails can be fantastic: make sure you ask the local tourist office which ones are open when you are there.
These are serious nountain traios and are subject to closures for weather conditions and safety.
If you are not sure what towns to see, you can read here >> our introduction to Cinque Terre towns.
Day 9 Rome
Take the train to Rome, then settle in your hotel.
I highly recommend you stay in the center, so you can spend this first day just wandering close to your accommodation while still seeing sight.
If traveling with small kids especially, a fun way to spend the afternoon is by taking a golf cart tour: a great way to see a lot with an experienced guide and without a lot of walking.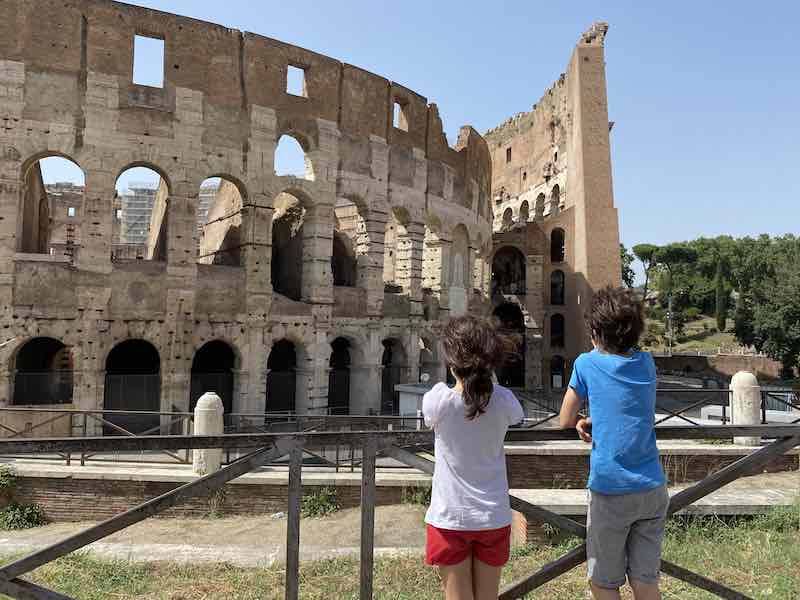 A family hotel I love in Rome is the Hilton Double Tree Monti.
If you want more options, I recommend you read here >>> my guide on where to stay with kids in Rome
Hve dinner in Mimi and Coco or Cul de Sac near PIazza Navona. If you are a larger group book in Grappolo d'Oro nearby.
Day 10 Rome
Spend the day in Rome.
Plan your day around one main attraction in the morning, either the Colosseum or the Vatican: make sure you book them in advance as the best value tickets go fast!
The tickets I recommend for families are:
Colsseum (value): Entrance and tour by Coopculture (colosseum direct)
Colosseum (premium): Semi private Express Tour with LivTours
Vatican (value): Vatican Museum Direct Tickets
Vatican (premium): Family Guided Tour of the Vatican with LivTours
In the afternoon, take a strool in the city center: if you've visited the Colosseum, it is worth seeing the Vatican from outside and vice versa as they are both scenic areas.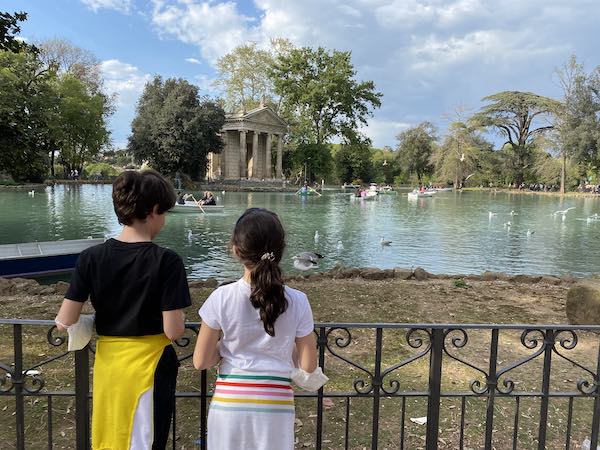 Should tiredness hit, spend the afternoon in the Borghese Gardens: get family bikes for a fun way to explore this last park and make sure you stop at the Pincio Terrace for stunning views over Rome.
Walk back via the Spanish steps and have dinner in Emma Pizzeria in the center or at Tonnarello in Trastevere.
Day 11: Sorrento
Take the train to Sorrento and enjoy your evening in this pretty town.
If you have teenagers and you love food, do not miss taking a food tour with the Gourmet Girls Sorrento who will share with you a wdonerful delicious evening!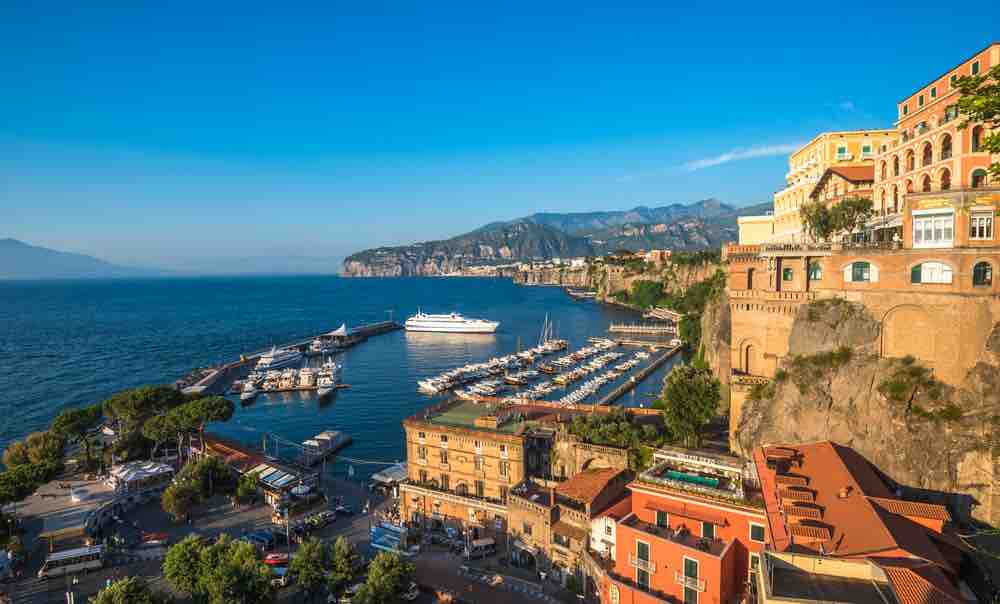 If you wantt to visit Pompeii, you can also stop there on the way to Sorrento.
If you do so, make sure you familiarize yourself with the max size of bags allowed into the sight and try get there early enough to secure a luggage storage slot.
With small kids especially, consider getting a Pompeii guide for this wonderful but large site.
In Sorrento, stay in family friendly Sorrento Hilton or Hotel Antiche Mura.
Should bigger rooms be hard to find (often the case in Sorrento) there are many excellent apartments on booking.com.
Since the following days will require taking the ferry, I highly recommned to stay somewhat close or anywhay within easy reach from the port.
Da 12. Amalf coast town hopping
Spend the day on the ferry, town hopping from one to the other: the views from the water are fantastic!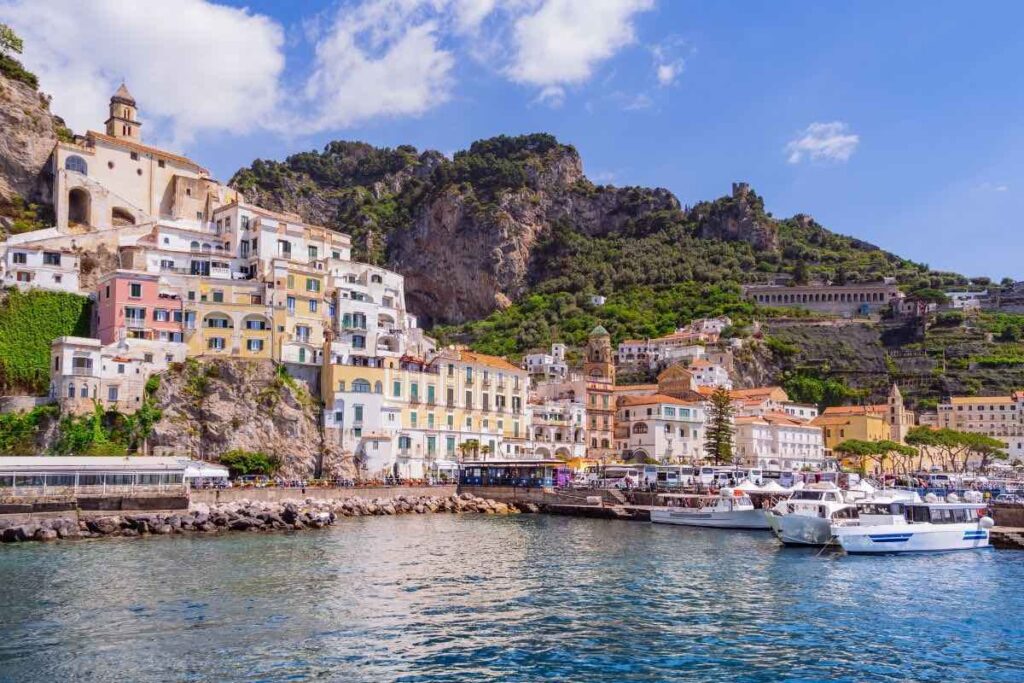 With small kids, I recommend you avoid Positano: while stunning, it is fully vertical and with lots of steps.
If going, have a carrier and make sure your legs are up for it!
You can find here >> our tips for the Amalfi Coast with kids and here >> and overview of the best towns on the Amalfi Coast
Day 13: Capri
Capri is one of the most beautiful islands I have ever seen and while many associate it with glamour, it is also great for kids – if you know what to expect.
You can read here >> our guide to Capri with kids
A lovely way to spend the say here is to divide your time between a boat tour around the island and time in Anacapri.
Both these locations will allow you to lose most of the crowds. On the other hand, Capri town will be perfect for high end shopping.
Head back to Sorrento for a last Italian dinner beafore heading back home!
Day 14 Naples and Fly back
Use this day to get ready for your flight back home. Make sure before you leave Sorrento, you get some authentic italian souvenirs to remind you of your time in Italy.
I hope you enjoyed this itinerary and it helped you plan your family's Italian adventure!
If you want tips on how to twak this itinerary, join our Italy with kids Facebook Group: it is full of lovely parents with great knowledge if Italy and we will be delighted to hel you plan a perfect vacation for you and your kids (it's free!)
If you want even more help or you have any questions, please in my FREE Facebook group about traveling to Italy with kids: I will be happy to have you there and the tips from me and the other members are FREE!
How else can you spend 14 days in Italy with kids?
As I mentioned in the opening part of this article, there are so many other ways to spend 14 days in Italy it is simply not possible to suggest an itinerary for each.
Instead, I recommend you read our article 'best places to visit in Italy with kids' and 'the best things to do in Italy with kids' to get inspired about what you may lie to see, the get in touch via the group above for extra tips.
14 days Italy itinerary for families resources
Best strollers for Italy Travel
Best carriers for Italy travel
Visiting Italy with a baby or toddler