Lucca with kids: all you need to know about Tuscany's most family-friendly town
Lucca with kids: a family-friendly travel guide to Tuscany's most kid-friendly town with practical tips by an Italian mom.
Lucca is one of the prettiest towns in Tuscany and a fantastic destination for families with small kids.
Located in the north of Tuscany, close to Pisa, Florence and the coast, Lucca has everything you can wish for in a family-friendly town.
In Lucca, you find a car-free center, plenty of shops for necessities and nice to have, a plethora of family-friendly restaurants, playgrounds, and the typical atmosphere of medieval, Tuscan towns, a plus for parents who, for once, don't have to choose between convenience and charm!
I love Tuscany and visit with the kids regularly.
Lucca is one of our favorite places in Tuscany and, in a previous article, we shared how to spend a day in Lucca with or without kids.
Today, I want to share what makes it one of the best places for a family vacation.
This guide talks about the best things to do, where to stay, and what makes Lucca the best place in Tuscany for families with young kids.
At the end of this article, I believe you'll agree Lucca is the best small town in Tuscany for families with toddlers and young kids.
Good to know: Lucca is also one of the best places to stay if you visit Tuscany without a car!
Safe travel planning!
If you want even more help or you have any questions, please in my FREE Facebook group about traveling to Italy with kids: I will be happy to have you there and the tips from me and the other members are FREE!
Please note: this post contains affiliate links. Should you make a purchase through them, we might make a small commission, at no extra cost to you
Why visit Lucca with kids
There are many things that make Lucca perfect for kids.
It has a car-free town center – Lucca is a walled town with a beautiful historical center mostly closed to traffic.
Cars can get special permits to get into the city, so some attention is still required on bigger roads. however, most of the town's piazzas and central streets are pedestrianized, which means kids can walk around safely and, often, even run a little ahead of you without big risks.
It is stroller friendly – Unlike many other towns in Tuscany, Lucca is flat and stroller friendly.
Like all medieval towns, the city has some cobbled streets; however, it doesn't have the steep inclines typical of localities in Val D'rocia and it doesn't require driving on bendy roads to reach it.
It is safe – Lucca is a safe small town, so if you have slightly older kids, it can be a good place to give them a little bit of independence such as going to the shops for a basic errand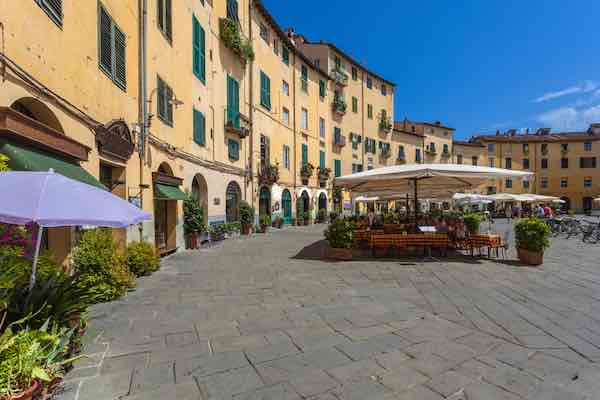 It has good train connections with the rest of Tuscany – Lucca is well served by regular trains. This makes it ideal for families with kids who suffer from motion sickness and do not like being in the car.
The train connects Lucca to Florence and Pisa and it is safe and convenient: kids go free on Italian trains and the line is safe and well kept.
It has nice playgrounds – Lucca has nice playgrounds and green areas that make is pleasant for little kids
It has good facilities – Lucca is a historic town but also a living and thriving town with an active community. Here, you have many shops, restaurants and facilities that make the town the best of both worlds: a charming medieval hamlet with many modern comforts!
As you can see from the points above, Lucca ticks all the boxes of a family-friendly and, specifically, toddler-friendly location.
Why not visit Lucca with kids
I find Lucca perfect for families with little kids and I also like it as a day trip destination for older kids of primary school age.
However, if you have older tweens and teens, or if you are hoping for the quintessential hilltop town Tuscany experience, you may want to take into account the following.
Lucca is not on a hilltop – as mentioned above, Lucca is flat, so you won't get here the typical Tuscan landscapes of rolling hills and cypress trees.
For those, you need to go to Val D'Orcia or, possibly, the Chianti area.
There is not a lot to do – Lucca is a great place to call home for a while but it is a small town so teenagers may find they quickly run out of things to do.
If you have older kids, I highly recommend planning several day trips from Lucca, so you can have the best of both worlds: exploration during the day and pretty town at night!
The best things to do in Lucca with kids
Lucca is very much a place to soak up slowly, enjoying long days of gelato eating, park going and people watching.
These are some of the best things to do in Lucca with kids.
Rent bikes and cycle along Lucca's walls
Ask any family their list of the best things to do in Lucca with kids and you'll hear the same answer: cycling along Lucca's walls!
Lucca is a walled town with strong and beautiful medieval walls still surrounding the city: the walls are large and flat and now host cycling paths on top, competing with lawns and shaded areas to rest and enjoy views over the city.
Cycling on Lucca's walls is a family-friendly activity you can do at any age.
The walls overlook the city but they feel like a park (don't have visions of balancing on a narrow lane with a sheer drop, they are nothing like that) and you can rent individual bikes, bikes with child seats and family bikes.
Bikes are available almost everywhere in Lucca and, usually, you can just get them on the day.
This is a popular activity and rentals are easy to find as soon as you enter the town center.
Climb Torre Guinigi (Guinigi Tower)
Torre Guinigi is a medieval tower in Lucca which is wonderful to explore with kids for a couple of reasons.
The first is that it is so tall, it offers fantastic views over the city.
The second is that it has a surprise on top: a tree, which makes it look as if the tower had a head full of (green) hair!
Climbing the tower takes effort as you get up via 230 steps: however, kids usually love it as if feels challenging and exciting!
Torre Guinigi Opening Hours:
1 January – 20 March: 10.00 – 16.00 | 21 March – 31 May (weekdays): 10.00 – 18.30 | 21 March – 31 May (weekends): 10.00 – 19.30 | 1 June – 20 September 10.00 – 19.30* (*June-July weekends: late closure at 20.30. August weekends: late closure at 20.00) | 21 – 30 September: 10.00 – 18.30 | 1 October – 31 December: 10.00 – 16.00. Closed on Christmas day.
Climb Torre delle Ore
Lucca has more than one tower and while Torre Guinigi gets all the attention, you can also climb Torre delle Ore!
Torre delle Ore means 'tower of the hours' in Italian and it is a clock tower, with a clock still striking the time every 60 minutes.
The tower offers views similar to those you get from the Guinigi tower and it is a lovely alternative, especially on a busy day, when the Guinigi tower may have lines incompatible with the patience of little kids.
Please be advised that you must buy tickets in advance either at the guiding Tower or the Botanical gardens to climb Torre delle Ore.
The tower is only open in certain seasons only. Opening Hours for 2022:
21 March – 31 May: 10.30 – 18.30 | 1 June – 20 September: 10.30 – 19.30 | 21 – 30 September 10.30 – 18.30 |
1 October – 2 November: 10.30 – 16.00

Eat the best gelato in Lucca
Lucca gets hot in summer but it has many gelato places to help you and the kids cool down.
While not exclusive to Lucca, strolling around Lucca with a delicious cone is a must-do when visiting Lucca with kids.
Great gelato places in Lucca are:
Gelateria Paniko Via San Girolamo 28, 55100, Lucca Italy Vegetarian Friendly, Gluten Free Options
Gelateria dell'anfiteatro – Piazza Dell' Anfiteatro 18, 55100, Lucca Italy Vegetarian Friendly, Vegan Options, Gluten Free Options
Gelateria Veneta – Via Vittorio Veneto 74, 55100, Lucca Italy Vegetarian Friendly, Gluten Free Options
Spend time in Lucca's playgrounds – the best thing to do in Lucca with toddlers!
Lucca has nice playgrounds that are perfect for toddlers and little kids.
Among the best playgrounds in Lucca, there are:
Parco Giochi (Playground) at Porta San Donato, on Lucca's walls, near Porta San Donato, Lucca
Parco Giochi (playground) Alessandro Bertolucci, on Via dei Bacchettoni, Lucca
Giardino degli Osservanti, on Via della Quarquonia, Lucca
Explore Lucca's Botanical Gardens
Another lovely place for kids in Lucca's town center is Lucca's Botanical gardens.
The garden is shaded and pretty, with stunning trees, and it is perfect for escaping the crowds or the sun in the hottest hours of the summer.
Address: Via del Giardino Botanico, 14, 55100 Lucca
Listen to delightful music during the Puccini music festival
Lucca is the birthplace of composer Puccini. The town, rightly proud of his wonderful creations, turned his house into a museum and celebrates the musician with a summer music festival in his honor.
During the festival, Lucca holds several concerts and literally feels with music, both in specialized venues and on the streets, which fil with talented performers, filling the air with their wonderful notes!
Good to know! With kids, the street performers may be the easiest to enjoy. However, in summer many Italian families keep their children out late to make the most of the milder temperatures so if you have kids who like to stay up, the concerts are also wonderful and family-friendly.
Admire stunning Piazza dell'Anfiteatro
Lucca has ancient origins and, in Roman times, used to have an amphitheater which is now a stunning piazza!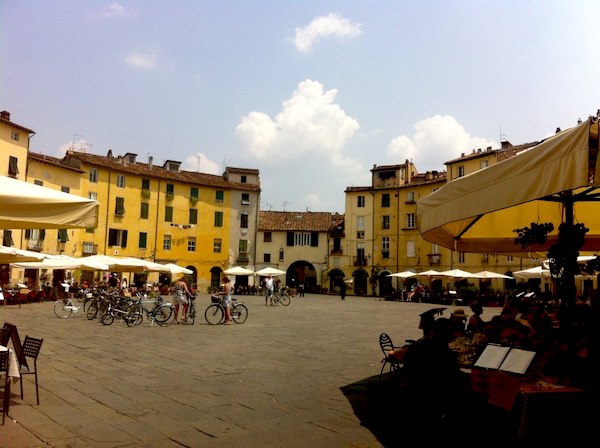 Aptly called Piazza dell'Anfiteatro is one of the most beautiful piazzas in Italy and one of the most peculiar.
The square developed over the ruins of the ancient amphitheater and you can still notice its shape since the houses follow its oval shape, giving the square a unique appearance and feel.
Piazza dell'Anfiteatro is one of the best places in Lucca for kids to run around and for parents to relax with a cold drink with a view!
Browse Lucca's delightful shops (including chocolate shops!)
Lucca has lovely shops for kids and adults.
On Lucca's main shopping street, Via Fillungo, you find a mix of fashion shops with all Italian high street main brands, lovely bookshops, food shops, and gourmet shops, where you can buy anything from daily essentials to pretty clothes and Italian food souvenirs to bring back home.
If you or your kids love chocolate, don't miss a stop in Caniparoli Cioccolateria, the best chocolate shop in Lucca
Marvel at Lucca's churches
Lucca has many stunning churches (they call it the city of 100 churches!) and while a church visit is not exciting for little, ones, a visit to some of Lucca's most peculiar churches can be a fun thing to do with kids in summer especially, when the shaded naves of these stunning medieval marvels work as lovely shelter from the sun!
Lucca's churches have peculiar facades with marbles of different colors, columns and gargoyles which also can pique the kids attentions.
To make them excited about them, we got postcards of the churches we wanted to see and let the kids guide us in a short od diy, super simple scavenger hunt!
You can find here >>> all our tips to visit churches and museums in Italy with young kids
Among the best churches in Lucca, there are:
San Michele in Foro – Piazza San Michele, 55100 Lucca
San Frediano – Piazza S. Frediano, 55100 Lucca
Cattedrale di San Martino (Lucca's cathedral) – Piazza Antelminelli, 55100 Lucca
Enjoy Lucca's Christmas market
If you are visiting Lucca at Christmas, then you are in for a treat as Lucca has a lovely Christmas market with a lovely family-friendly atmosphere, food, stalls, trees and all you can expect from a family-friendly Christmas event
Go ice skating (winter)
Another thing to do in Lucca in winter is go ice skating!
During the months of December and January, Piazza Napoleone turns into an ice skating rink for kids and grown-ups to enjoy.
Find info and dates here
Bring older kids to Lucca's Comics & Games festival
Lucca regularly hosts Lucca Comics and Games, a fantastic festival with plenty of talks, workshops and activities for kids of (almost) all ages.
The event attracts many visitors and can be a fun thing to experience if you have kids of primary school age, tweens or teens.
You can find info here
Visit a family-friendly winery near Lucca
Lucca is close to wonderful vineyards and offers many options to spend time wine tasting in a family-friendly setting.
While wineries do not offer kids' activities as such, they are lovely outdoor areas and pleasant hosts accommodating and welcoming to kids.
The best way to plan a day with them is to make contacts directly and specify the age of the kids, so they can welcome you at best.
Family-friendly wineries in the Lucca area you may enjoy for a meal, a wine tour, or a longer stay in a wine resort are Fattoria Sardi Wine Resort, Fattoria al Dotto and Fattoria Colle Verde
Good to know! Winery visits in Italy may be very different from what you are used to back home (especially if you are from California, where you have amazing, kid-friendly wineries we loved!). Learn here >>> all you need to know about going wine tasting in Tuscany with kids.
Visiting Lucca with teens
Lucca is a small town and so it can be a fun place for teens or a boring one, depending on what they enjoy most.
In terms of things to do, there is not a lot to do in Lucca for teens: they are likely to enjoy the cycle along the walls, the shopping at the sightseeing. however, unless they make friends and can enjoy a bit of freedom, they may find the town not exciting enough.
However, Lucca can really work for teens who enjoy day trips as the town is well located for reaching both Florence and the coast.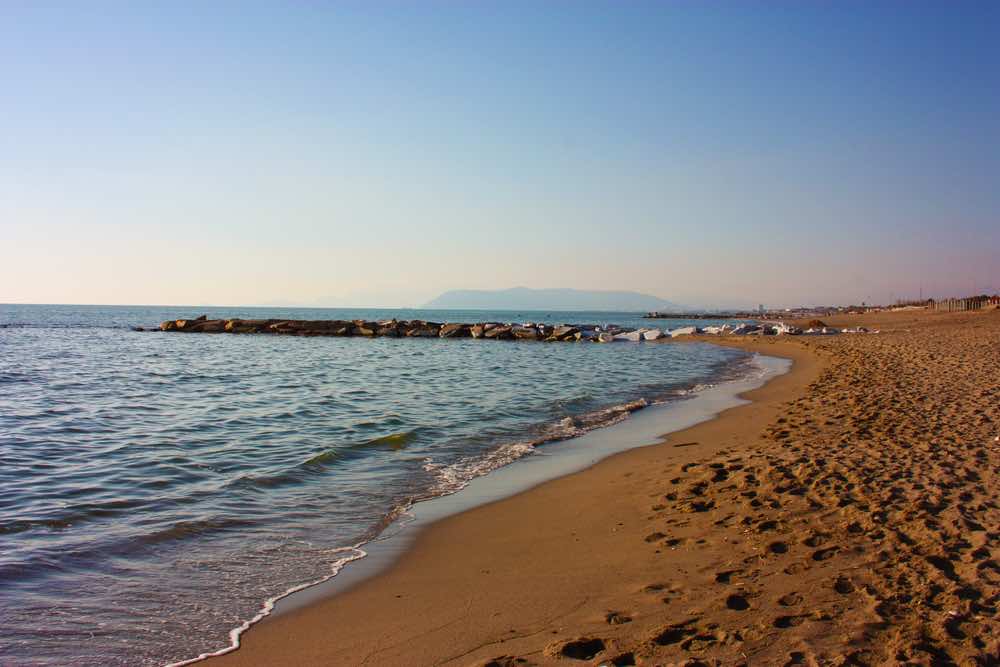 The best things to do near Lucca with kids: day trips from Lucca
Lucca is in a great location to take day trips to other parts of Tuscany.
The best day trips from Lucca for kids include:
Going to the beach: Versilia has stunning, family-friendly beaches your kids (and teens) are sure to enjoy. The journey takes a little over an hour and you can go by train or car.
Find here >>> our guide to the best beaches near Lucca
Visit Parco Pinocchio in Collodi – this is one of the best day trips from Lucca for families with young kids.
Parco Pinocchio is a funny place, a sort of out-of-time amusement and adventure park with a Pinocchio theme.
Don't expect anything fancy, it is not Disneyland, but for little kids, it has its charm!
Catch the train to Florence – Florence is only a short train ride from Pisa and it is lovely for an afternoon with the kids!
Catch a train to Pisa – Pisa is very easy to reach from Lucca and always a treat for little kids who will want to see the tower! You can read here >>> how to spend one day in Pisa
Visit Pistoia Zoo – Pistoia doesn't usually make the list of places to visit in Italy however, it is a lovely city and has something special for kids: a zoo! Find info and tickets here
Where to stay in Lucca with kids
Lucca has many beautiful accommodation options for families with kids.
If you are coming into Lucca by train, you will want to opt for a place inside the walled part of the city.
If you are driving into Lucca, especially in summer, I recommend you opt for accommodation in an agriturismo near the town but with a large garden and a pool, so the kids can cool down and play during the day and you can all enjoy the town in the evening.
Some good ones for families are:
B&B il giardino del pettirosso
Where to eat in Lucca
Lucca has delicious food and you don't really need recommendations to get a wonderful meal.
Some addresses recommended by local friends, however, are worth knowing:
Osteria da Pasquale – Via del Moro 8, 55100, Lucca Italy
Cantine Bernardini – Via del Suffragio 7, 55100, Lucca
Pan di strada – great for sandwiches – Corso Garibaldi 34, 55100, Lucca, Italy
L'isola che non c'era – Via delgi Angeli 7, 55100, Lucca, Italy
How to get to Lucca Transport guide
The best ways to get to Lucca are by train and car.
Getting to Lucca by train
Lucca's train station is outside of the city's walls. From there, you can walk into the city center in about 15 minutes: do not get put off by the tunnel to get in, the town is wonderful!
You can find the schedule of trains to/from Lucca on the Trenitalia website.
You can also >>> read here our full guide to train travel in Italy
Getting to Lucca by car + parking in Lucca
Lucca is on the main road between Florence and the coast and it is easy to reach by car.
Since the walled part of the city is closed to traffic, you must leave the car outside of the walls: if you don't, you will incur in steep fines that may even reach you once you are back home. Lucca is notorious for them!
However, there are plenty of parking options in Lucca, about 15 mins walk from the city center.
In Lucca, you can park:
On-street, where you see blue lines. These indicate pay and display parking and are suitable for visitors. Do not park on yellow lines as those are for residents only!
In Lucca's parking lots: secure ones are Parcheggio Carducci at Porta Sant'Anna; Parcheggio Palatucci or, inside the walls. Parcheggio Cittadella.
I hope you enjoyed this overview of the best things to do in Lucca with kids and made you see why we think it is one of the best places in Tuscany for families. Safe travels!
Visiting Lucca with kids travel guide – pin this!
Photo credit: photos in this article are my own + some of them purchased, with license, from Depositphotos.