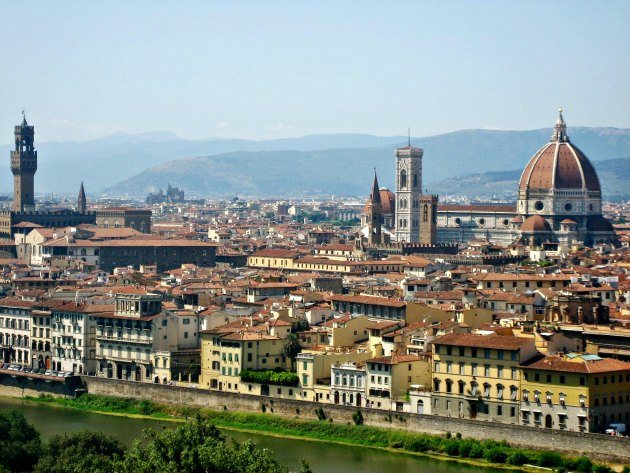 Visiting Florence with kids: all you need to know to plan the perfect trip
Florence with kids: All you need to know to plan the perfect family trip to Florence a baby, toddler or school-age children. Child-friendly attractions in Florence, best places to stay and practical tips for families visiting Firenze.
Florence is one of my favorite cities in Italy and one we thoroughly enjoyed with our kids.
We spent a full summer there, an amount of time that allowed us to really experience this wonderful and historical Italian town and we loved it so much, we often think of relocating there!
Florence appears on all Italy travel itineraries, often recommended as a stop for art lovers.
In this guide, we share why we think Florence is fabulous for families too and why we highly recommend including some time in Florence when planning your family trip to Italy!
Please note: this post contains affiliate links. Should you make a purchase, we might make a small commission.
Visiting Florence with kids: why go
Florence is one of the most beautiful cities in Italy and a place everyone should see while visiting Italy.
It is famous for art, history food but it is also a very family-friendly city.
Some of the best reasons to visit Florence with kids are:
Florence City center is UNESCO World Heritage Site: walking here is live waking in living history, a wonderful way to get history come to life for little kids!
Florence has lovely child friendly museums that make it easy to mix learning and fun
Florence is full of attractions but compact, so it is easy to go around even with little legs in tow
Florence has a historical carousel and a fantastic park, Parco delle Cascine, that are sure to conquer adults and kids
Florence is in a perfect position to explore the rest of Tuscany by train and makes a great base if you want to explore yet avoid driving to a new destination every day.
Florence with a baby or toddler: our tips
Florence is a family-friendly city.
However, like many historical Italian towns, it can pose some challenges to parents visiting with babies or toddlers.
Mostly, you need to remember:
You want the right stroller – Florence has cobbles, historical streets that can be hard on stroller wheels.
I highly recommend you bring a stroller (find my tips for using strollers in Italy here) if you are visiting Florence with toddlers.
You will find yourself walking extensively in Florence and I suggest you opt for one with well-cushioned wheels rather than a tiny one.
The extra bulk will be compensated by the extra protection to your child and your back – cobbles and potholes are everywhere in Florence and make for a bumpy ride.
A baby carrier will be super handy – For museums or if you are visiting Florence with a baby, a baby carrier is the best choice.
Parks and playgrounds in Florence worth knowing:
ParcoGiochi Lungarno Santa Rosa
Parco Giochi Piazza Massimo d'Azeglio
Merry Go Round in Piazza della Repubblica (see below)
Giardino di Villa Strozzi
Giardino dell'Orticultura
Parco delle Cascine – this is also where you find a family friendly swimmin pool club offering day passes, perfect for hot summer days!
Biblioteca delle Oblate mentioned above is a good place doe a rainy day in Florence with a toddler and has good baby changing facilities
Most restaurants in Florence will cater to a toddler making a smaller portion of whatever is on the menu or simple pasta with tomato sauce on request. This also applies to restaurants without kids' menus as such
Florence has strict occupancy rules in hotels: make sure you book a bed for your baby or inform the hotel if bringing your own to make sure you get a suitable room.
You can find more tips about traveling around Italy with babies and toddlers here.
The best things to do in Florence with kids
Take a walk in Florence city center
Florence has a compact and historical city center that is a delight for kids and adults.
In one morning or less, you can see some of Florence's main attractions such as Santa Maria Novella, Florence's Duomo, Ponte Vecchio and Piazza della Signoria without exhausting yourself and, even better, you can do it by letting your kids lead the way!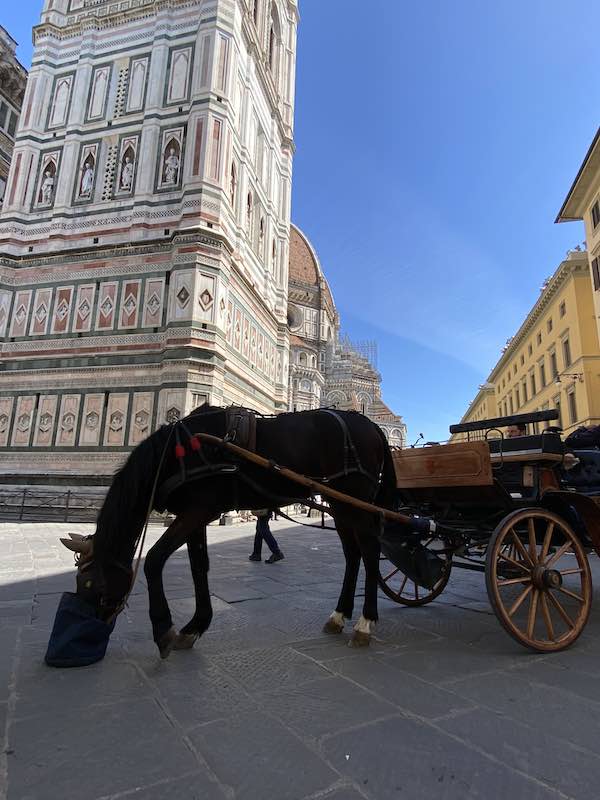 Florence city center is small so even without following a detailed itinerary, you will likely stumble upon many of its highlights.
Guiding us around Florence was one of the things our kids loved the most.
Occasionally, just occasionally, you will have to stir the towards the attractions below but truly, wandering around Florence City center is the best way to enjoy the city.
See the chocolate waterfall in Venchi
Venchi is a famous chocolatier and gelato shop but the reason why we include it in this guide of the best things to do in Florence with kids goes beyond their food offering.
Their shop on Via dei Calzaiuoli always catches our kids' attention because it has a chocolate waterfall occupying a whole wall!
Never fails to gt a 'wow' if kids don't expect it!
Have a spin on the carousel at Piazza della Repubblica
Piazza della Repubblica is a lovely piazza in Florence City center with historical carousel kids love.
The merry-go-round welcomes kids and adults alike and it is a wonderful place for little children to get a bit of a break from sightseeing.
Fun fact: the piazza hosting the merry-go-round is one of the most ancient in Florence so coming to play here is a treat for both adults and sightseeing loving parents!
Run around Piazza Santa Maria Novella
Florence has many wonderful squares and one of the most beautiful and family-friendly is Piazza Santa Maria Novella, close to the train station of the same name
The square takes its name from the church of Santa Maria Novella that dominates the landscapes.
There are many things to do with kids in this square. Some of the highlights are:
The church of Santa Maria Novella itself, one of the most important in Florence and with a stunning facade of multi color marbles that will capture the attention of everyone in the family
The Officina Profumo Santa Maria Novella, said to be the world's oldest pharmacy and now a wonderful museum and shop where to smell and buy perfumes and beauty products. A lovely stop for older kids especially.
The piazza itself, vast and perfect for little kids and toddlers to run around and has lovely benches for you to rest!
You can also stop for a juice or gelato at the cafe' on the piazza.
Climb the tower of Florence's Duomo
The most distinctive and iconic landmark in Florence is Florence's Duomo, Santa Maria del Fiore.
Kids will love the multicolored marbles of its facade, tower and baptistry and will love the idea of climbing all the way up to the top!
You can find entry tickets and prices here.
Fun fact kids will love: The large dome of Florence Duomo, at the time of its built, was the largest dome in the world and still is the largest of its kind!
See the free art in Loggia del Lanzi in Piazza della Signoria
Florence is like an open-air museum and this is even more true in Piazza della Signoria, where you find stunning Loggia dei Lanzi.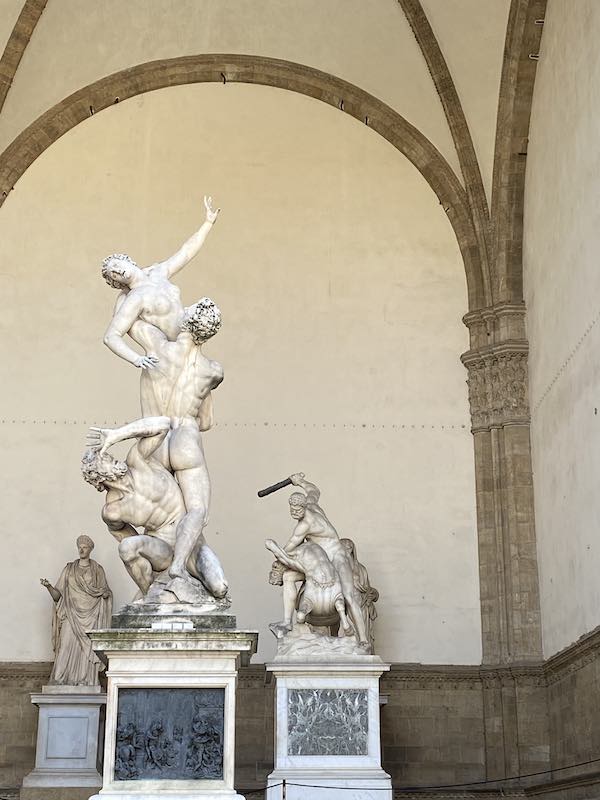 Loggia dei Lanzi is a portico overlooking the historic Piazza della Signoria and it is filled with stunning sculptures and statues.
They are free to see and a great way to introduce some art in your day, without having to tackle one of Florence's big museums with kids!
Often lesser-known than Palazzo Vecchio or the Neptune Fountain, also on this square, Loggia di Lanzi is a Florence highlight I highly recommend you seek out.
Walk across the river on historical Ponte Vecchio Bridge
Not far from the duomo lies another one of Florence's most famous landmarks, Ponte Vecchio.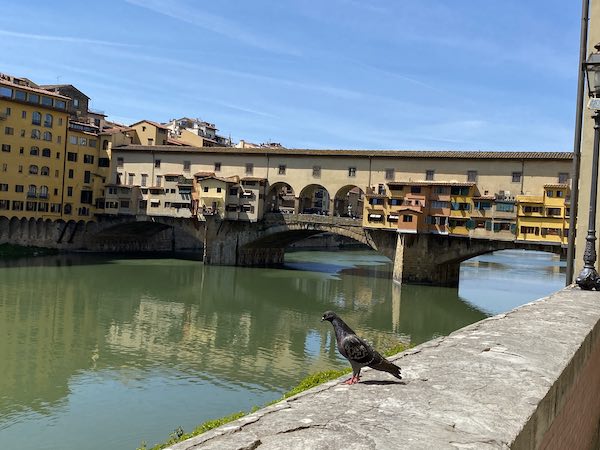 Ponte Vecchio is a historic bridge that connects the two sides of the Arno river, so Florence city center with Oltrarno Neighborhood, and has a peculiarity.
Rather than a normal bridge, Ponte Vecchio is like a road, flanked by shops on both sides!
For little kids, the most interesting thing about Ponte Vecchio will probably be the opportunity of spotting river animals from it entrance.
Older kids will no doubt marvel at this peculiar bridge and will love to learn elements of its story such as the following:
Ponte Vecchio dates back to 1345
It was the only bridge in Florence not destroyed by bombs during the II world war
The first shops on Ponte Vecchio were grocers and butchers. In the XVI century, they were kicked out and the place was given to Goldsmiths and jewelers, still nowadays trading on the bridge.
Marvel at the wonderful Boboli Gardens
The Boboli Gardens are a large, wonderful monumental garden on the Oltrarno side of the river.
The gardens belong to Palazzo Pitti and are not a public park but a manicured space to marvel at what the art of gardening can do.
The Boboli Gardens are magical for kids and adults however, it is important to know that this is not a public park with playgrounds and kids' attractions as such.
To kick a ball and let loose, the beautiful Parco delle Cascine is a better option!
Catch a view from Piazzale Michelangelo
Piazzale Michelangelo is a large, panoramic square where to catch beautiful views over Florence.
You can reach it by bus or on foot, climbing up beautiful, easy to manage steps from the banks of the Arno river and it is a place that usually leaves a strong impression on children (and adults!)
The square is effectively a large parking space now but the view it offers over the city is stunning!
Good to know if you have kids who love cars! Piazzale Michelangelo is the starting point of a Ferrari Tour of Florence. The cars are not for kids but they are always parked on the square and never fail to impress car-loving children. If the place is not too busy, the owners often allow you to take pictures with them, something my car-crazy 5 year old adored!
Have a break in Biblioteca delle Oblate
A lovely place in Florence city center where to find refuge in case of rain is the library 'Biblioteca delle Oblate'
This is a fantastic library with a large children's section and a handy place to know if you are visiting Florence with a baby or toddler as they have good changing facilities!
Visit one of Florence's child friendly museums
Florence has very many child-friendly museums that are easier to visit and more enjoyable for kids than the Uffizi, which is stunning but vast.
Some of the best kid-friendly museums in Florence are: Museum Stibbert (with armors etc), Museo dei Ragazzi al Palazzo Vecchio on Piazza della Singoria (opportunity to dress up etc), Galileo and Leonardo Museum (a Florence with kids favorite for us), perfect for science lovers and construction-loving kids.
See the cute Fontana del Porcellino
Fontana del Porcellino (lit. Fountain of the Piggy) is a bit of an institution in Florence.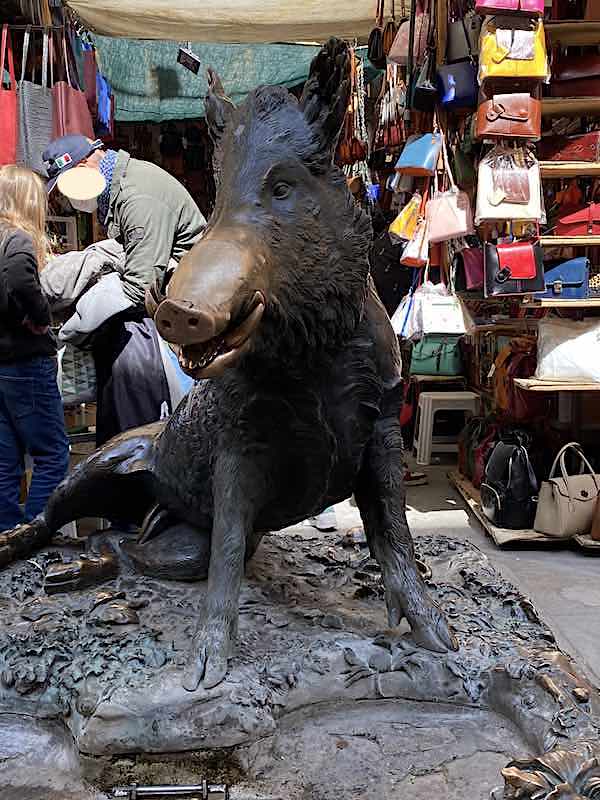 It is at the entrance of Mercato Nuovo, in Florence city center and it is fun for kids because of its animal shape.
Despite its name, however, the statue is not of a cute piggy but of a spikey wild boar kids usually love!
The 'porcellino' is said to bring luck so you often find a bit of line of people waiting to touch its nose.
While not worth a long wait, it is a cute stop for kids and it is in such a central part of Florence, you are likely to pass it anyway.
Browse (and have a bite) in pretty Todo Modo bookshops
If you and your kids love bookshops, then you will love a stop at Todo Modo and Todo Modo Dila'.
Todo Modo is a beautiful cafe and bookshop in Florence city center, with lovely decor and bites (titles in Italian and Engish) and it is a great place if you have older kids or you want a nice place for a quick bite.
Todo Modo DiLa' is their sister library on the other side of the river and while it has no food, it has a wondeful kids' section with books in Italian and English.
Near Todo Modo Dila' you have Gelateria La Carraia so my recommendation is to have a bit in Todo Modo, cross the river, and indulge in a gelato + children's bookshop stop!
Visit the Uffizi with kids (or not!)
One of the big decisions to make when planning a visit to Florence with kids is whether to bring them to the Uffizi Gallery or not.
The best way to make this decision is to know what to expect.
The Uffizi Gallery is a stunning, huge, traditional art museum. As such, it is perfect for adults who enjoy large art collections and a must for those who want to see masterpieces of Florence Reinassance.
For kids, it is a little less of a paradise as overwhelm easily sets in.
My advice, if planning on tackling such a big museum, is to consider a private tour for kids.
A pricey option but, at least on the basis of my personal experience of the place, a good investment, if within reach.
My recommended provider for such a tour is LivTours Find here >>> Their private Uffizi Tour for kids.
Family Tours of Florence and family classes in Florence
Florence is easy to visit at your own pace.
However, if you are short on time or you want to add context to what you visit, you can choose a family-friendly tour of the city.
I find them to be a good way to get the children engaged and excited about the city, especially if taken early on in your stay.
A good kids' guide will be able to get children interested in the city and my two always love to recognize places when we pass by them on subsequent days.
They point and scream: 'I know what that is!' and then they start recalling what they learned on the tour.
Family tours of Florence are:
Florence treasure hunt tour for kids – a really fun way to explore Florence with kids, with a local guide who will keep them engaged and interested telling them fun and interesting anecdote about the city.
A great way to get them walking without realizing it!
Florence walking tour for families with local guide – a tour for kids and adults to discover Florence city center. Most suited to families with kids age 6 and up due to the length (2.5 hours) and story-driven nature of the tour
Accademia and Michelangelo's David tour for kids
Skip the line private family tour of the Uffizi Museum
Private Gelato Class in Florence – a fun and hands-on way to learn how to make real Italian gelato
Family-friendly pasta making class in Florence – making pasta is incredibly satisfying and fun for kids as it is very hands and engaging.
This class was highly recommended by me by Lauren, who took a fantastic trip to Italy with her son and shares her full itinerary here!
Kid-friendly Marbled paper workshop in Florence – marbled paper is a traditional craft in Florence and you can see and experience how it is made in Giulio Gannini workshop
Marbled scarf making – a great activity for older kids and their parents, to learn how textiles get marbled and bring home a unique souvenir from Florence
A day on the farm – if you want your kids to spend a day on a farm, learning about the animals, olive oil production and more, then I recommend you look at Fattoria di Maiano, a didactic farm and agriturismo with wonderful activities for kids in Fiesole (immediately outside Florence city center)
Where to stay in Florence with kids: best areas for families and family hotels in Florence
Click >>> HERE and find my list of 15 great family-friendly hotels and rentals in Florence (tried and tested!) <<<
There are 4 areas I recommend as the most family-friendly in Florence.
Borgo Ognissanti – Borgo Ognissanti is a lovely area of Florence's city center.
Close to Ponte Vecchio and palazzo Strozzi, it is immediately beside the busy area of the Duomo and strikes a perfect balance between being a central location yet away from the maddening crowds.
Good family accommodation here Antica Torre di Via Tornabuoni, all offering spacious accommodation for families of up to 7 people.
Duomo area – to be in the heart of everything, there is nothing better than to be in the very center of Florence, so you can walk everywhere and have all the attractions on your doorstep.
This location is particularly suited to families with kids who visit outside of the busiest season and can enjoy this otherwise busy location.
Some nice accommodation options such as Relais Piazza Signoria (mid-range) and Hotel Lungarno (luxury), Hotel Davanzati (budget)
Oltrarno – Oltrarno is a fabulous Florence neighborhood, close to all attractions but also with a quieter feel that makes is perfect for families, especially in some parts.
Good hotels here are Hotel Palazzo Belfiore and Palazzo San Niccolo'.
Le Cure – this is my favorite area for longer stays in Florence and anyone who wants to be in a residential area with a local feel.
You will need to get the bus to get into the city center, but this green and family-friendly area is perfect to relax and call Florence home for a few days.
Where to eat in Florence with kids: family friendly restaurants in Florence you'll love
You will be hard-pressed to find a bad meal in Florence.
However, these are some addresses you may enjoy particularly:
NeroCarbone Bistrot Toscano, Via del Parione, 43/45r, 50123 Firenze
Martare, Via Degli Alfani 93/r, 50121, Firenze
Gucci Osteria by Massimo Bottura, P.za della Signoria, 10, 50122 Firenze
Club Culinario Toscano da Osvaldo, Piazza dei Peruzzi 3/3, 50122 Firenze
Trattoria Mario, Via Rosina 2/r, 50123 Firenze
Mercato Centrale (covered market): Piazza del Mercato Centrale, Via dell'Ariento, 50123 Firenze
Todo Modo Bookstore Bistrot: Via dei Fossi, 15/R, 50123 Firenze
Ciro and sons (gluten free, lactose free and vegan options): Via del Giglio 28R, 50123, Firenze
I hope you enjoyed this quick guide to visiting Florence with kids.
Safe travel planning!