Family activities in Tuscany you and your kids will love
A curated list of our favorite family activities in Tuscany for kids and parents! A list of local, excellent and fun activities for families we love (and we're sure you'll love too!)
Tuscany is one of the most popular destinations in Italy for families.
Parents choose it for a family vacation attracted by the region's stunning rolling hills, mellow atmosphere and art cities but more often than not, parents also have one worry about Tuscany: 'landscapes and art are good for us but won't the kids get bored?'
The question is valid, but don't worry!
There are many family-friendly activities in Tuscany, tons of kids' activities and classes and so many ways to entertain them, boredom won't enter your vacation at all!
I know this from experience with my own kids. We go to Tuscany every summer for two weeks or longer, and we never tire of it.
Sure, some of that time is spent lounging at the pool of our accommodation (we like to try new places each time but the pool is always a must!), some of the days may be spent on the beach, some is traditional sightseeing and town hopping.
But we get up to doing a lot in Tuscany, and we find the quality of what's on offer very high.
In previous posts, we have shared an overview of how to plan a vacation in Tuscany with kids.
Today, we focus specifically on family activities in the region.
The activities fall into large categories, such as food, local arts and skills, water and adventure parks, animal encounters and tours.
I chose them based on our own experiences and travels in Tuscany.
All photos are my own (look at my daughter, how young she was and how more grown up she is now: we really have been vacationing in Tuscany with the kids for ages, photos are proof!
All are chosen based on quality and their connection with the territory.
Please note: this post contains affiliate links. Should you make a purchase through them, we might make a small commission.
This photo is us in Tuscany, so you know where these recommendations come from!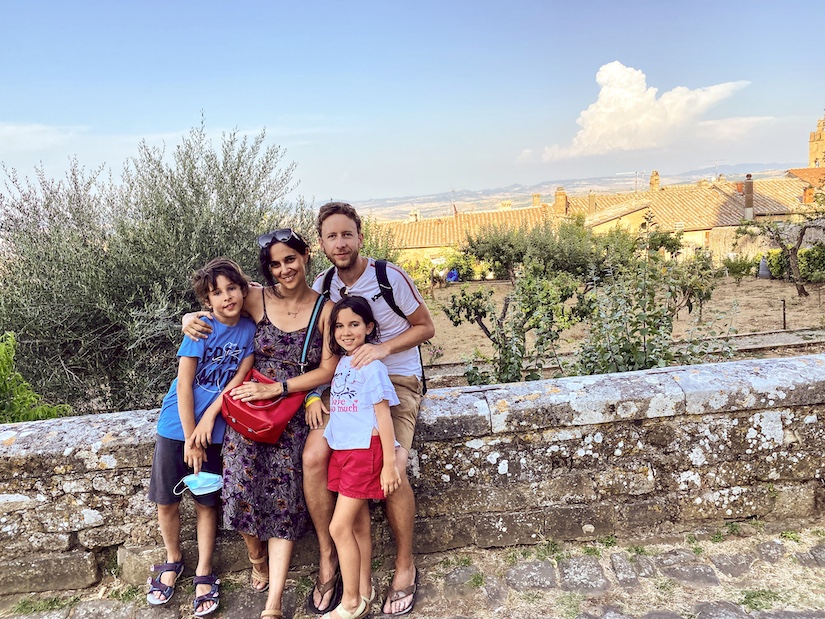 Family activities in Tuscany about food/cooking
Tuscany is one of the best places in Italy for food-related activities as the quality of the produce and hospitality services is exceptionally high.
Great things to learn here are:
Pasta making
Farm-to-table cooking
Cheesemaking
Winemaking
Olive oil making/harvest
Truffle hunting
Gelato making
Good to know! In some cases, you can take several activities in the same location. For instance, Agriturismo Diaccroni, Fattoria and Cascina La Palagina have an extensive program of kid-friendly activities and they are wonderful: worth checking out their full offering as you may find tons of options to keep you busy all in one place!
Pasta-making classes: Pasta-making classes are great fun for kids as they are hands-on, satisfying (you see your progress very quickly, it's a real frustration-free experience!), and they end with a meal, which is a great way to sort lunch or dinner one of the nights!
Pasta classes are in several parts of Tuscany, and many agriturismo are able to offer them to you if asked.
These are the pasta classes we can confidently recommend as triers and tested.
Pastamania Florence, Florence, is a family-friendly cooking class in the lovely San Frediano district.
Pasta-making class in Diacceroni Agriturismo, Volterra, a fantastic agriturismo with tons of activities for families and a great location to run into other kids and parents. You can choose between pasta class, lasagna making class or wider cooking workshops
Pasta class in Podere il Casale, Pienza, in a stunning location, a farm overlooking the most beautiful Tuscan landscapes you can imagine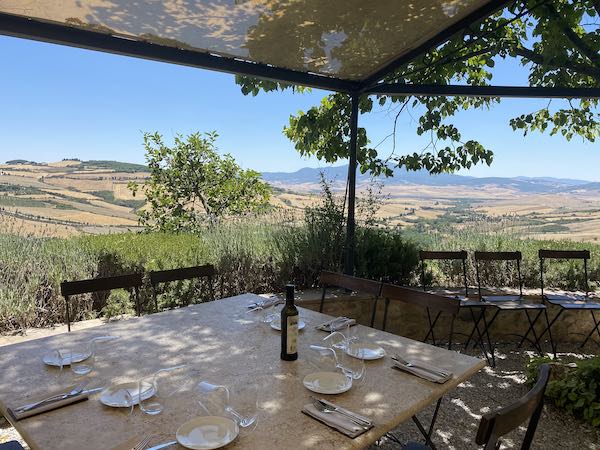 General Cooking classes – cooking classes in Tuscany cover more than making pasta and also teach you about ingredients, seasonality and harvest.
Great ones to try are: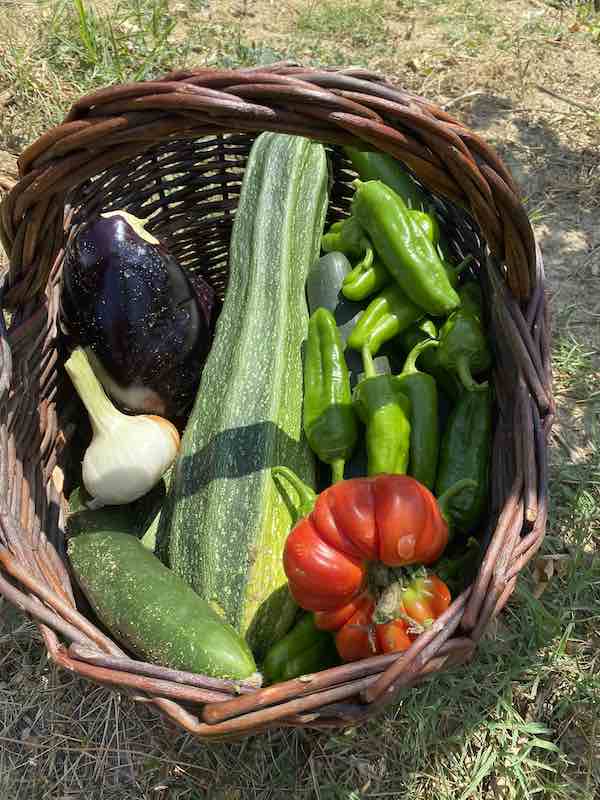 Gelato making class:
This is a super fun class perfect for kids on two accounts: the fact that it is gelato and the fact that the course is led by a funny and energetic host: gelato master Vetulio Bondi!
Learn to make gelato and its secret with Vetulio at 'I gelati del Bondi,' a kid-friendly gelato class in Florence.
Farm-to-table experience
Spend the day with wonderful Italian hosts in their gorgeous hilltop home, visit their vineyard, pick fresh vegetables and prepare a communal meal at Tenuta Chiudendone (kid-friendly; there's even a pool for summer!)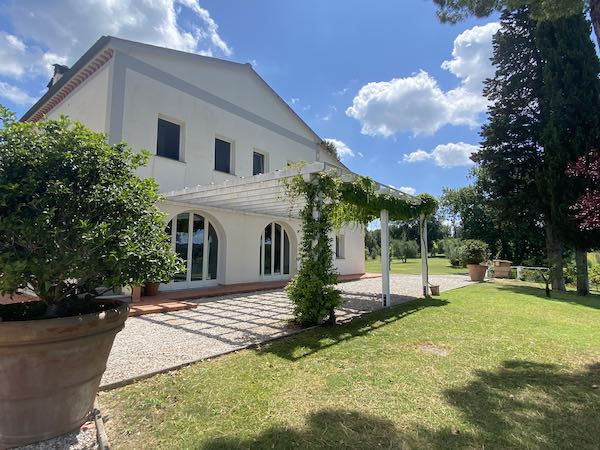 Podere il Casale is a stunning agriturismo and restaurant that offers classes and workshops.
Their cheese-making demonstration and class are fantastic if you want to learn the secret of the famous pecorino di Pienza, typical of this area. Podere il Casale, Via Podere Il Casale, 64, 53026 Pienza SI, Italy
Tuscanu is famous for the production of extra virgin olive oil an Italian excellence that comes to being in the month of October, when the olive harvest takes place.
You can taste and buy Tuscan olive oil in restaurants, shops and frantoi (olive mills) but you can also participate in the olive harvest with the kids!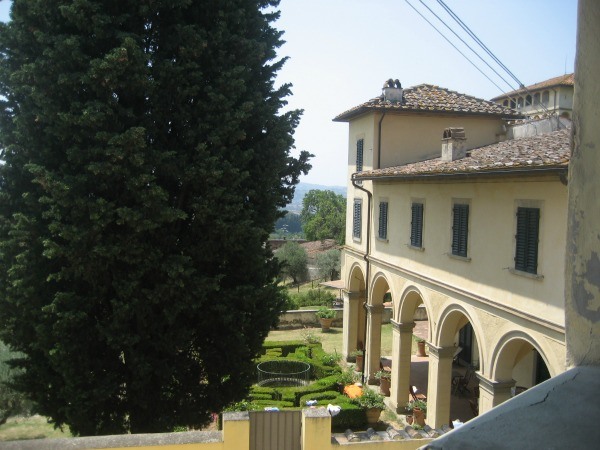 Most of the harvest opportunities we have found are for guests of the agriturismo offering them. However, it can be worth contacting them as sometimes they may be able to open them up to an external guest.
Cool places to check our for a kid-friendly olive harvest are:
Fattoria di Maiano, Fiesole (Florence)
Le Ceregne Bio, Arezzo
Podere dei Nonni, Scansano
Tenuta Torciano, San Gimignano
Truffles grow in Tuscany and going hunting for them is great fun for kids, even if they may not particularly enjoy their taste (I know this is the case with my kids!).
Truffle hunting in Tuscany is seasonal and is fun for children who like to be outdoors and love dogs, as you go looking for truffles in the woods and with a furry friend!
Fun places for truffle hunting in Tuscany with kid are:
Tenuta Chiudendone, Palaia
Agriturismo Diacceroni, Volterra
Tenuta Torciano, San Gimignano
Savini Tartufi, Palaia San Miniato
Art and traditional skills classes
Traditional art forms in Florence include paper marbling, leather work and sketching/painting. Paper marbling and sketching are easy for kids to enjoy and there are fun child-friendly classes in Florence especially to experience them.
Paper marbling at Il Papiro Florence – paper marbling is a traditional skill typical of this area. A fantastic place to learn about it is Il Papiro in Florence, Via dei Tavolini, 13r, 50122 Firenze FI, Italy
Marble paper and bookmaking at Giulio Giannini Workshops, Via dei Velluti 1r, 50125, Firenze
Sketching – Florence is the cradle of the Renaissance, and it has so much art it is no surprise it is still now chosen by many artists as their home. You can spend time with one of them and draw with them in beautiful Florence, but joining this tour on Airbnb experiences with Amanda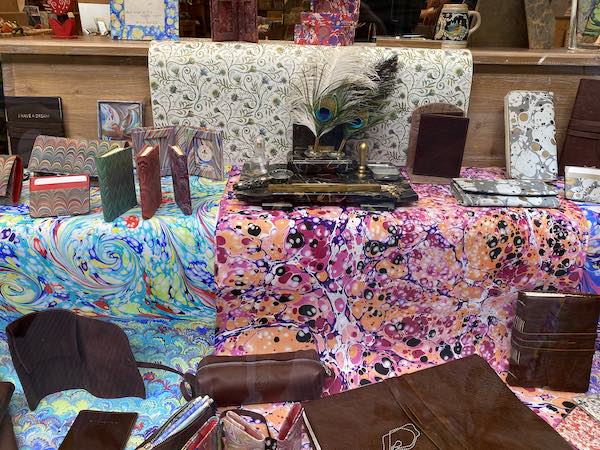 Farms and kid-friendly vineyards
The Tuscan countryside is a beautiful place to visit farms and vineyards, sometimes together!
Farms are ubiquitous in Tuscany and in many cases, staying in a country home or agriturismo here will put you in contact with animals, may they be geese, bunnies, horses, donkeys or even just the resident cats and dogs!
Some places however have a teaching vocation and they are perfect for kids who can also learn about farm life (if you have city kids, it is a fantastic way to experience Tiuscny to have farm visits!)
These places are called Didactic Farms (Fattorie Didattiche). Local ones are great if you want to meet local kids and have some Italian language, or you don't mind or even welcome a full experience.
Some offer experiences in English as well as Italian.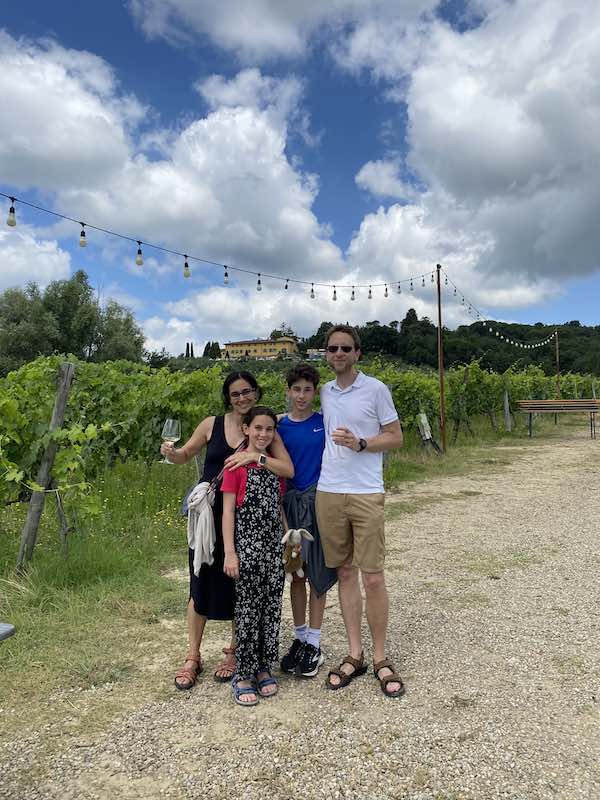 Family-friendly farms in Tuscany with activities for kids
Some Tuscany farms we love and that have special things for kids are:
• La Palagina Farm and winery (Chianti)
This is a lovely, very child-friendly farm offering a plethora of farm activities for kids and adults alike.
Here, the kids can:
Meet the animals
Visit and learn about the vegetable garden
Learn about the work of bees
Participate in a basket-weaving workshop
Participate in a family-friendly cooking class
Kids can also accompany you in a family-friendly wine tasting, during which they can personalize your bottle while you sip away or partake in a picnic in the vineyard with a basket of farm goodies and wine for the adults.
Address and contact: https://fattorialapalagina.it/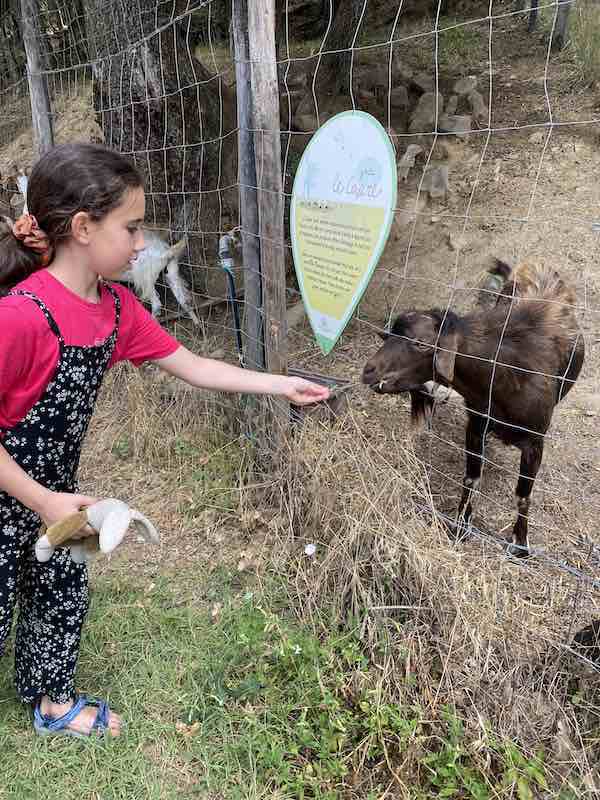 Fattoria di Maiano, Fiesole (Florence) – farm / country stay
Fattoria di Maiano is the first place of this kind we visited with our children and the easiest cuntry experience to reach from Florence, since it is only a very short taxi ride away!
here kids can meet ponies, donkeys, chickens and learn about farm life and nature cicles.
You can find all info on their website >>> https://fattoriadimaiano.com
Fattoria Casabianca (also offers wine tasting)
Fattoria Casabianca is a child-friendly wine farm and vineyard in Bucine, only a short drive from Gaiole in Chianti.
The farm offers several kid-friendly activities, such as a walk with alpacas or the opportunity to meet the farm animals up close.
The farm also offers cellar tours with tasting and picnics in the vineyard, which is a family-friendly way to enjoy their wine in a beautiful setting.
Address and contact >>> https://www.fattoria-casabianca.it/
Chianti Cashmere Goat Farm
Chianti Cashmere is the largest Cashmere Goat farm in Italy and a fun place to visit with kids.
Located above the stunning Volpaia valley, in the heart of Chianti, the farm is a certified Wildlife Friendly Farm in Europe and is dedicated to getting the public acquainted with the adorable cashmere goats.
The farms offer visits to kids and adults, provide the option for a country lunch with their goat's products and even offer activities such as shepherd for a day and goat camps if you want to get even more familiar with their cute goats!
Activities are tailor-made to your group and must be booked in advance.
Address and contact >>> https://www.chianticashmere.com/en/
Kid-friendly wineries
Wineries in Tuscany come in all shapes and sizes and some are many of them are kid-friendly, meaning that they have special attention for little guests (getting the kids to tag along is usually not a problem anyway).
Tenuta Torciano (San Gimignano) – winery with also a great choice of kid-friendly activities
This is a top-rated estate offering several activities for kids that also include family-friendly wine tasting.
As you will see from the staggering offer of activities on their website, here you can do anything from having a leisurely lunch with wine to lunch in the vineyard and shorter tasting.
They also have a farm, which is lovely for small kids and offer activities for teenagers.
You can find all info on their website >>> https://www.torciano.com/en/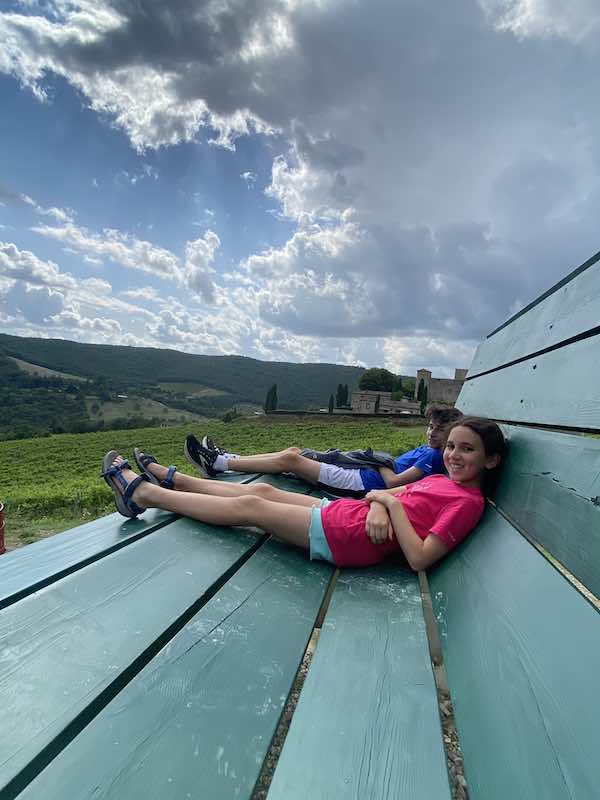 Fattoria Poggio Alloro (San Gimignano):
Fattoria Poggio Alloro is another beautiful estate close to San Gimignano, offering child-friendly wine tasting in Tuscany's rolling hills.
The estate offers wine-tasting opportunities but also the option of staying for lunch and having farm animals the kids can get up close to.
You can find info and contacts here >>> http://fattoriapoggioalloro.com/
Podere Franco Pacenti (Montalcino):
Podere Franco Pacenti is a family-run winery that organizes child-friendly vineyard walks and wine tasting, complete with juice-tasting sessions for the kids and discounted kids' prices.
You can find info and contact here >>> https://www.francopacenti.it/unique-experiences/.
Brolio Castle is the stunning wine estate of the Ricasoli family and a wonderful winery to visit with kids.
Here, you can have wine tasting but also go on a family scavenger hunt with the kids in the beautiful castle garden, an easy way to make the winery experience more appealing for the kids.
The winery also offers the option to arrange a vineyard picnic.
You can find info and contacts here: Brolio4Kids >>> https://visit.ricasoli.com/en/
Palagio di Panzano is a beautiful child-friendly winery and country estate near Panzano, a foodie destination recently made famous by Dario Cecchini and his favorite meat restaurants.
This winey offers different tour options that include a walk among the vines, wine tasting, olive oil tasting (seasonal) and the option to accompany your visit with a platter of local delicacies.
Kids are welcome, and the atmosphere is warm, informal and family-friendly.
Good to know: is an overnight stay possible as the estate also operates as a country resort.
Info and website >>> https://palagiodipanzano.com/
Salvadonica is a famous winery in San Casciano Val di Pesa, in the heart of Chianti.
The estate is stunning and child-friendly.
Here, as well as classic wine tours, you can also book a picnic in the vineyard, which comes with a basket of local produce and, of course, the estate's wine.
A kids' menu is available, and the informal picnic atmosphere is a great way to mic wine tasting with a child-friendly day outdoors.
Good to know: the estate also offers accommodation in family rooms and an onsite restaurant.
Find info, contact and offers here >>> https://www.salvadonica.com/
Volpaia is a very unique place: a tiny medieval village transformed in its entirety into a winery!
Here, you can have wine-tasting sessions (kids are welcome to tag along), but you can also come for a meal or an overnight stay.
Food offerings include the estate restaurant, bakery (thing pizza and fresh bread!) and gelato cart.
Kids are welcome, and while the tasting experience is not for them as such, the huge barrels and the overall setup make it a pleasant destination for families.
Website >> https://volpaia.com/en/#volpaia
• Podere il Casale (Pienza)
Podere il Casale is one of my favorite places in Val d'Orcia for kids and not only.
The Podere is a country home and estate perched on a beautiful hill in the middle of the Val d'Orcia countryside and operated as a farm, restaurant and small campsite.
You reach it by car only, following a long yet easy-to-drive white road (no particular vehicle needed), and you can spend several hours immersed in a picture-perfect location with the nicest possible owners.
Outdoor tours and experiences
Tuscany has a wonderful and varied nature that includes river gorges, mountains, hills, natural hot springs beaches and coves (I know! Did I not open this post saying that there are tons of family activities in Tuscany for kids? There really are!)
E-Bike and Cycling tours – several locations including:
Montepulciano with Urban Bikeri
Fiesole with Fiesole Bike
Bike excursions from Agriturismo Diacceroni
Cycling on Lucca's walls (not a tour, just a fun, family-friendly way to experience Lucca. Toddler and baby-friendly)
Good to know: many agriturismo offer bikes to explore locally and in your own time. It is always worth asking your host if they have them or if they have a super local provider that can bring them to you. They often do!
Vespa tours (older kids) or sidecar tour experiences
Quarry tours, to explore the incredible quarries of Carrara, where Michelangelo's marble (as well as countless less significant modern bathroom marble tiles…) comes from! This by LIvTours is an incredible yout, have a look at the video >>> here <<<
Horseback riding adventures
Horse riding is a popular pastime in Tuscany and you will see many places called 'maneggio' aka horse stables.
No matter where you are in Tuscany, there is a high chance you have a maneggio near you. Some to check out in popular family destinations are:
Tuscany has several hot springs, in the form of free outdoor springs and thermal towns with spa-like experiences. Both are fantastic with kids!
Find here >>> the best hot springs and thermal springs in Tuscany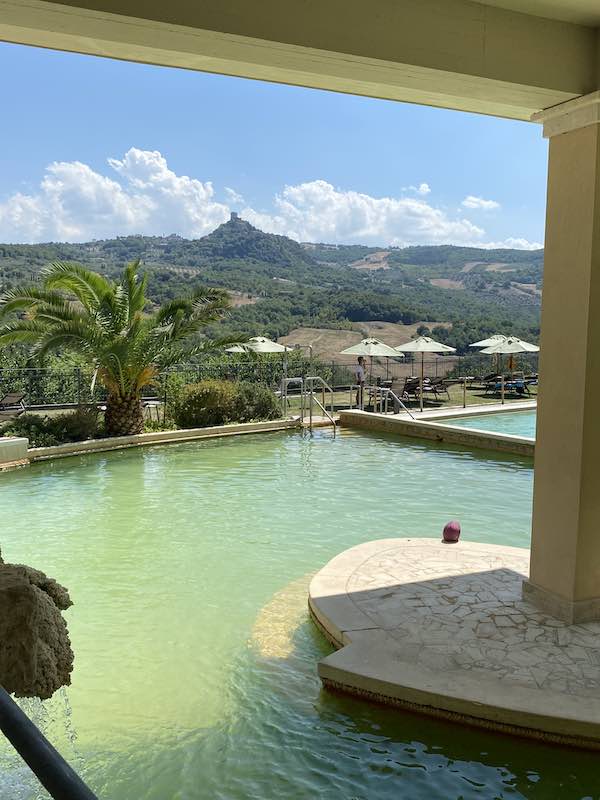 Water parks and amusement parks
We have these too, in Tuscany! This is a handy directory of addresses for kids. Please do remember that dies to weather, these are summer activities only.
Aqua Village Cecina, Via Tevere, 34, 57023 Cecina LI, Italy
Acqua Village Follonica, Via Raffaello Sanzio, 58022 Follonica GR, Italy
Cavallino Matto, Via Po, 1, 57022 Marina di Castagneto Carducci LI, Italy
Adventure parks
Parco avventura il Gigante, Via Fiorentina, 50036 Pratolino FI, Italy (Florence)
Parco Avventura Il Giardino Sospeso, Cecina, Località Giardino, 56046 Riparbella PI, Italy
Parco Avventura Doganaccia, Viale dei Cacciatori, 5A, 51024 Doganaccia PT, Italy
Indiana Park Amiata, Strada Provinciale delle, Macinaie, 58033 Castel del Piano GR, Italy
Geo Archeo Park, Equi (Caves), Via Buca 46, Equi Terme 54013 Fivizzano (MS)
Canyon Park Bagni di Lucca, Canyon Park Via Scesta, S.da Statale 12, Loc, 50022 Scesta LU, Italy
Other parks
Giardino dei Tarocchi – outdoor sculpture park with colorful installation by Niki de Saint Phalle, 58011 Capalbio, Province of Grosseto, Italy
Pinocchio Park (small kids only) is an old-school vintage park with Pinocchio-themed installations. Via San Gennaro n. 5 – 51012, Collodi (Pescia – Pt) Italy
ArcheoDromo Poggibonsi, open-air historical park, Parco Archeologico di Poggibonsi, Fortezza Medicea, Poggibonsi (SI)
Zoos and animal encounters
Aside from the above-mentioned farms, there are some zoos and animal parks that kids may enjoy:
Pistoia Zoo, excellent and open all year round, Via Pieve a Celle, 160/A, 51100 Pistoia PT, Italy
Parco Gallorose, Via Aurelia Sud, 65, 57023 Loc. Cedrino, LI, Italy
Zoo Poppi, Via Parco Zoo, 16, 52014 Poppi AR, Italy
Other family activities in Tuscany you may enjoy
Visit a castle
Tuscany has many beautiful castles: some just like the kids imagine them (turrets, etc), some a littel different, in the form of citadels. Some to check out are:
Rocca di Staggia – a wonderful castle to visit with kids, regularly offering family events on Sundays (an excellent opportunity to try to meet local kids!).
Castello di Meleto, a wonderful castle and wine estate with an onsite restaurant with outdoor tables (you can also stay here, we did!)
Brolio Castle, already mentioned, is a gorgeous castle estate belonging to the Ricasoli family, where you can enjoy wine tasting a meal and also treat the kids to a scavenger hunt in the castle garden.
Rocca di Radicofani, very ancient turreted fortress with incredible views over the countryside and a small cafe beside
Monteriggioni, stunning walled town/castle with a medieval museum where kids can try on medieval attire!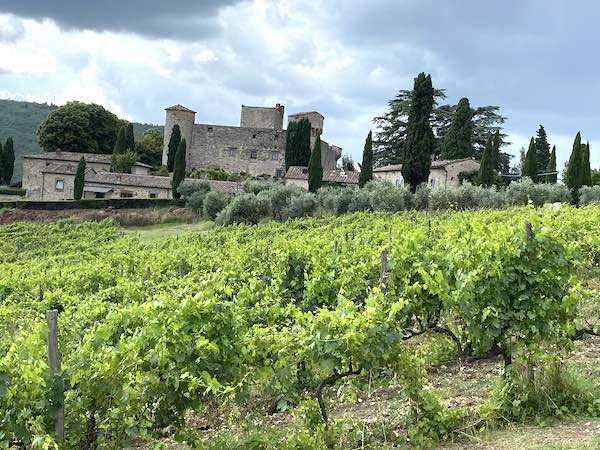 Got to a sagra (harvest festival)
Sagra is the Italian word for harvest festival or anyway a fete on the occasion of the harvest or coming into the season of a certain product.
Sagre are super local and happen everywhere all over Tuscany. No matter where you are staying, ask your host for the nearest one, they are fun!
Even more More ideas for a family vacation in Tuscany
Spend time on a wonderful beach in Versilia
Go snorkeling in a rocky cove (Castiglioncello, Monte Argentario)
Go windsurfing or Sailing in front of Monte Argentario
Take a silly photo at the leaning tower of Pisa
Check if the gelato in San Gimignano truly is the best in the world
See how many contrade signs you can spot in Siena
Experience the infinite kid-friendly things you can do in Florence
Spend time at your agriturismo pool (summer)
Learn all about Leonardo in the Leonardo Museum in Florence or in its very own hometown
Visit a cave in Grotta del Vento, for a breathtaking cave experience
Go skiing in Abetone (winter)
Visit a fashion outlet (Barberino outlet and The Mall are famous)
Give a chance to traditional Museums! With a good Guide, the Uffizi can really come to life for kids. Contact MariaclaudiaTours (use booking code: Mamalovesitaly) or Livtours for great kid-friendly ones.
I hope I showed you there are many family activities in Tuscany and you found at least a few your kids may love. Happy travel planning!