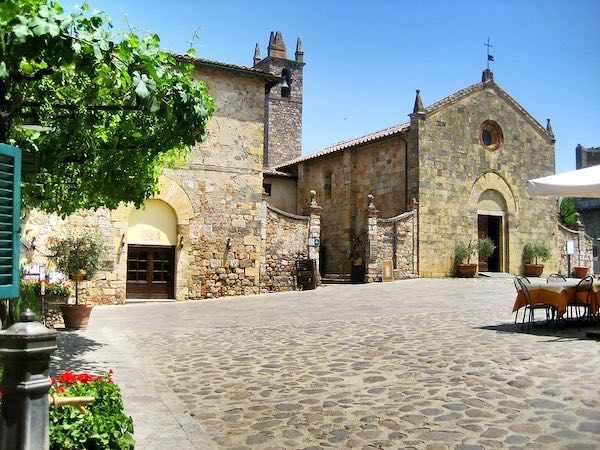 Monteriggioni, Tuscany: the pretty medieval hamlet you will love
All you need to know to visit Monteriggioni, Tuscany. How to get there, what to expect, why you will love visiting this small historical town.
Monteriggioni is a pretty, historical hilltop town in Tuscany, Italy.
It is a popular destination for day trips from Florence and Siena, both less than an hour drive from here, and it a place that captures the hearts of its visitors.
Still entirely surrounded by its original walls, Monteriggioni is a wonderfully preserved example of a Medieval fortified town / castle an the perfect place to immerse yourself in what Tuscany does best: a beautiful town with important history, wonderful views and out of this world good food.
This is all you need to know to plan your visit to beautiful Monteriggioni.
Please note: this post contains affiliate links. Should you make a purchase, we might make a small commission.
Where is Monteriggioni, Tuscany
Monteriggioni is in the center of Tuscany, about 20 minutes drive from Siena and a little less than an hour from Florence.
It is perched on a hilltop in a part of Tuscany known for its rolling hills and golden colors and it is most easily reached by bus or with one of the many bus tours that include it in their itinerary (find a good one here)
Because of its tiny size, a visit to Monteriggioni is easily combined with a visit to other towns such as San Gimignano or a local activity such as a cooking class in nearby Colle Val D'Elsa.
Who should visit Monteriggioni
Monteriggioni is one of the prettiest small towns in Tuscany and it is easy to enjoy all travelers interested in Medieval towns, families with kids, visitors looking for a slow day in pretty surroundings.
What to see in Monteriggioni
Monteriggioni is a medieval town whose story started in 1213.
That year, Siena started the build of this fortified town and made it one of its defense posts against its arch rival: Florence (Monticchiello, farther South has a similar history).
Siena gave Monteriggioni mighty walls and this are one of the things that make this town special.
The village walls
The walls are still standing. They circle uninterrupted the entirety of the town and the first and most peculiar thing about Monteriggioni.
The walls used to have 3 gates and 15 towers, a number so high Dante used to define Monteriggioni in a famous passage of the Divine Comedy, where he writes 'Mnteriggioni di torri si corona' , translating loosely as Monteriggioni crowned with towers'.
The walls are the first thing you see when you come into the town: you see them from outside as you approach the village main gate and you can also climb to their top and appreciate the tactical advantage that position gave to the town.
Between the hilltop position and the mighty walls, it truly dominates the area (if you have fear of heights, maybe give the walk a miss, it is very high up)!
Monteriggioni main square
Monteriggioni develops around a main square, overlooked by the pretty town church: Pieve di Santa Maria Assunta.
The church dates back to the XIII century and has a beautiful, simple facade that embodies the clean and elegant aesthetic of the time.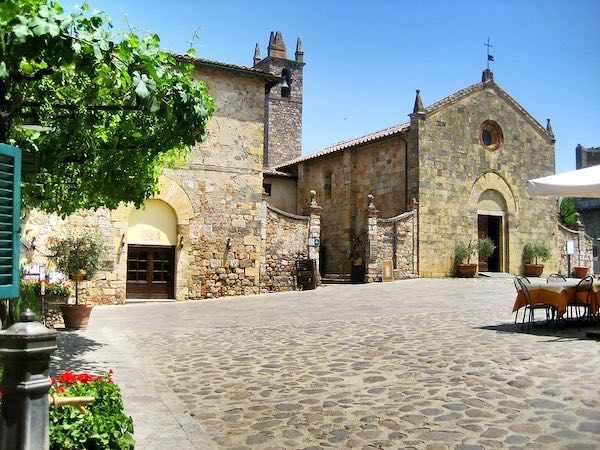 The square is also where you find many the interesting Medieval museum 'Monteriggioni in Arme' (fun in normal times as you can touch and wear the armors – an opportunity currently unavailable for health and safety protocols) and it is also where many restaurants are located.
The piazza is, as expected, the heart of this castle town and one of its most scenic locations.
See Monteriggioni's pretty corners
The piazza gives a first taste of what Monteriggioni is all about: a medieval town immaculately kept by its inhabitants who decorate with with climbers and flowers.
The alleys are also what quickly leads you to the edge of town, where you will find a wonderful viewing terrace.
Explore the shops
Monteriggioni is well used to tourism and has some very pretty shops with local artifacts that are pretty to see and perfect if you are looking for a souvenir for you or a nice gift idea.
Leather bags and pottery were our favorite!
Something special: Monteriggioni's Medieval Festival
Each summer, Monteriggioni hosts a wonderful festival that brings the castle's medieval soul back to life.
Over the course of several days, the town fills with people in Medieval costumes, music and performances and even hosts a (ticketed) banquet in the main square! You can find all info about the even on the official site here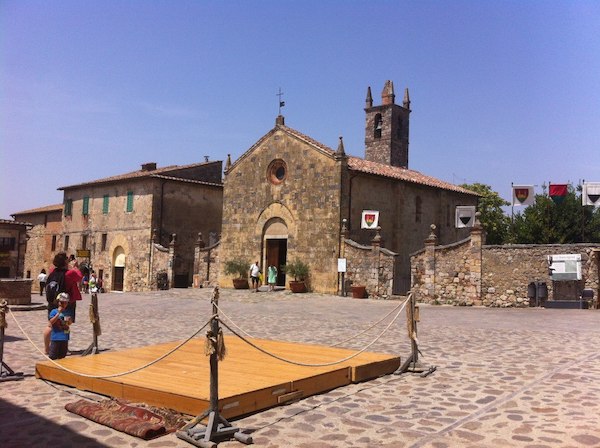 Monteriggioni Hotels
Inside Monteriggioni you can stay in the aptly named Romantik Hotel, nestled between the square and the viewing terrace at the edge of the town or in the guesthouse 'Camere dentro il Castello' (Rooms inside the castle), which is exactly what the name suggests!
Where to park in Monteriggioni
Monteriggioni is closed to traffic and has a decent sized car park just outside. The car park is pay and display: bring coins.
The town can be visited all year round however, I highly recommend you come at a time when you do not fight for space with large tourist buses.
While these are essential for those who cannot drive here, the small size of the town means you enjoy it more if you can come outside of the weekend or later in the day, when most tours have already left.
I hope you enjoyed this quick guide to Monteriggioni and it inspired you to visit. Safe travel planning!