8 of the best places to visit in Italy with kids in summer (by a local mom)
Our favorite ten best places to visit in Italy with kids in summer for beauty, child-friendliness, weather and crowds. Based on our own family travels!
School holidays make summer one of the most popular times for families to come to Italy.
This timing comes with some advantages but also some significant drawbacks.
In summer in Italy, kids can enjoy the sea, the beach, pools and theme parks, which are usually sure ways to make any vacation kid-friendly.
However, summer in Italy is scorching hot and exceptionally busy.
Therefore, knowing where to go to mitigate the worst of heat and crowds is important.
I have kids in school and I am from Rome, so I am faced with the question of where to go with kids in summer every year: we have three months of school vacation, definitely time I need to fill somehow!
Over time, I have identified some places that manage to strike the right balance between temperature, crowds and child-friendliness, without renouncing proximity to popular sites that I want my kids to experience.
Everywhere in Italy is busy in July and August so you won't be alone in any of these destinations: however, opting for a house in the country or a town that gets more local than overseas tourism goes a long way to make all more tolerable.
The list of the best places to visit with kids in Italy in summer of course is not limited to those on this page.
Here, however, you find the best places we have experienced recently and found to be a fantastic family summer hideaway
I hope you enjoy it and it helps you plan your summer vacation!
Good to know: all these places are beautiful, and have amazing food, delightful gelato and all the fabulous things you dream of when planning a family vacation to Italy! The photos you see on this page are my own and the kids you see are my kids: all the opinions here are based on my own family experience of Italy.
The Dolomites (best for active families who want to avoid extreme heat)
For us, the best place in Italy in summer for family's outdoor pursuits and moderate heat. Car useful but some areas are well served by buses.
Ask my children what the best to spend summer in Italy and they'll have no doubts: the Dolomites!
We have been vacationing in the Dolomites for many years so the kids are positively biased as we have wonderful family memories here, but the Dolomites in summer truly are wonderful!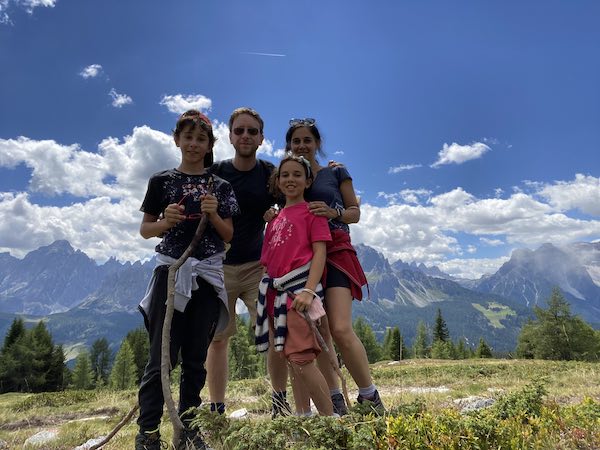 Stunning scenery, plenty of opportunities to hike and stay outdoors, mountain playgrounds, animals and wonderful hotels make them perfect for an active yet relaxing vacation.
The Dolomites are also the best place to visit in Italy in summer if you want to avoid extreme heat and enjoy an active vacation!
The temperature here doesn't get as hot as everywhere and usually there are no mosquitoes either!!
The Dolomites are very popular so there are some areas that are absolutely packed (Ortisei, Lake Braies).
However, there are many wonderful places that are not as busy and that offer fabulous views, hikes, and child-friendly attractions so don't limit yourself to the best-known places: the whole area is gorgeous!
The place we love most of all is Sesto Pusteria / San Candido area but you can find here >> a long list of fantastic places in the Dolomites for kids.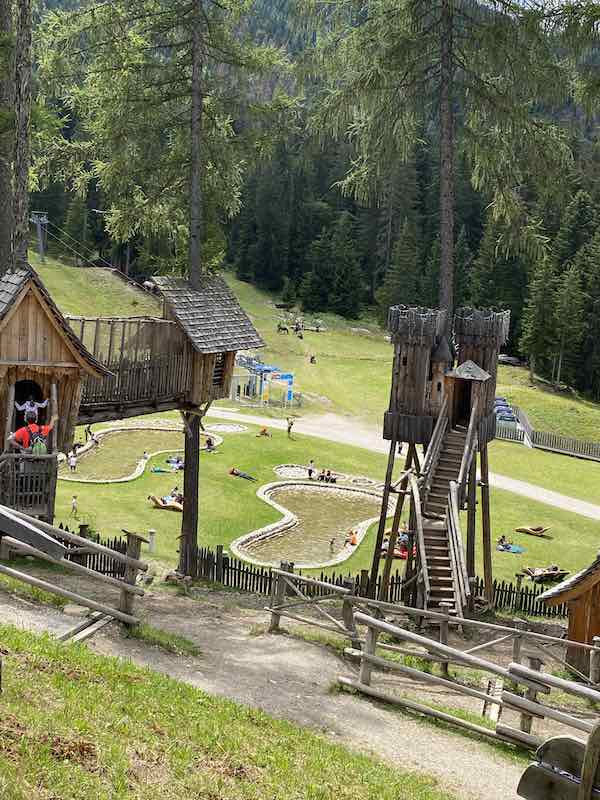 Why the Dolomites in summer:
Stunning
Moderate heat
Plenty of outdoor pursuits
Tons of mountain playground
Easy encounters with farm animals
Need to know: The Dolomites are culturally very different from the rest of Italy.
This area is bilingual German/Italian and the culture is mixed so expectations are key in terms of food, aesthetics and feel.
You still have pizza and gelato of course but it is better to indulge in local specialties such as apfelstrudel and Kaisersmarren, which are out-of-this-world delicious! You can read here >>> great South Tyrol food for kids.
Liguria – best for families who love coastal towns
For us, the best place for summer in Italy with kids for small town feel / sea vacation. Best by train.
Liguria is one of my favorite places in Italy for kids. I always say if I could buy a summer house, I'd get one here, I love it so much!
Liguria is a thin strip of land framed by the Alps on one side and the Mediterranean on the other and while it gest extraordinarily busy in summer, it is a fantastic place for people like me who like to swim in crystal clear waters but also have options to hop on boats and trains to explore.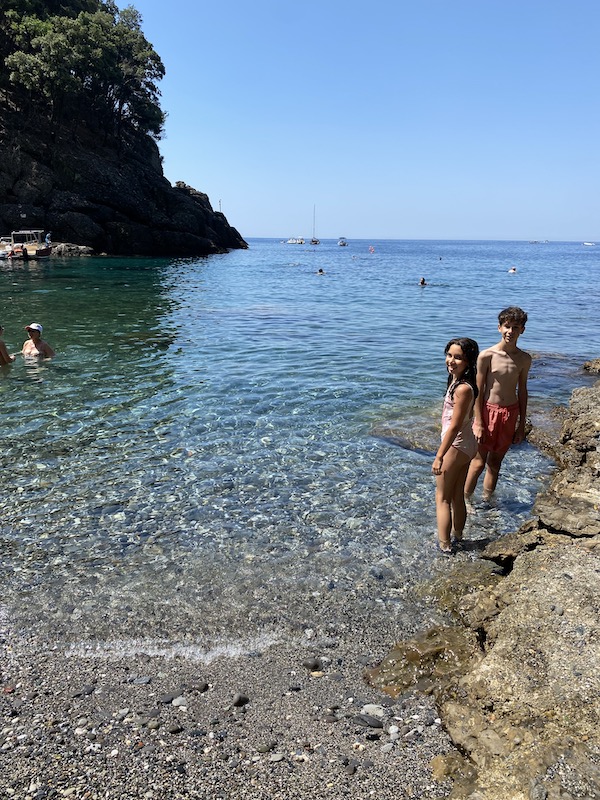 Liguria is known abroad mostly for Cinque Terre and Portofino, which are indeed wonderful, but with kids in summer, I have other places I love even more as they have better facilities for children and a more local feel.
Some of the places we love are:
Levanto – a gorgeous small local town just beside Cinque Terre, with a fraction of the crowds than its famous neighbor
Chiavari – adorable, super local town close to Portofino
Sestri Levante – another delightful coastal town with a gorgeous sandy beach and easy access to Cinque Terre and Portofino by boat.
Santa Margherita Ligure – an upscale, mellow coastal town close to Portofino and with a lovely family atmosphere.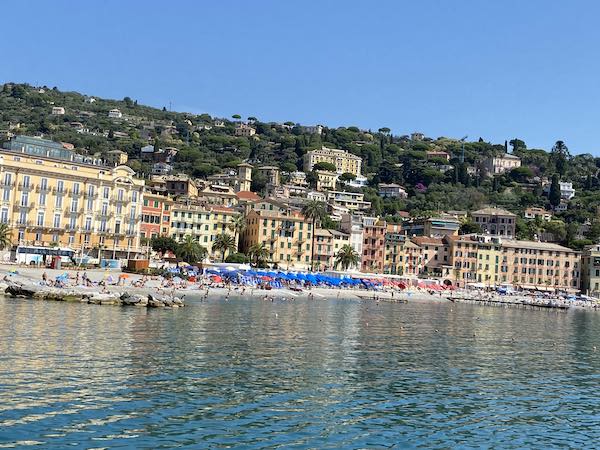 Liguria gets very hot in summer but access to the sea and boat trips make it much better than cities.
For me, Liguria is the best place in Italy for kids in summer because:
It is stunning
Its towns are kid friendly (playgrounds, beaches, summer family events) and well served
While hot, the presence of the sea makes the summer temperatures bearable
it is well served by trains, so you don't need to worry about driving, car seats, etc
It has a mix of organized beaches and coves of great natural beauty perfect for enjoying the sea in from land and boat
Read here >>> all our favorite places to visit in Liguria with kids
Tuscany (Countryside and coast)
In our experience, the best place for families in Italy for a country stay and sightseeing especially, beaches nearby. Best by car (essential for the countryside, some coastal areas are reachable by train)
Tuscany is a very popular destination in summer for families, thanks to stunning landscapes and the many activities in Tuscany you can choose from.
Most families associate Tuscany with rolling hills and indeed, the Tuscan countryside is hard to beat in terms of country beauty.
However, Tuscany also has a long and stunning coastline, with fabulous towns, beaches, campsites and coves that make it great for kids!
We love spending our summers in Tuscany.
Our days there tend to pass with long hours at our accommodation and plenty of pool time for the kids and visitors to historical towns in the late afternoon ( we call it: our aperitivo and sightseeing time).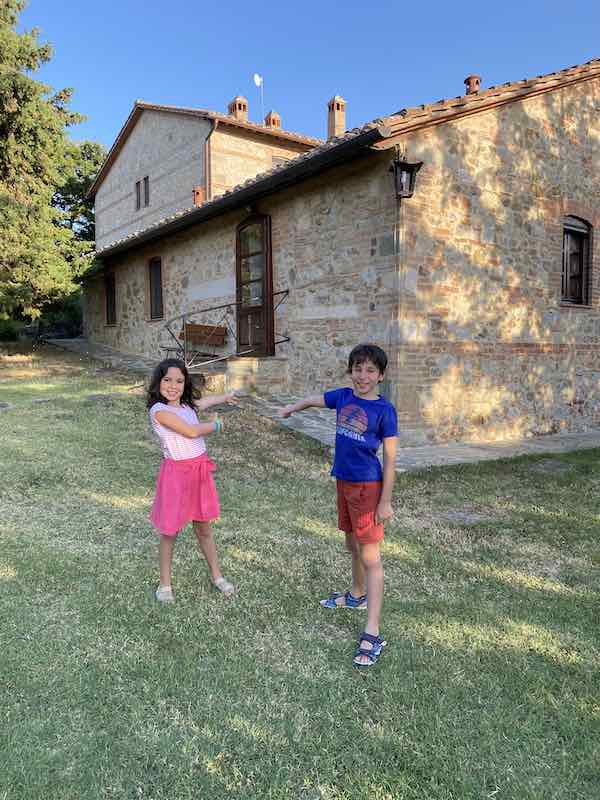 Crowds and heat are both intense here, however, Tuscany has glorious country stays that allow you to relax in stunning surroundings and cool down in pools, meaning you can escape the crowds very easily!
What we love bout Tuscany is summer is:
There are plenty of country stays that make it easy to relax by the pool and escape the worst of the crowds
Hills are significantly cooler than cities, making this a good refuge (you still often need A/C but it's much better than towns!)
You can easily mix relaxation and sightseeing
Plenty of adventure parks and beaches for the kids
Very well developed in terms of English language activities for overseas tourism, including classes and family-friendly winery tours. Read here >>> our favorite family activities in Tuscany
Find here >>> our complete guide to visiting Tuscany with kids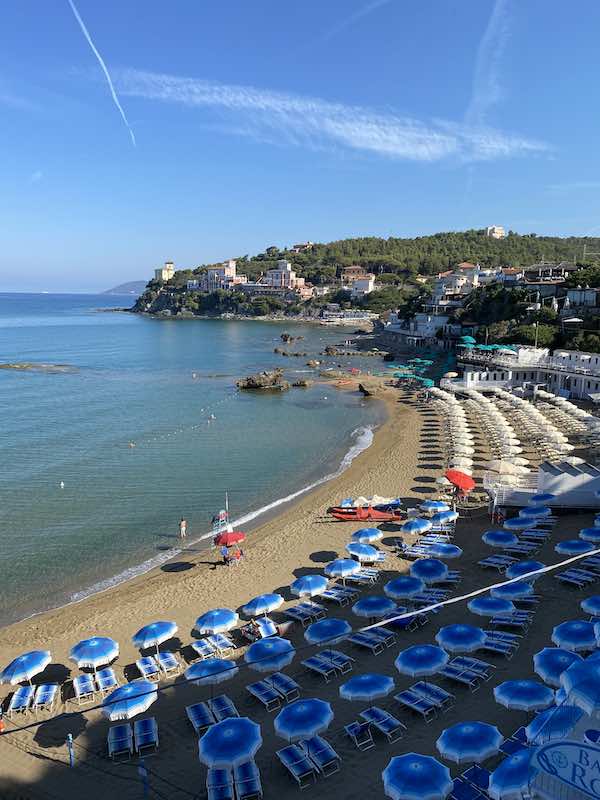 Umbria
In our experience, one of the best places for families in Italy for a summer country stay away from the crowds. Car essential.
If you love the idea of a country stay and town hopping, yet you want to stay away from the more classic Italian tourist spots, you should consider Umbria.
Umbria is in the center of Italy and is a stunning region with hills, forests, small historic towns and lakes, many of the same ingredients that have made Tuscany world famous.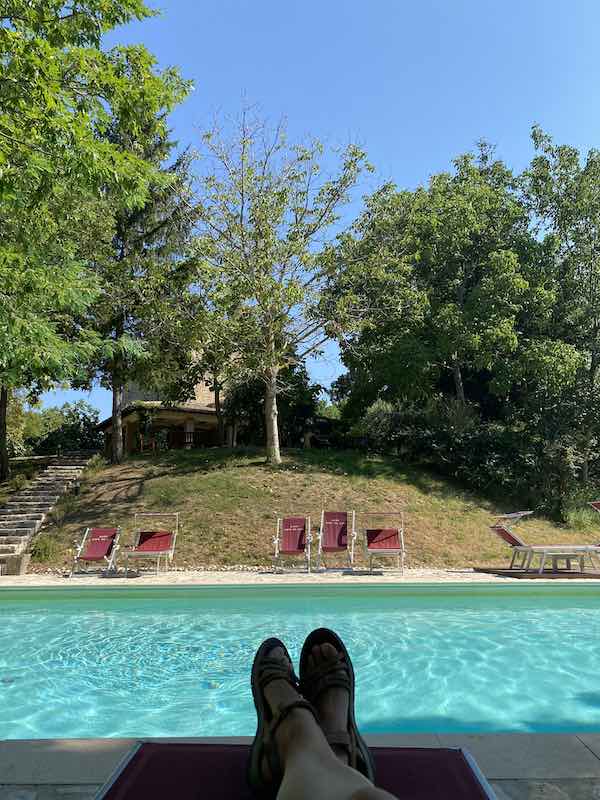 Many think of it as an alternative to Tuscany but actually, Umbria has a very distinctive feel and it is worth getting to know it not as an 'instead of' but as a wonderful destination itself!
Places we adore here are:
Gubbio, which is historical and fun for kids, with the 'crazy' fountain, the tourist train and the nice playgrounds
Spello and its colorful flowery alleys
Assisi, and its incredible center and beautiful forest
We love coming to Umbria, we find it is one of the best places to visit Italy with kids in summer for:
Country stay (make sure you get a pool!): there are plenty of lovely agriturismo and villas here, perfect to escape heat and crowds
A hilly landscape that means it is easier to escape the heat of the cities
Adventure parks for kids
Opportunities to meet farm animals
Mixing relaxation and sightseeing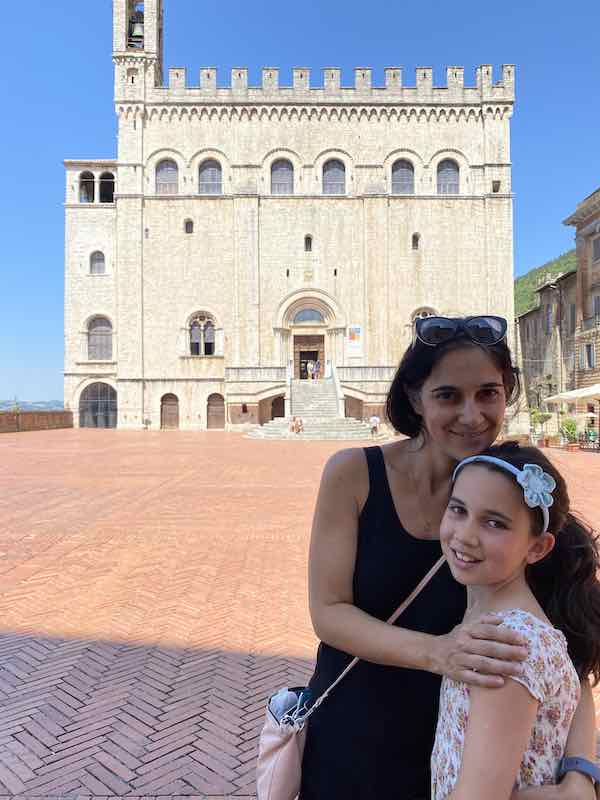 Puglia
In our experience, one of the best places for summer in Italy with kids to mix beach time and sightseeing. Best by car.
Puglia is one of the best places to visit in Italy with kids in summer if you want to mix time on the sea and town visits.
Puglia gets extraordinarily busy and hot in summer; however little like Tuscany or Umbria, it has the space and the facilities to avoid the crowds.
So, if you have a budget that allows for a private villa with a pool or a resort with a private beach, it can be a dream!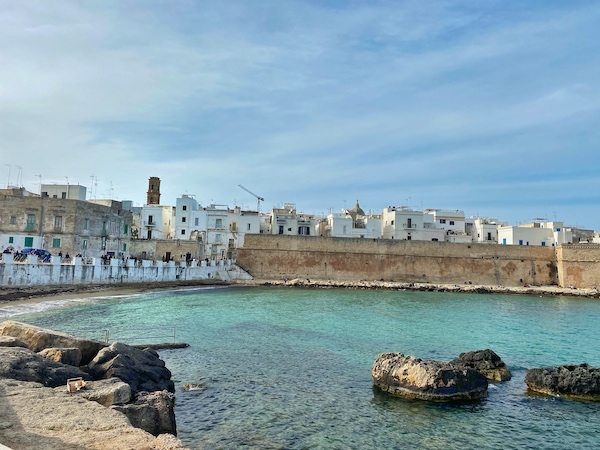 We absolutely love Puglia and I have a very special relationship with Monopoli, which I find among the most child-friendly towns in Italy, especially for little ones!
Puglia is perfect for kids in summer as it offers:
Sandy beaches with calm waters (especially in the Salento area)
Kids' attractions such as zoo and aqua park
Plenty of safe, cute towns to explore
Tons of resorts if you want to take some days to just stay put and relax
Places we love here are Monopoli, Gallipoli and, for beach time, the Salento area is perfect!
Find here >>> our guide to the best places in Puglia for kids
Lake Garda
For our kids, the best place to meet other families, campsite stays, theme park access. Car prferable but trains and buses work well here too.
Lake Garda is one of the most fun places for kids in Italy in summer as it mixes outdoor pursuits with the option of swimming in the lake and even access to the best theme park in Italy: Gardaland!
Lake Garda gets very busy in summer as the facilities for families are fantastic here; however, once you know you won't be alone, you can have a wonderful time here!
The reason why we love Lake Garda with kids in summer is:
Easy access to the lake and its small beaches, perfect to cool down
Tons of campsites and other families to make friendly
Gardaland!
You're close to the mountains so you can easily get the gondola up Monte Baldo and escape the heat for the day (Plus, the scenery is stunning!)
It's a lovely area to mix outdoor pursuits such as cycling and swimming and going town hopping
Read here >>> our favorite places to visit in Lake Garda with kids and best family things to do
Sardinia
Just the best for a pure sea and sun vacation. Car essential.
Sardinia has the most beautiful beaches Italy, and it is therefore one of the best summer destinations for families in Italy for sea and sun lovers!
My auntie and uncle lived in Sardinia when I was little, in a place called Capitana, near Cagliari, and I've been spoilt when it comes to the sea ever since: you can't beat Sardinian waters!
Sardinia gets very busy in summer, and since it has the kind of sea you can hardly find anywhere else, prices for accommodation here at high. However, if you can plan a stay here, it is truly perfect for beach time!
Places we love are:
San Teodoro: upscale, nice and family-friendly summer events, beautiful and with great beaches and boat trips
Villasimius, great for its proximity to towns and stunning beaches
Costa Rei is amazing if you want a break from it all and just enjoy large expanses of sand!
You can read here >>> the best places to visit in Sardinia with kids
Tropea
The best place for sea and sun vacation and summer resort town feel you can reach by train. Car essential to visit the area; Tropea itself is reachable by train.
Tropea is a gem of a coastal town in Calabria, a part of Italy largely overlooked by international tourism.
Tropea is very famous so you'll find a high number of Italian visitors here in the summer months. However, it has a sea so beautiful, you easily forget the crowds!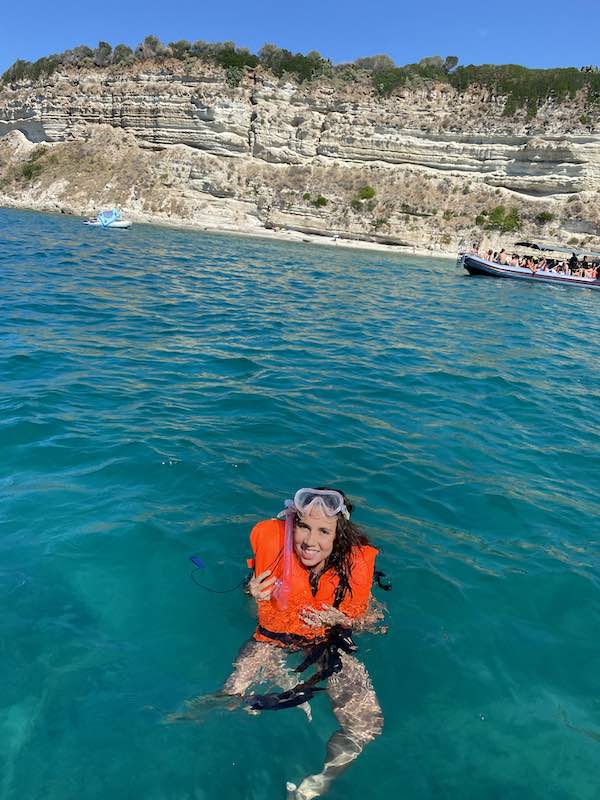 Tropea is perched on a tall and scenic seacliff. At the top of the cliff, you have the charming and historic town center, which is pleasant and has very much the feel of a resort town, plus some beautiful buildings!
Below the cliff, you have resorts and beach clubs, which make the most of the light-colored sandy beaches and the beautiful waters of this area.
Here is also where you find the port, from where you can take the boat to swim and snorkel and board day cruises to the stunning Aeolian islands.
Tropea is perfect if you want a few days on a beautiful beach and a buzzy resort town to call home for a while (guide coming soon: the photo at the top of this article is Tropea, I took it this summer!).
Find here >>> our guide to visiting Tropea with kids
I hope you enjoyed this quick list of the best places to visit in Italy in summer, based on our travels! Safe travel planning!
Tropea