9 fantastic lakes in Northern Italy you will love
9 of the most beautiful lakes in Northern Italy perfect for a relaxing weekend or summer getaway.
The North of Italy has many beautiful lakes. Small, large, warm, glacial, northern Italian lakes are among the most beautiful in the country and can be a wonderful location for an Italian vacation or a weekend getaway.
This is a list of the biggest and best known lakes in the north of Italy and our tips for visiting.
Please note: this post contains affiliate links. Should you make a purchase, we might make a small commission.
Lakes in Northern Italy map
5 unmissable lakes in Northern Italy
Lake Garda – northern Italy's biggest and most family-friendly lake
Lake Garda is the biggest lake in Italy and one of the most popular for getaways in springs and summer especially.
The lake is located in the north east of Italy, between the regions of Veneto, Lombardy and Trentino Alto Adige and has a lot to offer its visitors.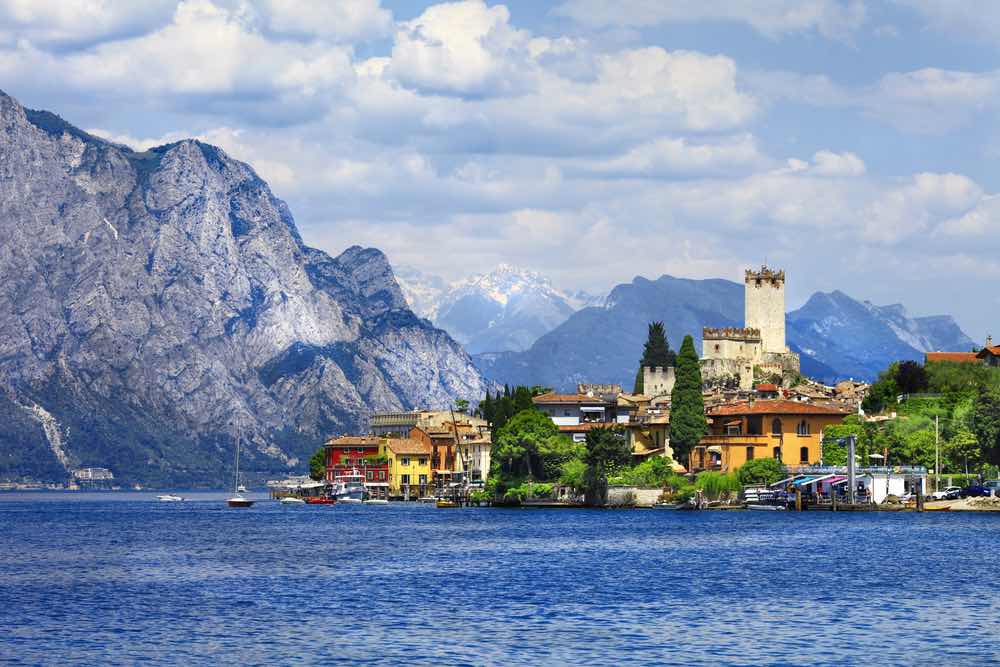 If you love sightseeing, Lake Garda is home to many delightful historical villages and castles, perfect for culture lovers. The incredible Scaliger castle in Sirmione is a Lake Garda must see and so are the delightful towns of Limone, Torri del Benaco and Riva del Garda, with its Austrian-inspired architecture.
If you prefer a relaxing weekend to enjoy the lake shores, you can easily relax on one of the best beaches on Lake Garda or take to the water and crisscross the lake using the handy lake ferries, that connect the many waterfront villages.
if you love cycling and hiking, the lake has lovely cycle paths and it is close to the mountains, so you can easily stretch your legs on mountain trails and catch beautiful views
Last but not least, Lake Garda is close to the area of production of prosecco, Valpolicella and Bardolino wine and is perfect for wine lovers.
Have kids? There is something for them too! Lake Garda family-friendly attractions include the fun Gardaland theme park, tons of outdoor play areas, family-friendly beaches and plenty of campsites and family hotels.
Find our guide to the best places to visit on Lake Garda here.
Trip idea: Spend a few days or a couple of weeks in this area visiting Lake Garda, Verona, Venice and stretching all the way up to the Dolomites, for a wonderful Northern Italian vacation!
Lake Como – one of the most famous lakes in Italy
Lake Como is another very popular lake in northern Italy, popular with foreign visitors and locals, who tend to come here especially from Milan, nearby (it is one of the most popular day trips from Milan in spring and summer).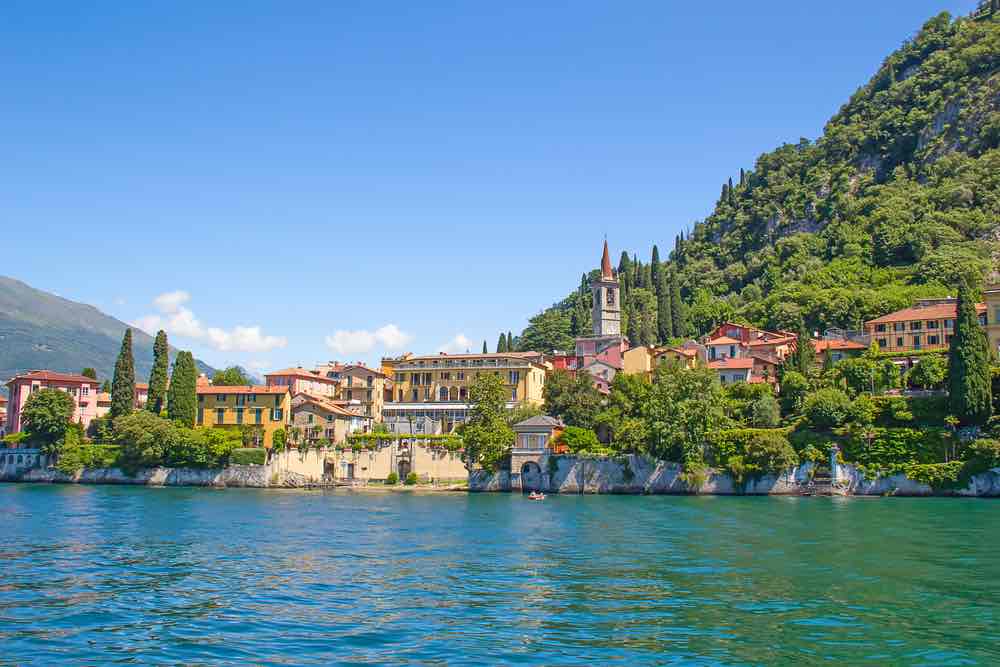 The lake has the shape of an inverted Y and has two branches, beautifully framed by pristine mountain scenery.
If you love Italian literature, you will easily recognize the area that inspired the incipit of Manzoni's 'The Bethroted' Quel ramo del lago di Como che volge a mezzogiorno tra due catene ininterrotte di monti. (Lit. That branch of Lake Como that looks South, between two uninterrupted chains of mountains).
It is easy to see why Lake Como inspired sublime art, the place is just lovely and perfect for a relaxing getaway in front of pristine scenery.
On Lake Como, there is nice sightseeing to be done in Como itself, the pretty town of Cernobbio, internationally renowned Bellagio and pretty Varenna with its colorful houses.
If you love gardens, you should not miss the beautiful Villa Carlotta, one of the best places in Italy to admire flowers in spring.
The lake is also perfect for a getaway in a relaxing hotel along the lake shores or to take to the water, either making the most of the lake cruises available or getting active kayaking and paddling, a fun thing to do while visiting Como with kids.
Lake Como has many beach clubs and some free beaches. You can find our list of Lake Como beaches here.
The lake is beautiful and the perfect getaway if you are looking for an easy and pleasant escape from Milan.
Some of the best activities to do on Lake Como are a lake tour by electric bike, fun and not too tiring, a tour of the lake by private boat, to see the most beautiful towns on the lake while enjoying the water and a cooking class to learn to make pasta and tap into the beautiful cuisine of the area.
Trip idea: you can easily spend a weekend here enjoying the area or you can come from Milan just for the day, on your own or joining a Milan to Como day tour.
Lake Maggiore
Lake Maggiore (Lago Maggiore) is another beautiful lake in the north of Italy, this time in the regions of Lombardy and Piedmont, in the north west. The lake is famous for being the summer residence of choice of many celebrities, who have wonderful villas here, and it is easy to see why you'd chose it for a beautiful escape.
The lake is surrounded by beautiful, pristine mountains and, on its shores, you can admire and enjoy incredible villas of great architectural value and huge charm.
The most famous and possibly most beautiful town on Lake Maggiore is beautiful Stresa, where you can enjoy a wonderful lakeside promenade with stunning views of the mountains and of the lovely Borromean island, just in front. In Stresa, you also have lovely gardens and villas, wonderful especially in spring and early summer.
The Borromean Islands are also a Lake Maggiore must-see. They are stunning lake islands famous for incredible villas and beautifully manicured gardens that embody the pristine and elegant beauty of this part of Italy.
The island includes Isola Madre and its villa, Isola dei Pescatori, small and lovely for a lakeside lunch, and Isola Bella, the most famous of all the Borromean Islands, home to a stunning palazzo, gardens and some of the best lake views you can ever ask for.
You can visit the islands at your own pace with a hop on – hop off boat tour of the area
Culture lovers should also visit Eremo di Caterina del Sasso, a stunning Hermitage on a rocky promontory overlooking the lake, which preserves beautiful artwork and offers some of the best views on Lake Maggiore from its stunning terraces.
If you have kids, check out the local adventure park, with fun treetop rope courses and zip-lining fun!
Lake Orta – home of pretty Orta San Giulio Island
lake Orta is smaller than Lage Maggiore and Lake Como and a bit of a hidden gem. Located in Piedmont, a northern Italian region oddly neglected by international tourism, Lake Orta has wonderful romantic villages, beautiful mountains views and something truly special, the island of Orta San Giulio.
Orta San Giulio is a delightful island with a legendary past. Local stories tell us that the island was wild and infested with snakes and dragons until 390 AD.
That year, San Giulio is said to have come to the island, to have driven away from the snakes (a little like St Patrick in Ireland) and to have established here the first church.
Whether you accept this version of events or not, there is no doubt that there is something mystical about this island, with it church, monastery and incredible view of the lake. Try to come out of season to tap into its most poetic side and escape the crowds.
In the same area, not to be missed is the lovely village of Omegna, a lakeside gem with delightful architecture and relaxed atmosphere, perfect for a relaxing weekend on the lake.
Lake Iseo – hidden gem!
If you have never heard of Lake Iseo, you are not alone. Lake Iseo is a gorgeous small lake in the north of Italy but a place especially foreign visitors largely ignore, usually attracted by its much more famous and publicized neighbors lake Como and Lake Maggiore.
However, Lake Iseo is wonderful and worth a visit. Not to be missed are Sulzano, Monte Isola, the small island San Paolo and Lovere, regularly featuring as one of the 'most beautiful villages in Italy' according to the coveted 'borghi piu' belli d'italia' award.
Lake Iseo is a quiet and wonderfully romantic lake in the North of Italy perfect for couples especially.
Easy to access mountain lakes in Northern Italy you will love
Lake Braies, Alto Adige – the most photographed mountain lake in Italy
Lake Braies or Lago di Braies as it is called in Italian is a stunning, mountain lake and one of the most photographed mountain lakes in Northern Italy.
Braies is a small, pretty lake and in the last few years has become a favorite spot for Instagrammers, who fell in love with its distinctive clear waters that reflect the mountain peaks of the area, without requiring any hiking!
You can read our guide to visiting Lago di Braies here.
Indeed, Braies is lovely and worth seeing however, unlike the other lakes on this list, it is not a place for a lakeside vacation but more the destination for a day trip while visiting the area for a family hike.
You can read how to include Lake Braies in your Dolomites vacation here.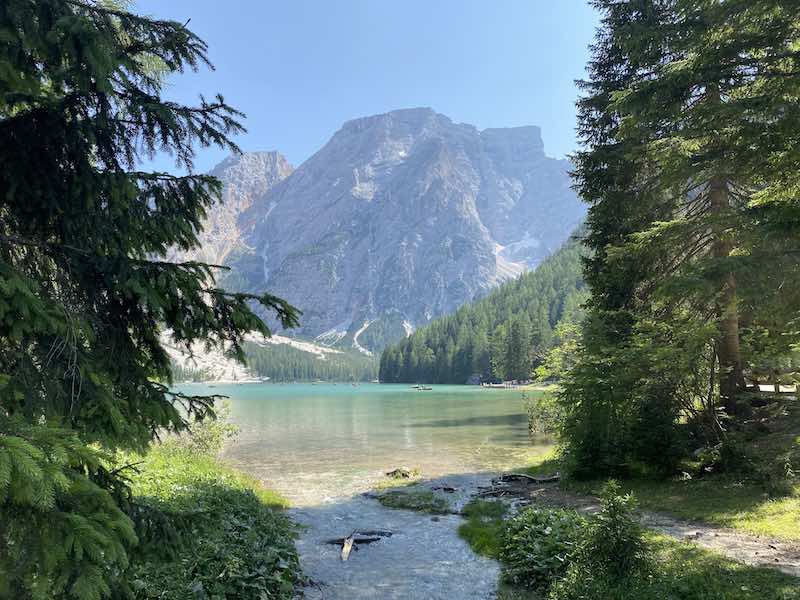 Lake Dobbiaco, Alto Adige
Lake Dobbiaco is another adorable mountain lake in Alto Adige, beloved especially by families with kids.
This is a very pretty, easy to access mountain lake surrounded by beautiful peaks and well equipped with kids amenities such as a good campsite, pedal boats and nice family-friendly hikes. A lovely place to spend a day while visiting the Dolomites with kids.
You can find our full guide to Lake Dobbiaco here.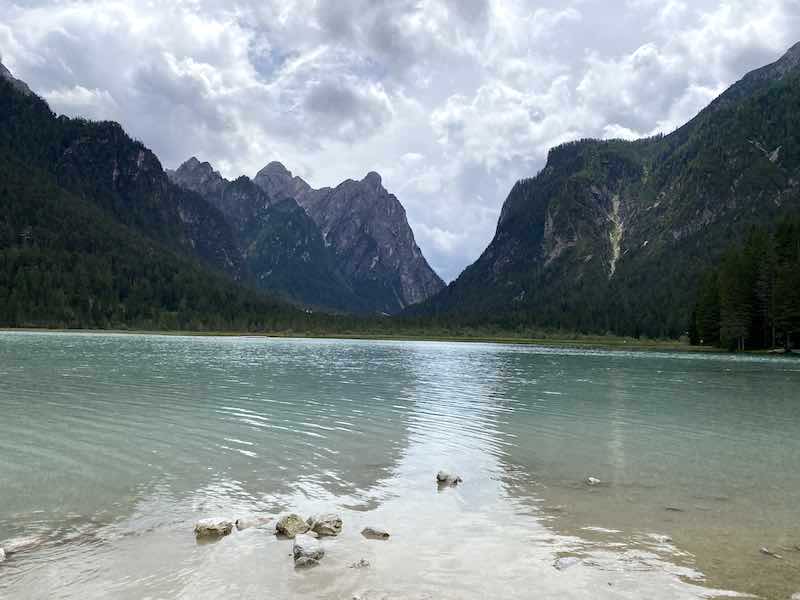 Lake Misurina, Alto Adige
I close this list with wonderful Lake Misurina, a beautiful mountain lake under the stunning peak of Mount Cristallo, one of the most impressive mountains in the Dolomites.
the lake is lovely for a day out relaxing and has a family-friendly lakeside walk that is perfect if you want to catch beautiful mountain views without having to hit strenuous trails.
One of the most iconic locations on the Dolomites, this is a beautiful and accessible mountain lake adults and kids will enjoy.
Lake Resia
Lake Resia is a very special lake as it hides a secret. Under its waters lies a whole village, whose presence you can guess thanks to the presence of the ancient bell tower, not peeking out of the water!
The lake is one of the most photographed locations in northern Italy and one of the most unique views in the country!
Most beautiful lakes in Northern Italy – pin this!