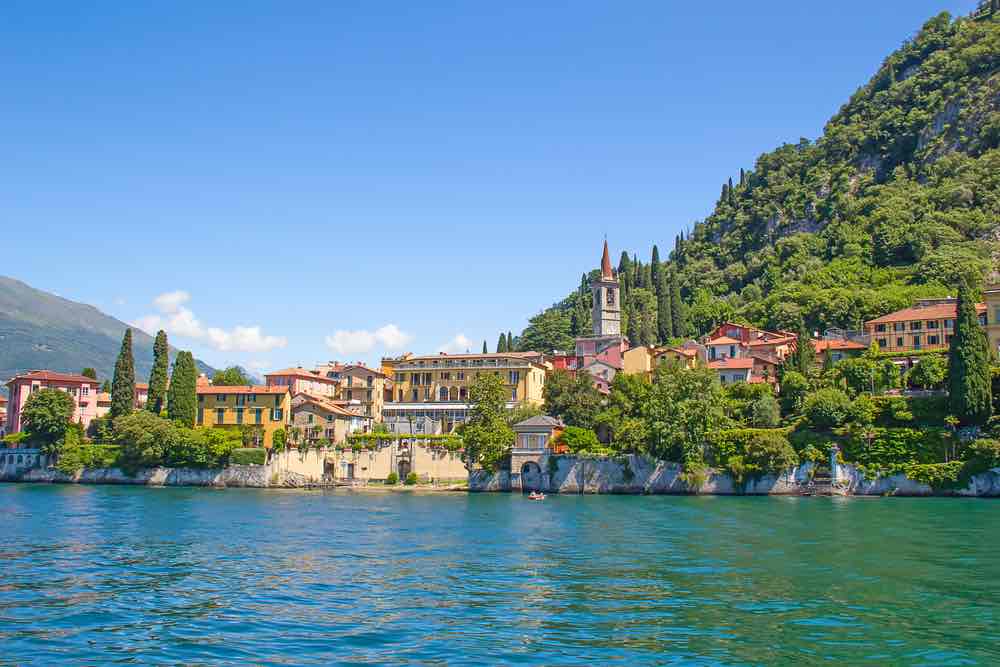 12 weekend trips and day trips from Milan you will love
Great weekend trips and day trips from Milan, for a relaxing getaway in some of the most beautiful destinations in northern Italy.
Milan is a wonderful base to discover the north of Italy. Close to lake, mountains and pretty cities, Milan is well connected to the rest of Italy by roads and trains.
These are some of the best day trips from Milan you can take on your own or by private tours and some weekend getaway ideas for Milan, for when you feel like a proper break from the city.
This is our round up of the best day trip and day tours from Milan.
Trip idea: combine one day in Milan and a day trip to one of the destinations below for a fantastic long weekend!
Please note: this post contains affiliate links. Should you make a purchase, we might make a small commission.
Day trips from Milan Map – our top picks
Our favorite day trips from Milan, Italy
Lake Como – the most popular day trip from Milan
Lake Como is the most popular day trip from Milan for locals and visitors alike.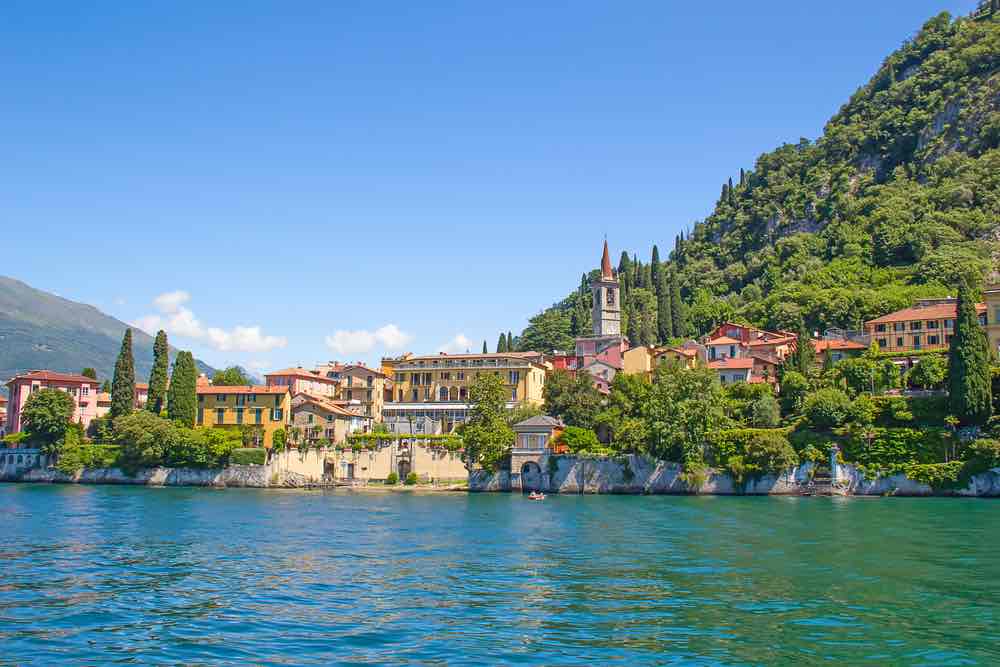 Nestled at the bottom of the Italian Alps, the lake has the shape of an upside-down Y, with its arms framed by beautiful mountain peaks.
Lake Como appears in the incipit of the famous Italian novel 'The Bethroted', which opens with the dreamy description of the Southern arm of the lake, and it is easy to see why this place has such an important role in Italian literature.
This place is simply idyllic. Whether you are here for boating, strolling along the lakes or visiting villas, it is hard to resist its charm.
Famous locations along the lake are glamorous Bellagio and Varenna, regularly featuring among the best day trips from Milan and Como itself, which is a pretty town with a relaxing city center and promenade.
In the good season, it is possible to enjoy lake Como from the water too, joining a lake cruise, swimming, or trying out watersports such as kayaking, SUPping and canoeing.
Tip for families with kids: do not miss 'Jungle raider park' in Bellagio, a fun adventure park for kids of all ages!
You can get to Lake Como by car or train or join an organized tour like the following:
Lake Como, Bellagio and Varenna day tour from Milan
Lake Como and Bellagio Day trip from Milan
Day trip from Milan to Lake Como, including a visit to Bellagio and Lugano, in the Italian-speaking part of Switzerland.

Lake Maggiore – great day trip from Milan in spring and summer

To the West of Lake Como and a short drive to the North West of Milan lies stunning Lake Maggiore (Lago Maggiore), one of the most beautiful lakes in northern Italy.
Glamorous, elegant and plain beautiful, Lake Maggiore is a great day trip from Milan if you like architecture and enjoy strolling around elegant gardens overlooking a placid lake scenery.
The places to see here are pretty Stresa, the impressive Hermitage of Santa Caterina del Sasso (museum and terraces) and the Borromean islands, in particular Isola Bella, about which Dickens said 'For however fanciful and fantastic the Isola Bella may be, and is, it still is beautiful'.
Tip for families with small kids: bring the kids to Parco Zoo di Villa Pallavicino and enjoy the beautiful gardens and wildlife park (flamingoes, foxes, alpacas, raccoons and more!) or treat them to a day at the local adventure park for an afternoon of guaranteed fun!
Stresa is about 1h by car from Milan. Once in the area, you can use the local hop on, hop off boat to explore islands and gardens at your leisure.
Bernina Express – best day trip from Milan for mountain lovers
If you love trains or mountains, then the best day trip from Milan for you is a trip on the Bernina Express!
The Bernina Express is a train serving the Bernina pass, a beautiful Alpine pass between Italy and Switzerland and holds the record for being the steepest railways in the world.
The train connects Tirano to St Moritz, in Switzerland, and is a great way to spend a day in this glamorous resort town. Organized day tours from Milan take the planning stress away: have a look at tickets and prices here.
Lake Garda
Lake Garda is the biggest lake in Italy and a popular summer vacation destination for locals and tourists alike. People usually spend anything between a weekend and a week here however, you can also easily visit it from Milan for a day or an overnight stay (recommended).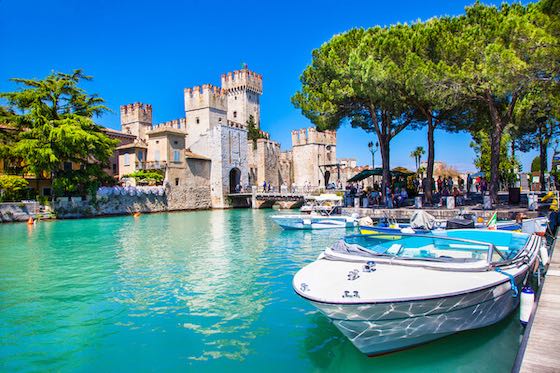 From Milan, the easiest and best places to visit on Lake Garda to visit are Desenzano and Sirmione, where you have the stunning Castello Scaligero, Aquaria (thermal baths) and of course the lake itself with its beautiful shores.
The best way to visit Lake Garda from Milan is by car since this allows you to explore several town in one go.
Once you are in the area, a cool way to enjoy the lake is by joining a lake cruise or participating in a wine tour. If you can, stay the night to make the most of this wonderful area.
Verona -best weekend getaway from Milan for couples and history lovers
Verona is world famous and can be easily reached from Milan on a day trip or, better for a weekend getaway.
The city has a wonderful historical center, a stunning position along the river Adige and two main landmarks, that attract visitors from all over the world: the Roman amphitheater and the so called Juliet's balcony.
Verona is easy to visit independently so if you don't mind making your own way there, I would advocate allocating a couple of day for the visit and allowing yourself to get lost in its center and soak up the atmosphere.
The city center has enough attractions and shops to keep you busy for a couple of days or you can combine a visit to Verona with an extra stretch to the countryside around Verona, for instance joining a wine tour in the production area of Amarone wine.
Trains depart from Milan at regular intervals during the day (sometimes as often as 3 times per hour) and take between 1 and 2 hours to reach Verona.
Bergamo – great day trip from Milan for UNESCO site lovers

Lovely Bergamo is one of the easiest and most pleasant day trips from Milan if you love charming old towns, beautiful architecture and sweeping views.
Bergamo develops at the bottom and a top of a hill: the lowest part of town is Bergamo Bassa (bassa=low) and the one on top is Bergamo alta (alta=high), the ancient part of the city, still surrounded by Bastions now UNESCO World Heritage.
The city is medieval in architecture and a delight to discover on foot. Piazza Vecchia and Piazza Duomo are among the most beautiful corners of the city but the best way to explore Bergamo is to allow yourself to get lost and let its medieval street take you.
If you prefer a guided tour, have a look a this private guided our of the old city and this fun Bergamo food tour, perfect for foodies!
Regular trains connect Milano Centrale to Bergamo in about 50 minutes.
Genoa – fantastic day trip from Milan to the coast by train
Genoa is one of the most beautiful cities in Italy and one that is easy to visit from Milan.
Good train connections allow you to reach Genoa city center in less than two hours and, from there, you can easily visit the main Geona attraction on foot.
There are two main areas worth visiting in Genoa: the historical city center, which is right outside the main station, and the Old Port, a short stroll downhill from the town center. Both can easily be visited in one day, but you need an itinerary as there are a good few attractions you don't want to miss. Find our recommended one-day Genoa Itinerary here.
Tip for families with kids: The area of the Old Port is a paradise for small kids. It is home to a children's museum, a pirate ship, a submarine, a panoramic lift and one of the biggest Aquariums in Europe, all in the same place! You can find our tips for visiting Genoa with kids here.
Weekend trip from Milan to Cinque Terre
If you have a couple of days and are looking for a weekend getaway from Milan on the coast, then you should do to Cinque Terre, one of the most beautiful places in the whole of Italy.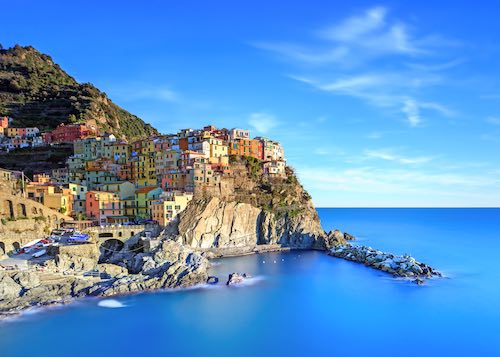 Cinque Terre are a series of 5 villages, perched on vertical cliffs plunging into the sea. They are famous for their scenic and colorful villages and they can easily be visited from Milan by train.
Getting there takes a bit of effort since there i snot direct train, but once you are there, moving around is easy and the views worth it.
Stay the night to have the time to train hop between all of them, hit the trails and admire the sunset from pretty Vernazza – unforgettable!
If you don't have a weekend, you can also visit the area by joining a day tour from Milan such as this one: it is worth it but it is a long day, so be prepared for staying out morning to evening.
Top tip for families with kids: Cinque Terre are not easy to visit with a stroller. If you are planning on visiting with small kids or toddlers, first read our guide to Cinque Terre with kids.
Bologna – city day trip from Milan by train
International tourism mostly ignores gorgeous Bologna but ask any Italian and they are likely to launch in extensive praise for this city.
Home to the oldest university in Europe and famous for giving the world the sauce visitors call 'Bolognese', Bologna is a delight to visit and a very easy day trip from Milan.
The two cities are connected by the high-speed train Italo and it takes a little over an hour to get from one to the other.
The train leaves you in the center of the city and you can easily discover Bologna on foot. Not to be missed here are the city's main landmarks such as Piazza Maggiore, San Petronio and Torre degli Asinelli, and of course, the city's legendary food, which you can get to know by joining a traditional food tour such as this one.
Parma – the best day trip from Milan for foodies
Parma is mostly known abroad for its food, namely Parmesan and ham, and indeed if you are into food and produce, there is hardly a better place to be than this quaint and cute Italian town.
However, there is more to Parma than just restaurants and cellars: the city is home to an old University, has beautiful churches and gardens and is home to composer Giuseppe Verdi, still celebrated in Parma opera house, worth visiting.
Parma is easy to enjoy on your own but to tap into the culinary tradition of the city, there is no better way than by joining a traditional food tour such as this one. If you have a couple of days, you can also join a factory tour, perfect if you love parma ham and parmesan in particular.
Top Tip for families with kids: Parma has a child friendly side. Discover what to do in Parma with kids in this guide!
Pavia – historical university town
Pavia is a university town along the river Ticino, less than an hour South of Milan.
The city was the capital of the Longobard kingdom between 572 to 774 and is home to thee second most ancient university in Italy after Bologna.
This long history means that Pavia still retains a lot of interesting and beautiful medieval sights (the duomo, the Basilica di San Michele and the city's ancient towers are just some examples) and mixes them with a cool, university town type of vibe.
Just outside the city also lies the Certosa di Pavia, famous for being a beautiful example of Italian Reinassance architecture.
Pavia can be easily reached from Milan with a 40-minute drive or you can check out this day tour from Milan that also allows to you visit the Certosa and the Oltrepo Pavese countryside
Turin – an elegant city with Umbertine charm
Turin is very different from other Italian towns and has a distinctive Northern charm heavily influenced by nearby France.
The city has a quiet, elegant atmosphere and has impressive buildings in Umbertine architecture, churches and museums. I personally love it and find it an unmissable city, even a hidden gem!
Some non to miss spots in Turin are la Mole Antonelliana, towering above the city, Palazzo del Valentino and the famous Turin Duomo.
As well as impressive sights, Turin is also a city of indulgence and a trip here wouldn't be complete without some foodie stops.
Turin is famous for chocolate, meat and truffle and not many realize it is also the birthplace of Italian aperitivo! When visiting, make sure you have enough time for this early evening tradition.
To make the most of your time in Turin, you can consider the city's hop-on hop-off bus tour or you can join a historical walking tour and learn about Turin as first capital of Italy.
Top tip for families with kids: the Egyptian museums of Turin is world-famous and very impressive for kids, with mummies and papyrus. If your kids love cars, they will love to know Turin, home of Fiat, has an automobile museum which you can visit at a discounted rate when buying the hop-on, hop-off bus tour
I hope you enjoyed this selection of day trips from Milan. Safe travels!
12 fantastic short trips from Milan – Pin this!