How to make Italian pastry cream: step by step recipe
Italian pastry cream recipe. Step by step recipe to make Italian cream, the smooth Italian custard perfect as a pastry and cake filling or smooth pudding.
Have you ever tasted those delicious Italian pastries (pastarelle) Italians buy as a special Sunday treat?
If you have, you may have fallen in love with the deliciously smooth Italian version of custard, a delicate and versatile filling used for bigne', fruit cakes, torta della nonna, to dress ciambellone and more.
That smooth Italian pastry cream is called 'crema pasticcera' and it is very easy to make at home.
This is my Italian pastry cream recipe, perfect as a pastry filling, for cakes to even on its own, as a delicate dessert that will leave you licking your spoon!
I will share the recipe first, then you will find also some tips for the perfect recipe, ideas to serve it and additional flavoring ideas.
Italian Pastry Cream recipe: step by step instructions
Yield:
A bowl of custard for about 5 people / filling for 20 small beignets
This is a step by step recipe to make Italian pastry cream. With these amounts, you will make a bowl of custard that you can use to fill about 20 small beignets (more or fewer depending on their exact size) or 5 portions you can serve as desserts. The recipe is rather caloric so the portions are not huge: my recommendation is to dress it with fresh berries -delicious!
Ingredients
1 tbs all purpose flour
1 tbs sugar
1 egg yolk
1 mug of milk
Instructions
Pour the milk into a pot and very gently heat it up until it gets to room temperature.
Be careful! You don't want hot milk as it will cook the eggs too quickly: you only need to make sure it is not fridge cold or it will make lumps.
In a bowl, off the heat, mix the egg yolks, the sugar and the flour, then gently add the milk using a wooden spoon for stirring.
Pour slowly so you can make sure you don't have lumps forming.
Once you have a smooth liquid, gently pour it back in the pot and put it on low heath.
Mix slowly but continuously with a wooden spoon until the custard starts thickening and keep mixing until it starts to gently boil: when it does, mix for one extra minute and your custard is ready!
Italian pastry recipe: mistakes to avoid
There are two main things that can ruin your Italian pastry cream: fridge cold milk and lack of patience.
Always make sure your milk is at room temperature – to make your custard, you want your milk to be a room temperature. If it is too hot, it will cook your eggs too quickly and result in a lumpy, eggy mess.
If too hot, it will get your flour to clump up and also will result in a big clumpy mess, although of a different type!
I usually take the milk out of the fridge a few minutes before starting my recipe or I heat it up in the microwave, just enough so that it is not cold to the touch.
You need to mix your custard all the time while cooking – Italian pastry cream needs to be stirred constantly while cooking or it will 'go crazy' and create terrible, unsalvageable lumps of flour.
There is no real way around it: only commit to this recipe if you have about 20 mins to lightly and continually stir it over low heat.
Italian pastry cream variations
Italian custard is very mild in taste and this makes it a perfect base for more adventurous variations.
Easy ones are:
Add dark cocoa for a perfectly smooth creamy chocolate filling
Use espresso to add a caffeine kick
Cinnamon will make the cream perfect for a Christmas treat
A vanilla pod will add extra sweetness and is a wonderful flavoring for it
Grating lemon zest in your custard will add a delicate citrusy flavor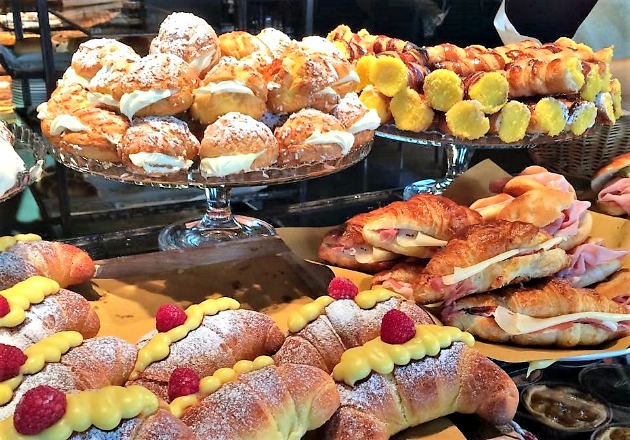 How to serve Italian pastry cream
You can serve Italian pastry cream in small mason jars or pretty glasses as a dessert on its own (if you add berries, it's even more delicious) or you can use it as a filling to beignets, profiteroles, cornetti, as a base for fruit cakes, torta della nonna.
I hope you enjoyed this recipe. Happy cooking!