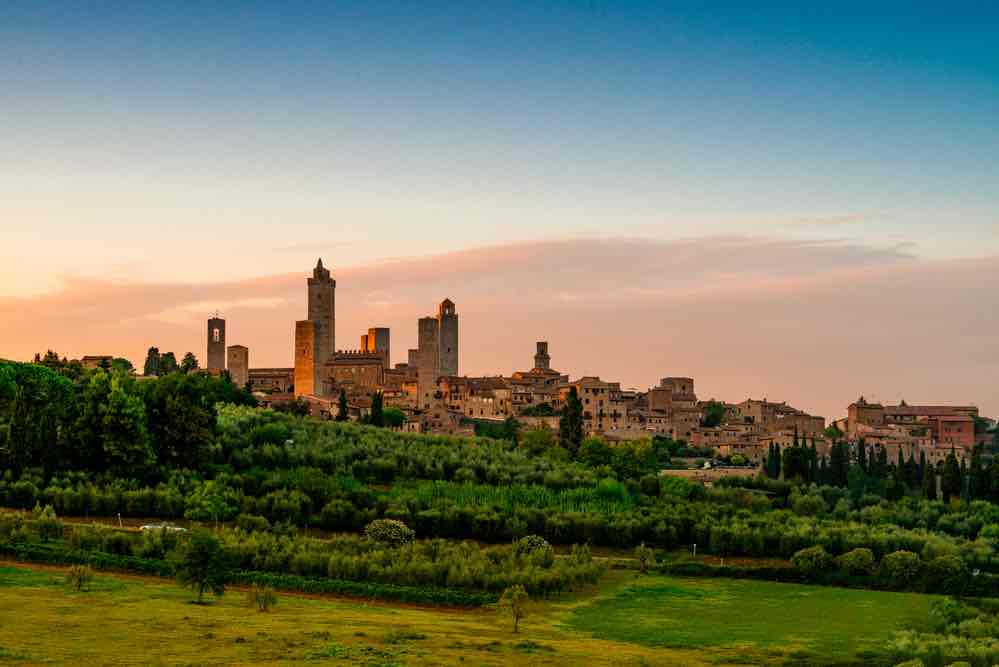 San Gimignano, Tuscany: the UNESCO 'city of towers' you will love
Discovering San Gimignano, wonderful medieval town in Tuscany and UNESCO World Hertage Site. Best things to do and travel tips.
San Gimignano is a beautiful medieval town in Tuscany, perched on a hilltop between the beauty powerhouses of Florence and Siena.
It is a wonderful place, recognized by UNESCO as World Heritage Site and one of the most popular day trips from Florence.
It is easy to see why people flock here.
The town is atop a hill, overlooking beautiful countryside, it has a historical and beautiful town center and it is also home to the famous white wine 'Vernaccia di San Gimignano'.
Basically it is the perfect destination for lovers of history, beautiful views, great food, slow travel and it is also an easy place to visit with kids, since it is mostly car fee.
It truly is easy to understand why San Gimignano always features as one of the best places to visit in the whole of Tuscany.
This is all you need to know to plan a trip.
What is special about San Gimignano
San Gimignano is one of many hilltop towns in Tuscany however, it is different from others due to the staggering number of towers that define its skyline: the town is said to have had over 72 and we can still see over 10 of them!
The towers were used by the local families to assert their power and the rivalry in their height follows the rivalry between the Guelfs and the Ghibellines who called San Gimignano home.
The tower and the overall urban asset of this walled town is so special it earned to San Gimignano the distinction of entering into the list of Unesco World Heritage Sites in 1990.
It also earned to town the peculiar nickname of 'Manhattan of the Middle Ages' (La Manhattan del Medio Evo!)
What to do in San Gimignano
San Gimignano has a small and charming historical center and the best things to do here are in this contained yet impressive area.
Admire San Gimignano's towers
San Gimignano is said to have been founded during Roman times however, it is only in the Middle Ages and more precisely around the 1300s that acquired wealth and the beautiful urban organization that we see today.
It is also at that time, that the town acquired maybe its most distinctive trait: its towers!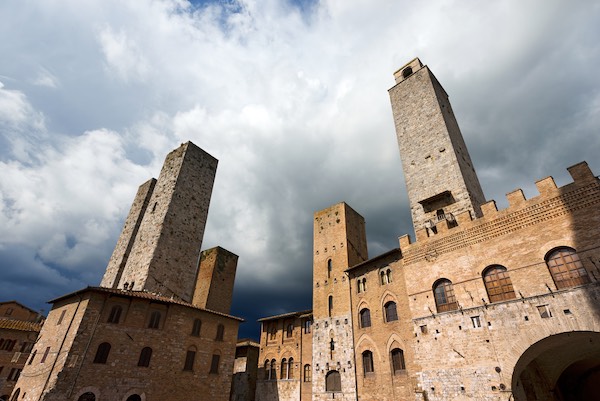 San Gimignano is said to have had over 70 towers at the height of its splendor and while not all are visible today, those still standing give this small town its iconic skyline.
Some worth knowing are:
Torre Grossa, the most ancient and tallest in the town, open to visitors (must not be afraid of heights!)
Torri degli Ardinghelli
Torri dei Salvucci, the so called 'torri gemelle' (twin towers)
Torre Rognosa or Torre dell'Orologio
Torre del Diavolo (Devil's tower) called this way as it is said to have gotten taller on its own, during a short absence of its owner
Torre Chigi
Torre dei Becci
Torre dei Cuganesi
Visit San Gimignano's beautiful piazzas
San Gimignano has several piazzas, and two in particular are not to be missed:
Piazza della Cisterna – the most famous and beautiful piazza in San Gimignano, it takes the name from the octagonal well in its center (cisterna is Italian for water cistern or well) and dates back to the XII century.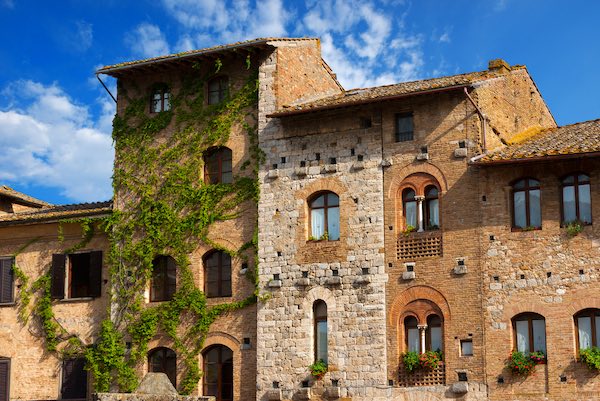 It is maybe the place in San Gimignano where you feel the most how life in the town must have been like.
Historical palazzi and towers crown this space now filled with shops and cafes, a modern interpretation of what would have been the main role of the piazza at the time of its splendor!
Piazza del Duomo – a beautiful piazza dominated by the Collegiata Church of Santa Maria Assunta and the beautiful steps that lead to its entrance.
Worth noticing here are the twin towers of the Salvucci family and the so called Torre Rognosa/ Torre dell'Orologio, overlooking the square.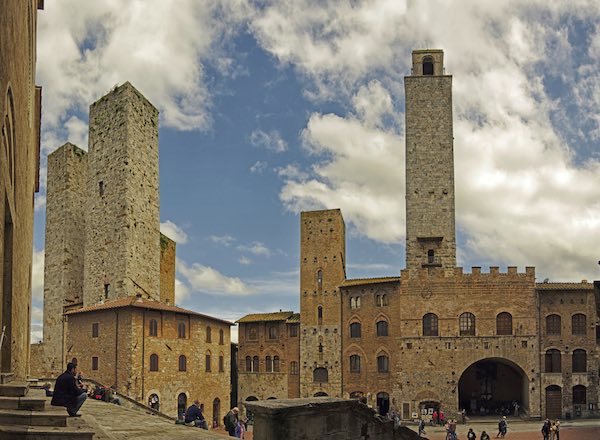 Both piazzas are worth seeing and, while different from each other, they both have in common the very special warm color of the local stone used to build the town that is so distinctive of Tuscany medieval villages and so evocative of ancient times.
Explore San Gimignano's churches and museums
San Gimignano has churches and museums worth seeing.
San Gimignano's Duomo: the Duomo of San Gimignano, the Collegiata church, has a plain facade but is all by plain inside. The church is absolutely stunning.
The naves are separated by rows of columns with the same stripe decoration as the Duomo of Siena and the walls are entirely covered in frescoes!
The result is magnificent: even if you are not into religious art, this is a place you cannot miss, it is so unique.
Inside the duomo also make sure to see the Chapel of Santa Fina, a jewel or Renaissance art created by Ghirlandaio and Giuliano and Benedetto da Maiano. Find official site here
Musei civici – the network of San Gimignano Museums, including Palazzo Pubblico, Pinacoteca and Torre Grossa
Vernaccia Wine Experience at La Rocca, where to learn (and taste!) Vernaccia, the delicious white wine of this area
Get lost in San Gimignano's small alleys
San Gimignano is a small place so even if you get lost you won't stay lost for long however, I was surprised to see how many small streets and passages there are in this town!
Leaving the main road and exploring following your instinct will reward you with some of the prettiest corner of the town and it will allow you to access the path along the walls that, in parts, offers lovely views over the countryside
Eat to your heart content
Food is wonderful everywhere in Tuscany but San Gimignano as couple of special things foodies may want to try.
Vernaccia, the above mentioned local white wine
Saffron, of which the town is a famous and acclaimed produce
Gelato, that while not from here specifically is made to excellent standards in the multi award winning gelateria Dandoli in San Gimignano town center!
San Gimignano Hotels
Please note: this post contains affiliate links. Should you make a purchase, we might make a small commission.
To spend the night in San Gimignano, I recommend you check out:
B&B Casa Torre Margherita, small and cozy, in a wonderful central position and with a fantastic terrace
The Tower's Garden, 1 bedroom apartment + sofa bed, self catering accommodation in the town center.
Hotel Leon Bianco, right on Piazza della Cisterna
Practical tips for visiting San Gimignano
The best way to reach San Gimignano is by car. Parking is available just outside the city gate and the town center can be visited on foot.
Good walking shoes are recommended however, San Gimignano doesn't pose excessive mobility issues, albeit uneven surfaces and steps are to be expected.
The town is a very popular day trip so the best way to avoid the crowds is to stay the night, if you can, so you can see the town early in the morning and at sunset, when it is at its very best.
I hope you enjoyed this quick overview about San Gimignano and it inspired you to visit. Safe travel planning!