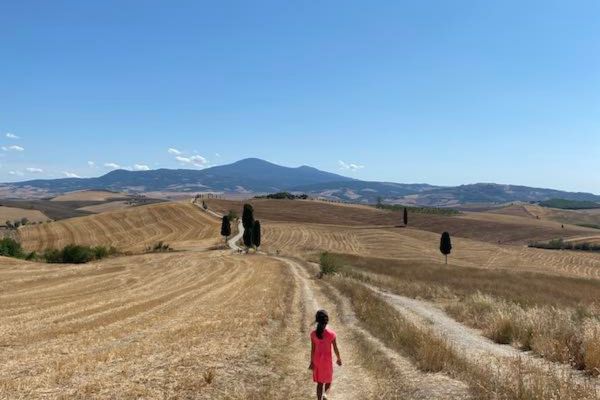 Visiting Val d'Orcia with kids: all you need to know for a perfect stay
Val d'Orcia with kids travel guide: kids' attractions and activities, child-friendly wineries, great country stay for families, restaurant recommendations, travel tips.
Val d'Orcia is a stunning part of Tuscany, blessed with rolling hills, cypress trees, medieval hamlets and world-class wineries.
But let's be honest: if you are looking at things to do in Val d'Orcia with kids, you probably already know about this!
You probably already know of all this stunning area can offer you, but you are worried the wine and slow travel vocation of this area may be boring or unsuitable for kids.
If this is the case, I believe I can help!
I adore Val d'Orcia with kids. I have spent two long summers here with my children and uncountable shorter stays over the years.
I always found Val d'Orcia kid-friendly, exciting, and a fantastic destination for kids of all ages.
However, I also found that it was a destination poorly covered on the web from a family point of view.
As I researched our trips, I found it hard to source child-friendly wineries, for instance, figuring out cooking classes my kids could take, and it took me ages to figure out what accommodation was suited to kids.
A lot of what we loved about Val d'Orcia we discovered while there, exploring, talking to local people and trying out places ourselves.
Today, I share this experience and knowledge with you! On this page, I share all the kid-friendly things to do in Val d'Orcia based on my own personal experience and travels to this area.
For each town, I also include a link to the more general travel guide so you have all the tools you need to plan a fantastic stay.
I hope you enjoy it!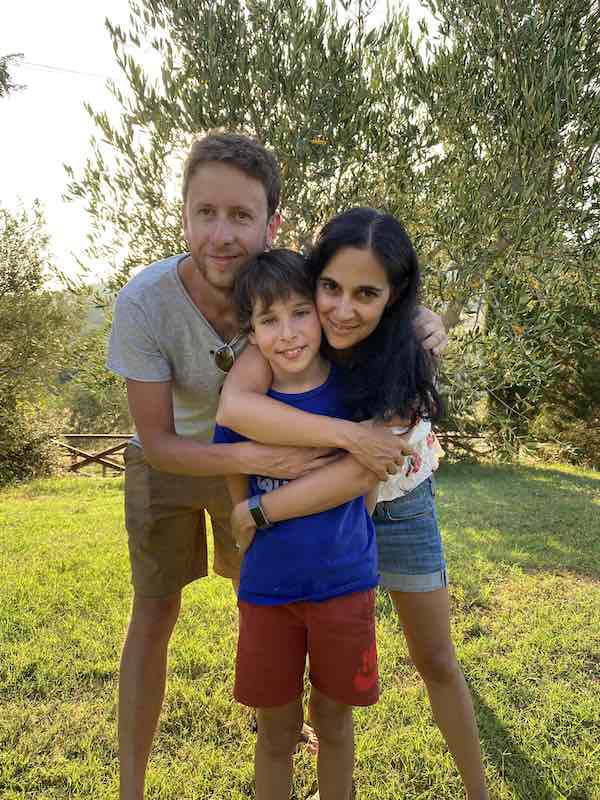 Good to know! Val d'orcia is the area of Pienza, San quirico d'Orcia Montepulciano, Montalcino, Radicofani etc. Technically, places such as Montepulciano, Chinciano and Sarteano are in bordering Val di Chiana. However, since the distances are minimal, I have included them in this guide.
Please note: this post contains affiliate links. Should you make a purchase, we might make a small commission.
Why visit Val d'Orcia with kids
Val d'Orcia is perfect for kids if you want:
A relaxing country stay for you and the kids
A destination that mixes outstanding food and wine for adults with a child-friendly atmosphere and activities
Enjoy some of Tuscany's most peasant and child-friendly hot springs and thermal spas
A vacation that sees you in a country location yet with easy access to several historical towns for days of sightseeing.
Why not visit Val d'Orcia with kids
There are two main reasons why you may want to leave a trip to Val d'Orcia for when the kids are older:
You can only come in late autumn/winter – while you can visit Val d'Orcia in any season, this is very much an outdoor destination and there is little to no indoor attraction for kids in case of rain.
Outdoor pools are closed until late spring, educational farms tend to slow down or even close to the public for the winter season and lots of accommodations offer a reduced service, for instance, by suspending dinner service.
While this may not be an issue for adults who can enjoy a relaxing rainy day indoors with a glass of wine and a book, it can be a real headache if you have small kids.
You don't have a car – you need a car to visit this area. Train transport to Val d'Orcia is close to non-existent and country accommodation, wineries and most towns are not accessible without a private vehicle.
Even if you can source a driver, you will find yourself stranded in your accommodation without access to a car 24/7. Because of this, I only recommend Val d'Orcia to families who can drive. (more about driving conditions at the bottom of this post, but don't worry: it's an easy area to explore with your own car!)
Top things to do in Val d'Orcia with children
Visit a family-friendly winery
Val d'Orcia is famous for the production of three famous red wines: vino mobile di Montepulciano, Rosso di Montalcino and Brunello di Montalcino.
Grown-ups can taste all these wines in any local restaurant; however, you can also have a more rounded wine experience by visiting a winery with kids in tow!
Great family-friendly wineries in Val d'Orcia are:
La Ciarliana is the first winery in Tuscany I found offering wine tasting specifically for families and while it is now not unique in its kid-friendly offering, it is still one of the best places to taste wine as a family.
Located immediately outside the town of Montepulciano, wine tasting in La Ciarliana comes with activities for kids including flashcards, worksheets and coloring pages to learn about winemaking.
Parents taste rose, white and red wine while the children taste juice.
Find info and contact here >>> https://www.laciarliana.it/en/experiences/
Podere Franco Pacenti is a beautiful wine estate in Montalcino, offering family-friendly tours of its vineyards and special events.
Their offering includes walking tour of the vineyards, picnics in their vineyard or olive grove, appreciation days such as the events 'open vineyards' and 'open cellars', during which, on special dates, kids can even participate in the harvest.
Find info and dates here >>> https://francopacenticanalicchio.it/tastings/
Podere Carpineto is a beautiful, large estate in Montepulciano with vineyards in Montepulciano and Montalcino, devoted to the production of Vino Nobile and Brunello.
The state has a lovely hospitality program in Montepulciano that is fantastic for kids. Their wine experiences for families include walks in the vineyard with picnics, vineyard tours by e-bike and picnic, and special days for children, such as their Easter family day, when the Easter bunny visits the estate!
Find info and dates for special kids events here >>> https://carpineto.com/wine-experiences/
Tentua Corte Pavone is a beautiful, family-friendly winery in Montalcino. To families with kids, the winery offers the option of vineyard picnics with wine from their estate and local cheese, bread and food kids can also enjoy (they pay a reduced price as, of course, they will not be offered wine). Vegetarian and Vegan options are available.
You can find info and how to book here >>> https://www.loacker.bio/en/tenuta-corte-pavone/winetasting/wine-picnic-tasting/
Castello Banfi is a stunning castle, winery and wine estate offering wine tasting, vineyard tours and luxury on-site accommodations (including family rooms).
The castle is fascinating for kids to see, and children are welcome to join you on the tour. Lunch on-site is available. This is a good estate to visit, especially with kids who can appreciate their surroundings and the lovely meal: there are no animals or activities for them during the tour as such.
Booking mandatory. Info and contacts here >>> https://www.castellobanfiwineresort.it/en/enoteca/tour
Spend a day at Podere il Casale
Podere il Casale is one of my favorite places in Val d'Orcia for kids and not only.
The Podere is a country home and estate perched on a beautiful hill in the middle of the Val d'Orcia countryside and operated as a farm, restaurant and small campsite.
You reach it by car only, following a long yet easy-to-drive white road (no special vehicle needed) and you can spend several hours immersed in a picture-perfect location with the nicest possible owners.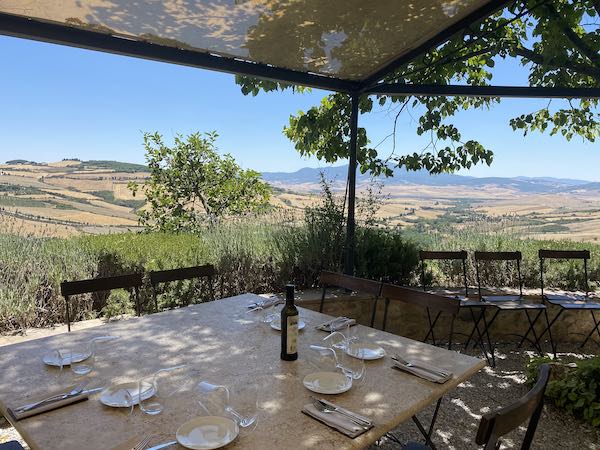 We love to come here with the children and my parents and all generation always adore it.
Here you can:
Have a lovely kid-friendly lunch with the products of the estate
Meet the farm animals (Goats! Bunnies! Lots of cats!)
Take a children-friendly cooking class (pizza or pasta)
Go truffle hunting
Participate in a cheese-making demonstration
Take a wine and cheese-tasting tour
This is a fantastic place for children and my favorite place in this area for that quintessential day-in-the-country experience Tuscany does so well.
Learn about Podere il casale here >>> https://podereilcasale.com/en/
Take a cooking class at Locanda Demetra
Locanda Deemetra is a lovely and delicious family-friendly restaurant in Montalcino that also offers family friendly cooking classes.
Their classes are hands-on and fun.
With them, you start collecting ingredients from their garden and eggs from the chicken coop, then you get busy making a meal you then enjoy all together.
Private and group classes are available. Tell them you have children so they can recommend the best setup for their age.
Find info and contacts here >>> https://montalcinocookingschool.com/
Tour an olive oil mill and have a taste in Fattoria Fregoli
Val d'Orcia produces olive oil as well as wine and a cool place for kids to visit is Fattoria Fregoli in Pienza.
The farm offers tours of its mills and it welcomes kids who can join the tour and tasting for free.
Info and prices here >>> https://fattoriafregoli.com/
Another place to check out for olive is Frantoio Tristarelli.
Located in Sarteano, the mill is open to visitors and, depending on the season shows off different phases of the production of olive oil.
They speak English; enquire online about the exact offering for the time of your visit here >>> https://www.tistarelli.it/en/tastings.html
Enjoy the peculiar hot springs of Bagni San Filippo
Bagni San Filippo is a tiny locality in Val d'Orcia famous for its natural hot spring, spilling here in the form of a hot river in a beautiful forest.
Bagni San Filippo is fun to visit with kids.
You need to come here by car and park along the road (pay and display, lots of cars, you cannot miss it); then, a shower walk through the woods leads you to the hot river.
The first part of the river is flat and easy to enjoy for all ages. Immediately further down, there is the main pool which you can easily recognize by a massive white rock formation people called 'Balena Bianca', the white whale.
This second part of the spring is also suitable for kids; however, it is where the terrain starts to get steep and form little waterfalls; therefore, attention to little ones is mandatory.
The terrain is rocky and slippery in parts: the use of water shoes, water proof sandals or similar is a must, especially for children.
The springs can be enjoyed at any age.
However, since the water is hot (48C/118F) I recommend you check with your practitioner first, to make sure this is safe for your child.
Spend a day in a thermal pool
As well as hot springs, in Val d'Orcia you find organized spas, which can be lovely to spend a day in the water with the kids.
There are two places we love for children:
Piscine Theia in Chianciano Terme: this is a beautiful spa complex with indoor and outdoor thermal pools, changing rooms, a restaurant and sensory showers. The spa has a kid's area.
Hotel Posta Marcucci in Bagno Vignoni: this is a pretty hotel with outdoor panoramic hot pools open also to non-guests.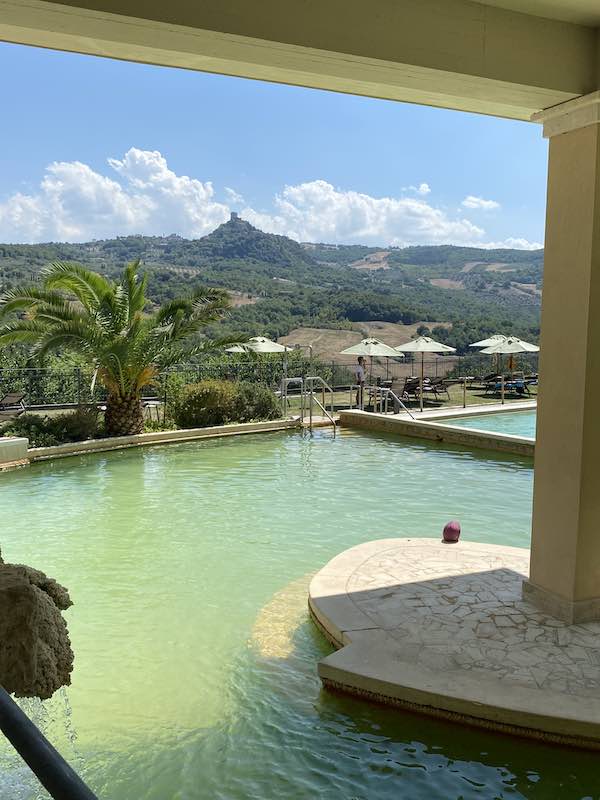 Here, you can change rooms,a cafe onsite (with also icecream) and pools of different depths and temperatures.
Compared with Piscine Theia, this is a smaller establishment, so I find it easier with older kids who are more likely to keep noise down (to an extent) for the hotel guests.
Before bringing the kids to thermal baths, ask your practitioner to ensure it is safe for their age / personal circumstances etc.
You can find here>>> more thermal springs and pools in Tuscany
Be a 'Gladiator' Fan
Ok, depending on the kids' and parents' age, this may not be strictly for the kids!
However, a walk to the Gladiator Cypresses this is a great thing we did with our children and we all enjoyed it.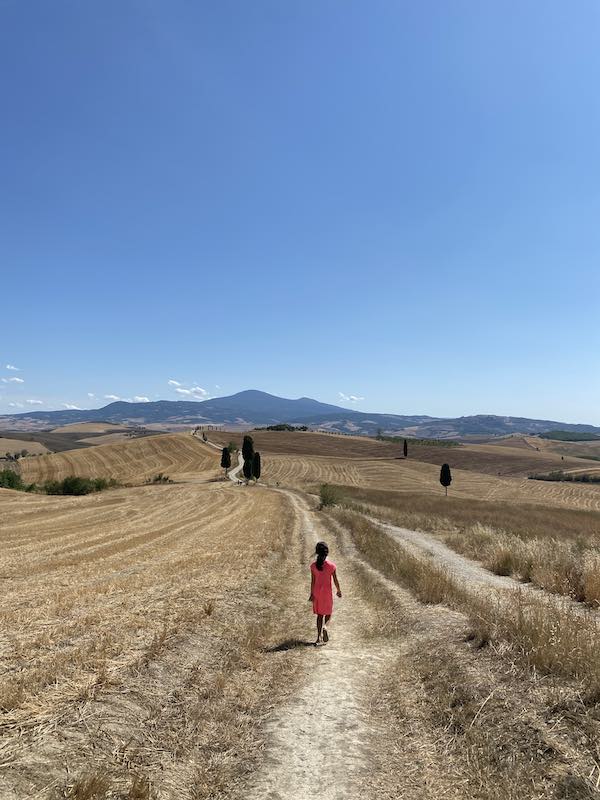 The Gladiator Cypresses are a cluster of cypress trees just outside of Pienza that have served as the backdrop to the final scene of 'Gladiator' (yes, the one with Russel Crowe).
The cypresses are easy to reach with a short walk from Pienza town center and make for lovely photos. If the kids have not seen the movie, they will enjoy the walk anywhere – the place is just stunning!
Access to this walk is free.
Make sure you come with good walking shoes and do not bring a stroller for this one: the path is steep and even an all-terrain one would prove hard to push.
Get Bikes
Val d'Orcia is hilly; so, standard bikes can prove hard to use; however, the area is well-equipped ith e-bikes that make exploring the countryside a breeze!
You can rent bikes in Montepulciano (child seats and trailers are available, ask in advance).
Urban Bikery, Via Ricci 2, Montepulciano Web: http://www.urbanbikery.it/en/contacts/
Visit Pienza with kids
Pienza is one of the prettiest towns in Val d'Orcia and an easy one to visit with kids.
It is not a place you visit for the kids as such, there is not much in the town that makes it a place kids will long to go to.
However, there are some nice things that make it family-friendly. In particular:
Pienza has a small playground in front of its main gate
Pienza is car-free and flat, something rare in this area! Kids can run around sagely and the town is stroller friendly
Pienza has supermarkets and pharmacies that ensure you have easy access to essentials.
You can read here >>> our Pienza Travel Guide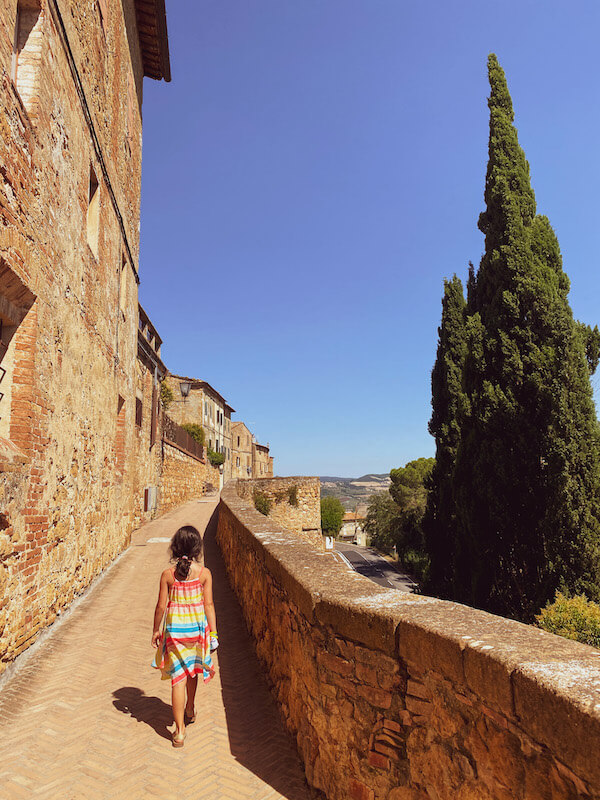 Visit Montepulciano with kids
Montepulciano is my favorite town in the area and a place my kids love too.
As well as it being breathtakingly beautiful, I love Montepulciano for kids because it has:
Two small yet pretty playgrounds, one at the main town gate, one at the top of the town
A tourist train that is cool for small kids (also, it saves you from the steep roads of Montepulciano!)
A large and well-served supermarket and department store with all you may need for your stay
Montepulciano is perfect for a day trip or for lunch. However, know that it is a steep town and the stroller is therefore more a nuisance than a help here!
You can find here >>> our travel guide to Montepulciano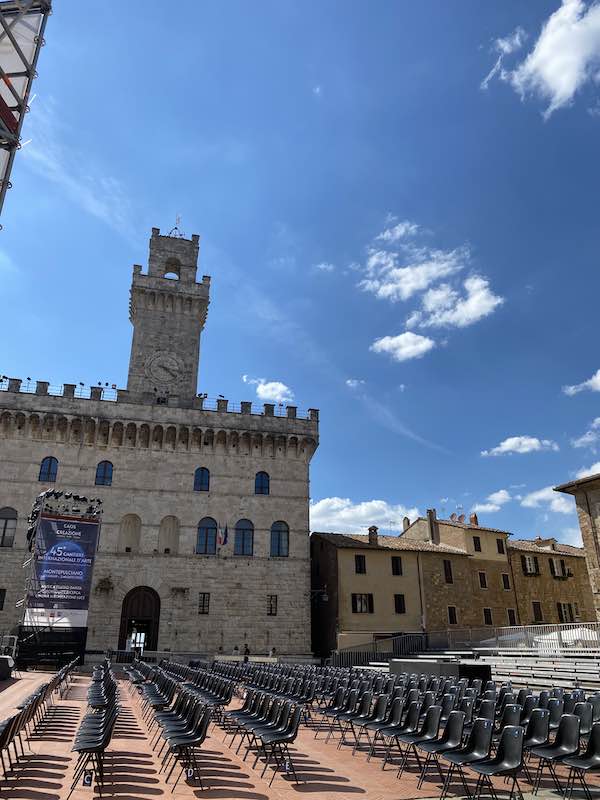 Visit the Fortress of Radicofani
Radicofani is a tiny, delightful village in Val d'Orcia with something special for kids: a mighty, tall medieval tower you can climb!
The tower is at the very top of the town and you can reach it by car and on foot.
Besides it, there is a nice cafe with views: the towers is linked to the story of the local Robin Hood and it is a fun place to see for kids – as long as you are not afraid of heights!
You can read here >>> our guide to visit Radicofani
Enjoy relaxing at your accommodation
This may sound like an odd thing to suggest, but really: Val d'Orcia is perfect for a relaxing holiday making the most of a beautiful country resort!
For our family, a standard day vacation here is a lazy morning at the accommodation, time at the pool (as I mentioned, I recommend coming here in swimming pool season), then a visit to one of the towns and a luscious Tuscan dinner.
More pretty towns you can enjoy in Val d'Orcia with kids
There are three more towns I love to visit in Val d'Orcia with kids: San Quirico d'Orcia and Montalcino.
San Quirico d'Orcia is a tiny village with something special for kids: a life-size replica of a medieval catapult, just outside the city gate!
This, plus the peasant carfree streets of this town make it one of my favorite places for an afternoon stroll with the children. Find here >>> travel guide to San Quirico d'Orcia
Montalcino is a wine town yet it is a pleasant place to visit with kids in summer when the Jazz and Wine Festival is on.
If you go in the afternoon, you can take in the beauty of the town and enjoy the performers rehearsing and tuning their instruments. A kid-friendly way to tap into this event!
You can find here >>> our Montalcino travel guide
Not to be missed in the area is of course Siena, a jewel! You can find here >>> how to spend a day in Siena with kids
Where to eat in Val d'Orcia with kids
The answer to this is: anywhere! I have never come across a bad meal in Val d'Orcia! If you anyway want some guidance, places we enjoyed are:
La Chiocciola, Via M. Mencattelli 2, 53026 Pienza
Podere il Casale, Via Podere Il Casale, 64, 53026 Pienza
Locanda Demetra, Podere La Buca, 221, 53024 Montalcino
Dopolavoro La Foce, SP40, 90, 53026 La Foce SI, Italy
Caffe' Poliziano, Via di Voltaia Nel Corso, 27/29, 53045 Montepulciano
Bistot Langurino, Via dei Mulini 24, 53027 Bagno Vignoni
Il Loggiato, Piazza delle Sorgenti 36, 53027 Bagno Vignoni
Osteria Leone, Via dei Mulini 3, 53027 Bagno Vignoni
Da Ciacco, Via Dante Alighieri 30A, 53027, San Quirico d'Orcia
Where to stay in Val d'Orcia with kids
There is plenty of accommodation to choose from in Val d'Orcia. Below, you find our best picks. When choosing, take into account season and age of the kids.
In summer, I recommend opting for properties that are higher up on a hill and with a pool.
In the mid-season, the availability of activities is one of my main criteria for picking a place
With a baby, a quiet Agriturismo that may not have activities but offers silence and comfy rooms can be perfect.
This list includes all these options!
Tenuta Santo Pietro is a fabulous and family-friendly agriturismo near Pienza, offering luxury accommodation, food and activities in spectacular surroundings.
To families, Tenuta Santo Pietro offers:
Beautiful rooms, including families rooms with bunk beds for kids
A secluded cottage with two separate rooms and living area with sofa beds, suitable for up to 6 people
Seasonal swimming pool on site
Restaurant on site
Activities such as cooking classes, wine tasting, truffle hunting, day trips to beautiful towns nearby
Fabulous grounds with chickens and bunnies
Find here >> photos, availability and prices
Agriturismo Sanguineto – lovely, family-friendly Agriturismo offering:
self-catering apartments,
outdoor seasonal pool
activities such as wine tasting, picnic in the olive grove, horseriding (some onsite, some nearby)
Find here >>> photos, availability and prices
La Bruciata – beautiful, family-friendly and baby-friendly Agriturismo near Montepulciano offering:
Family-friendly apartments,
Outdoor seasonal pool
Restaurant on site
Activities such as kid-friendly cooking classes, seeing the farm animals, horse riding etc (on site and nearby).
Find here >> photos, prices and availability
Terre di Nano – stunning country property offering:
Self-catering accommodation
Restaurant on site (breakfast and dinner)
Seasonal outdoor pool,
Lots of outdoor space for the kids, boules pitch, farm animals (donkey, chickens), dogs
Tasting of wine and oil from the estate
Find here >>> photos, prices and availability
Castello di Banfi stunning, high-end property in a castle, wine-producing estate. The hospitality offering comprises of:
Family-friendly rooms and suites
Restaurant on site
Outdoor heated pool,
Plenty of opportunities to taste the estate wines, plus option to tour the castle and estate
Find here >>> Photos, prices and availability
La Provenca – a little oasis of peace, with no activities or restaurant on site but well-equipped self-catering apartments and outdoor pool.
Dogs and cats on the property and a vegetable patch for guests.
Find Here >>> photos, prices and availability
Agriturismo Castello di Spedaletto – beautiful property with family-friendly rooms and apartments, breakfast, option to book a guided tour to the family mill on site.
Find here >>> photos, prices and availability
Cretaiole – lovely family friendly Agriturismo with self catering apartments, pretty grounds and lonely host who can book for you all the best activities in the area.
Find here >>> photos, info and availability
Parco delle Piscine Sarteano (camping) – a great solution for families who want a campsite setting with the chance of meeting other kids and families. The campsite has seasonal outdoor pools, a playground, sports fields and a full program of activities for children.
Find here >>> photos info and availability
Driving in Val d'Orcia
Driving in Val d'Orcia is easy.
The main roads are paved and well kept, there is good room singage and the area is well covered by services such as google maps.
Hilltop towns usually requiring driving up a winding road, sometimes narrower than you may be used to, yet easy to handle with normal cars. Parking is usually available immediately outside the town centers.
Country properties often require driving along a dust road. This, however, doesn't mean you need a 4×4: normal cars are well able to handle the average Tuscan road, as properties make it easy for guests to reach them.
If you opt for a very remote place, check reviews or ask your host if the road up poses any specific issues.
I hope you enjoyed this overview about visiting Val d'Orcia with kids and it helped you plan your stay!
Safe travels!
Val d'Orcia with kids – pin this!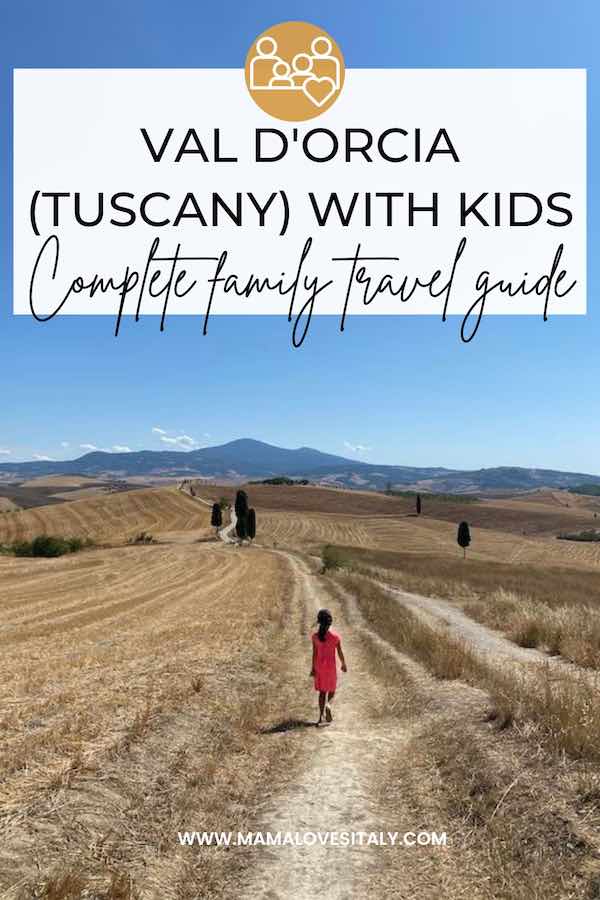 Tuscany travel guides for families you may also like: