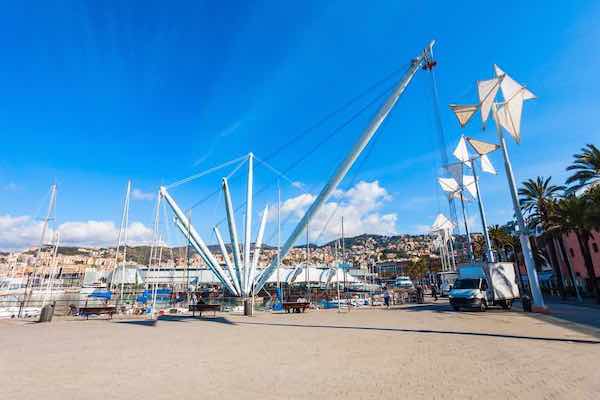 Visiting Genoa with kids: all you need to know for the perfect visit
All you need to know to plan a family trip to Genoa with kids: kid friendly attractions, family friendly accommodation in Genoa and travel tips.
Genoa is not just one of the most beautiful cities in Italy, it is also one of the best cities to visit with kids!
Full of kid friendly attractions including the biggest aquarium in Europe, Genoa is easy to visit with children and has a relax family atmosphere that makes it perfect for a weekend away or as an extra stop when visiting Cinque Terre with kids.
This is all you need to know to plan a visit to Genoa with kids.
Please note: this post contains affiliate links. Should you make a purchase, we might make a small commission.
Best things to do in Genoa with kids: top kid-friendly Genoa attractions in the area of the Old Port
The vast majority of kid friendly attractions in Genoa is in the area of the city called Porto Antico' aka the Old Port.
Genoa's Porto Antico is the ancient port of Genoa however, it is an area that has gone through a significant urban regeneration project and is now one of the most modern in the city.
Thanks to several interesting interventions including some by world renowned architect Renzo Piano, Porto Antico is not a cultural hub and, with the old city center, a Genoa must see.
Visit Acquario di Genova – Genoa's Aquarium
Genoa's aquarium is the second biggest aquarium in Europe and counts over 15.000 different animal species spanning from fish to turtles to dolphins and seals!
The aquarium has large tanks and rooms replicating habitats from different parts of the world and can be explored independently or participating in specifi educational tours for kids.
Fun ones are the 'penguin close encounters tour' and the 'behind the scenes aquarium experience' during which you can learn how the aquarium works and what goes on behind closed doors!
The Aquarium is large and interesting so it is best to plan at a couple of hours for the visit at the very least.
Good to know: the aquarium is stroller friendly.
You can tickets to the Aquarium here (advance booking mandatory)
If you also want to visit the Galata Museum and the Submarine (see below) you can get combined tickets here
Galata Maritime Museum
A few minutes walk from the Acquarium you you find another wonderful place to visit in Genoa with kids, the Galata Museum, the city maritime museum.
The museum has some interesting and fun rooms such as that with the galea (ancient ship you can enter), the atlas room and the 'storm room' where you can experience a terrible sea storm in full safety thanks to virtual reality.
Find official info and tickets here
Nazario Sauro Submarine
If visiting ships leaves your children longing for more adventure, then you should add to your visit a stop at the Nazario Sauro submarine.
Adventurous kids can get geared up with hard hat and get in to experience what it is like to be inside a real submarine. warning: this is not a good place if you are at all claustrophobic!
Fun fact: this is not the only submarine open to visitors! Another one is in Milan – we recommend it as one of the best things to do in Milan with kids
Both the museum and the submarine are worth seeing: tickets can be bough for them alone or in conjunction with those to the aquarium.
You can find the official ticket office for the area here.
Vascello Nettuno
As your kids walk around Porto Antico area they are sure to notice Vascello Nettuno, a pirate ship!
The ship is very impressive however it is not an ancient galleon but rather a movie set!
The ship was used for the filming of the movie 'Pirates' by Roman Polanski and was built following the blueprints of real galleons from the 1600s so even if not 'real', it sure is fun to see especially if you have pirate loveing kids or a movie lover adult!
La Biosfera
La Biosphera is one of the most peculiar looking constructions in the porto antico area as it looks like a large globe!
inside, you have the reconstruction of a tropical climate, with plants, insects and birds. Small yet fun to visit, it won't take long to visit and can be fun, even just to experience the different temperature from inside/outside.
Find official info and tickets here
La Citta' dei Bambini – Genoa's Children Museum
La citta' dei Bambini is Genoa's children museum and it offers all the wonders little kids would expect from a museum just for them: interactive exhibits, machines, soft play area for toddlers, science based experiences and workshops and more.
The museum has areas for different ages and catering up to teens (they rate as good for kids aged up to 13): it is easily one of the best places to visit in Genoa with toddles and primary school kids on a rainy day.
You can find official info and tickets here
The Bigo Lift
If you are not afraid of heights, another great thing to do in this area with kids is a ride on the Bigo lift.
Bigo is a panoramic lift from where you catch fantastic views over the port and the city.
Visiting Genoa's city center with kids
The Old port is the most enjoyable part of Genoa for kids however, no trip to the city would be complete without a visit also to Genoa's old city center, which is wonderful at any age.
The best way to get from the port to the center with kids is via the fun tourist train, which helps cover an area that is small but uphill!
Once in the city center, the most important Genoa's must see are:
Genoa's Caruggi
Caruggi are Genoa's small alleys between the port and the center: they are unique to the city and immensely charming for adults and kids.
Dating back to the Middle Ages, these streets are narrow and develop in what feels like a maze of roads, dotted with beautiful hostrical shops.
Aptly named Via degli Orefici (Goldsmith road) of Vico del Ferro (iron road) recall the original vocation of this area and the corporation that called this area home.
The main characteristic of the caruggi is how narrow they are and this is by design.
Exactly like Amalfi town, another of Italy's ancient maritime Republics, Genoa needed to protect its people from possible attacks from he sea and having a maze like city cent er with narrow roads was the most efficient way to make the advance of the enemy hard!
The church of San Lorenzo
the church of San Lorenzo is Genoa's cathedral and has something kids may find fascinating: a bomb (ok, a replica of a bomb…)!
The bomb is in the right nave of the church and a plaque tells us its story: in 1941, Genoa got bombarded by the British fleet and a bomb fell on this church, however, is 'miraculously' did not go off.
In memory and thanks to this miracle, a replica of the bomb is now in the place where I originally fell with a thank you plaque to the Virgin who saved 'Genova, Mary's city'
Palazzi dei Rolli – UNESCO World Heritage Site
Palazzi dei Rolli are a series of buildings in Genoa city center now listed as Unesco World heritage sites.
The palazzi are architecturally significant and while this may not sound overly exciting for kids, they are easy to visit as a family and some hide surprises: beautiful rooftop terraces from where you can stunning views over Genoa!
Park and playgrounds in Genoa
If your kids are anything like mine, they will want to mix time sightseeing with time at the park. Some nice parks and playgrounds in Genoa are:
Parco dell'Aquasola, with swings etc
Villetta Dinegro, a lovely and relaxing green area
Giardino Luzzarti, another nice green area perfect to runa round and take a break from the city.
Where to stay in Genoa with kids
Since the vast majority of kid friendly attractions in Genoa is in the Old port Area, it makes sense to stay here.
A good hotel with well equipped rooms is the Genoa NH Collection Marina, which is in a perfect position to walk everywhere and has lovely port views.
I hope you enjoyed this travel guide to the best things to see in Genoa with kids and it inspired you to go. Safe family travel planning!
Practical tips for a family trip to Genoa
Genoa is in the north west of Italy and is the regional capital of Liguria, the thin region that stretched between Tuscany and France.
The city is well connected to the rest of Italy and the world by good roads, a good train system and a good international airport. The main train station in Genoa is called Porta Principe and it is in the city center.
The airport is well served however, you have even more options of flights getting to nearby Milan, less than 2 hours on the train from Genoa.
Once in the city, the best way to get around is on foot however, for longer distances you can also get the bus or climb to certain viewpoints by the city cable cars. A bus ticket in Genoa at the time of writing costs 1.50 Euro for 100 minutes if bought in advance or. 2.50 Euro if purchased on board. There are some convenient offers if buying multiple tickets or for a family – you can check options and prices here.
If you are traveling to Genoa with very small kids, I recommend you bring a lightweight stroller. Genoa is is hilly and you will have some bumpy streets however, the convenience of an easy to fold stroller will be invaluable.
In terms of how long to stay, Genoa is lovely for a weekend or you can stop here for a couple of days on the way to the beaches in this region. You can see all there is to do for families in the area in our guide to Liguria with children – I am sure you will love this wonderful region!