Liguria with kids: 9 awesome places for a family vacation (+travel tips)
All you need to know to plan a family vacation in Liguria with kids: family friendly beaches in Liguria, family hotels you may like, tips for visiting.
Liguria is a the beautiful region in the north-east of Italy where the Alps meet the Mediterranean.
The most famous part of Liguria is probably the area of Cinque Terre, which is indeed unique, however, there are many other places in Liguria that are perfect for families and more suited than pretty Cinque Terre for a sea and sun vacation.
If you are looking for a place in Italy where you can combine resting on a beach with sightseeing, amazing Italian food experiences and even a trip into France, Liguria is for you! These are the best places to visit in Liguria with kids.
Please note: this post contains affiliate links and, should you make a purchase, we might make a small commission at no extra cost to you.
The best time for a family vacation in Liguria
Liguria is a place where to enjoy sea, trails and small villages so the best time to visit is the late spring and summer. This is the best time for kids to swim in the sea and make the most of Liguria's beaches however, the downside is the crowds that, in summer, can be intense.
The winter is not not ideal to visit Liguria with kids. While it is possible to enjoy the villages and the pretty playgrounds, you don't go swimming or boating in Liguria in winter so kids and especially older ones may feel they are missing out.
The beaches of Liguria: what you need to know
Liguria is a long and thin region, usually referred to as divided into two parts: Riviera di Levante and Riviera di Ponente.
Riviera di Levante (Eastern Riviera) is to the East of Genoa and it is the area with Cinque Terre: this is an area with many scenic villages and a high coastline, perfect for those who want to experience small coves, boating and hiking.
Riviera di Ponente (Western Riviera) is the stretch of Ligurian Riviera between Genoa and France and has some pretty towns and villages but especially some beautiful beaches, many of which sandy and family-friendly.
Riviera di Ponente is the most family friendly part of Liguria and the area we recommend if you want a relaxing vacation in Liguria with kids, basking in the wonderful Ligurian sun.
Family-friendly beaches in Liguria: map + our top picks
Liguria is full of beautiful, family-friendly places so this list is by no mean exhaustive. However, just because higly selected, I thought this short list of places could come in handy.
These are the places in Liguria we love the most for families with kids.
Diano Marina
Diano Marina is a lovely seaside town in the province of Imperia, not far from the Italian border with France.
The town has a lovely large sandy beach that is well equipped with beach clubs and cafes and it is idea for kids as there is a lot of space to run around and the water is also reasonably shallow, allowing for relatively stress free swimming.
The town itself is flat and easy to navigate with strollers, something that makes this area stand out if compared with stroller unfriendly Cinque Terre, and it is well equipped with restaurants, shops and hotels. While not overly charming if compared with more ancient villages, this is a great choice especially for families with toddlers.
Diano Marina is well served by the local train network so an added advantage of staying here is that you don't have to bring the car.
Stay at: hotel Gabriella, family-friendly hotel right on the beach with a pool, free wifi and private parking. Option to rent a stroller, play area for kids, the option of availing of babysitting service (extra charge), cafe on-site.
Alassio
Another family-friendly beach in Liguria is that of Alassio, a place with sand so soft, it regularly hosts a sandcastle-making competition!
Alassio has a long promenade on the sea, well-equipped beach clubs and a pleasant center with colorful homes that is great for lazy strolls.
The town is one of the most popular in the area and is very well equipped to welcome visitors: as well as the beach, the town has a nice center with shops, cafes and restaurants and the typical 'caruggi' of this area, the narrow historical streets that make this area so charming.
Stay at: Residence San Marco Suites and Apartments, clean large apartments close to the beach with self catering kitchen, terrace (some)
Laigueglia
Laigueglia is a small village not far from Alassio known for a characteristic historical center and a wonderful sandy beach.
Here, the water is clean, the sand soft and degrades gently into the sea, which means it is particularly indicated for small children. Some of the beach clubs have play areas.
The town is small but charming and very pleasant for a relaxing holiday and has free playgrounds as well as the WOW Waterpark, an inflatable water park that is excellent for active kids (and adults)!
Finale Ligure
Finale Ligure has lovely sandy beaches that are perfect for kids.
Awarded both Blue Flags (for clean waters) and Green Flags (kid-friendly approved beach), Finale has both free beach and beach clubs, several of which equipped with kids' playgrounds and beach toys.
The town has a family friendly promenade with some green areas and offers quite a variety of activities when you want to leave the beach and get exploring. Cool one for kids are the boat tours to see whales (this area is a whale sanctuary), go canoeing and kayaking, snorkeling and even mountain biking, since the mountains are nearby.
Close to both Alassio and Finale you also have the Acqua Park Caravelle, which has water slides and fun for all ages.
Stay at: Hotel San Giuseppe, family hotel 5 minutes walk from the beach, with family rooms, swimming pool, restaurants on site, on-site parking and free wifi.
Varigotti
Varigotti is a delightful village near Finale very popular due to its charming historical center and clean waters. Varigotti has a beach of sand and small pebbles in parts, so it can be handy to have water shoes, but super clean and shallow waters that make it particularly good for kids.
The historical town center is close to traffic and has a peculiar architecture with some Moorish elements that are unique in Liguria.
Stay at: Hotel Liliana, family hotel close to the beach with family rooms, changing room with baby changing facilities/food preparation station, stroller rental, restaurant on-site with kids' menu, all-inclusive option, play area at the hotel and on the beach.
Celle Ligure
When looking at family friendly beaches in Luguria we cannot forget Celle Ligure, a town so kid friendly to have received as recognition as 'citta' dei bambini' (children town).
Here you have a nice sandy beach, clean waters, several kid-friendly beach clubs with equipment for babies and toddlers such as baby changing facilities, baby food heating area, baby club and pool.
Away from the beach, the town is pleasant and has a flat promenade, playgrounds, crazy golf course and, in nearby Varazze, you can also enrol them in sailing courses for kids.
Stay at: Family-Friendly Hotel Adriana, close to the beach and well equipped for kids with family rooms, onsite restaurant, terrace, board games for kids, free wifi.
Levanto
Levanto is a wonderful town in Eastern Liguria, close to Cinque Terre and an ideal base to discover the area, should you wish to combine time on the beach with hiking and sightseeing in this scenic area.
The town is particularly good for families with kids since it has some of the charme of Cinque Terre without the logistical challenges: Levanto has a nice beach (small pebbles), flat promenade, a nice cycling path and it is a great base to discover Cinque Terre by train and boat.
Stay at: Hotel Carla, family friendly hotel close to the beach, with family rooms.
Other places to visit in Liguria with kids
Genova – Genoa
Genoa is one of the most beautiful cities in Italy and a wonderful place to visit with kids. The city develops around two main areas, the historical center and the Old Port, both with plenty to do.
The historical center is lovely for sightseeing however, it is the old port that is a true powerhouse of kids' activities: here you have the famous Genoa Aquarium, Genoa's Children Museum, the Panoramic Bigo Elevator, Biosphere and ever a real pirate ships (well, kind of!): you can learn about this and all the things you can do in Genoa with kids here.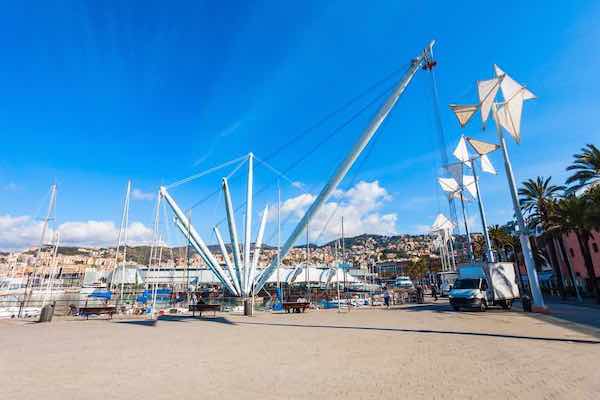 Monterosso and Cinque Terre
The area of Liguria visitors hear the most about is Cinque Terre, an area of great natural beauty and with unique, colorful houses that made the landscape of the area one of the most photographed in the world.
If you are in the area, it is definitely worth visiting Cinque Terre however, the area poses some difficulties to families with small kids as it is very stroller unfriendly – unless you know where to go!
The best place to stay in Conque Terre with kids is the town of Monterosso: this is a nice town with a flat promenade and a kid-friendly beach that is unique in Cinque Terre.
You can find here >>> our guide to Monterosso with kids
Less romantic than Vernazza or Manarola, this is a wonderful place to use as a base to explore the area and my choice as most family-friendly town in Cinque Terre. You can read my guide about Cinque Terre with kids here.
Kids' activities in Liguria: what to do
Liguria is a fun place for kids in summer especially. Aside from the endless fun of the beach, kid-friendly activities in Liguria include:
Canoeing, kayaking, sailing – several locations in Liguria (and on this list) offer courses for kids to engage and have fun in the sea. Check individual providers locally for age restriction and language of classes (most are in Italian)
Whale watching tours – this are is a whale sanctuary and there are several day tours to allow you to spot whales in their natural habitat.
Water and fun parks – Le Caravelle water park and WOW park are both fun waterparks in Liguria for kids of all ages
How to get to Liguria and how to get around
Liguria is crossed by the long Via Aurelia, connecting Rome to France and it is well served by an efficient train network so both car and train are good options to explore the area.
With kids in tow and in high season, the train is the best way to explore the area. Efficient and clean, trains connect all the main localities, they are sustainable and kid-friendly, and take away the stress of driving, which in this area means dealing with winding, trafficked roads and difficult parking.
If you want to get away from the coast, for instance, to get an agriturismo on the hills, then the car is a must. If you are driving in Liguria, it is worth choosing a hotel with private free parking – daily charges can be steep and free on-street parking often impossible to find.
Genova is the closest airport, and it is excellent. Milan is also well connected to the area by train and road: expect a journey of a 1.5h/ 2h.
What to eat in Liguria with kids
Liguria has some of the best dishes in Italy: the land of basil and focaccia, it is a dream place for kids who can dig into pizza and gelato, of course, but also delicious pesto, cheese focaccia, canestrelli (biscuits) and all the typical Italian child-friendly food they are used to in other parts of Italy such as tomato sauce pasta and cotoletta (fried chicken)
What to pack to visit Liguria with kids
What to pack for a family vacation in Liguria depends on the time of the year of your visit.
For summer, you need to pack for a beach vacation and expect heat and a lot of sun. If you are intending on visiting Cinque Terre, you also need hiking gear so I recommend you check our packing list for Cinque Terre instead.
In winter, you want to wrap up and be ready for rain especially.
In all seasons, I recommend you bring both a baby carrier and a stroller (opt for lightweight so you can fold it in restaurants etc).