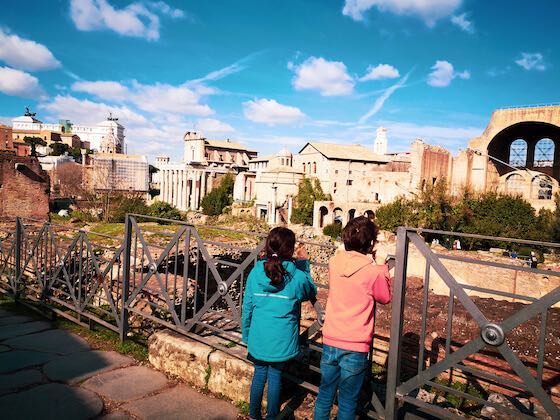 Archaeological sites in Italy that are great for kids
Wonderful archaeological sites in Italy that are great for kids: our selection of the most family friendly archaeological sites in Italy for kids of all ages.
Italy has many wonderful archaeological sites, some of which are fantastic for children.
Over the course of the years, we have visited very many and while with the right baby gear you can visit pretty much any site you want, we found that some historical sites were much more enjoyable for kids than others.
This has got to do with:
The size of the site: I find some locations such as Pompeii are wonderful but so big, they get easily overwhelming
The stories attached to it, and their ability to let the place come to life in the kids' imagination
The easy of access for families with toddlers / the freedom kids can have to run around and explore at their own pace.
The sites in this article are those we found to be the best archaeological sited in Italy for kids.
To learn more or if you want to suggest more, please join me in this free Facebook group about traveling Italy with kids; we would love to have you!
Please note: this post contains affiliate links. Should you make a purchase, we might make a small commission.
5 archaeological sites in Italy that area great for kids
The Colosseum archaeological park in Rome
Few ancient building are as familiar for kids as as exciting to visit as the Roman Colosseum and thankfully, the amphitheater and the whole archaeological area around it is family friendly!
The Colosseum is in Rome city center and it can easily be reached by pretty much anywhere in the city. It is beside the Roman Forum and the Palatine Hill and together they form the so called 'Parco Arheologico del Colosseo' (The Colosseum's archaeological park) which is accessible with one cumulative ticket.
The visit to the Colosseum is with guided tour only, while the visit to the Forum and the Palatine follows a specified path but can be done in your own time.
The Colosseum visit alone takes 45 mins or more depending on the tour you choose.
The visit to the Forum and the palatine, which i recommend, can be done is as short as one hour or can take up to a full afternoon, depending on your interests.
Some useful resources to visit the Colosseum with kids:
A good family tour of the Colosseum we recommend is this one
The most affordable yet good quality tour of the Colosseum we found is this one.
Ostia Antica archaeological park
Ostia Antica or 'Ancient Ostia' is the ancient port of Rome and now an absolutely wonderful and child friendly archaeological site in Italy, just outside Rome city center.
Ostia Antica is often referred to as a 'little Pompeii' or a 'Pompeii alternative' and while there are very significant differences between the two, indeed if you want to get a sense of what an ancient Roman town would have looked like, Ostia Antica is perfect.
The park nowadays has a beautiful theater, large stone roads, a museum and what remains of many houses and shops and part of the town is still intact enough that you literally walk along city streets and enter ancient Roman cafes!
For kids, this part of Ostia Antica is wonderful: they can walk safely along Rome streets (the whole pars is of course car free) and they can still see the indoor spaces as they would have been and imagine their use.
The whole park is great for kids to run around, so much so that even if you have a toddler you will be able to enjoy it, just because of its beautiful space, and there are kid friendly facilities such as toilets, a cafe/restaurant and terrace that make it easy also with toddlers of very young kids.
That said, the park is not suitable for al types of strollers as the bumpy terrain is very uneven.
If you can, I recommend you tackle with with an all terrain stroller or a baby carrier. You can find my tips on using a stroller in Italy and favorite models here.
You can find my full guide to visiting Ostia Antica here.
The breathtaking ruins of Paestum
It is hard to pick a favorite when it comes to archaeological sites in Italy, they are all so beautiful, however, I believe one of the most beautiful of all is the stunning archaeological site of Paestum.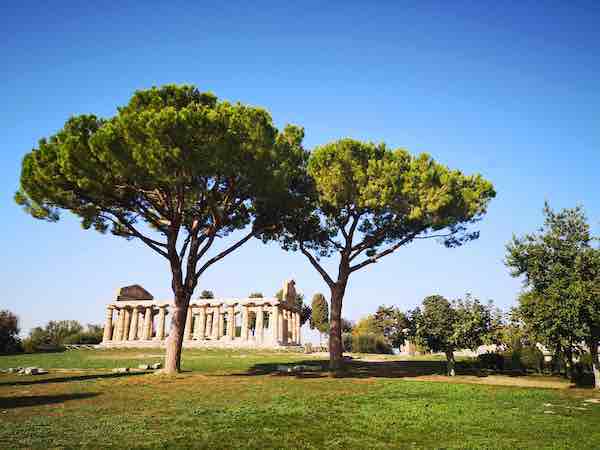 Located in Campania, the same region as the much better known Pompeii and Ercolano ruins, Paestum is an ancient Greek and then Roman town with something special: three wonderful temples now surrounded by wonderful green grass!
The site is stunning and really easy to visit with kids.
The archaeological area has large lawns and flat paths that the kids can easily explore in their own time and there is also a beautiful museum just in front that is good for older kids who want to understand even more about the place.
In front of the temples there is a line of cafes / restaurants and souvenir shops with terraces overlooking the temple which are just perfect for a family lunch too.
You can find my guide to Paestum here.
The stunning ancient theater of Taormina
One of the most scenic archaeological sites in Italy is the theater of Taormina, in Sicily, a place where the impeccable aesthetic sense of Greeks and Romans came together to create something truly unique.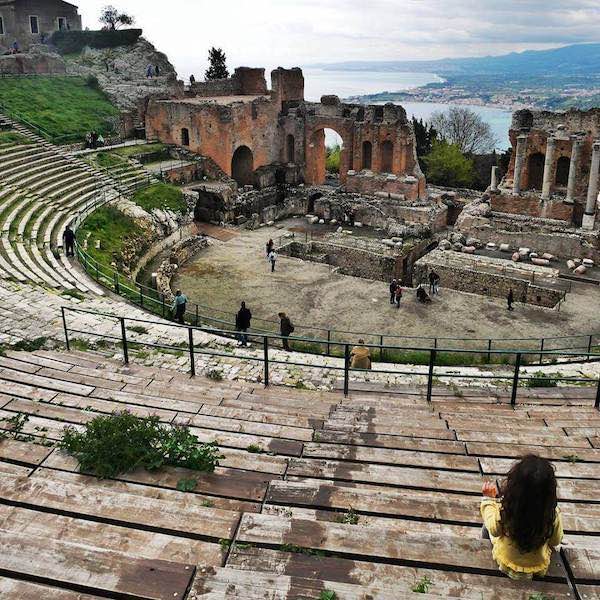 The so called 'ancient theater of Taormina' lies along the slopes of a mountains, and opens up towards the sea so that spectators, ancient and new, have in front of them not just the stage but the stunning backdrop of Mount Etna and the bay in front of it.
The Romans added to this original structure creating a scenographic backdrop, still standing. the result is breathtaking.
The theater is one of the most beautiful things you can see in Sicily, I believe and one of the most beautiful archaeological sites in Italy.
With kids, it is impressive and easy to visit. Access to the scene (arena) is easy and mostly flat and the cavea, where the audience sits, is fun for them to climb onto and to run around.
Do pay attention to toddlers as some area are uneven and there is a lower level (fenced) that can pose safety issues.
You can read our full guide to Taormina here.
The impressive Archaeological park of Siracusa and its theater
Another archaeological site in Italy we found magical with kids was the impressive Neapolis Archaeological park of Syracuse/Siracusa, in Western Sicily.
The park has vestiges from both Greek and Roman times and I find it exceptionally good for kids thanks to some natural characteristics of the places that make it fun and evocative for them.
As well as the impressive ruins of the Greek Theater, still in use, and impressive Roman altar, the park hosts the infamous Latomie, stone quarries that were used as prisons and labor camps in ancient times, when Siracusa and its fleet terrorized the Mediterranean.
The quarries are excavated in tall mountain flanks and are surrounded by beautiful vegetation, criss-crossed by a man made path.
Venturing here is wonderful at all ages and the quarries, of which you see the entrance, are the perfect mix between scary and interesting, an absolute must see and one of our favorite places to visit in Sicily with kids.
You can find our guide to Siracusa Sicily here.
Other archaeological sites in Italy you can visit with kids
The ones above are the sites we found to be most family friendly however, there are many others you can visit with kids.
Pompeii – very beautiful, very large site. I recommend you get a family friendly guided tour such as this one to avoid exhaustion
Hercolaneum – smaller than Pompeii, it is beautiful and a very good alternative with kids
Villa Jovis in Capri – suitable for older kids especially: the walk up is long but wort it and I recommend not to miss it.
Tiberius' Villa in Sperlonga – not overly impressive compared with others in this list, but on the sea and easy to visit with kids (the museum is stunning)
Segesta's temple in Sicily, stunning and close to Scopello, which has lovely beached if you want to mix sightseeing and rest
The Valley of the Temples in Agrigento, Sicily, very large and sunny but truly impressive
What to bring when visiting Italy's archaeological sites with kids
To visit archaeological sites with kids I recommend you bring:

Good shoes suitable for dusty, uneven paths. Trainers or walking sandals are perfect
Sun hat / sun screen and your favorite sun protection great if visiting in summer
An extra layer for the winter (you may be surprised how much colder than the surrounding areas some of these sites get)
An all terrain stroller or carrier
A reusable water bottle
A small day pack with all your essentials and snacks for the kids
I hope you enjoyed this quick overview of family friendly archaeological sites in Italy we recommend you visit with the kids. Safe travel planning!