What to pack for Puglia: 9 essentials + full list
Puglia packing list. Full family packing list for Puglia. Learn what to pack for Puglia in each season and essential travel gear for a family vacation in this stunning and varied part of Italy.
Puglia is a stunning region of Italy and a destination you can visit all year round.
However, Puglia is a very seasonal place, with different climates and weather patterns depending on the time of year; therefore, you need to pack accordingly.
In summer, Puglia is hot: the sun shines high in the sky, the temperatures are high and you are looking at packing for a sea and sun type of vacation.
In winter, Puglia can get quite chilly! You want to pack for rain, cold temperatures and you can leave anything for the beach at home. There is no swimming in Puglia in winter.
Spring and fall are in-between seasons and require versatile clothing. Most likely, you won't be able to swim in Puglia in the shoulder seasons and rain is frequent.
All this, to say that your Puglia packing list is not a one size fit all, but we are here to help!
I love Puglia and have visited in all weathers. We have been hot, cold and just right…
So today, I share what to pack for Puglia in each season based on my own travels and packing strategies.
I'll start with my essentials, then will go more in detail into my exact packing list, plus some suggestions you may want to incorporate.
I hope you find it useful!
What to pack for Puglia: essentials
Comfortable, weather-appropriate walking shoes
Crossbody bag / small backpack for daily essentials (tissues, money, ID etc)
Charging cables and travel adaptor/converter to charge your tech
Essential Italian phrasebook. You can use >>> my list of essential Italian phrases and expressions for travelers
ID/Passport, Visa, travel permit, travel insurance, travel documents as applicable
Phone with an international plan and spare battery pack
Prescription medications with doctors' prescriptions for refills if needed
Credit cards / bank cards
Some cash
What to Pack for Puglia in summer
Puglia in summer is hot and dry.
Between June and September, you can expect the weather in Puglia to be sunny and very hot, with the sun being both your friend and enemy.
While it will be lovely to have a blue sky, the sun gets relentless here; therefore, protection and light clothing are essential.
Normally, you don't need to pack for rain for summer in Puglia. The occasional thunderstorm in August often passes rather quickly.
Of course, with this crazy weather lately you never know; however, you usually do not need to plan for rain or cold for a summer vacation in Puglia.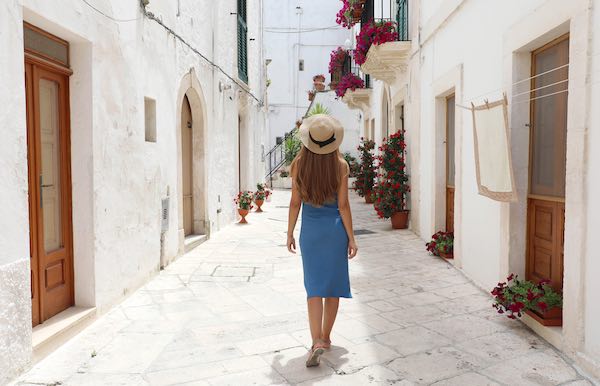 For a Puglia vacation in summer, I pack:
Underwear
Light dresses 
Shorts
Strappy tops / short sleeves tops / t-shirts
Good walking sandals such as Teva (see below for some tips about shoes)
Summer pajama/nightgown
Sunglasses
Sun hat
Swimsuit
flip flops / beach appropriate sandals / water shoes for kids if going to rocky parts of the coastline
Beach towel (Unless supplied by the hotel)
Sun essentials (you can also buy them once in Puglia, but make sure you have sunscreen and aftersun)
Mosquito repellent
Summer carrier if traveling with a baby – summer carriers are wonderful to prevent overheating and some can even go in water!
Portable fan for the stroller – a great nice to have for naps on the go in the heat!
Cooling towels
Summer dresses – good to know: in Puglia, there are some nice churches you probably want to see. Usually, these do not require following a special dress code; however, I find it good to wear a slightly longer dress as covering up is considered respectful of the religious nature of the churches. You don't need to dress specifically for churches though; they are not like the Vatican or the big basilicas in Rome or Venice.
The photo above is not me (my kids are my photographers so you can imagine the type of photos of myself I get..) but the outfit mirrors very closely what I wear.
Beach essentials – good to know. You will be able to buy sunscreen, aftersun, beach toys etc in any coastal town in Puglia. Beach towels are usually not provided unless specified as a hotel service. I like to bring light microfiber travel towels from home, which are super light and easy to pack.
Packing list for Puglia in winter
Winter gest cold in Puglia. Looking at the map, you may be tricked into thinking that Puglia's southern location means all-year sun and good weather but this is very much not the case.
In winter in Puglia, you want to wrap up and have a proper coat, shoes and rain gear.
My winter packing list for Puglia includes:
Underwear
Socks/tights 
Long sleeve tops
Woolen cardigans/sweater
Long pants/jeans
Warm winter jacket, rainproof
Travel umbrella, lightweight
Scarf, gloves and hat
Winter overalls for baby
Rain-resistant trainers / ankle boots, full boots for walking
Winter pajama / sleeping bag for baby
Rain cover and blanket for the stroller
Top tip! If traveling in winter, I highly recommend you bring a change of shoes. We got caught under torrential rain in Monopoli and it took ages for our shoes to dry: best to be prepared and have a change handy!
Family packing list for Puglia in autumn and spring
Autumn and spring are transitional seasons with changeable weather and unpredictable temperatures.
To give you an idea of how unpredictable, we sometimes had shorts and sometimes we had coat…. versatiliy and layers are key!
In early spring and late autumn, you want to opt for a winter wardrobe, adding in short sleeves tops for layering and, possibly, a lighter jacket.
For late spring and early autumn, you want to have a more summery wardrobe with the addition of a mid-season jacket and a scarf for evenings and colder days.
Our mid-season must-haves include:
Underwear, socks, tights
Short and long sleeve tops
Cardigan/sweater
Long pants (denim or chinos work well)
Mid-season jacket, ideally rainproof or at least rain resistant
Lightweight travel umbrella
Light scarf
Rain resistant sneakers
Best shoes for Puglia
In Puglia, you will need comfortable travel shoes with enough support to protect you on long days of sightseeing.
The shoes I recommend for Puglia are:
Winter: sneakers/runners or comfy boots. Puglia gets cold in the winter and rain is possible. Make sure you have shoes that can take the rain and that keep you warm and comfortable.
Shoes that have worked for me are Stride shoes (they have great support), blondo ankle boots, new balance runners, sketchers runners.
Spring/autumn: runners/sneakers are perfect. Bring a change in case of rain!
Summer: walking sandals.
I adore my Teva sandals which are perfect for walking and the beach. In summer, you need nothing else!
Baby gear for Puglia
Baby carrier – several places in Puglia are stroller friendly but the most scenic ancient town centers often are not. I like to bring both carrier and stroller to cover all situations
Water baby carrier – not a must have but if you are planning on a lot of time in water, it is a nice one to have
Travel stroller – anything with sturdy wheels and you can easily fold and carry when needed it great
Slumber pod / portable crib: usually not needed as available in hotels but do ask in advance to make sure it is ready for you
Portable high chair – usually you find these in restaurants but you may want to carry one if staying in a rental as not all provide it
Diaper bag: you can find baby essentials in Puglia but bringing a first set of diapers etc can be handy. You can read here >> where to find baby essentials in Itay.
Good to know: if in need of replacing your pacifier, in Italian it is called ciuccio, pronounced choo -cho and you can buy them in supermarkets and pharmacies
Good to know: you will find baby and kids' essentials in Puglia's supermarkets and pharmacies (diapers, creams, formula etc). Of course, small centers will have fewer choices than large towns: I recommend you bring a supply for the first couple of days so you're not rushing around on arrival to stock up.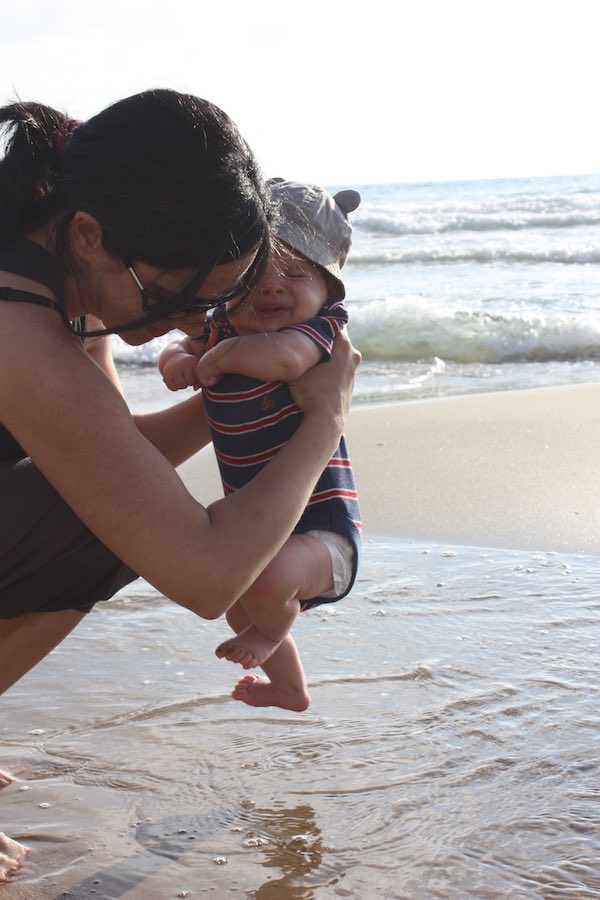 Packing for Puglia: documents
Passport (for each traveler)
Visa if applicable – check official info here
Child birth certificate proving relationship with the adult if  flying in alone with a child with a different surname as you (may be asked at border control when flying in ' out)
Translation of necessary doctors' prescriptions, if any
Toiletries and personal hygiene
In Puglia, you can buy good quality toiletries and personal hygiene products in supermarkets (budget end of the product spectrum), pharmacies, (higher-end and organic options), perfume shops (high end).
If you have special brands you use, it can be good to bring them in travel bottles as the brands in Italy might be different from those you have back home or may not be available in all shops.
Shower gel (usually provided in B&Bs and hotels)
Shampoo and conditioner
Shampoo and conditioner for kids if different
Shaving kit
Deodorant
Hydrating cream (body and face)
Brush 
Comb
Hair ties
Makeup
Makeup remover
Sunscreen 
After sun
Toothpaste
Toothbrush
Floss
Additional dental kit accessories if using
Body fragrance
Feminine hygiene products – these are very easy to find in supermarkets and pharmacies and many international brands are available. The name may be different but the packaging is likely to be familiar to you, there is quite a selection.
Baby diapers – many options including international brands like Pampers and Huggies and own supermarket brands such as Lupilu Lids or Carrefour
Wet wipes – several types, with and without fragrance
Mosquito repellent and after bite – several types with different formulas
Puglia packing list for beach days
Handy for a quick run-through before leaving the house!
Swimsuit
Beach dress
Flip flops / sandals / water shoes for kids
Beach towel
Sun hat
Sunglasses
Beach tent or sun shade (especially if traveling with babies or toddlers) – this is a big item to pack and you don't necessarily need it. However, they are not very common in Italy so if you are used to them, i recommend to bring your own.
Reusable water bottle
Beach bag
Floaters and beach toys for kids you can usually buy on location
Sunscreen and after-sun lotion
Kindle to read under the umbrella
Technology and electronic gear
Phone
Phone charger
Travel adapter for Puglia / continental Europe
Portable power bank
Kindle
Kids tablets if using with volume control headphones
Portable wifi spot
Laptop
Camera
Extra memory card for camera
Family packing list for Puglia: bags and Luggage
I like to travel with:
Travel backpack as a main bag. I have also traveled with a spinner but I found the backpack much easier due to terrain etc. I like to use packing cubes to organize it.
Crossbody bag for essentials including passport, money etc
Small day backpack or canvas bag for additional occasional storage needsDiaper bag or diaper backpack for baby gear
Wet/ dry bags for swimsuits etc
I hope you found this Puglia packing list useful. Safe travels!
Puglia packing list: pin this!