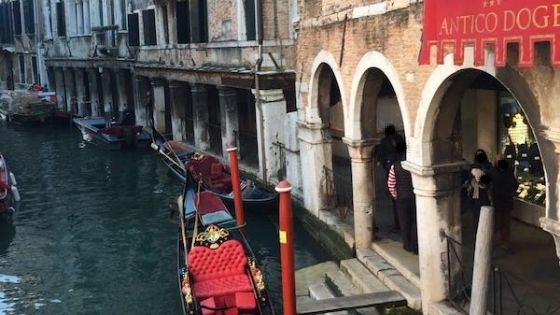 Family friendly hotels in Venice Italy you and your kids will love (updated 2022)
A handpicked selection of the best family friendly hotels in Venice Italy: great kid-friendly hotels in Venice center and tips for picking the best place to stay in Venice with family. Updates June 2022.
Visiting Venice with kids is magical but the process of looking for the best accommodation in Venice for families can be overwhelming.
A huge tourist destination, Venice has a staggering amount of hotels; however, when you start filtering for hotels that can take 4 people or more, have larger rooms, interconnecting rooms or child-friendly facilities, the list shrinks fast.
Venice is one of those places where space comes at a premium.
Due to the age of the buildings, most rooms are atmospheric but small and the elevators are rare.
If you add to this the fact that Venice is a popular honeymoon destination, it is easy to see how many hotels invest in cozy rooms for two rather than bigger ones for families with kids.
Despite all this, there are good family hotels in Venice and we have a list of them for you to use as a starting point in your search for the perfect family accommodation in Venice!
These Venice family hotels have been tried and tested by real families.
Some I have visited myself, and some come from the first-hand experience recommendation of parents who shared them in our Facebook Group Travel Italy with kids. (Are you in it yet? if not, you'll find how to sign up at the end of this post – it's free!)
This is our selection of the best kid-friendly hotels for families and the best areas to stay in Venice with kids
Please note: this post contains affiliate links and, should you make a purchase, we might make a small commission at no extra cost to you.
Best family hotels in Venice chart
*See below why we love these locations for a family stay in Venice!
The best family friendly hotels in Venice
For this selection of family-friendly hotels in Venice, we have focused on hotels in the 3 to 4-star category, aka a medium to moderate budget.
The criteria we have used are:
Family-friendly location, close to main attractions and not overly reliant on public transport
Rooms for 4 people or more,
A welcoming atmosphere for kids and adults.
In some cases, we were able to source hotels with extra attention for kids such as complimentary breakfast or babysitting service.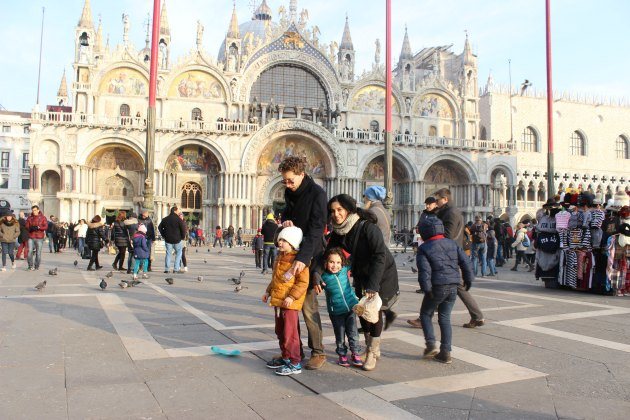 Hotel Splendid – kid-friendly hotel with the option of baby gear rental near San Marco
Hotel Splendid is a beautiful kid-friendly hotel in Venice, a few minutes' walk from San Marco, right in the heart of the city.
The location makes it perfect for families who want to make the most of the many attractions Venice has to offer and while the area is busy, the hotel manages to be quiet and feel secluded.
To families, the hotel offers:
Family rooms and option of interconnecting room
Kids welcome gift
Complimentary meals for kids under 3
Baby gear rental option including strollers, cribs, bottle warmer etc.
'Le Maschere' restaurants and lounge bar are onsite
Full American breakfast
24/7 room service
Kids will adore the private boat entrance, opening up onto the canal!
Hotel Carnival Palace, Cannaregio: 4-star hotel with rooms for large families
Carnival Palace Hotel is a beautiful family hotel in the Venice Cannaregio district.
Located close to the train station and in one of the most beautiful and atmospheric neighborhoods of Venice, the hotel is fantastic for families as it has large rooms for up to 6 people, interconnecting rooms and a garden, a rare find in Venice!
The hotel offers a good breakfast, concierge service and an option to book a babysitting service (extra charges apply, enquire with the hotel directly).
The hotel is in a perfect location to explore Venice and the islands of Murano and Burano, lovely for children as this is here they can learn to work glass!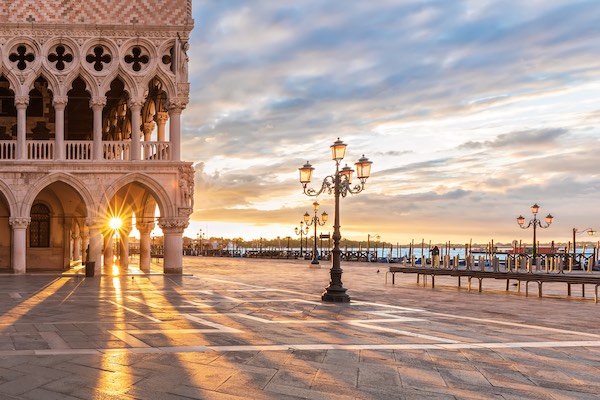 Hotel Palazzo Veneziano – great family hotel in Venice Dorsoduro with interconnecting rooms
Hotel Palazzo Veneziano is a fabulous hotel in the beautiful district of Dorsoduro, in Venice city center.
Located in front of the busy San Marco area, Dorsoduro combines a great central location with a quieter atmosphere, which makes it perfect for families.
Families with one child can choose between the family suite (two levels) and the suite canal room, which is also suitable for families looking for a room for two adults and two children.
This family hotel also offers interconnecting rooms suitable for larger families (up to 6 people)
Ca' Due Leoni – the best budget family hotel in Venice Cannaregio
Ca' Due Leoni is a small, family-run hotel overlooking a lovely private Campiello (piazza) in Venice Cannaregio.
A short walk from the station and Canal Grande, it is in a perfect location for sightseeing yet detached enough from the main Cannaregio thoroughfare to guarantee quiet and silence.
The hotel has a lovely quadruple room with a private bathroom (downstairs, no steps), TV and free WI-FI: a generous breakfast is served in the room or in the pretty patio.
This is a wonderful, clean and welcoming hotel at an excellent price point in one of the most family-friendly areas of Venice.
This is our go-to hotel when we want a good budget hotel without having to compromise on location.
You can find info and prices here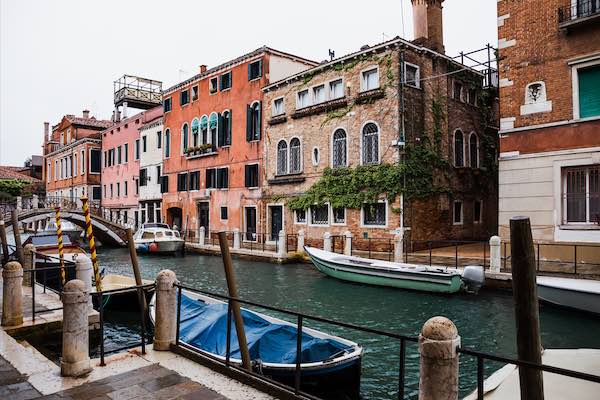 Hotel Gli Alboretti, lovely 3 star boutique hotel with family rooms
I discovered Hotel Gli Alboretti thanks to my parents, who often stay here when they want a relaxing weekend in Venice but don't want to break the bank for a full-out luxury experience.
The hotel is perfectly located in Venice Dorsoduro and has lovely family rooms for up to 4 people, with single beds or a combination of doubles and singles.
This is a small hotel with a boutique feel and opens on a dry road, which makes it safe also for families with toddlers who may find the open water too distressing.
You can find info and prices here
Hotel L'Orologio, 4 star hotels with interconnecting rooms near Rialto
hotel Orologio (the 'clock hotel') is a family hotel in Venice with a clock theme, which is fun for adults and kids alike.
Located near Rialto market, in Venice city center, the hotel has interconnecting rooms for families up to 4 people: the rooms connect two adjoining superior rooms, each with a queen bed and private bathroom.
The hotel also offers the option of booking one of their apartments, available for stays of 2 nights minimum. The apartments have two rooms, stunning views over the canals and all the comforts of the hotel while offering additional space and privacy.
You can find info and prices here
Hotel Bisanzio – the best family hotel in Venice for bigger families
Hotel Bisanzio is a 4 star, beautiful, luxury hotel in Venice city center with spacious rooms that accommodate up to 5 people.
The decor of the hotel is typically Venetian and some of the rooms (loft suites) are on two floors with bunk beds and a separate bedroom on the top floor that makes them great for kids.
The rooms have TV, Wi-Fi, radio, air-conditioning, mini-bar, hair dryer and safe and the hotel is equipped with a lift.
The hotel has a lovely, on-site bistro, the Bisanzio cafe, which has a lovely patio with tables and sofas.
The hotel offers concierge services including water taxis 24h
You can find info and prices here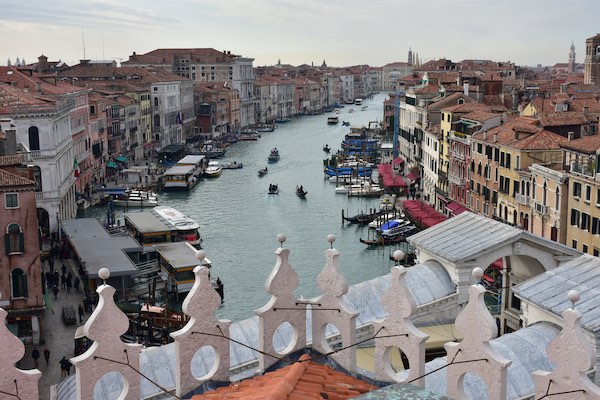 Hotel dell'Opera Venezia – one of the best family hotels in Venice for larger families looking for interconnecting rooms
Hotel dell'Opera is a great family hotel in Venice if you have a larger family group since the hotel offers interconnecting rooms accommodating up to 6 people (2 connecting rooms, one private bath each)
The hotel has a wonderful terrace with a view and Honesty Bar and, upon request, can offer a gluten-free breakfast.
Reception is open 24/7 and free Wi-FI is included.
The hotel is right in the center of Venice, close to the famous La Fenice theater and in a perfect position to explore all Venice has to offer.
You can find info and prices here
Hotel Palazzo Paruta – great Venice hotel for families looking for an apartment stay with hotel-style comforts
Palazzo Paruta is an elegant Venice hotel good for families with kids who want to soak up Venice's traditional architecture and decor.
Located close to San Marco, in Venice's city center, the hotel has a suite that can host up to 4 people and also offers family apartments in a nearby building.
Tha apartments are charming and modern and avail of all the services of the hotel, while offering additional space to large famiies.
You can find info and prices here
The best place to stay in Venice: area overview
Venice is organized in 6 neighborhoods, sestieri, each with different characteristics and feel.
For families, we love Cannaregio, Castello, and Dorsoduro in particular, for different reasons.
Cannaregio – close to the train station, this is a super convenient area that mixes tourist attractions and a local feel.
Here you have plenty of restaurants and shops, attractions, easy access to the train and the ferry to Murano, Burano, and Torcello and you can easily walk to San Marco and beyond.
The Vaporino (water bus) serves this area well.
The area has a main road that gets a lot of foot traffic but it is very quiet and relaxed as soon as you leave it and venture into the sidestreets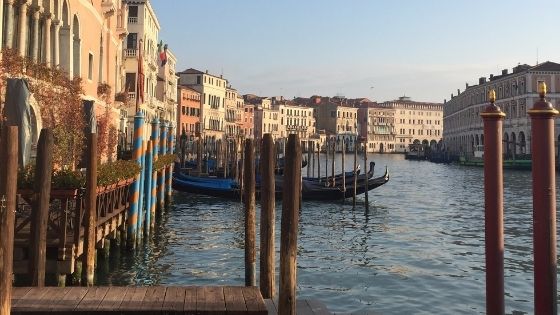 Castello is a large neighborhood part close to San Marco, part a little farther away from the center.
Castello is wonderful with kids: here you have a lovely local feel, plenty of local restaurants but are still close enough to San Marco for easy sightseeing.
Dorsoduro is a wonderful neighborhood in Venice city center, located immediately in front of St Marco, on the other side of the grand canal.
Dorsoduro tends to be quieter than San Marco, despite its central location, and it is where you find Accademia, Peggy Guggenheim, Museo Leonardo and squero di San Trovaso (traditional boatyard), all lovely places to explore with kids
San Polo is a beautiful and central part of Venice stretching from Santa Lucia train station all the way to Rialto, on the other side of the Gran Canal from these two landmarks.
The area is perfectly located for sightseeing and has some lovely quiet streets that come as a real surprise in such a central area!
Several streets here do not open up right on the water so this is a good area if you have toddlers too.
San Marco is the heart of touristy Venice, the area that has gorgeous Piazza San Marco itself the doge's palace and the Bridge of Sights.
The area is perfect if you want easy access to all the main landmarks in Venice although the location does come with crowds.
Unless you pick a secluded hotel this is not an off-the-beaten-track location!
San Marco area is where Venice feels most like a maze which makes it charming yet, sometimes, a little tiring, especially with very small kids.
However, the proximity to all the attractions and easy access to water buses makes up for it and this is why we recommend family hotels in this area.
I hope you enjoyed this selection of the best kid-friendly hotels in Venice and the best Venice neighborhoods for families. Safe travel planning!
If you want even more help or you have any questions, please in my FREE Facebook group about traveling to Italy with kids: I will be happy to have you there and the tips from me and the other members are FREE!
The best family friendly hotels in Venice – pin this!