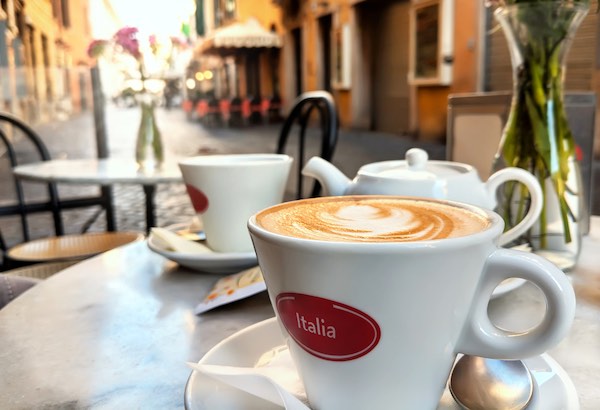 Italian breakfast: all you need to know about breakfast in Italy (+ how to order)
All you need to know about breakfast in Italy: traditional Italian breakfast foods, what to expect in hotels and hospitality settings, fun facts.
Italian food is famous all over the world.
However, when you think about Italian meals, chances are your thoughts wander towards pasta, charcuterie boards and pizza.
All these foods will be staples during your trip, but how about Italian breakfast?
What do Italians eat for breakfast, and what can you expect in a hotel: is a cooked breakfast common in Italy?
Breakfast is my favorite meal of the day, and Italian breakfasts are my guilty pleasure.
Today, I share the most traditional breakfast foods in Italy, what breakfast offering to expect on your Italian vacation and tips to get breakfast just as you like it!
Traditional Italian breakfast foods at a glance
| | | |
| --- | --- | --- |
| Italian breakfast food name | Type | Common Italian breakfast food |
| Caffe' (Coffee) | Drink | Homes/Cafes/Hotels |
| Cappuccino, latte macchiato etc (Milk and coffee drinks) | Drink | Homes/Cafes/Hotels |
| Latte e cacao (Cocoa Milk) | Kids drink | Homes/hotels |
| The' (tea – black, served with lemon or milk) | Drink | Homes/Cafes/Hotels |
| Orzo (barley brew) | Drink | Homes/Cafes/Hotels |
| Pane, burro e marmellata (Bread, butter and jam) | Sweet breakfast | Most traditional Italian breakfast foods at home and in hotels |
| Fette Biscottate | Typical Italian breakfast galettes | Homes/Hotels |
| Cornetto (Italian croissant) | Italian croissant – Italian breakfast pastry | Cafes/hotels |
| Saccottino/Bauletto/etc: danish assortments, namesvary by region and establishment | Italian breakfast pastries filled with chocolate, custard cream or jam | Cafes/hotels |
| Ciambella | Italian donut | Cafes/hotels |
| Maritozzo | Breakfast brioche from Rome | Cafes |
| Pane e Nutella (Bread and Nutella) | Kids breakfast item | Hotels/ some households |
| Cereali (Breakfast Cereals) | Breakfast cereals | Increasingly common in households/ common in hotels |
| Italian breakfast biscotti | Dunkable breakfast biscuits | Homes/hotels |
Breakfast in Italy: what to expect
When talking about breakfast in Italy, we first need to distinguish between breakfast you get in a hotel or B&B and Italian breakfast foods you can get at the store for your homemade Airbnb stay.
Homemade breakfast in Italy is usually a straightforward affair.
Traditional breakfast drinks in Italian households are coffee, tea and cocoa milk for the kids and the main breakfast foods are bread with butter and jam, biscuits and cereals.
If you are staying with friends in a private home, this is the most likely type of breakfast you will find, plus possibly a basket of freshly baked cornetti from the bakery!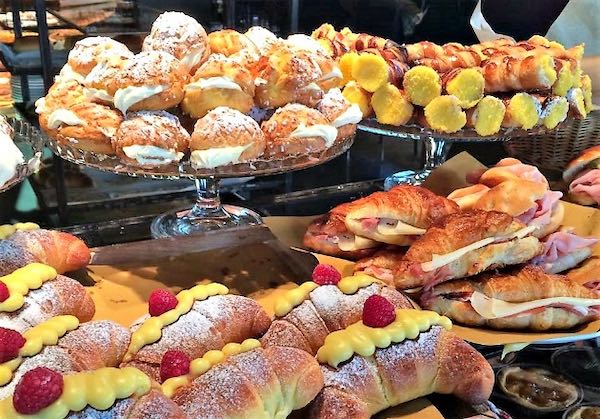 If you are staying in a hotel, things are very different.
Breakfast in hotels caters to international visitors and their taste, so it consists of a buffet spread with a mix of cereals, cakes, bread butter, jam and croissants.
It is very common in the north of Italy to also serve a savory breakfast such as charcuteries and slices of cheese.
Fruit is also sometimes included but it is not the norm.
Hotel breakfast usually includes a selection of bread options and croissants, cakes (usually ciambellone, crostata or apple cake), plain biscuits, yogurt and cold cuts (ham, cheese).
Cooked breakfast is not as typical in Italy.
However, some hotels cater to large international numbers and higher-end hotels can usually cook eggs in several styles.
Pancakes or the traditional English breakfast is hard to come by and not a standard offering.
When a hotel offers continental breakfast in Italy, this usually entails a buffet or coffee/tea with a serving of danish pastries, bread and condiments.
The most popular Italian breakfast foods.
Pane, burro e marmellata (bread, butter and jam)
The most traditional breakfast food in Italy is brad butter and jam or, in Italian, pane, burro e marmellata.
The type of bread used varies from region to region and each family has its favorite kind.
In Rome, you will have 'rosette'; in Genoa, you may get focaccia and on the Alps, while in the north, you are more likely to find darker, wholegrain bread.
In general, bread in Italy tends to be fresh rather than packaged. Sliced bread is for toast and goes by the name pan carre', pane da toast, pane in cassetta.
In Italian, if you just say 'pane' (=bread), it usually means a fresh roll.
Fette biscottate
'Fette biscottate' and another staple of traditional Italian breakfast and something I haven't often found aborad.
Fette biscottate and packaged type of galettes of mild taste and usually low calories content, used as a support for butter and jam.
They are surprisingly tasty and in recent years, they have exploded in popularity with a myriad of different types sold on the market: plain, whole grain, multi-grain… you name it, you find it!
They are perfect with butter and jam or Nutella.
Their name comes from the term bis-cotto, 'cooked twice' and highlights that they are a dry type of food, crunchy to the bite.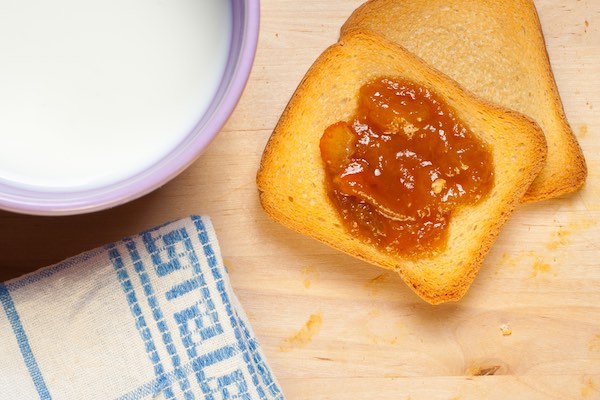 Italian breakfast biscuits
Children and adults often opt for a serving of biscuits with their morning milk.
There is no rule about what biscuits to use. However, the most popular ones are dry and plain so that you can dunk them in your coffee.
Popular brands are gentilini (plain, light, very common for children especially), anything from the Mulino Bianco brand (Macine, galletti, pan di stelle etc), and local brands.
You buy Italian breakfast biscuits in the supermarket.
Danish and bakes goods
Danish and baked goods are popular Italian breakfast items and they come in all shapes and sizes.
Common names for them are:
Cornetto – Italian croissant, simple or filles with jam, chocolate, jam or custard
Ciambella – Italian Donut
Saccottino – Pan au chocolate
Ventaglio – millefeuille pastry
Bomba – Italian krapfen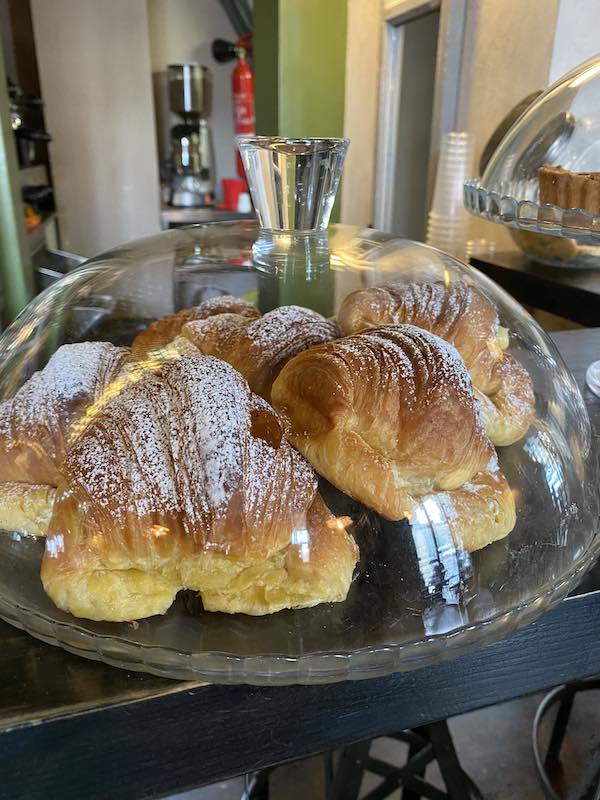 Breakfast cereals in Italy
Cereals are not part of the traditional Italian breakfast however, influences from the US and powerful marketing campaigns from cereal producers have put breakfast cereals firmly onto Italian tables.
They are a reasonably everyday breakfast staple for kids nowadays and if you are worried about availability: don't be.
While the selection of cereals in Italy may be smaller than in the US or UK, you will find different types in the breakfast aisle of all supermarkets in Italy, ranging from very plain ones to chocolate and sugary ones. 
International brands and types such as corn flakes, Weetabix and granola (called muesli in Italian) are ubiquitous and you easily find them in supermarkets and hotel buffets.
Milk in Italy
The most common type of milk you find on Italian breakfast tables is dairy milk either full fat (intero) or reduced-fat (scremato).
Non-dairy milk alternatives are becoming more and more popular in Italy; however, they may still be hard to find in cafes.
Soy milk is common however almond milk, coconut milk, oat milk and rice milk are less widespread. You can, however, find them in the bigger supermarkets
Typical Italian breakfast on the go with cappuccino and cornetto: colazione al bar
The best known of all types of Italian breakfast is probably the one you see in the morning in Italian bars (=cafes).
People standing at the bar taking a shot of espresso and munching on an Italian croissant, donut or other sugary baked good.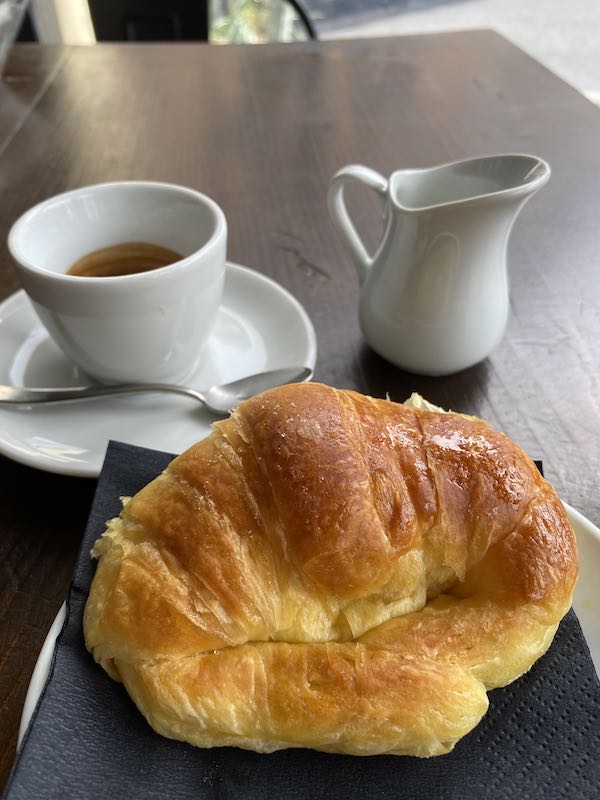 A cafe breakfast is a common occurrence for most Italians but if you wonder how the nation can stay as slim as it does while munching on heavy creamy pastry, the answer is: it doesn't!
While a stop at the cafe for coffee is a daily ritual, this is usually in addition to a healthier breakfast already consumed at home and a croissant is traditionally a treat, more than a daily purchase.
How to order coffee in Italy for breakfast
If you love coffee, you probably have a special way to drink it.
Below, you will find the most common ways to order coffee in Italy, so you can be sure you get exactly what you want.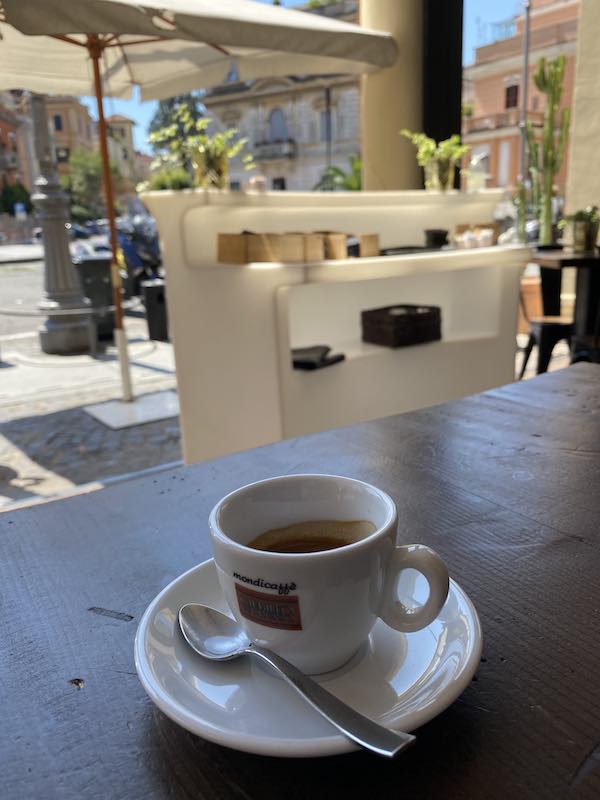 Caffe': if nothing else is specified, caffe' in Italy is a single shot of espresso. To order it politely, you say: un caffe, per favore'
If the barista notices you are a foreigner, they may ask you: normale o lungo? aka Normal or long?
In that case, what they are asking is if you are happy to get a shot of espresso or you prefer an American-style coffee, with more water and served in a big cup.
If you want to get coffee close to what you get in the US, the best way to order is by asking: un caffe' lungo in tazza grande = a long coffee in a big cup.
Cappuccino: cappuccino is one of the most popular breakfast drinks in Italy. If it served in a large cup and it is toppes with foam. You order asking: Un cappuccino per favore
Latte macchiato: a latte, served in a tall glass. This is order many get wrong: since latte in Italian means milk, if you only order a 'latte', you get a glass of milk with no coffee. Macchiato means the milk is 'stained' with coffee. You order asking Un latte macchiato, per favore
Caffe' macchiato: the opposite of the above! This is an espresso with a drop of milk.
Espresso doppio: a double espresso. This is much less common in Italy than abroad however, you can get it ordering ' un caffe' doppio per favore'. YOu will also notice baristas will not ask you if you want one or two shots when you order a coffee: one shot is standard and the most common drink.
Decaffeinato: decaf espresso
Caffe' d'orzo: not actual coffee but a coffee substitute made of barley
Caffe' al vetro: this is a regular espresso but served into a glass cup rather than a traditional ceramic one
Two fun facts about Italian Cappuccino
A fun fact about cappuccino is that cappuccino is not an Italian invention but instead, it was born in Austria!
Tradition tells us that coffee was known in Europe more or less since the XVI century, but it started to become popular around the year of the battle of Vienna: 1683.
Originally the coffee was only served black, but one day a Capuchin friar by the name of Marco D'Aviano had the idea of adding some milk to it.
He found the taste of the pure coffee just too strong and this was his way to make it milder.
The Viennese barista, exactly like the ones in Italy now, learnt quickly his preference and gave this drink the name Kapuziner (the drink of the Capuchin friar, whose flock was the same color as the drink itself).
You can find more fun facts about Italian food here.
Since we are talking about cappuccino, indulge me for a second and allow me to vent about one thing that I keep hearing about Italy and that is simply wrong.
It is not true that Italians do not drink cappuccino after 11 am!
This is a crazy, made-up rule that started from a legitimate observation and then took a life of its own.
Italians do not look at their watch before deciding what to order at their coffee break, why would we ever?!
The truth is that cappuccino is rather heavy, due to the presence of milk, so we tend to have it early in the morning rather than later in the day, when it may play havoc with your digestion.
What is also true is that we do not order cappuccino with or after a meal, for the same reason and you will get a surprised look from your server or they may want to double-check they understood correctly.
What is true is that Italians do not order cappuccino as a drink to have with your meal (nor coffee, for that matter).
That said if you love cappuccino and your digestion can handle it, go for it, no matter the time!
I hope you enjoyed this overview of traditional Italian breakfast foods and it helped you get clarity about breakfast in Italy. Safe travel planning!
Traditional Italian breakfast: in this!