Venice with a 10-year-old: itinerary and trip report (+why you'll LOVE it!)
Venice with a 10-year-old: our trip report! A detailed account of my two night / three days in Venice stay with my daughter, with recommended kid-friendly activities, guides, hotel, restaurants and tips.
Venice is a wonderful city to visit with children and if you follow this site, you may already be familiar with our Venice guide for families, with all our tips to plan a trip (if you don't know it, check it out, it's free!)
That guide is a great tool to plan a stay; however, I know sometimes it is even more useful to read an actual trip report, with a detailed account of what we actually did while in Venice, what worked and what didn't.
This is what this trip report is!
I recently spent two nights in Venice with my 10-year-old daughter and got up to a lot of adventures and activities.
I rarely travel alone with only one of my children and this mother-and-daughter trip was something I had been wanting to do for a long time.
When the opportunity finally arose, I went all out and booked pretty much all activities I knew she'd love: while her brother remembered his trip to Venice well, she didn't and so I had the perfect chance to do it all again!
We had the most amazing time and she adored everything (so did I!).
The trip was one or possibly even two days too short for us, and I would have loved to also be able to get her to do a mask-making class and go back to the island of Burano, which she had only seen years ago.
It was also a little intense in terms of schedule. However, we are extremely pleased with the time we had and felt busy yet not rushed.
This is my account of my trip to Venice with a 10-year-old girl who loved travel, crafts and trying new things. I hope it is useful if planning a trip to Venice with tweens!
Please note: this post contains affiliate links. Should you make a purchase through them, we might make a small commission.
Venice with a 10-year-old: our itinerary at a glance
Friday: departure from Rome by train. Kid-friendly scavenger hunt in Venice with a guide. Dinner near the hotel.
Saturday: early morning photo shoot with a vacation photographer. Murano glass-making experience in Venice city center. Lunch in Cannaregio. Afternoon rowing class for kids. Dinner near the hotel.
Sunday: Free day! Visit to the small island of San Giorgio Maggiore with bell tower climb, stroll in Castello and Napoleonic Gardens, lunch in Dorsoduro, stroll between San Marco and Rialto, mid afternoon departure by train.
Where we stayed: Hotel Agli Alboretti, Dorsoduro (review below)
How we moved around: on foot the first two days. With a vaporetto pass (water bus pass) on Sunday.
Venice itinerary day 1 (Friday)
Our first day in Venice wasn't a full day but only an afternoon and evening.
The original plan was to get the high-speed train from Rome to Venice and arrive in Venice in time for lunch, so we could settle and maybe have a play in the park before setting off for our first guided tour.
The plan kind of worked; however, our train got delayed, so we had to ditch the park plan and ended up in a bit of a rush to make our appointment with our guide!
Nothing major, but I was happy I had left two full hours between our arrival time and the tour: anything less would have been too short.
We arrived at Venice Santa Lucia Station at about 2pm and stepped into a stunning late October day in Venice.
Venice train station is right in front of the Grand Canal and no matter how many times we come here, that first view of the shimmering water and the massive dome of the church of San Simeone Piccolo always takes our breath away!
Our hotel was in the Dorsoduro area (wonderful), about 20-25 minute walk from the station and we decided to walk the distance.
We had a little luggage and needed to stretch our legs, so the walking worked for us.
While we could have taken the Vaporetto (water bus), it was an opportunity to have a first sense of Venice and explore the area of Santa Croce / San Polo, which we would have otherwise missed.
To find our way, we used google maps which were surprisingly good and reliable.
We only got slightly lost once and only for about a minute: while google maps sometimes get confused in Venice, we found it good in this area and many others, so I highly recommend you have them on your phone for reference.
On the way to our hotel we saw stunning canals, streets and shops: the perfect introduction to Venice!
We arrived at our hotel with minutes to spare before our tour, so we checked in, dumped bags in the room and dashed to meet our guide.
For this afternoon, we had chosen to take a tour with Lucia of Venice Walks and Tours and had picked a tour of our local area: it was a great choice!
Dorsoduro is a wonderful neighborhood, and while it doesn't have San Mark's or Rialto, it is beautiful and a great place to see a more local, real part of Venice.
Lucia is from this area and she was fabulous at telling us stories about it, showing us its gems and making us feel at home.
After the travel hours and the rush to get here, it was a fantastic way to get acquainted with the area we would call home for a couple of days and felt it was a perfect start.
You can read all about Lucia here >>> our review of Lucia's fabulous tour of Venice for kids
After the tour, we got changed for dinner and went to a local restaurant Lucia recommended called San Trovaso.
The restaurant was lovely and traditional, with prices in line with the area and very pleasant staff.
They were all smiles to us and had good menu choices both for me (I had pasta with squid ink and a glass of white wine) and my daughter (who had pasta al ragu').
The restaurant was less than 2 minutes on foot from our hotel so we got back and crashed in our silent, spotless room for a well deserved night of sleep!
Venice with my 10-year-old day 2: Saturday
Our second day in Venice was our busiest.
Arguably, it was too busy; however, we really wanted to have an unscheduled day at least one of the days so it worked well for us to do all the structured things in one go and then nothing the day after.
FYI: we booked and paid for all these activities and received no special discount or treatment. This is our unbiased experience.
Venice photoshoot with Flytographer
We started the day bright and early with a generous breakfast in our hotel and then walked the 15 minutes that separated us from San Marco, where we were meeting our photographer.
The walk was fabulous!
Since we were in Venice in late October, leavening the hotel at about 8am meant we were able to witness the sun rising over Venice, which was absolutely magical!
To find our way to San Marco we used google maps again and, once more, it worked ok, with only a slight detour and a wrong turn.
Once again, we found our guide on time and had our photoshoot, which was an absolute highlight for us!
Top tip: Our photographer was Marta (same name as me!) and she was wonderful!! As well as super talented, she is a lovely person and really made sure we had a nice experience in wonderful corners of Venice. I highly highly highly recommend her! You can book her via Flytographer, and I have a discount code for you >> click here and enter CODE1693297 to redeem it <<< !
If you want to see how talented Marta is, have a look at our Instagram where we shared some of her beautiful captures!
Murano Glass making experience
The second stop of our morning was a glass maker workshop in the San Marco area for a glass class.
Glass making is a traditional craft from the island of Murano, in the Venetian lagoon, and I had considered whether we should take an half-day trip there to take a workshop.
However, we then discovered the atelier of an artisan in Venice city center and it was so much more convenient, we opted for that one.
It turned out to be a great choice not just for location but also for the experience itself.
Unlike other similar places, in this atelier, my daughter and I were actually able to mold glass with the flame, and not just watch the masters do it!
The class was wonderful and very exciting.
The experience was shared and there was another family with children there, which was lovely.
The artist demonstrated how glass making work and how to be safe around the flame.
Then, he helped each of us make a glass creation of our choice (my daughter made a bunny, I made an owl, but you could also make pendants or other trinkets).
Since you need individual attention to perate the frame, the class is organized with two different activities: the one at the flame and a more independent one, the creation of a glass tile with colorful glass beads.
The two activities work well together and mean that there is no waiting around yet you can work in your own time and do not feel rushed.
You can book the same class as us on Airbnb Experiences
Lunch in Cannaregio
After the class, we had almost three hours to reach our rowing class and so we took a short walk in the dedication of the class and had a lazy lunch.
On the way, we stopped in a place that we had loved in the past and that I always recommend as unique and fun: Libreria dell'Acqua Alta.
Libreria dell'Acqua Alta is a bookshop with something unique: it has a huge arrays of books (old and new) that are not kept on shelves but in bathtubs and gondolas!
If you think this is mad and weird, you are right, it is both!
The choice is a mix of practicality and style.
The bookshop opens onto a canal and gets flooded when the high tide comes in; so, having books in containers that can take water safely is a must.
However, the bookshop has also a very specific aesthetic and this is its strength and also its demise.
While this place was once a hidden gem, it is now a place with tourists like us queuing to take photos for Instagram.
Is it still worth going to Libreria dell'Acqual Alta? Yes and no. If you can catch it in a quiet movement, maybe at opening time, absolutely yes. If you have to queue for hours, you can probably skip it.
For lunch, we picked place that looked pretty and had good reviews: la Colonna in Cannaregio, which turned out to be great.
My daughter had lasagne, I had scaloppine (meat), and we shared a dessert. The staff was lovely and the price right so this is a place we recommend.
Rowing class with row Venice
One of the experiences I most dearly wanted to have while in Venice with my daughter was a rowing class with the women of Row Venice and indeed, the class was a highlight for us and absolutely fabulous!
Row Venice is a local organization of rowing women and they offer the option of taking a class with them and spend some time on the water learning the basic skill of maneuvering a traditional Venetian boat (not a gondola, a traditional everyday working boat – much better!).
The experience is fantastic. Our teacher Luigina was wonderful and my daughter fell in love with her and rowing.
We thought we would share the effort but my daughter had no intention of letting go of the oar so I spent most of the time just sunning myself on the boat as she drove me!
The class brought us around quiet canals and on the open lagoon and it was perfect.
An absolute highlight and perfect for a 10-year-old in Venice.
You can book the same class as us here >>> Row Venice experience <<<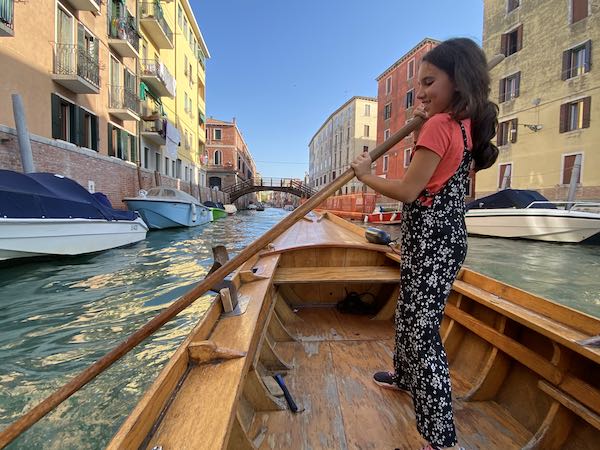 After our class, we had a nice gelato at Bacaro del gelato nearby and then walked back to our glass workshop to collect our now cooled down creations and then walked home.
Good to know: the walk back home brought us along Strada Nova and San Marco, which are among the busiest places in Venice. As much as possible, try to avoid them and walk the longer route via small streets or get the Vaporetto. The crowds really do feel oppressive here on a busy day and it is such a shame after an otherwise blissful experience in quiet Cannaregio!
After such a long day, we rested at our hotel and had dinner in the hotel restaurant, which was nice.
While probably not a place I would specifically seek out if not staying locally, we had a lovely dinner and were happy not to have to leave the hotel again (the ravioli were delicious).
Sunday itinerary
After the busy Saturday we had, we were glad to have a free day to just wander.
Unlike the other days, we invested in a Vaporetto card for the day which we used extensively: we bought it on the spot from the machines at the San Marco bus station.
You can read here >>> our guide to getting around Venice with kids
Punta della Dogana and traghetto
After another good breakfast in the hotel, we took a stroll across Dorsoduro and reached stunning Fondamenta Salute / Punta della Dogana, a scenic viewpoint.
The walk was lovely and since we left early, we were able to get a nice stroll without too many people around (around 9am).
We then spotted a traghetto service and decided to hop on and reach San Marco by gondola.
Good to know: traghetto in Venice are gondolas operating a shuttle service between the two sides of the Canal Grande. The service costs 2 euros each, only takes a few minutes and it is a fun and convenient way to cross the canals where there are no bridges. It is also a cheap way to be on a real gondola!
When we got to San Marco, we got overwhelmed by crowds and so we relaxed a little in the quiet Giardini Reali (gardens) and then got a water bus and headed to the island of San Giorgio Maggiore.
This was recommended to us by our photographer the day before and indeed, it is a gem! The island is tiny, beautiful and quiet and has a lovely tower bell you can climb, by elevator.
From the top, you have a fantastic view of the whole of Venice, San Marco and Borge's labyrinth in the Cini Foundation too (we didn't get to go but looks fabulous!).
Castello, Arsenale and Giardini della Biennale
From San Giorgio, we took the vaporetto again and had a walk around Castello, the one neighborhood we hadn't covered this time yet.
Castello is a wonderful part of Venice and is great for kids.
The main landmark here is the stunning Arsenale (make sure you go and show your kids the statues of the lions, they are massive!) but what we love the most about here is how quiet the area is compared with others and the wonderful Napoleonic Gardens.
The Gardens were a little busier than usual as they host La Biennale Art Event which was on at the time of our visit. However, they are a fantastic green space in Venice and they have playgrounds and nice views, which made both my daughter and I very happy.
Lunch in Dorsoduro
For lunch, we went back to the area of our hotel and had lunch in a lovely local eatery called Ai Pugni.
The eatery was recommended to us by our photographer and is in front of a bridge we had visited on the first day with Lucia and it was perfect.
The staff was outstanding, the food was delicious (it is cicchetti, traditional small bites) and it was lovely to end our stay in the same areas as where we started!
From here, we got our bags and walked up to the station.
Rialto Bridge and market
At this point, we needed to get back to the station but I really wanted my daughter to also see Rialto, one of the biggest Venice landmarks, and so we hopped back on the water bus and went.
Rilato is stunning and a nightmare all wrapped into one.
The bridge is beautiful but the crowds here are excessive, so much so that the area is my least favorite in Venice and the one I recommend the least for a stay.
However, I felt my daughter should see it and so we went: looking back, we should have probably just skipped it although it gave up the opportunity to talk about overtourism so we kind of learned from our own mistake!
It was however nice to then walk along small, quiet secondary roads up to Santa Lucia.
On the wasy, we were able to stop for another playground break at Girdini Papadoloulos, from where we waited fro our train to then head back to Rome.
Venice with a 10-year-old: considerations
Looking back, there is nothing I would have done differently for this trip, except its length.
I felt we could have really done with an additional day as a visit to the islands would have been special, especially with the weather we got.
My daughter is not into history but I believe it was a shame not to visit the Doge's Palace so again, had we had more time, I would have added that
Not getting the water bus pass worked well for us. The pass comes into its own if you use it at lest 3 times in a day so we recommend taking it if you are going to any of the islands or you know for a fact you'll go up and down the Grand Canal more than twice in a day (chances are you'll do it once at most, depending where you are staying). There is no need to book this in advance as there are vending machines at all stations.
We didn't book any of our meals and had no problems finding nice places good for all ages
Dorsoduro was a perfect area to have our hotel
Getting out early (before 10) and avoiding San Marco / Strada nova / Rialto was great to escape crowds.
Our hotel review
For this trip, we got a double room with breakfast in Hotel Agli Arboretti.
We had stayed at this hotel before and we find it to be a good, reliable address.
The hotel is a traditional Italian establishment in a traditional Venetian building: as you walk in, you see exposed wooden beams on the ceiling, carpet and a dark wood reception desk.
Depending on what you are used to, it may feel charming or old but this is more down to style than actual standard.
While the spaces are not huge, the rooms are perfectly functional and spotless, they are quiet and the bathrooms are modern and clean.
The breakfast is generous and varied and the on-site restaurant good and with lovely staff.
The hotel has several types of rooms, including family ones.
We enjoyed staying here. However, you can also have a look at other establishments we recommend, should you want an international hotel feel more than an Italian-style place.
Find here >>> our recommended hotel in Venice for families
I hope you enjoyed this trip report and it helped you plan your own family trip to Venice with a tween!
Venice with a 10-year-old trip report – pin this!