50+ Fun and interesting things to do in Italy with kids of all ages
There are so many awesome things to do in Italy with kids that you can easily plan a lifetime in Italy and never get bored.
Depending on the age and taste of your kids, you can choose to visit Italy's children's attractions such as theme parks and adventure parks, , you can plan family days out in Italy's beautiful nature, you can bring the kids to the beach or you can sightsee.
if your kids enjoy planned activities, you can also get them to participate in the many kids' activities and classes available in Italy.
Basically, if you are planning a trip to Italy with kids, you won't have a problem finding family-friendly things to do. The problem will be choosing between the many kid-friendly things available!
This is a list of the best things to do in Italy with kids of all ages.
Top tip! If this is your first family trip to Italy, I recommend you read this article with our guide to the best places to visit in Italy with kids, so you can plan your time at best.
Please note: this post contains affiliate links. Should you make a purchase, we might make a small commission.
The best things to do in Italy with kids (toddlers and up)
Run around Italy's stunning piazzas
Ask any family about their vacation in Italy with toddlers and chances are they will tell you a lot of time was spent in piazzas, the kids running around like mad things, the parents either enjoying the view or getting aperitivo.
While this is a simple and cheap way to spend a day, it is also one of the very best things to do in Italy with kids. The key to make this activity successful is to pick the right piazza!
If you get one that his historical and significant, this can be one of the highlights of your trip.
Just picture this: you are sitting in the shade, sipping a cold drink, with Siena's Palazzo Vecchio (or Rome Piazza Navona, or Venice' San Marco) in front of you, while the kids burn some energy running in a car free space. Isn't it tempting?
Many cities and villages in Italy have piazzas/squares suitable for this. however, I recommend you start of this list of the best piazzas in Italy – views are guaranteed!
Explore Italy's most kid-friendly historical sites
Italy is rich in history and historical sites and many are great fun for kids. The best archaeological sites to visit with kids in Italy are those with beautiful outdoor areas, that allow them to mix learning history with the pleasant feeling of being in a park.
Out children particularly enjoy Paestum, Ostia Antica and the Colosseum and Roman Forum – which are wonderful especially if you have a primary school child or a teenager who can tap into the historical meaning of what they see.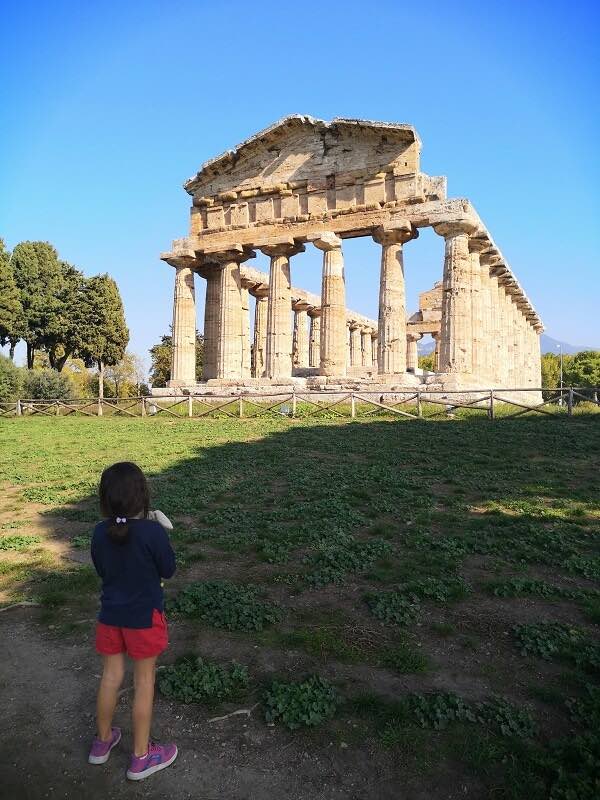 Go on a family friendly hike
Italy has wonderful mountains that are perfect for family hikes.
There are several beautiful areas in Italy suitable for sporty families but the most child-friendly of all is the area of the Dolomites, in Trentino Alto Adige (North East of Italy).
In this area, kids of all ages can hike in summer and immerse themselves in nature following family-friendly trails, exploring local farms and enjoying some of the most beautiful peaks in Europe.
You can read here >>>> our guide to visiting the Dolomites with kids
If you want to mix hiking with sea views, you can instead of for Cinque Terre or the Amalfi Coast, blessed with high coastine and pretty hiking trails, some suitable for kids.
Enjoy Italy's beautiful lakes with kids
There are many beautiful lakes in Italy that are simply perfect to enjoy with kids.
Lake Garda is the biggest lake in Italy and the most family-friendly.
Around its shores, you have theme parks, beautiful hikes, cycling routes and pretty villages, as well as many family-friendly accommodation options.
You can read here >>> our guide to visiting Lake Garda with kids.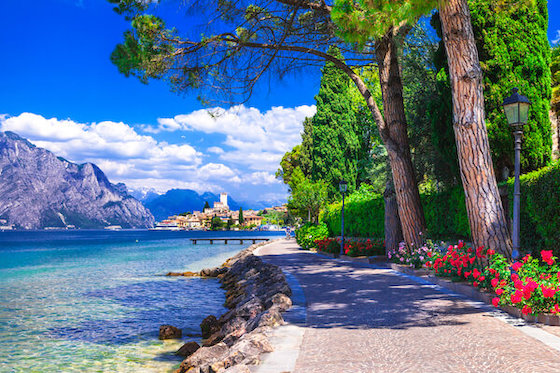 Lake Como is also a good place for watersports, especially windsurfing, fun for teenagers and sporty parents.
One of the most beautiful lakes in northern Italy, Lake Como is a good place for families who want a weekend on the water and also see one of the most famous spots in the whole of Italy!
Other good lakes to visit with kids are those in central Italy that are perfect for a day on the water and for boating/watersports. Fun places to bring the kids for a day on the water are Lake Bracciano and Lake Trasimeno in central Italy.
Go to Italy's family friendly beaches
Italy has thousands of kilometers of coastline and many of them are perfect for families!
Depending on where you go, you will find different types of beaches and atmospheres.
On the Tyrrhenian coast, you will find a mix of sandy coves and tall coastlines, while the eastern coast of Italy tends to have sandy beaches and, especially in the north, a wide offering of family-friendly resorts and beach clubs.
You can find stunning beaches in most regions on Italy, including the islands. You can find our selection of the best family beaches in Italy here.
Eat gelato
No list of the best things to do in Italy with kids would be complete without at least a mention of gelato, which is sure to feature heavily in your kids diet while on an Italian family vacation!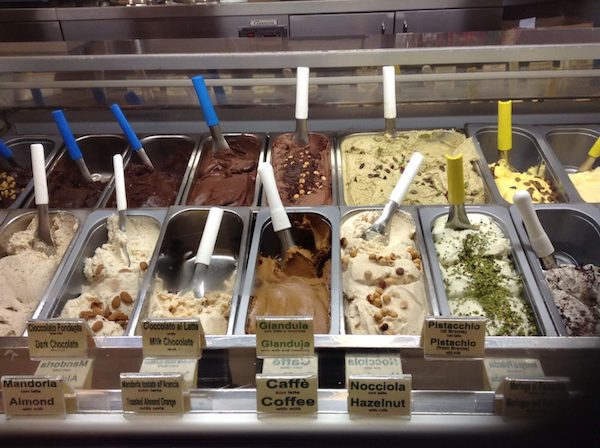 Gelato is a great motivator to get the kids out of your hotel or walk a little longer and can make sightseeing more pleasant. While you cannot lick gelato in churches or historical sights, village exploring is much easier with a gelato in hand.
You can choose between many flavors ranging from fruit to creams.
Traditional Italian gelato is called 'gelato artigianale' (artisan gelato) and it often contains milk and eggs however, in recent years more and more gelato places have learned to offer milk-free and egg-free gelato too – often delicious!
Explore Italy's child friendly museums
Italy has a large number of museums and some of Italy's museums are family-friendly.
Some of the best kid-friendly museums in Italy are:
Peggy Guggenheim Museum in Venice
Leonardo Museum in Florence
Stibbert Museum in Florence
Science and Technology Museum Milan
Muse, Trento
Museo dei Bambini in Palazzo Vecchio, Florence
If your kids are little, more than a family museum you may want a full-on children museum, where they can explore, tour and play.
The best children museums in Italy are:
MuBa, children museum in Milan
Visit the Ferrari Museums
If you have a car lover, Italy has some stunning car museums where they can indulge in their passion.
The most exciting is the Ferrari factory and Museum in Maranello, where you basically spend a day living and breathing the Ferrari brand, a paradise for Ferrari heads big and small!
You can find here >> our experience at the Ferrari Museums of Modena and Maranello here.
If there are other fun museums for cal lovers in different locations.
You can find here >>> our list of the best car museums in Italy
Enjoy a theme park or a water park
If your kids love rides, then nothing beats a day (or a weekend!) at a theme park. the most famous theme parks in Italy are:
Seek out animal encounters
Children who love animals will be delighted to hear that there are several opportunities in Italy to be close to animals.
The easiest way to get up close and personal with animals in Italy is to go to fattorie didattiche (lit. 'didactic farms') – these are working farms with specific programs that allow city kids to get connected with rural life and farm animals such as chickens, cows and sheep.
Another way to enjoy animals in Italy with kids is to go on a dolphin cruise in Liguria. This area is a whale and dolphin sanctuary and, in the good season, spotting them is common!
Italy also has several zoos where to see animals, such as:
Bioparco in Rome, Rome Zoo
ZooSafari in Fasano (Puglia), the biggest zoo in Italy
Parco Natura Viva, Verona, devoted to the conservation of endangered species
La Rupe, Pescara (Marche), devoted to the conservation of local animals such as the wolves and bears but also home to animals from faraway lands such as the yak
Please always study the mission statament and animal treatment standard of all animal attractions before visiting.
Get up close and personal with dinosaurs
Kids who love dinosaurs, rejoice!
In Italy, you will find plenty of dinosaurs and fossils for you to seek out and enjoy. Some of the best places to see dinosaurs in Italy for kids are:
Parco della Preistoria, Rivolta d'Adda, with 30 reconstructions of dinosaurs in a beautiful park and a paleontology museum
Sulle Orme dei Dinosauri, Trentino, a dinosaur-themed trail to see dinosaur fossils and footprints
Extinction Park (inside Natura Via Park) in Veneto, with realistic renditions of dinosaurs in a beautiful park (see also above)
Dinoland (inside Mirabilandia), the dinosaur-themed part of Mirabilandia, one of Italy's most famous amusement parks for kids
Parco Preistorico dei Peccioli, Pisa, has several life-size reconstructions of dinosaurs
Mondo della preistoria in Calabria is a theme park devoted to prehistory, dinosaurs and fossils
Borgo Celano (Foggia), paleonthology museum
Etnaland, theme park with a dinosaur train ride for kids
Visit Italy's main landmarks
Italy has many world-famous landmarks that are fun for kids to spot and explore.
The most beloved by kids usually are the Colosseum in Rome and the leaning tower of Pisa. In terms of Natural landmarks, kids usually adore seeing Mount Vesuvius and imagining the terrible eruption that destroyed Pompeii.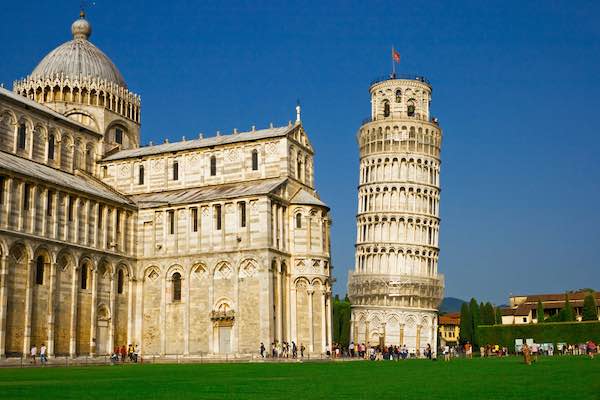 Go to an adventure park
Italy has beautiful adventure parks that are perfect to get the kids release some energy. Some of the best adventure parks in Italy for kids are:
Roncola Adenture Park (Lombardy)
Civetta Adventure Park (Veneto)
Jungle Rider Park (Lombardia)
Acropark Rio Centra (trentino)
Jungle adventure park (veneto)
Indiana park (Emilia Romagna)
Activo Park (Umbria)
Treja Adventure (Lazio)
Lucania Park (Basilicata)
Montevergine Park (Campania)
Explore Italy's stunning cities
A family trip to Italy must include visits to Italy's most beautiful cities. Busy and crowded, Italian cities may sound less than idea for a family vacation but all you need to enjoy them are the right tips!
For you, we have free family guides to Italy's most popular cities:
Go to a natural hot spring
Italy is rich in volcanoes and therefore in natural springs and some of them are perfect for families and they are free!
One of the best areas for free bathing in hot springs in Italy is Tuscany which has free hot springs but also excellent thermal structures for those who prefer more comfort.
You can find our guide to the free hot springs of Tuscany here
Stay in a farm
Italy has stunning countryside and one of the best ways to enjoy it is to stay a few nights in a farm. Farms turned tourist accommodation are called agriturismo in Italian and they are popular especially in central Italy.
They come in all shapes and sizes and they go from basic to high end. You can read my guide about choosing an agriturismo in Italy here.
Get the kids cooking
Family and food are at the core of Italian culture so it will come as no surprise that one of the most fun things to do in Italy with kids is to take a cooking class.
The most popular cooking classes for kids are pizza classes, pasta making classes, gelato classes such as the ones in this list:
Family friendly cooking class in Florence
Family friendly pizza and gelato making class in Florence
Family friendly gelato making class in Verona
Learn a traditional craft
Italy has beautiful artisan traditions and many local workshops now organize kids lessons to keep the tradition going.
Some fantastic artisan classes for kids in Italy are mosaic making classes (Rome), paper making classes (Florence) and mask-making classes (Venice), offered by many local artisan shops in main tourism cities.
Go underground
Italy has a long history that, in many cases, happened a level that is below street level now.
Some of the most interesting underground areas in Italy for kids are the underground city under Orvieto and the Roman catacombs and the mines in Sardinia.
But we cannot forget the underground experiences created by nature! Among the most exciting for kids are a visit to the Caves of Frasassi
Learn about the middle ages in a Tuscan Village
Italy is one of the best places in the world to learn about life in the Middle Ages and some of the best-preserved Middle Age villages are in Tuscany.
Visit medieval villages with kids is fun: they can walk on bastions, see medieval weapons, museums and they can even take part in medieval fetes.
You can find here >>> our guide to visiting Tuscany with kids
Hike the tallest active volcano in Europe
Italy has several volcanoes, some of them still active. One of them, Mount Etna in Sicily is the tallest in Europe and it has trails that are kid-friendly.
Tours are available but please check age requirements and specs of each tour as some are strenuous and not suited to children.
Sleep in a troglodyte home in Matera
If your kids want to emotion of sleeping in a troglodyte home, then Matera is the place to be.
Unesco World Heritge Site and home to unique cave-houses, Matera is stunning and a place like no other in Italy, for history, architecture and charm.
You can read here >>> our guide to Matera with kids.
Explore Unesco sites
Italy is the country with the highest number of Unesco sites in the world and most of them are fantastic to visit with kids.
From the center of Siracusa to the top of the Dolomites, via the stunning temples of Paestum, you can choose between man-made and natural wonders that are sure to leave your kids and you awestruck!
Explore the smallest state in the world
The Italian peninsula hosts two smaller states withing its territory: San Marino and Vatican City.
Vatican City is the smallest state in the world and it is inside Rome: you can visit without a passport and it is always thrilling for kids to feel they are crossing and international border on foot!
You can find here >>> our guide to visiting the Vatican with kids.
Pick your favorite pizza
If your kids love pizza, then they need to join the dbate: is Rome pizza better? Or is Naples pizza better? The only way to know is to taste and pick your favorite!
Explore Italy's islands with kids
Italy has very many islands that are fantastic to visit if you are in Italy with kids in summer.
Some are small and perfect for sightseeing, like Burano, others are for both sightseeing and going to the beach.
Some not to be missed are:
Have fun in Italy's markets
Italy has some fantastic markets that are fun to visit with kids. The most colorful and exciting are those that sell food and produce, which are also often great places for street food. You can find here >>> our guide to Italy's markets.
Get festive in Italy's Christmas markets
Christmas markets are a German tradition but Italy has them too, especially in the northeast, where the German influence is historically strong. The markets are fantastic in December and great for festive atmosphere and for picking Christmas presents. You can find here >>> our guide to Italy's Christmas markets
I hope you enjoyed this list of suggestions and it gave you good ideas on the best things to do in Italy with kids. Safe family travels!
If you want even more help or you have any questions, please in my FREE Facebook group about traveling to Italy with kids: I will be happy to have you there and the tips from me and the other members are FREE!
Planning a trip to Italy? Don't forget to also check out our 100+ Italy travel tips and our guide to planning a first trip to Italy!