Gubbio with kids: the unique town in Umbria you'll love
All you need to know to visit Gubbio Umbria: what makes Gubbio special, what to see, and practical tips for visiting Gubbio with kids.
Gubbio is one of the most beautiful towns in Umbria and a place with unique charm and personality.
Blessed with a stunning position on the slopes of Mount Ingino, Gubbio has a delightful medieval town center and several scenic terraces with breathtaking views of the surrounding countryside.
The town has been in existence since ancient Roman times and has a strong personality that makes it stand out from all others in the area and beyond.
Its inhabitants pride themselves on being 'crazy' (matti, in Italian), a word they use to describe themselves as being free thinkers, innovators and creatives.
They are so proud of this, they even allow you to join their ranks, under certain conditions, and become an honorary member of la citta' dei matti lit. The Town Of The Crazy Ones!
If you are looking for a beautiful town in Umbria and original, creative thinkers are your thing, then you will love Gubbio.
I adored it; it is now our family's favorite town in Umbria!
This is our essential travel guide to Gubbio, with all you need to know to plan a visit and all you need to know to visit Gubbio with kids.
Find here >>> our guide to the best places to visit in Umbria with kids (it includes Gubbio of course!)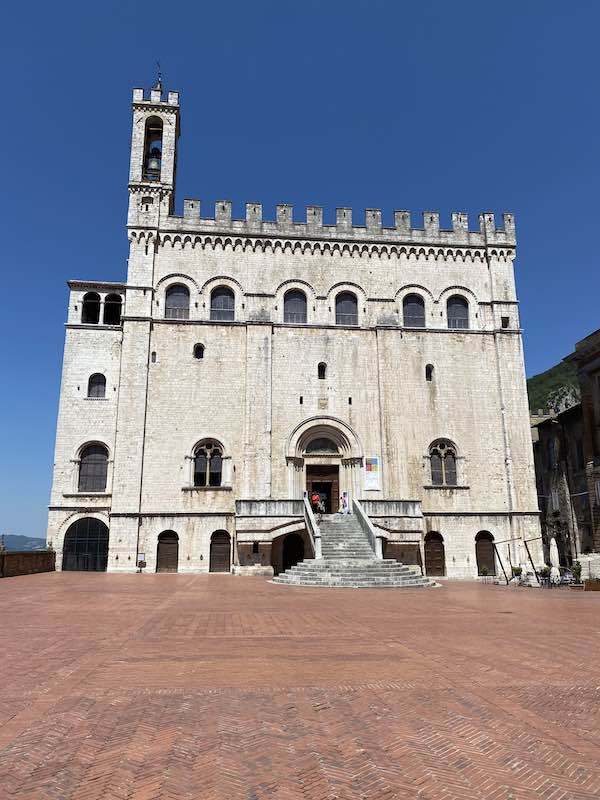 The best things to do in Gubbio with kids (and without!)
Gubbio is a small village, easy to visit in a day or even an afternoon.
A walk around the town center will lead you to see most of Gubbio's main attractions without major effort.
These are our Gubbio's highlights.
Admire Gubbio's Roman Theater
Gubbio has an ancient roman theater right outside the city's medieval walls.
The theater is in the archaeological area of Guastuglia and dates from late Republican times, II-I century B.C.
Archaeologists found signs that the theater was inaugurated by magistrate Gn. Satrius Rufus in 20 BC and also found remains of private homes from the time.
The theater is still well visible: as well as the cavea, it is still possible to see some of its arcades and access corridors.
When the theater first appears in front of you, it will take your breath away: its position si wonderful and the backdrop of the mountains makes it truly unique!
How to visit: you can easily see the theater from the outside just by walking around the structure. If you want to visit inside, this is possible by purchasing tickets on the spot. No booking is necessary.
Current opening hours are Wednesday – Sunday: 8 am-7 pm.
Later in the evening, the theater occasionally hosts concerts and shows, ticketed separately (summer only).
You can find official info and tickets here
The theater is lovely to see; however, we found we were satisfied with seeing it from the outside and spend most of our time in different parts of the town.
Play in Gubbio's fantastic children's playground
Gubbio has a fantastic kid's playground, one of the best we have found in this part of Umbria.
The playground is just beside the ancient Roman theater and outside the main city walls, only a minute walk from the town center.
It develops over three different areas, some under beautiful trees, lovely in summer.
It has climbing frames, swings, slides and a 'fitness' area with bouncy-castle-style games.
A pretty cafe serves both the theater and a playground and has facilities including accessible restrooms.
The playground is very popular with locals and it is a fantastic place to meet local children for playing
Walk up Gubbio's pretty Via dei Consoli
On the other side of the road from Gubbio's Roman theater, stands Gubbio's medieval city center.
The town is partially closed to traffic and has several pedestrian access points leading you into the heart of the old town.
The main street in Gubbio is Via dei Consoli: this is a beautiful, buzzing street that you follow to go all the way up to Piazza Grande and the most scenic part of the village.
Along with main Gubbio road, you find a maze of pretty streets with houses and palazzi in local stone, now hosting many shops, services and restaurants.
The main vocation of the town nowadays is tourism.
However, Gubbio still very much feels like a real town and you breathe an authenticity that makes it stand out from other nearby gems such as Spello, pretty but almost too perfect.
We found walking along Via dei Consoli lovely: the children loved the pretty shops and got mesmerized by an artisan shop making cloth souvenirs.
The artisan sits in the window and you can watch her sew – she is amazing and inspiring, we got several pretty souvenirs from her, and they are not a cherished memory of Gubbio!
Get your 'crazy' licence' at Bargello's Fountain
As you walk up Gubbio's main street, you quickly find a pretty piazza with a fountain in the center, called 'fontana del Bargello' (lit' Bargello Fountain).
At first glance, the fountain seems like any other fountain in any other Italian village; however, this fountain has something special worth knowing: this is the place where you can get your crazy license!

As I mentioned at the start of this guide, Gubbio prides itself for being a town of free thinkers or 'crazy people', 'mad people', as they call them.
They love to be free thinkers themselves and want to attract other like-minded people and their way to do it is by making it easy to get a free thinker license certifying your craziness!
To get it, all you need to know is to run three times around the fountain, get a local to spray some water on you in a sort of local 'baptism' and pay 3 euro.
After doing all this, you can get your license with your name, following the same design as ancient ones.
Tourist trap? Surely, but the tradition is indeed ancient (the fountain dates to the 1500s) and it is fun.
For three Euro, it can be a fun way to bring home a unique Gubbio souvenir!
Marvel at Gubbio's Piazza Grande
Piazza Grande (lit Big Square) is Gubbios' most beautiful and scenic piazza.
The piazza is a large, flat, scenic terrace, surrounded on three sides by stunning palazzi and, on the fourth, opening up to reveal stunning views of the Umbrian countryside.
The piazza is so beautiful you don't know where to look!
Here you can see:
Gubbio's Palazzo dei Consoli – a fantastic, medieval building with a bell tower, now also home to the town's Pinacoteca (art museum).
Palazzo del Podesta' – a beautiful medieval palazzo now seat of Gubbio's Municipality
The view – Piazza Grande is effectively a large terrace overlooking the hills, which are fantastic in this area.
This part of Umbria has gentle, rolling hills somewhat reminiscent of those in Val d'Orcia, in Tuscany.
In summer, they offer a stunning view of golden and dark green tones guaranteed to take your breath away!
Learn about the Iguvine Tablets (Tavole Eugibine)
Gubbio's art museum is famous for having the so-called Iguvine Tables, ancient bronze tables with priceless inscriptions.
They take their name from the ancient Latin name of Gubbio: Iguvium.
the Iguvine Tables date from the III -I century B.C. and are written in Umbrian language and Latin.
historians considered them priceless artifacts for the study of ancient Italian languages and religious rituals of the time.
If you have an interest in history or want to have a unique educational opportunity for the kids while in Gubbio, they are worth seeing.
Catch the Gubbio Express
If you have small kids, then you will love the option of visiting Gubbio by road train!
The Gubbio Express is the little tourist train of Gubbio and it is a lifesaver for families with small kids as it saves you from the uphill, bumpy roads of the town and allows you to see most of Gubbio's main sites.
The train leaves every 40 minutes and you can catch it at one of its several stops: we found all info and tickets at the main departure point in Piazza Grande.
See Europe's biggest wine barrel
A fun thing to see in Gubbio with kids is an oversized wine barrel!
This is exactly what you think it is: a gigantic barrel that is so big, you would have to put three children one on the shoulders of the other to match the size of its diameter!
The barrel dates from the middle ages, when it used to be the biggest in Europe and it is a curiosity worth seeing.
You find it inside a shop on the way up to the top of the town (it is well indicated), it is free to visit and it only takes a couple of minutes to see.
It is a curiosity and our kids enjoyed it.
They also liked to putter around the souvenir shop there, which appreciated a little purchase for allowing access to the barrel (not mandatory, most people just go in and out without purchasing anything)
Relax in Gubbio Giardini Pensili – Gubbio's Terraced gardens
One of the most scenic viewpoints in Gubbio is the so called Giardini Pensili, a garden developing over a terrace overlooking the valley.
The gardens are fantastic: the terrace is flat and beautiful and, in the good season, it also hosts a small cafe where you can sit and have a drink while enjoying the view.
Visit Gubbio's Duomo and Palazzo Ducale
At the top of Gubbio town, you find two of Gubbio's main attractions: the duomo and the Duke's Palace.
Gubbio's duomo has a beautiful Romanesque facade; however, it has been vastly renovated inside in recent times: if you climbed your way up to here, it is worth peeking in but I wouldn't make the walk uphill just for it.
More interesting, in my opinion, is the Palazzo Ducale just in front which is beautiful and is now an exhibition space.
We didn't find much to catch the attention of the children here but the place is beautiful and it can be worth a visit with older ones.
Catch Gubbio's cable car to Sant'Ubaldo
If you are not afraid of heights, a ride on Gubbio's cable car to Monte Ubaldo is likely to be a Gubbio highlight!
The cable car brings you from the town to scenic St Ubaldo, from where you catch an outstanding view of Gubbio and the countryside around it. However, the ride is pretty much an experience in itself as the cable car is not a small cabin but a series of baskets you ride standing up!
This type of climbing used to be popular in Italy (when I was a child, it was called bidonvia) and while my fear of heights doesn't allow me anymore to enjoy it, it is an exciting and a fun way for kids to explore the place.
Experience Gubbio's Festa dei Ceri festival (May)
Each May, Gubbio celebrates a special festival called Festa dei Ceri.
The festival seems to date from medieval times, possibly as early as the year 1160. Historians tell us that, on that year, local bishop Ubaldo passed away and the locals celebrated his life with a procession, during which they carried large candles (ceri).
The recession became a yearly event that still happens nowadays.
The festival attracts large crowds a dit is one of the most unique things you can experience in Gubbio and one of the best traditional festivals in central Italy.
Gubbio with kids – practical considerations
Some practical tips for visiting Gubbio with kids.
Where to park in Gubbio
The best place to park to visit Gubbio with kids is the parking area at the Roman Amphitheater.
The parking is easy to find, close to the theater and the town and just beside Gubbio's beautiful playground. Starting and finishing your visit here is a great way to keep the children in the right mood.
The parking is pay and display.
Strollers / baby carriers
Gubbio is not stroller friendly.
The town develops uphill and while you can manage it with a stroller, you will be much better off with a carrier which will allow you to manage the many steps of the town.
The lower part, up to Piazza Grande. is the easiest with a stroller. the upper part is pretty much impossible with one.
Gubbio's public elevators
Gubbio is equipped with great elevators / lifts that allow to reach the highest parts of town without having to climb on foot.
You find them indicated in Piazza Grande and they are a great alternative to a potentially exhausting climb (we did everything on foot as one of us doesn't like elevators and we were exhausted!)
Gubbio's restrooms
One special thing we noticed in Gubbio was the abundance of public restrooms! I know this is always a concern to families with small kids so it was lovely to see that, for once, the toilet pitstops were easy!
Where to eat in Gubbio
Gubbio is packed with cafes and restaurants and you'll have no problems finding a place to eat.
On this occasion, we ate at Officina dei Sapori, which is slightly upscale and delicious (they were able and happy to make a simple pasta for my daughter and it was as delicious as everything else).
If you prefer a quick bite, Gubbio has very many cafes and shops where you can get crescia / torta al testo (local bread) with specialties such as ham, truffle, etc, all typical of this area.
Where to stay in Gubbio with kids
On this occasion, we didn't stay I Gubbio town but in a fantastic Agriturismo nearby called La Corte del Lupo.
They are fantastic with kids as they have a pool (summer only), cats, a dog, a ping-pong table, a Fussball table and lots of space to explore. They also serve breakfast and dinner so you don't have to cook!
I hope you enjoyed this quick guide to Gubbio with children and it inspired you to add it to your Umbria itinerary!
If you want even more help or you have any questions, please in my FREE Facebook group about traveling to Italy with kids: I will be happy to have you there and the tips from me and the other members are FREE!