How to see Venice Florence and Rome in 10 days with kids: the itinerary you'll love
Learn how to plan a family trip to Italy and see Venice Florence and Rome in 10 days: a detailed itinerary with the best things to do each day, the best tours, and transport.
Rome, Venice and Florence are the most popular destinations for a first trip to Italy, and 10-day Italy itinerary recommendations for first-timers are among the most sought-after of all Italy travel plans.
So today, I put these two requests together and share a family-friendly Italy itinerary to see Venice, Florence and Rome in ten days!
The itinerary is based on my own experience of these cities as a visitor and a local, my own frequent trips around Italy with my kids and the best family activities we have tried in each of these destinations.
To make sure you have an itinerary that is tried and tested, I have followed closely what we have actually done in these cities as well as some additional recommendations.
Therefore, don't be surprised if, in some places, we have skipped a 'must-see'.
We have tailored our days to our kids and their interests and some choices are down to that.
When this happened, like in Venice, where we skipped Doge's Palace, I gave alternatives on what you can slot in a main landmark instead.
Since I am from Rome, you'll see I give even more options for that part of the trip!
I hope it helps get you started with your plans!
Please note: this post contains affiliate links. Should you make a purchase through them, we might make a small commission.
How to see Venice Florence and Rome in 10 days with kids – top 4 tips
My top tips for planning a 10-day Italy trip to the country's most famous cities are:
Fly into Venice and out of Rome – this will allow you to maximize time on the ground and avoid backtracking. It will also allow you to start in a quieter place and get over jetlag before tackling the bustling energy of Rome.
Pack light – the temperature will be similar in the three cities and it will be easier to move around with taxis/trains if you're not weighed down by many big bags.
Use the train – trains in Italy are fast, safe, efficient and family-friendly. On the other hand, city traffic is a nightmare, parking is a headache and, in Venice, you have no cars at all… Traveling by train is the way to go!
You can find here >>> all you need to know about train travel in Italy
How to see Venice, Florence and Rome in 10 days with kids at a glance
Day 1-3 Venice (including arrival day)
Day 3-6 Florence, with a day trip to the countryside / Tuscan small town
Day 6-10 Rome (including departure day)
Day 1 – Arrival in Venice and orientation
Arrival and transport to your hotel
4 pm – Family scavenger with Lucia – a really fun and engaging way to discover Venice. We chose the tour in Dorsoduro since we were staying in the area, but you can also pick Riato and San Marco, should you want to hit Venice's most famous sites
7.30pm – Dinner at San Trovaso restaurant, Calle Larga Nani, 967, 30100 Venezia VE, Italy
Day 2 – Venice highlights and family activities
This is a very busy day. However, we wanted to do all these activities and couldn't find them in any differently so this is exactly what we did!
The day was a huge success for us and while I don't recommend having all days as structured as this one, it most definitely worked for us!
8.30am Early morning photoshoot in San Marco area (wonderful to see the piazza without the crowds, we even caught the sunrise over the Accademia Bridge – magical!). Book with Marta of Flytographer (she's wonderful!) via this link or by using code CODE1693297 for a 25$ discount on your first session!
10.30am Glass-making workshops in the city center with Fabio, only a few minutes from Piazza San Marco, very easy to reach. Book here >>> via Airbnb experiences
1.00pm Lunch in La Colonna in Cannaregio, Campiello Widmann già Biri, 53/29, 30121 Venezia VE, Italy
3.00pm Rowing class with RowVenice. Click >>> here <<< to book direct
4.00pm walk back to our hotel via Cabnnregio and wonderful Acqua Alta Bookshop. Remember: you'll like need to head back to the glass making workshop to collect your creation after it has been cooked and has cooled down!
19.00 Dinner ar OKE Zattere, Sestiere Dorsoduro 1414, 30123 Venice Italy
Resources to book this day:
Day 3 Venice and train to Florence
Free morning out and about Venice. We loved to keep this morning free and wandered the area of Dorsoduro, Arsenale (CAstello) and San Giorgio Island with great pleasure. However, you can also spend this morning visiting Doge's Palace or, train schedule permitting, visiting the Islands of Murano, Burano and Torcello.
12.30pm – Lunch in Osteria dei Pugni, Fondamenta Gherardini, 2836, 30125 Venezia VE, Italy
2.00pm – Vaporetto to train station to see Rialto bridge on the way (we bought the ticket there and then. For this stay, we did not need a Vaporetto pass.
4.00pm – Train to Florence
Arrival in Florence and Check into your hotel
Dinner in Martare, Via Degli Alfani 93/r, 50121, Firenze
Resources to book this day:
Day 4 – Florence
Morning – Florence sketch tour. This tour + drawing class is a great way to get a walk around Florence's city center with a local, get the kids engaged with a hands-on task and learn about the art and history that makes Florence so unique. Book here >>> Florence sketching tour: tell them the age of your kids so they can tailor it to their needs!
1.30pm – Lunch at NeroCarbone, Via del Parione, 43/45r, 50123 Firenze FI, Italy. An informal Tuscan bistrot with few tables and small yet delicious menu. Try the book to get the table at the window for the best space/ light.
Afternoon – Florence city center walk and Interactive Leonardo Museum. No need to book this one! We love keeping one afternoon free in Florence as the center is compact and easy to navigate. Also, has lovely shops!
Sunset view from Piazzale Michelangelo for views: you can walk / take the bus here or come in comfort with a short taxi ride
Dinner at Antico Noe, Volta di San Piero 6/8/R, 50122, Florence Italy
Resources to book this day
Day 5 – Day trip to the Tuscany Countryside
All day trip – The Tuscany countryside is a dream but it is not easy to visit in a short amount of time or without a car, but we've found a way!
A short train ride from Florence lies Tenuta Chiudendone, a gorgeous hilltop villa that offers a one-day experience to have a full immersion in Tuscany in a day.
With them, you spend a day wandering around the garden, visiting their vines, cooking a delicious meal, eating and lounging at their pool, all in a family-friendly atmosphere!
Contact Isabella via their website tell her Marta from MamaLovesItaly sent you >>> Tenuta Chiudendone
Winter alternative: outside of the good season, I recommend you bring the kids to Lucca instead and get bikes to go along the walls of this pretty Tuscan town. Find here >>> our guide to Lucca with kids
Dinner at SignorVino, for a quick platter and wine after a day with a lot of food! Via de' Bardi, 46/R 48/R, 50125 Firenze FI, Italy Ask them if they have the tasting option available that allows you to taste three local wines with your meal!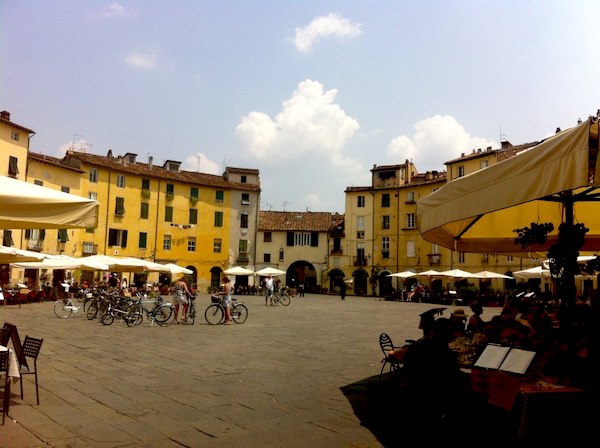 Day 6 Florence Uffizi Museum and train to Rome
Morning visit to the Uffizi with a kid-friendly guide: for me, a must-have in such a large and traditional museum. See price and book here >>> Uffizi Family experience
1.30 pm – Lunch at Mercato Centrale (upstairs)
Early afternoon – Train to Rome and taxi to your hotel. Check-in and settle in.
Dinner at Emma (Book in advance!) Via del Monte della Farina, 28, 00186 Roma RM, Italy Right in the center!
Top tip! Emma is right in the city center. Depending on where you are staying, you should be able to take a lovely evening walk around the Pantheon/ Piazza Navona / Trev Fountain, wonderful at night!
Resources to book this day:
Day 7 – Rome Colosseum and city center
12.00 Light lunch in Cafe Cafe Bistrot, Via Dei Santi Quattro 44, 00184 Rome Italy (or proper sit down one in nearby Naumachia or even in Birreria Peroni near Piazza Venezia)
2.00 pm Relax in Colle Oppio park, with coffee and a view over the Colosseum
4pm – City center treasure hunt tour with MariaClaudia Tours, a super engaging tour to discover the Trevi / Pantheon area, one of the most central and famous in Rome. Tell her Marta from MamaLovesItaly sent you!
Top tip! If you think all the walking would be too much for your kids, you can also book a golf cart tour with LivTours (they can also coordinate it with your Colosseum booking). A fun and relaxing way to explore!
Dinner at Grappolo d'oro, P.za della Cancelleria, 80, 00186 Roma RM, Italy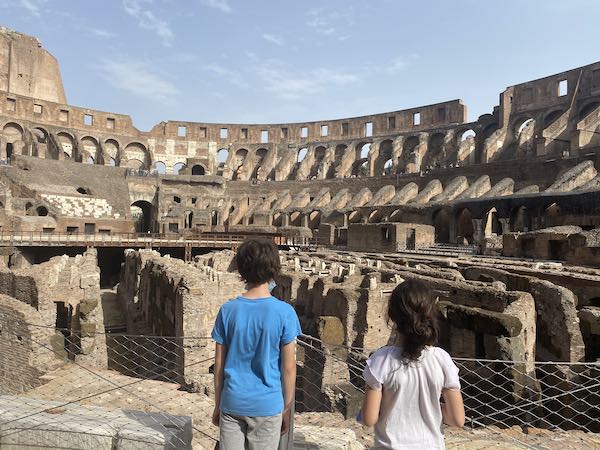 Day 8 – Rome city center and cooking class
Morning – free morning wandering around Rome city center. You can use my guide on Amazon to help you find tp spots and hidden gems! Stay around the Pantheon, Piazza Navona / Piazza della Minerva area. Treat the kids to a fun stop at Ikono Roma should they need a break from sightseeing
1.00pm Lunch at Enoteca Corsi, Via del Gesù, 87/88, 00186 Roma RM, Italy
3.30 pm Castel Sant'Angelo – once tomb of the emperors, then Papa fortress and finally a museum, this is one of the best places in Rome to visit with kids and one you can easily enjoy without a guide.
Dinner – Kid-friendly pasta class with Lucilla, a fantastic hands-on class that will teach you to make pasta and will have you have a lovely dinner in a local's home! Contact her on Instagram and tell her I sent you!
Day 9 Rome: Vatican and Borghese Gardens
Morning in Vatican City – if visiting the museums, I highly recommend booking a kid-friendly tour such as this one, to keep them engaged in such as vast, traditional and busy museum. You don't need a tour of the basilica or the piazza.
Have lunch in Il Sorpasso, Via Properzio, 31/33, 00193 Roma RM, Italy, then gelato in Cremilla nearby!
Afternoon in Borghese Gardens: hop on a taxi and relax in the stunning Borghese Gardens, where you can rent boats and bikes. Make sure you regain the center via the Pincio terrace (view) and then the Spanish Steps.
Dinner in cul de sac, Piazza di Pasquino, 73, 00186 Roma RM, Italy
Day 10 – free morning and departure
If you have a full day before your flight, find here >> 70 things to do in Rome with kids that can help you fill the time no matter how long / little time you have (my favorite is Nero's Domus Aurea, if open!)
I hope you enjoyed this 10 day Italy itinerary to see Venice, Florence and Rome in ten days with kids. Safe travels!