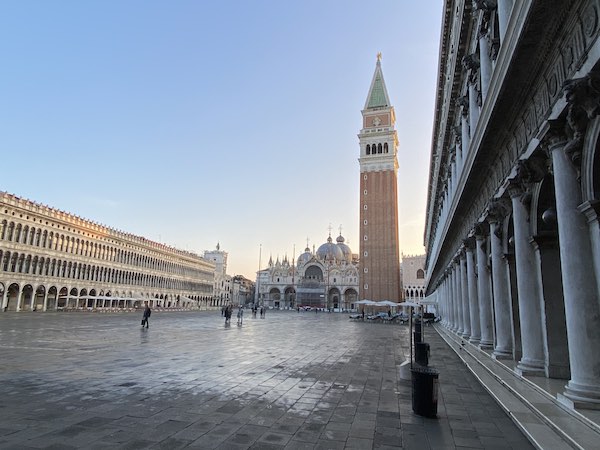 Italy in January: all you need to know to plan your winter trip to Italy
Travel tips to visit Italy in January: January weather in Italy, the best places to visit, what to book in advance, pros and cons of spending January in Italy
January in Italy is the heart of winter.
The first month of the year is one of the coldest in Italy and traveling at this time means you are most likely to find chilly temperatures, some rainy days and, in many parts of Italy, at least a dusting of snow.
However, this doesn't mean January is a bad month to visit Italy.
There are actually several advantages to traveling at this time and it is also possible for the weather to surprise you and treat to you some beautiful bright days.
The pros of traveling to Italy in January are:
Smaller crowds, especially towards the middle and the end of the month
Lower prices (low season)
Great shopping – January is sales season!
More of a local feel, with local life being more visible with lower visitors' numbers
The cons of traveling in January in Italy are:
Cold weather, with possible rain and snow in some areas
Coastal resort towns offer limited hospitality services, catering mostly to locals during the low season
Very limited or no ferries or boat services in coastal areas (Amalfi Coast, Cinque Terre etc)
No farm activities, as they follow agricultural rhythms
Limited or no hiking (snow on the higher altitudes, trail closures in other areas)
Overall, January is a great month to visit Italy if you are on a budget and want to visit museums, churches, and mostly indoor attractions.
January in Italy, however, is not a good month for visitors who are hoping to enjoy the Italian Coast or spend time outdoors in the countryside as the weather will inevitably limit your options.
In this guide to Italy in January, I will go through what to expect during the first month of the year in various Italian destinations.
Disclaimer: this is a seasonal guide to Italy. For travel advisories and restrictions that may apply to the time of your visit, please check official channels. Check here for official info if traveling from US, Canada, UK, Ireland, Australia, New Zealand.
Please note: this post contains affiliate links. Should you make a purchase, we might make a small commission.
January closures in Italy: what closes in January in Italy?
One of the most common questions I receive about winter travel in Italy is:
'Will everything be shut in Italy in January?' Of course not!
Italy receives a lot of tourism but it is also a country with almost 60 million inhabitants who call it home and we definitely don't stop living in winter.
No matter where in Italy you are, you will find people going to school, to the office, going food shopping and you will find the services supporting local life.
However, resort towns and tiny coastal towns that live primarily off tourism see many of their hospitality business closing for the winter.
Small towns on the Amalfi Coast are a great example of this: while you can visit as the town is physically there, you may not find accommodation for the night as hotels may only be available in the bigger centers and the choice of restaurants may be more limited.
If planning on visiting summer resorts out of season, I recommend you have a car and consider either a hotel with a restaurant or an apartment.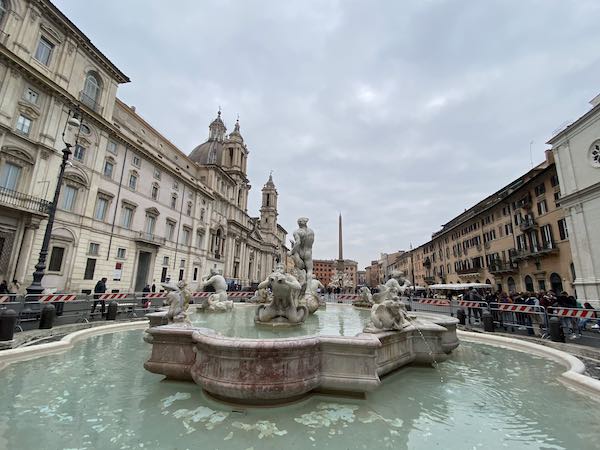 January in Italy: weather overview
January in Italy is winter. So, no matter where you go, you should expect cold weather, limited hours of daylight and days with rain or snow.
The differences in temperature between the north and south of Italy are not as significant as many expect: as the temperatures below show, while the south is a little bit warmer than the north, on average, January sees cold weather in the whole of Italy.
Average temperatures in Italy in January, historically, are:
Bolzano (getaway to the Dolomites): 7C / -4C It gets significantly colder up on the slopes
Milan: 7/2C – 44 / 35F – average 6 days of Rain
Venice: 7/0C – 44/32F – Average 5 days of rain
Rome: 12/3C – 53/37F – average 7 days of rain
Florence: 11/2C – 52/36F – average 7 days of rain It gets significantly colder in the countryside, especially on hilltops
Palermo: 15/10C – 59/50F – average 8 days of Rain. It gets significantly colder up Mount Etna or anywhere are higher altitudes
January in Italy: festivities and celebrations you need to know
When planning a trip to Italy in January it is helpful to look at the month as divided into two parts:
Between the 1st and the 6th of January Italy is still celebrating Christmas. Schools are off, many locals have days off work and tourism is at its peak. This is a busy and often expensive time to travel to Italy and tourism is both local and from overseas
From the 7th to the 31st of January Italy goes through a brief low tourism season. Crowds and prices are lower at this time, therefore the last three weeks in January are one of the best times to visit Italy on a budget.
January in Italy sees some festivities that can impact your travels. 
The first week of the month is still part of the Christmas festive period and some attractions are closed on specific days. In particular:
1st January – A national holiday. Most attractions, including the Vatican, the Colosseum and the Uffizi Gallery, are closed on this day.
6th of January: The Epiphany, a national holiday.
This marks the end of the Christmas festivities (it is the last day for most Christmas markets), some attractions may close.
See also: traveling to Italy in December | Tips for traveling to Italy
The best places to visit in Italy in January
The Dolomites, for skiing and Christmas markets
If you are looking for a ski vacation in Italy, then you may love January on the Dolomites!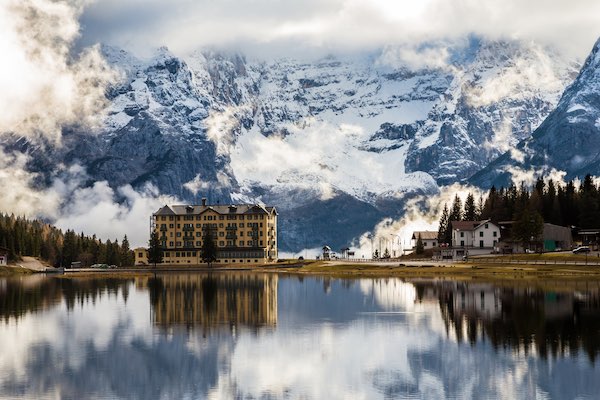 The exact snow conditions will vary from year to year and from locality to locality however, the options are so many you are sure to find one for you!
Read here >> the best places to visit on the Dolomites
The Dolomites are also one of the best places in Italy to enjoy Christmas markets. Careful with dates, however: the Christmas markets end with the end of the Christmas season and usually wrap up by January 6th.
Need to know: If you do not sky, consider carefully if this is a good time for you to go: in January, you will not be able to hike on the Dolomites and high mountain passes may be closed.
January on the Dolomites is good for skiing, for a visit to the markets or to Bolzano or to a enjoy a hotel break: not for hiking or driving.
If traveling to the Dolomites with kids in January, it can be a good idea to look for areas with baby snowparks so even little ones can make the most of the snow. Find here >>> my guide to baby snowparks in Italy
Rome
Rome goes through a blissful moment of low crowds after Christmas.
So, if you are planning to come to Italy in January, I recommend you add Rome to your itinerary as crowds in January are at their lowest (a very rare thing!)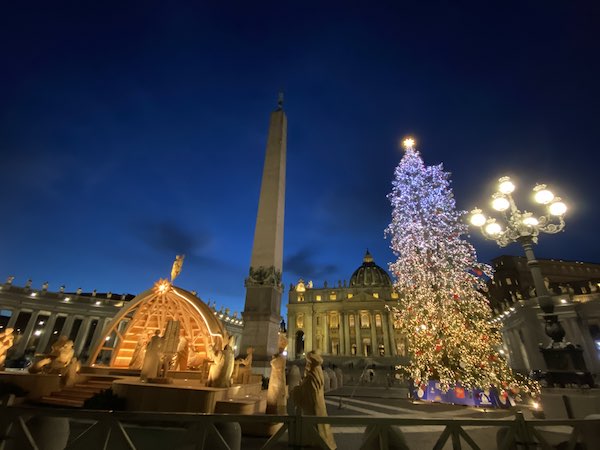 January is the coldest month of the year in Rome and very much winter, which means you need to wrap up with sweaters, coats, scarves and boots.
However, it is a lovely time for sightseeing and a great time to visit Rome on a budget.
In January, is busy and buzzing with Christmas cheer until the 6th of January, and then enters a quiet, lovely time of low crowds and local atmosphere.
This is a wonderful time to see Rome for the real city as it is!
January is a good time for museum visits, shopping and warming meals in local trattorie.
However, it is not a good time for prolonged time outside and days are short, so you may have to take it slower than at other times.
If traveling with kids, they will still be able to enjoy Rome's parks in January and the city also has several indoor attractions for the coldest days. Find here >> my guide to Rome with kids
You can find my full guide to Rome in January here.
Venice in January
I love Venice in January, I find it exceptionally romantic and atmospheric.
However, it is not a month everyone will love here!
The weather in Venice in winter is hit and miss at this time and you will need warm coats, boots, scarves and a hat.
As you can imagine, Venice gets pretty humid in the winter and this will impact on how long you will be able to stay outside.
However, the city has so many wonderful museums, shops and restaurants, you are never far from a warm cozy interior, and Venice does warm and cozy really well!
Need to know: Venice in winter sometimes sees the phenomenon of acqua alta (high tide). During Acqua Alta, parts of Venice get covered in water, spilling over from the lagoon onto some of its piazzas and roads, effectively flooding the city. Despite how dramatic the word flood may sound (and despite the water really being problematic for the city), Acqua Alta is not a big issue for visitors: the city reacts to it by setting up boardwalks and you walk on them to stay dry. If going to Venice in winter, keeping an eye on the weather and water forecast is useful.
If traveling with kids, I recommend booking some indoors activities such as glass blowing or mask decorating to escape the cold. Find here >>> our guide to Venice with kids
Florence and Tuscany
January is a great time to visit Florence, as the many museums in the city will allow you to escape the cold!
Florence however gets pretty cold, so you need to be prepared to wrap up well.
If you do, the last three weeks of January in Florence are the time when the city is at its quietest and this can go a long way to make you enjoy its otherwise very busy streets.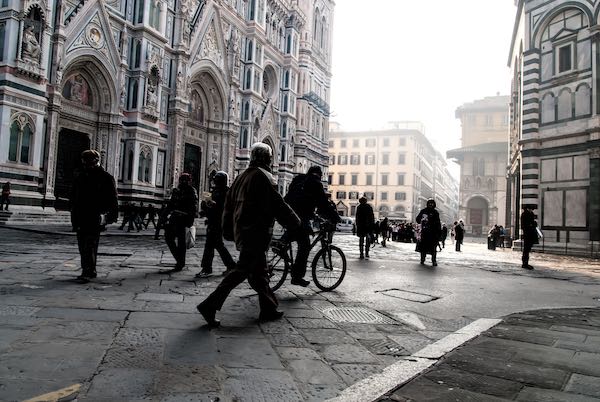 This is a good time to visit many of Florence's famous museums and, if you get here during the weeks with the sales, it can be a shoppers' paradise.
January is also a wonderful time to sample Tuscan food, which is warming, filling, and perfect with a glass of local red!
if you are traveling with kids, I recommend you book indoor activities and plan time in children-friendly museums to warm up and fill the darkest hours of the day. Find here >>> my guide to Florence with kids.
The Tuscan countryside gets chilly in January and you can also get snow at higher altitudes.
You can still visit hilltop villages, however, January is a time for museums more than outdoor pursuits so I would stick as close to Florence and to Tuscany's main cities (Siena, Lucca, Pisa) as possible.
If you are traveling with children and are hoping to enjoy agriturismo or country stays, January is not a good time to visit Tuscany with kids.
Farm activities will be on hold until spring, many agriturismo will only open at weekends, if at all, and outdoor time will be limited by the cold temperatures and limited hours of daylight.
Turin
Turin is a city often overlooked by overseas tourists, yet a wonderful to city to visit in January or any other month!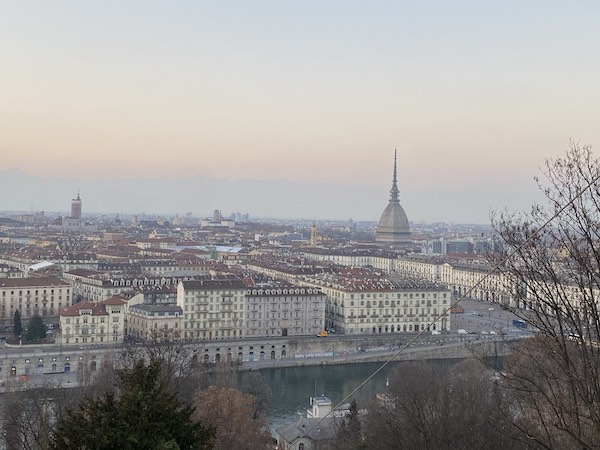 The first capital of Italy is an elegant, intellectual, beautiful city with stunning museums, that will keep you warm and entertained on winter day.
The Royal Palace in Turin, the Museum of Cinema, and the many shops and cafes in the city are fabulous in winter and offer an Italian yet also almost Mittleuropean experience.
if visiting Turin with kids, this is a great time to bring them to the National Car Museum and the famous Egyptian Museum, huge, stunning, and super kid-friendly!
Find here >>> Our guide to Turin with kids
Milan
January is cold and grey in Milan. However, it comes with perks: sales and lower crowds!
As a fashion capital, Milan is heaven for shoppers and the sales are a good opportunity to secure some items at a somewhat more affordable price point (affordable in Milan is always a relative term).
Art lovers will find the last three weeks of January to be a relatively quiet time in Milan when getting tickets to the Last Supper is slightly less competitive.
if visiting Milan with kids, January is a good time for the several indoor museums the city offers.
Find here >>> My guide to Milan with kids
I do not recommend visiting the area with kids if you intend to use Milan as a base to see the lakes and they won't offer much to children at this cold time.
Other destinations you may be considering for January in Italy
Sicily
Sicily can get pretty cold in January.
However, overall the winter here is mild and you can also get the occasional properly pleasant sunny day that will make you feel it is the spring, rather than the heart of winter!
This is a quiet time in Sicily and while you will not be able to have a sea and sun vacation here in winter, you will be able to visit all Sicily's main attractions without the scorching sun that makes it so hard in summer.
Places I recommend you visit are Taormina, Siracusa and the Valley of the Temples, battered by the sun in summer.
If traveling to Sicily with kids, I recommend setting expectations carefully as January won't allow them to enjoy the sea and adventure parks may even close for the winter.
Puglia
Puglia is one of my favorite destinations in Italy in January and not just!
Blessed with gorgeous beaches, it is often associated with summer trips and indeed, you can visit Puglia all year round however, I find the low season in its pretty towns one of the most pleasant of all.
In January in Puglia you won't be able to swim or enjoy water activities: however, you can visit its pretty towns (Alberobello, Lecce), enjoy the region's wonderful food and admire the dramatic Apulian coastline as waves crash against its tall cliffs!
You can find out recommended itinerary in Puglia here.
if traveling to Puglia with kids in winter, I recommend setting expectations carefully as they won't be able to enjoy the sea and kids attractions such as Fasano Zoo are closed until spring. Like other
Other places to consider for January in Italy
Amalfi Coast in January
The Amalfi Coast is so beautiful I will never tell you not to go.
However, if you are in the area in January you need to know what to expect as the experience will be significantly different than in summer.
In January here, you will be able to enjoy the towns at their quietest, which is surely a plus.
However, you will not be able to go boating or even get around by ferry, which means you will miss out on seeing the Costiera from the water which is, I believe, one of the best ways to enjoy it.
In January, the more touristy towns such as Positano only have bare-bone services available as many hotels close for the season.
If this is the only time you have to visit, I recommend you stay in Sorrento, which is lovely and has enough to keep you entertained for quite a while!
A better choice in this area is to visit wonderful Naples and, if wrapping up very well, Pompeii.
Lake Como
Lake Como is a lovely area, with lovely views and pleasant towns, but it is not a place with much to do and, in January, this can be a problem especially if you are hoping for an active holiday or you are visiting with kids.
If you only have January to go to Lake Como, your best bet is the first week of the month.
During the Christmas festivities, the town of Como itself is lovely and you also have a nice Christmas market that can make the day there worth it.
if visiting with kids, you can find here >>> My guide to Lake Como with children
Cinque Terre
January is not a good time to visit Cinque Terre, although the towns are of course there and you can therefore go visit and take a stroll among the colorful alleys.
The reason why I don't recommend this area in January is that most of the activities you are likely to want to do won't be available,
In January, Cinque Terre paths tend to be closed, rain is frequent and many hotels and tourism services shut, the season starting again later in the year, towards mid-March.
If visiting Cinque Terre in January, I recommend going for the day and aiming for the Christmas season.
During the Christmas festivities, the towns have lovely nature scenes and they themselves look like one, Manarola being home to the biggest Nativity scene in the world!
If visiting Cinque Terre with kids, it is paramount that they know swimming and boating is out of the question in January.
My recommendation in that case is to opt for a stay in Genoa instead and take a trip to the Terre from there. You can find here >>> my guide to Genoa with kids
What to book in advance if visiting Italy in January
Italy is relatively quiet in January, with the exception of the first week of the month, when we are still in the middle of the Christmas holidays.
However, some of Italy's most famous attractions stay crowded and advance booking is recommended.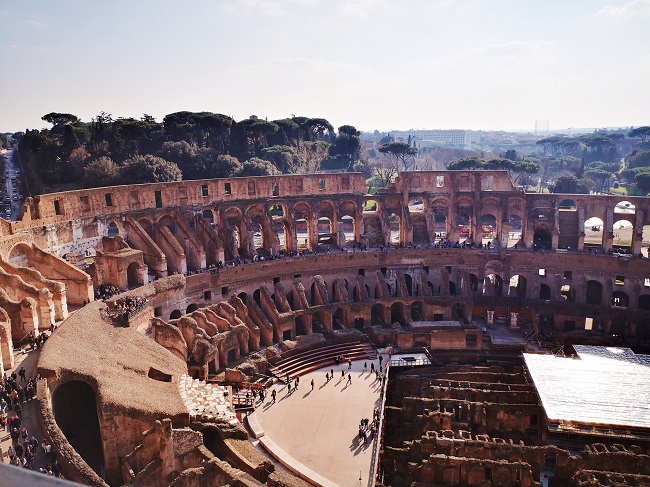 I recommend you book as soon as your trip is confirmed and you opt for tours and tickets with good cancellation options like the ones I recommend below via GetYourGuide 
Last Supper, Milan: often booked out weeks in advance, book as soon as your trip is confirmed via their official site here or via GetYourGuide here, which offers excellent cancellation options.
Colosseum, Rome: the official site is the best site to get hold of ticket: they come out for sale 30 days before. A good alternative is GetYourGuide here
Vatican, Vatican City, Rome: tickets sell out fast and operate on a time slot system. You can get them on the official site of the museums or choose a guided tour via GetYourGuide here: I highly recommend them as the museums are vast and easily overwhelming, without a guide.
Booking tours in Italy in January
My recommended providers for yours in Italy are:
LivTours: a fantastic tour provider covering all most popular destinations and attractions in Italy. They offer private and small group tours for up to 6 people only, they are family friendly (but excellent also if you dn't have kids, they are not just for children) and super reliable. They are my favorite tour provider!
DevourTours/Walks: a great tour provider for food tours and cooking classes!
MariaclaudiaTours: a wonderful tour provider for families with kids age 6 to 11! Use code MamaLovesItaly when booking!
Visiting Italy in January with kids
January is a tricky time to visit Italy with kids as you will be limited in the number of outdoor activities you can do and even afternoons at the playground will have to fight with the possible rain. 
My main tips for planning a trip to Italy in January with children are:
Choose cities – cities have the largest number of indoor attractions and opportunities for children in winter. Do not expect smaller towns to have indoor play centers, children's museums or classes for toddlers: some do but it is very much not the norm
Avoid coastal resort towns – Towns don't close as such but coastal resort towns or towns with a big tourism vocation may only offer bare-bone services in winter. While services catering to locals stay open, you may find hotels, restaurants etc to limit their operations and sometimes close altogether until later in spring. Coastal towns are the most affected by seasonal closures.
Book classes and workshops – with the cold weather and the short hours of daylight, classes and workshops come into their own to keep kids entertained. Pasta making, mask making, mosaic making, pizza making… have a look at the guides below to see what's available wear
Don't plan farm activities – farm activities follow the season and therefore they tend to stop during winter. The best chance to spend a country stay in winter is to fo during the Christmas festivities before the 6thj of January when they may offer packages od room + dinner.
Indoor pools are rare – hotels with indoor pools exist however, it is not common to find indoor pools in agriturismo or country properties. The best place for indoor pools in natural settings are the Dolomites!
Resources:
These are some of my favorite family activities in Italy for kids:
I hope you found this guide to Italy in January useful. Happy travel planning!
This post was first published in 2020 and has now been fully updated with current photos and tips.