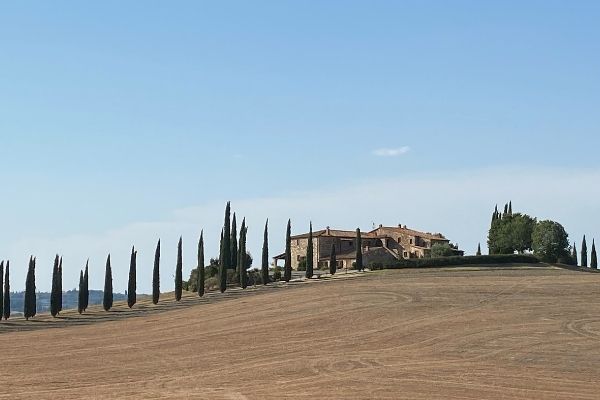 Tuscany in summer: all you need to know for a perfect stay
Visiting Tuscany in summer: practical travel guide for a Tuscany trip in the hot season.
Tuscany is one of the most popular destinations for summer in Italy. With the Dolomites and Puglia, Tuscany recently ranked as the top spot for a summer vacation in Italy as chosen by foreigners and locals and it is easy to see why.
Beautiful weather, stunning coastline and the prospect of al fresco dining with Tuscany's amazing food and wines bring my family back to Tuscany every summer.
However, Tuscany in summer is hot and if you don't know what to expect and plan accordingly, it is not as heavenly as you may think!
Today, I am going to share my essential tips for visiting Tuscany in summer.
Please note: this post contains affiliate links. Should you make a purchase, we might make a small commission.
As an Amazon Associate I earn from qualifying purchases
Tuscany in summer: how hot does it get?
Tuscany gets very hot in summer. Temperatures soar to well over 30C /86F and temperatures can reach the mark of 40C/104F especially in the lowest elevation areas such as in the city of Florence.
This means that planning sightseeing and accommodation around the weather is a must. These are my tips!
Summer n Tuscany: tips for surviving the heat
Seek heights
When choosing accommodation in Tuscany in summer, opt for country homes on hilltops, ideally above 500my o.s.l. As well as being scenic, this typs of spot means you are most likely to get a bit of a breeze and get decent night sleep without having to get the air conditioning on full blast.
Find my tips for choosing the best agriturismo here.
Get a pool
Many agriturismi and villas now have pools, another fantastic way to deal with the heat.
Depending on the property, the pool can be private for you only or it may be shared with other people on the property – always ask for specifications on this as the definition of 'private' may not be clear enough, especially if the accommodation website is relying on automatic translation Italian / English.
Places we adore and have a great position + pool are Fattoria di Maiano near Florence, La Provenca near Val d'Orcia, Terre di Nano in the same area and Campo di Carlo near Bolgheri.
Seek the coast
Tuscany has a fantastic coastline, which you can easily reach by most areas by car or train. On the hottest days, a day on the beach may just be what you need – find our list of great beaches in Tuscany here.
Close shutters during the day
Shutters are typical of traditional Italian homes and an easy way to deal with the heat. To prevent a green house effect type situation, close the shutters during the hottest hours of the day and leave the glass windows open.
This way, the air will come in from outside but the sun will stay out and you won't come back to a room turned oven!
Go sightseeing early or late
Early mornings (before 10) and late afternoons (after 5) are the best moments of the day for sightseeing in Tuscany in summer.
Unless the opening hours of specific attractions require a different plan, make sure you plan the bulk of your explorations for these moments: many attractions in Tuscany such as villages and churches can easily be visited at this time and are at their most pleasant.
Go to hot springs in the evening
There are wonderful thermal baths in Tuscany and a visit can be one of the highlight of your trip, if you time it right!
Places like Saturnia hot springs are delightful but under relentless sun: go very early in the morning or even better late in the day for a better experience.
Eat fresh
What you eat can make a huge difference in dealing with the and Tuscany has many lovely foods that are perfect for this season. Cold pasta salad, panzanella, insalatone (big salads) are all excellent choices for summer and a great way to taste the super fresh and tasty Tuscan produce.
Leave delicious but warming plates such as pasta and grilled cheeses for the evening.
Gelato is always a good idea too!
Cool down with a summer drink
Sipping cold drinks in a Tuscan bar (cafe) is one of the best ways to spend the hottest hours of the day and survive the heat.
As well as common sodas and juices, worth trying are Italian iced tea (ask for homemade, it's the nicest!), chinotto (not entirely unlike cola) or shakerato (iced coffee).
Bring water with you always
This is something I recommend for all seasons but that becomes a life-saving matter when it comes to summer in Tuscany: always bring with you a reusable water bottle and use it to drink water regularly. Ask your accommodation if you can drink the tap water from the property: if so, you can chill it in the fridge overnight and have your supply for the day for free.
Protect yourself with sun gear
To visit Tuscany in summer, you need to dress for it! Make sure your Tuscany packing list includes light, breathable clothing, good walking sandals, sun hat, sunglasses and sunscreen.
Avoid Florence
Florence is one of the most beautiful cities in the world and if summer is the only time for you to visit, you should. However, Florence is crazy hot in summer and sightseeing at this time is not pleasant.
If it is your only option, i recommend staying out of the city in a place such as Fattoria di Maiano – a short taxi ride into Florence, here you have the pros of the country (rural, with pool etc) and the proximity to the city.
Expect mosquitoes
Mosquitoes are ubiquitous in Italy in summer and Tuscany is no exception. The only ways to deal with them are with mosquito nets (always ask your accommodation if they are provided), room and skin repellent and avoiding leaving windows open with the lights on.
They are more annoying than dangerous but they can cause discomfort and big bumps especially in small children so it is best to be prepared.
Consider a summer baby carrier
If you are visiting Italy with a baby, I highly recommend you bring a baby carrier and in summer, you may want to make it a summer one.
Summer baby carriers come in several types and some even go into water: for Tuscany in summer, you may or may not need a water baby carrier but you will sure feel more comfortable if you have a breathable or mash one. Find some suggestions about baby carriers for Italy here.
I hope you found this quick overview if Tuscany in summer useful. Safe travel planning!
More Tuscany travel guides you may enjoy
Tuscany in summer: pin this!