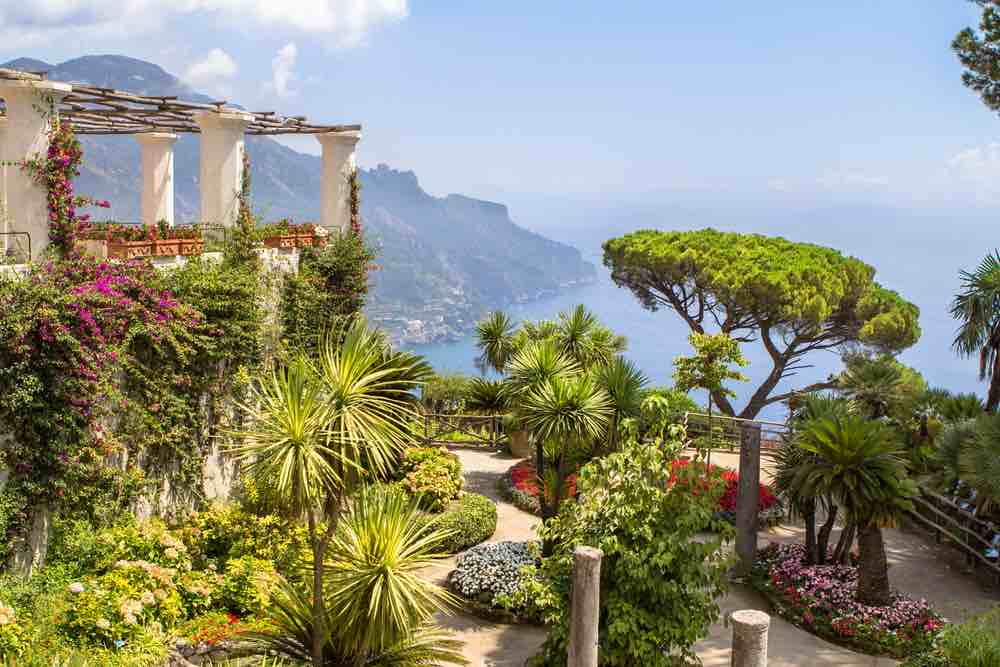 Visiting Italy in May: all you need to know for a perfect trip
Visiting Italy in May: all you need to know to plan a trip! The best places to visit in May in Italy, when to book what, what to expect from the weather.
May is one of the best times of the year to visit Italy, a time of bright days, mild temperatures and the first hint of summer in the air.
It is my favorite time of all for a trip to Italy: I got married in May and while you cannot be guaranteed good weather, there is a good chance that visiting Italy in May will treat you to the same beautiful weather we got back on that day (and almost on everyone of our 10+ anniversaries ever since!).
If you are looking at May to travel to Italy, this guide will come in handy.
Please note: this is a seasonal travel guide about Italy in May, meant to help you decide the best time of the year for your visit. For official information and travel advisory that may affect your trip, please refer to your Government travel advisory. Check here for official info if traveling from US, Canada, UK, Ireland, Australia, New Zealand.
Please note: this post contains affiliate links and, should you make a purchase, we might make a small commission at no extra cost to you.
Italy in May 2021: need to know
Several exceptional rules and regulations are in place in Italy for May 2021.
This may affect your ability to enter the country, the documents needed to do so, movement between regions, movements within a certain locality (local curfews are in place) and hospitality services including museums, restaurants and hotels.
Wearing of protective face masks is compulsory indoor and outdoors.
Please refer to the latest news for an up-to-date overview of the situation and always abide by local and national rules at all times.
Italy in May: what you will find in this article
Overview of weather in May in Italy
May festivities and events in Italy
Recommended places to visit in Italy in May
May in Italy with kids
What to book in advance for May in Italy
The weather in Italy in May: what to expect
May is late spring in Italy and usually brings bright days, temperatures that range from pleasant to warm and the occasional colder day (rare, but it happens!)
At a glance, the weather in Italy in May is:
| | | |
| --- | --- | --- |
| Name of the place | Temperature Low/High | Rainy days (average) |
| Milan, Lombardy | 23C/F – 14C/F | 8 |
| Venice, Veneto | 22C/F – 13C/F | 7 |
| Florence, Tuscany | 24C/F – 12C/66F | 8 |
| Rome, Lazio | 24C/F – 13C/F | 5 |
| Amalfi, Campania | 22C/F – 18C/F | 9 |
| Palermo, Sicily | 24C/F – 17C/66F | 2 |
You can read what these temperatures mean in terms of packing in our packing list for Italy in spring.
May festivities in Italy you need to know about
The main festivity in May in Italy that can impact tour plans is May Day, 1st of May, called in Italian Festa del Lavoro (aka Labor Day).
The 1st of May is a day off and a big deal in Italy. Rome hosts a large concert on this day and you will find many local and national celebrations taking place. If planning on museum visits on this day, double check opening hours and especially transport as the service may be reduced in some localities.
May Day is often an opportunity to go out of town: careful with traffic.
The best places to visit in Italy in May
May is such a lovely month in Italy it is hard to pick the best May destination: you can visit almost anywhere in May in Italy and find it lovely.
That said, some places are, I believe, even better than others.
Rome – the best city to visit in Italy in May
May brings very changeable weather to Rome however, it is one one my favorite months in the city!
Flowers are already in full bloom in Rome in May and all outdoor attractions from piazzas to the Colosseum and the Forum are simply delightful to explore.
Since I am from the city, I have more than a couple of tips to give you about visiting in May!
You can find my full guide to visiting Rome in May here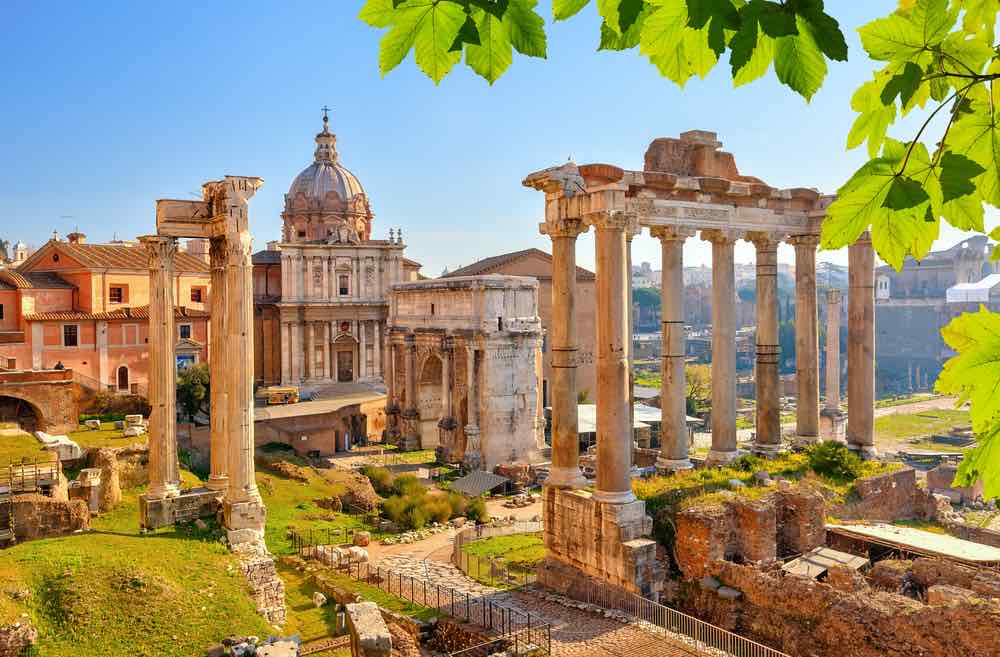 Venice in May
May is one of the best month to visit Venice.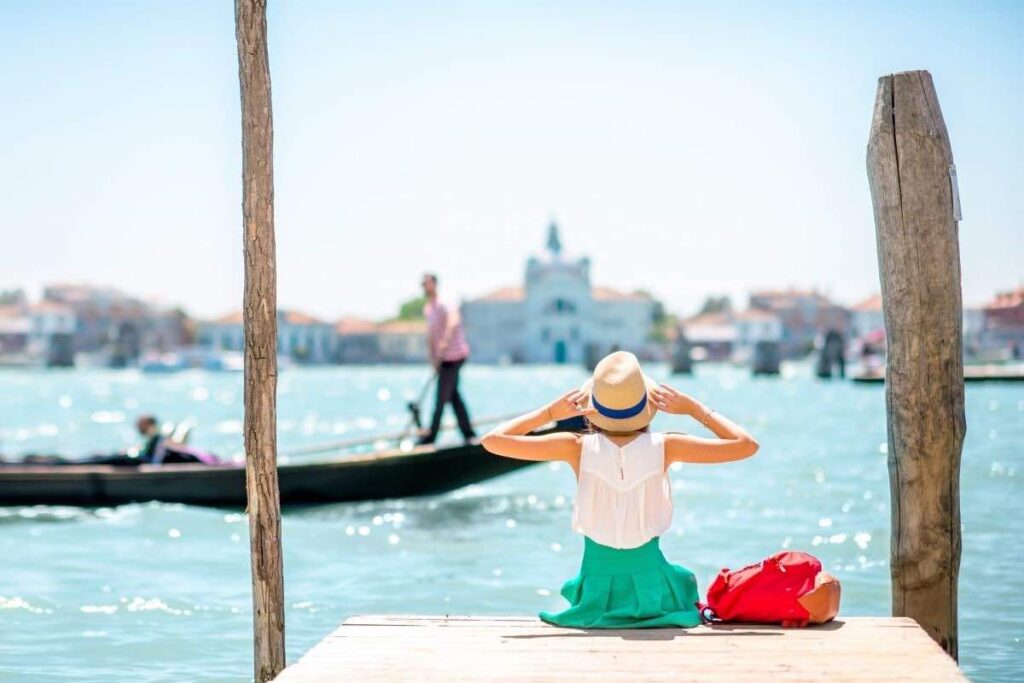 After the damp cold of the winter and the exciting yet tiring crowds of the carnival, Venice is spring welcomes better temperatures and the canals in the sun shine in all their splendor
Piazza San Marco, the Doge's Palace, Rialto but also Cannaregio can be wonderful at this time and, if you get a warm day, it can also be worth stretching to Lido, a lovely beach area in Venice with peculiar architecture.
The lagoon islands of Murano and Burano are also not to be missed at this time.
You can find our guides to Venice at the following links:
Venice with kids (see below)
Tuscany in May
Tuscany and its rolling hills go through a magical time in May.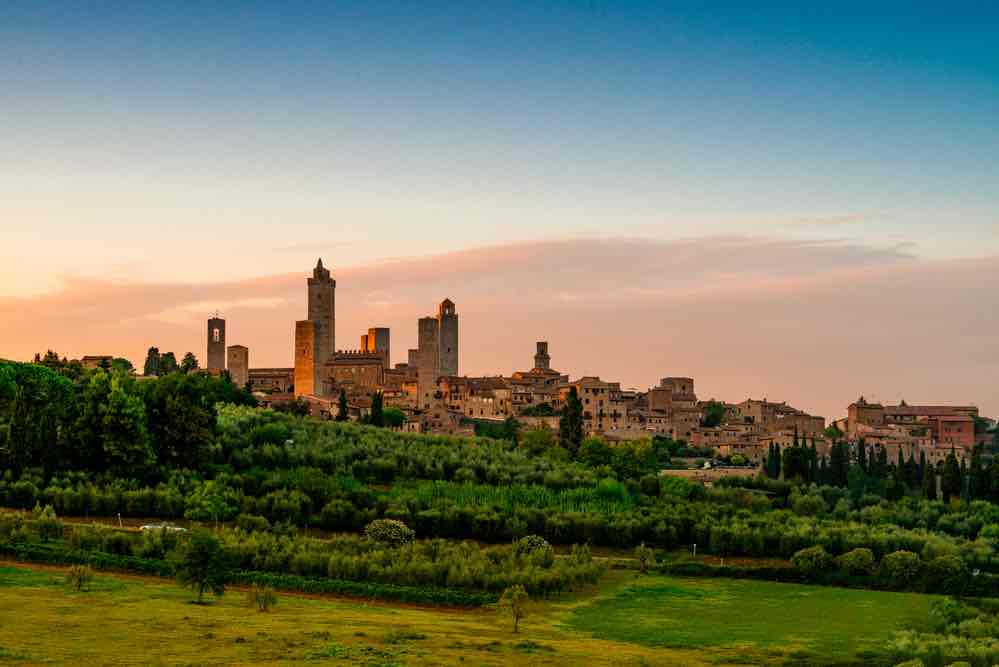 On a sunny day, you can enjoy the stunning rolling hills of this area, go for long days of sightseeing and even sit in the sun on one of the many Tuscany beaches.
The best places to visit in Tuscany in May are:
Umbria in May
Often considered the little sister of Tuscany, Umbria is stunning in any season and can be a real treat in May.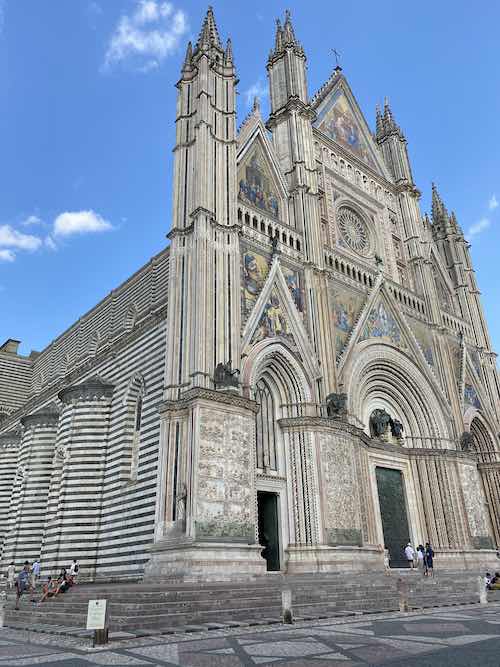 Depending on the weather, you can enjoy long walks and days along the shores of the regions' lake Trasimeno or you can warm up in its lovely museums and restaurants.
Not to be missed are:
Orvieto – a stunning hilltop town with a long history and one of the most beautiful cathedrals in Italy (the Duomo)
Perugia – a wonderful medieval town
Assisi – the famous sand stunning town of St Francis
Citta' di Castello – a gorgeous renaissance town
Puglia in May
Puglia is one of my favorite destinations in Italy in May.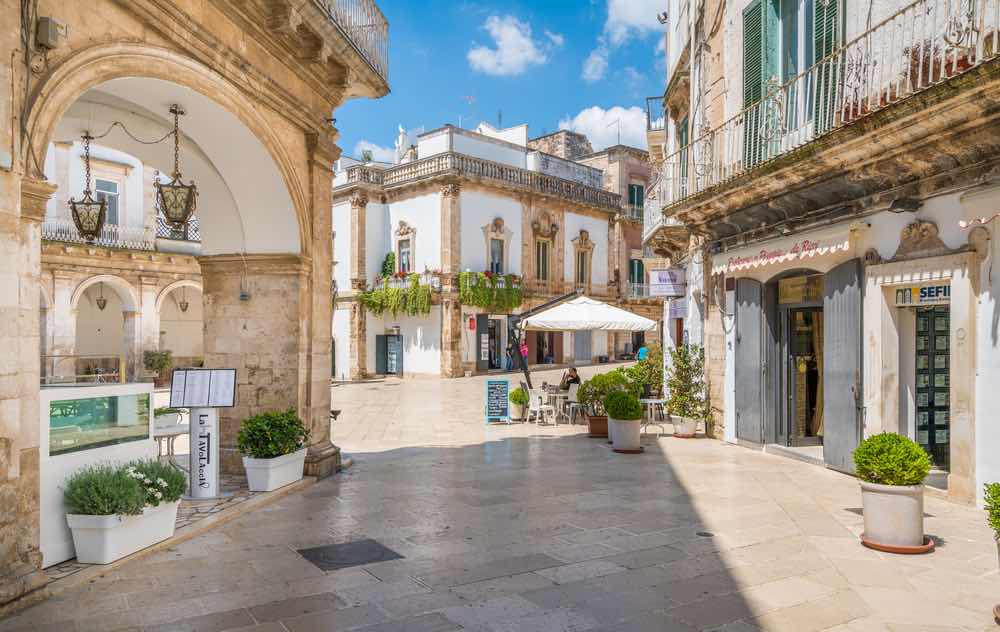 Farther South and warmer than other destinations in this list, in May in Puglia you will be able to enjoy long days out and you may even get the chance to wear summer clothing here (don't count on it though, always bring layers!
Wonderful places to visit in Puglia at this time are
Trani – a pretty, small village with a stunning church overlooking the sea (a vision!)
Martina Franca – a lovely, whitewashed town with wonderful churches in a unique Baroque style called 'Barocco Martinese'
Alberobello – the famous town of trulli, UNESCO World Heritage Site
Locorotondo – a delightful small town with whitewashed houses and pretty balconies everywhere (they win an annual prize for them, they are so special!)
You can see them all with a short road trip: you can find our 3 day Puglia itinerary here.
Matera in May
Close to Puglia but in the region of Basilicata, you have Matera, another wonderful destination to add to your May itinerary through Italy.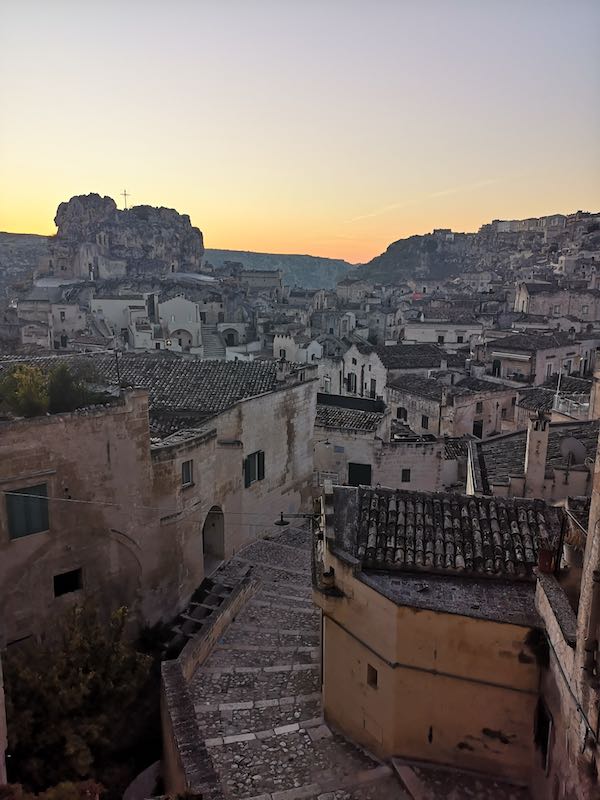 Matera is famous for its rupestrian churches and cave dwellings and can be lovely in spring.
Winter is rigid here and summer can be hot while spring can bring lovely temperatures that make sightseeing easy and do justice to this wonderful city.
You can find our guide to Matera here.
Sicily in May
May can be a good month to visit Sicily however the weather can be hit and miss so I recommend wrapping up, or at least you have layers with you so you can enjoy wonderful Sicily whatever the weather.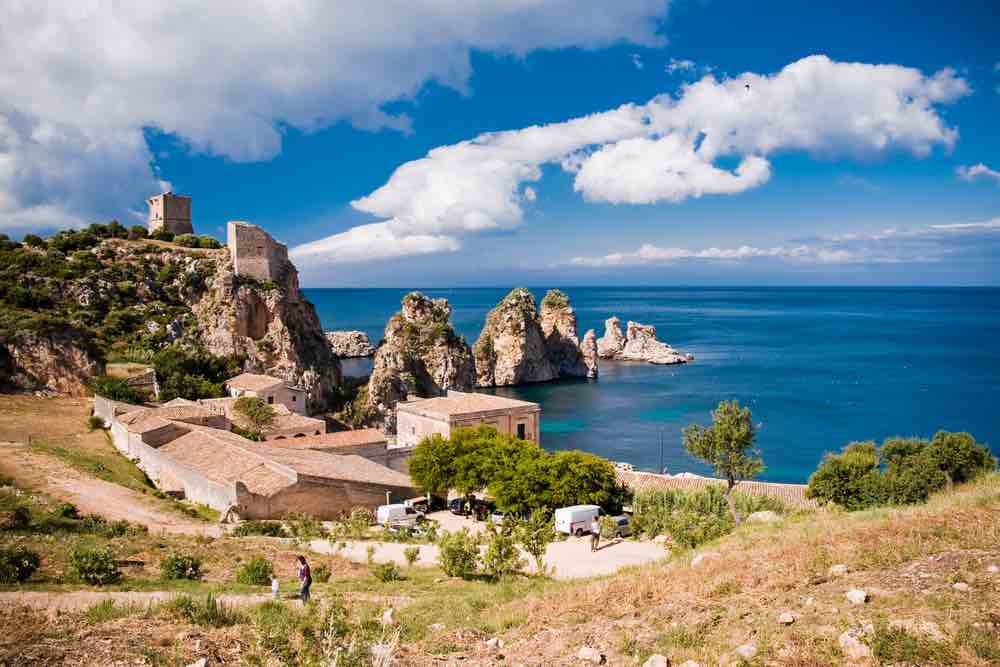 May in Sicily is a good time for cultural tourism, rather than and sea and sun vacation since high temperatures, especially towards the end of the month, are not always guaranteed.
Places we love in Sicily are:
Scopello – a charming small village with a beautiful, historical 'tonnara' (tuna fishing station, not turned cultural/event venue)
Palermo – one of the most beautiful cities in Italy
Taormina – a town with a fantastic ancient theater and glamorous town center with shops and hotels
Siracusa – a fantastic town with a historical city center and one of the best archaeological parks in Italy
Noto Valley – UNESCO World Heritage Site thanks to the presence of unique baroque towns
You can find our recommended Sicily itinerary here.
Amalfi Coast in May
May can be a wonderful time to visit the Amalfi Coast. This is the month when tourism starts to resume in this area and while you may find the water too cold for bathing (and you may get rainy days, it is pretty rainy here at this time) on a sunny day the Amalfi Coast simply shines!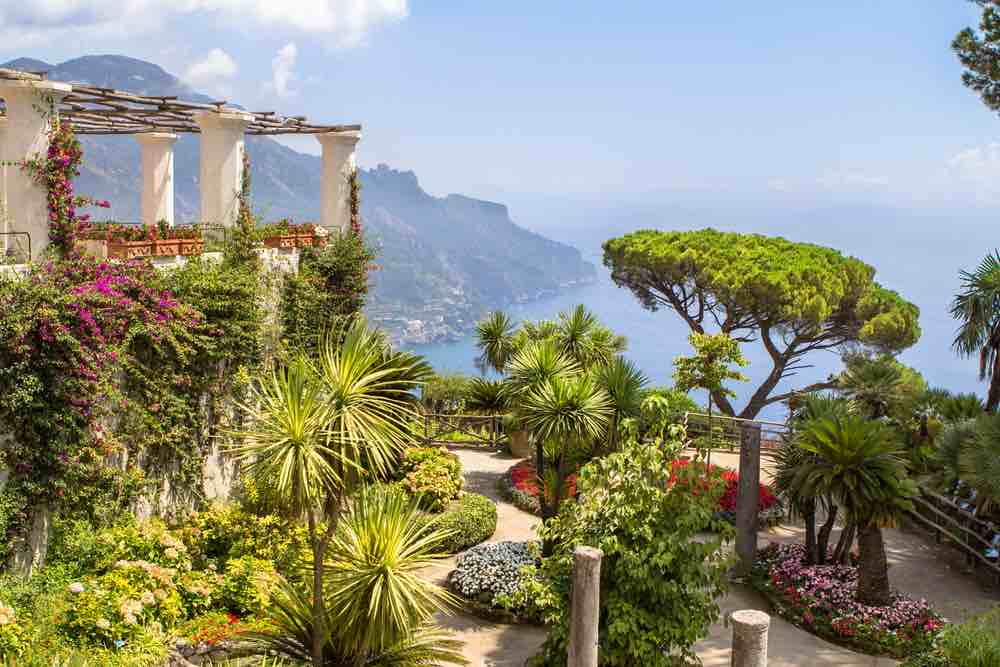 If you are in the area at this time, make sure you stay not just on the mainland but also stretch to the island of Capri, Ischia or Procida, magical Mediterranean paradise this time of the year.
You can find our guides to the Amalfi Coast at the following links:
Visiting the Amalfi Coast with kids (see below)
Visit the incredible archaeological site of Paestum, one of the best archaeological sites in Italy and one many visitor's miss!
Cinque Terre in May
May is one of the best months for visiting Cinque Terre. It is the first moment after winter when trails tend to reopen (always check specific conditions for the days of your trip) and a time when spring temperatures allow for drinks in the sun, taking in the stunning views of this area.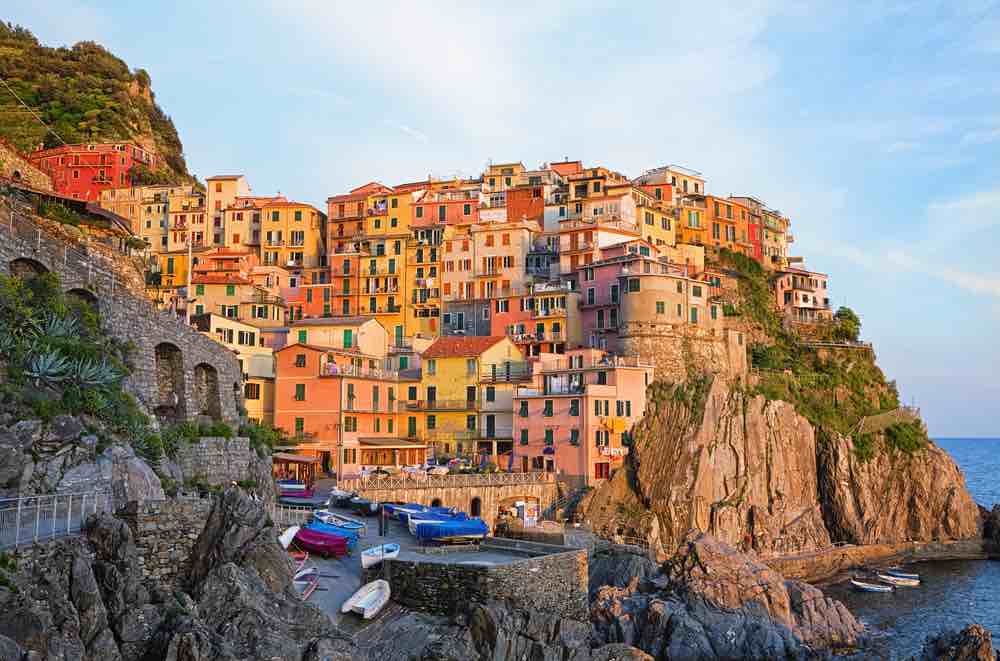 Make sure you book in advance if coming during the Easter holidays and do be ready for rain, always around the corner at this time!
Find our Cinque Terre guides at the following links:
Visiting the Italian Lakes in May
May is a wonderful month to visit Italy's famous lakes. Lake Garda, Lake Como and Lake Maggiore top the list of lakes in Northern Italy tourists long to experience and this is a great month to do so.
On the lakes in May, you are likely to find mild temperatures and clear sky however, since they are close to mountains, the weather can be changeable.
The area of the lakes have wonderful gardens and one of the best places to see flowers in Italy, special in spring!
May in Italy with kids
May can be a lovely time to visit Italy with kids as chances are the weather will allow them to spend time and the park and play in the spring sun at least for part of your stay.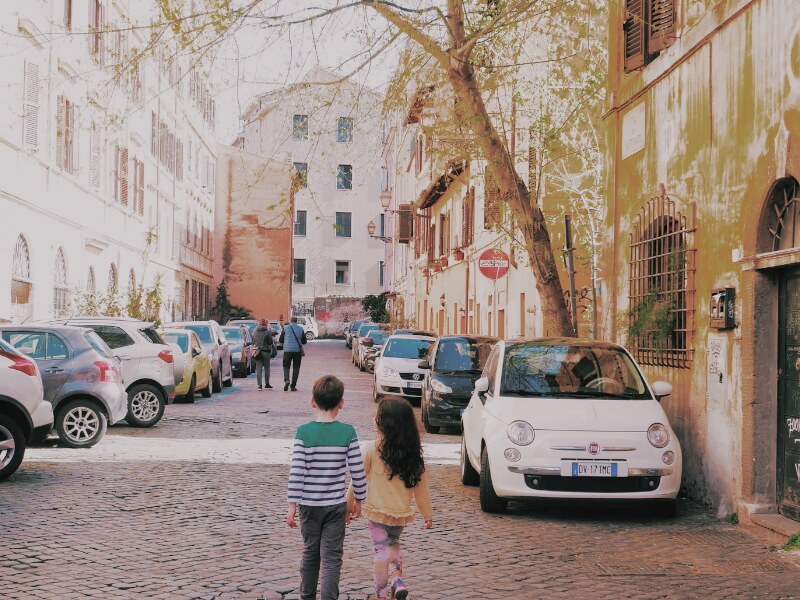 Destinations I feel work well with kids at this time are:
Florence with kids – always lovely with children but way too hot in summer.
Venice with kids – mild and devoid of mosquitoes, hungry and annoying in summer
Tuscany with kids – May has the perfect temperature for hilltop town hopping
Rome with kids – full of indoor and outdoor attractions for all ages
Sicily with kids – mild and beautiful perfect for family sightseeing and the occasional day on the beach (for sandcastles, not swimming)
Looking for family destination ideas in Italy? Find my selection of the best places to visit in Italy with kids here.
What to book in advance for spending May in Italy
May can be busy in Italy but advance booking for all main attractions is recommended.
This is also the case in 2021 when crowds are lower but advance booking is compulsory to ensure compliance with current regulations.
Attractions that need advance booking are:
Trains do not usually need to be booked in advance however, high-speed train on popular routes such as Rome to Florence do tend to book out or only have very expensive tickets available.
I always recommend booking accommodation in advance and my favorite booking engine is booking.com.
They have a large selection of accommodation options and excellent free cancellation opportunities too.
I hope you enjoyed this quick guide to Italy in May. Don't forget to also check out our 101 travel tips for Italy, for extra info. Safe travel planning!
Planning a trip to Italy in May: pin this!