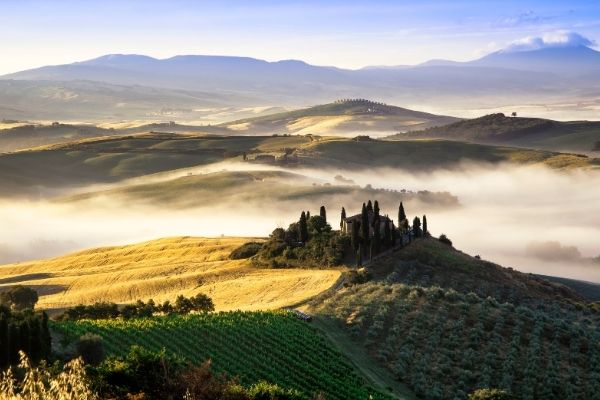 Italy in March: how to plan the perfect trip to Italy in spring
Visiting Italy in March: all you need to know to plan a trip! The best places to visit in March in Italy, when to book what, what to expect from the weather.
March is one of the best months to visit Italy, a lovely time when the country moves from the winter into the spring season.
Blossoms return to the trees and balconies, days are a little longer, lunch outdoors become possible in most of the country, however, rain is always around the corner in Italy in march so you cannot truly trust the weather!
The best way to describe March in Italy is probably by an old Italian saying 'Marzo pazzerello, esce il sole e prendi l'ombrello', which translates 'Crazy March, the sun comes out, you grab the umbrella'.
While layers and a portable umbrella are your best friend in March, I love traveling around Italy in spring. This is all you need to plan a trip to Italy in March.
Please note: this is a seasonal travel guide about Italy in March, meant to help you decide the best time of the year for your visit. For official information and travel advisory that may affect your trip, please refer to your Government travel advisory. Check here for official info if traveling from US, Canada, UK, Ireland, Australia, New Zealand.
Please note: this post contains affiliate links. Should you make a purchase, we might make a small commission.
Italy in March: what you will find in this article
Overview of weather in March in Italy
March festivities and events in Italy
Recommended places to visit in Italy in March
March in Italy with kids
What to book in advance for March in Italy
Please note: this post contains affiliate links and, should you make a purchase, we might make a small commission at no extra cost to you.
The weather in Italy in March: what to expect
The weather in March in Italy is significantly different depending on where in Italy you are however, with the exception of the mountains where you still have snow, you can expect it to be spring weather which in Italy means mild, changeable and, possibly, rainy.
At a glance, the weather in Italy in March is:
| | | |
| --- | --- | --- |
| Name of the place | Temperature Low/High | Rainy days (average) |
| Milan, Lombardy | 7C/45F – 14C/57F | 6 |
| Venice, Veneto | 3C/37F – 13C/55F | 5 |
| Florence, Tuscany | 5C/41F – 16C/60F | 7 |
| Rome, Lazio | 6C/43F – 17C/63F | 7 |
| Amalfi, Campania | 12C/54F – 16C/60F | 7 |
| Palermo, Sicily | 11C/52F – 17C/63F | 6 |
March festivities in Italy you need to know about
There are two main festivities to be aware of when planning a trip to Italy in March.
The 8th of March is International women's Day, or Festa della Donna, as it is called in Italian.
This festivity doesn't affect the opening of offices, museums or attractions however, you may notice special events and higher crowds of women out, especially in the evening, to mark the festivity.
You will also notice many bouquets of yellow flowers around: you can read what they mean and why Italy celebrates the 8th of March here.
Easter holidays often fall in March. When this happens, you will find Easter affects the opening of some museums and the availability of public transport (service is usually reduced).
Eating out and basic sightseeing is usually not impacted however, places such as the Vatican Museums are closed on this day.
The best places to visit in Italy in March
March is such a lovely month in Italy it is hard to pick the best destination for it as truly, you can visit almst anywhere in March in Italy.
That said, some places are, I believe, even better than others.
Rome – the best visit to visit in Italy in March
March brings very changeable weather to Rome however, it is one of my favorite months in the city!
Flowers are already in full bloom in Rome in March and all outdoor attractions from piazzas to the Colosseum and the Forum are simply delightful to explore.
Since I am from the city, I have more than a couple of tips to give you about visiting in March!
You can find my full guide to visiting Rome in March here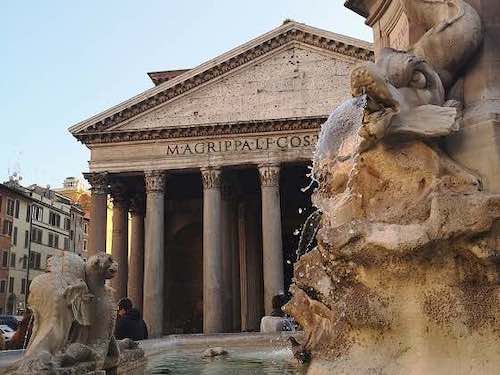 Venice in March
March is one of the best months to visit Venice.
After the damp cold of the winter and the exciting yet tiring crowds of the carnival, Venice is spring welcomes better temperatures and slightly lower tourist numbers, both contributing to making the city positively magical!
March may still bring rain and, in the case, of Venice, the dreaded 'acqua alta' (high water) however there is plenty to do here whatever the weather.
Piazza San Marco, the Doge's Palace, Rialto but also Cannaregio can be wonderful at this time.
You can find our guides to Venice at the following links:
Venice with kids (see below)
Tuscany in March
Tuscany and its rolling hills go through a magical time in March.
On a sunny day, you can enjoy the stunning rolling hills of this area, go for long days of sightseeing and even sit in the sun on one of the many Tuscany beaches.
On colder and rainy days, you can visit Tuscany's infinite museums and warm up with the local food (wonderfully warming in winter) and, of course, indulge in the region's wines.
The best places to visit in Tuscany in March are:
Umbria in March
Often considered the little sister of Tuscany, Umbria is stunning in any season and can be a real treat in March.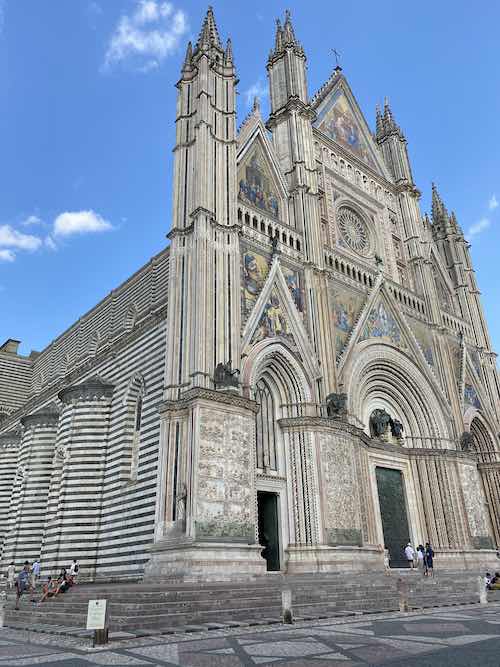 Depending on the weather, you can enjoy long walks and days along the shores of the regions' Lake Trasimeno or you can warm up in its lovely museums and restaurants.
Not to be missed are:
Orvieto – a stunning hilltop town with a long history and one of the most beautiful cathedrals in Italy (the Duomo)
Perugia – a wonderful medieval town
Assisi – the famous and stunning town of St Francis
Citta' di Castello – a gorgeous renaissance town
Gubbio – wonderful, medieval gem, one of the most beautiful towns in central Italy
Spello – small and pretty village famous for its flowery balconies especially
Puglia in March
Puglia is one of my favorite destinations in Italy in March
On a good year, you will be able to enjoy long days out and you may even get the chance to wear summer clothing here, however, don't count on it as, as we said, March weather has a mind of its own!
Wonderful places to visit in Puglia at this time are
Trani – a pretty, small village with a stunning church overlooking the sea (a vision!)
Martina Franca – a lovely, whitewashed town with wonderful churches in a unique Baroque style called 'Barocco Martinese'
Alberobello – the famous town of trulli, UNESCO World Heritage Site
Locorotondo – a delightful small town with whitewashed houses and pretty balconies everywhere (they win an annual prize for them, they are so special!)
You can see them all with a short road trip: you can find our 3 day Puglia itinerary here.
Matera in March
Close to Puglia but in the region of Basilicata, you have Matera, another wonderful destination to add to your March itinerary through Italy.
Matera is famous for its rupestrian churches and cave dwellings and can be lovely in spring.
Winter is rigid here and summer can be hot while spring can bring lovely temperatures that make sightseeing easy and do justice to this wonderful city.
You can find our guide to Matera here.
Sicily in March
March can be a good month to visit Sicily however the weather can be hit and miss so I recommend wrapping up, or at least you have layers with you so you can enjoy wonderful Sicily whatever the weather.
March in Sicily is a good time for cultural tourism, rather than and sea and sun vacation since high temperatures, especially towards the end of the month, are not always guaranteed.
Places we love in Sicily are:
Scopello – a charming small village with a beautiful, historical 'tonnara' (tuna fishing station, not turned cultural/event venue)
Palermo – one of the most beautiful cities in Italy
Taormina – a town with a fantastic ancient theater and glamorous town center with shops and hotels
Siracusa – a fantastic town with a historical city center and one of the best archaeological parks in Italy
Noto Valley – UNESCO World Heritage Site thanks to the presence of unique baroque towns
You can find our recommended Sicily itinerary here.
Other places you may want to visit in Italy in March
The Italian Dolomites in March – March is the end of the ski season on the Dolomites so a trip here can be great if days on the slopes are in your plans.
The exact snow and weather conditions depend on the time of the month, the year and the exact locality, but usually places such as Val Badia or the area of San Candido are wonderful, but do check with local providers as the weather here is fickle!
Cinque Terre – March is not the best time to visit Cinque Terre as it will be too cold to swim/go boating and too wet for trails to be open.
However, this can be a good time to visit the Cinque Terre villages, especially if you get a nice sunny day.
If you are in the area and the weather doesn't cooperate, you can also consider a trip to Genoa, which is lovely and full of beautiful museums, perfect even on rainy days.
Amalfi Coast – March is the last stretch of the low season on the Amalfi Coast and this has pros and cons.
The pros of coming at this time is that usually you have lower crowds than later in spring and summer and the prices are usually a little more affordable too, both excellent reasons to come!
This is also a time when the terrible traffic of this area is often less intense, meaning you can actually drive here, one of the most scenic ways to see the area
On the cons list, however, you have a reduced ferry system that will limit your option of seeing the islands and enjoy the coast from the water.
You can find our guides to the Amalfi Coast at the following links:
Visiting the Amalfi Coast with kids (see below)
March in Italy with kids
March can be a lovely time to visit Italy with kids as chances are the weather will allow them to spend time and the park and play in the spring sun at least for part of your stay.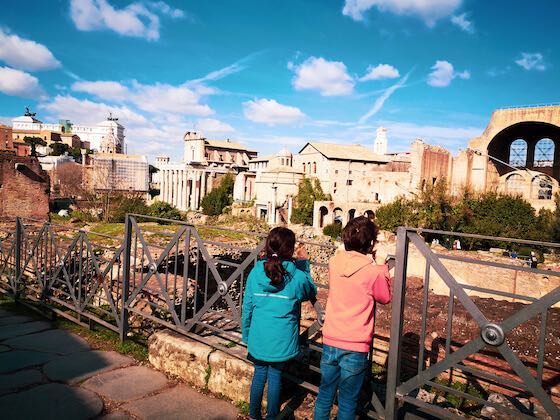 Destinations I feel work well with kids at this time are:
Florence – always lovely with children but way too hot in summer.
Venice – mild and devoid of mosquitoes, hungry and annoying in summer
Tuscany – March has the perfect temperature for hilltop town hopping and thermal springs.
Umbria – Like Tuscany, this is a nice time to visit villages and for short hikes.
Rome – full of indoor and outdoor attractions for all ages
Sicily – mild and beautiful perfect for family sightseeing and the occasional day on the beach (for sandcastles, not swimming)
Looking for family destination ideas in Italy? Find my selection of the best places to visit in Italy with kids here.
What to book in advance for spending March in Italy
March can be busy in Italy but advance booking for all main attractions is recommended.
This is also the case in 2021 when crowds are lower but advance booking is compulsory to ensure compliance with current regulations.
Attractions that need advance booking are:
Trains do not usually need to be booked in advance however, high-speed train on popular routes such as Rome to Florence do tend to book out or only have very expensive tickets available.
I always recommend booking accommodation in advance and my favorite booking engine is booking.com.
They have a large selection of accommodation options and excellent free cancellation opportunities too.
Good to know! Easter Monday is traditionally a day when Italians go on excursions outside the main cities. This means that roads, in particular, can get very congested: should Easter Monday fall in March, it is a good day to stay put and explore locally.
I hope you enjoyed this quick guide to Italy in March. Don't forget to also check out our 101 travel tips for Italy, for extra info. Safe travel planning!