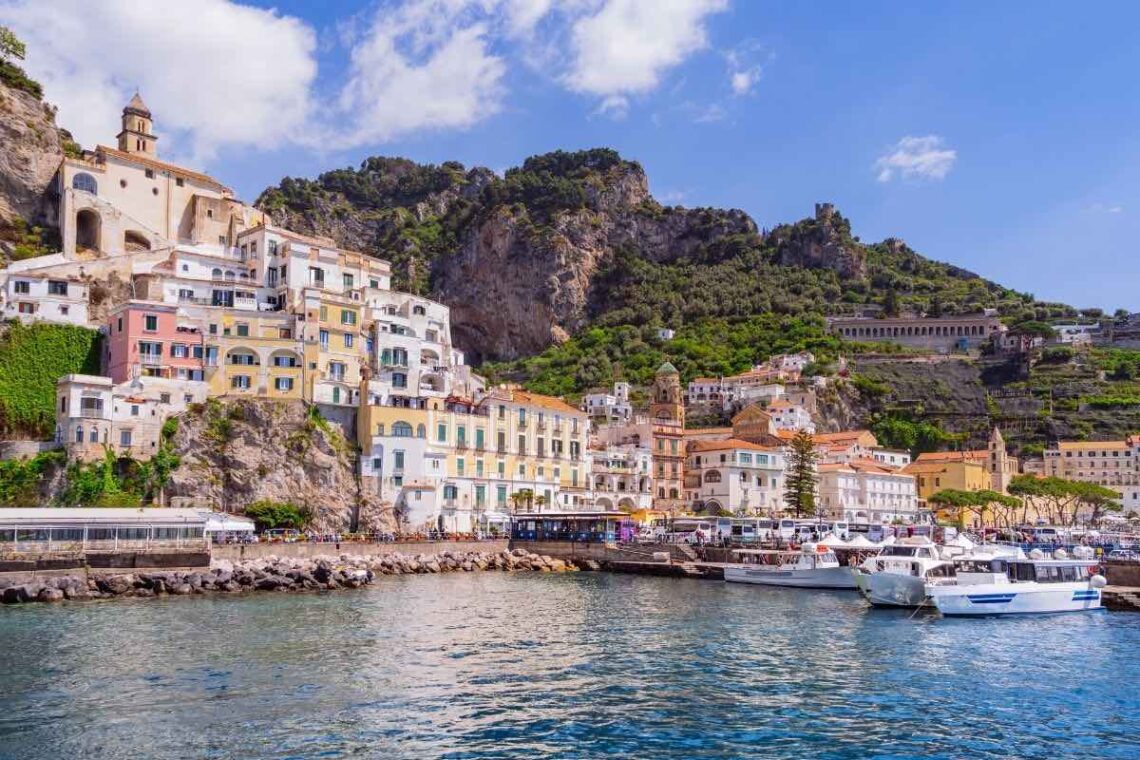 Italy in April: all you need to know to plan the perfect trip
Visiting Italy in April: all you need to know to plan a trip! The best places to visit in April in Italy with kids (and without!), when to book what, what to expect from the weather. Updated Oct. 2023
April is a beautiful month to visit Italy, a lovely time when spring blossoms in full force bringing pleasant temperatures, flowers and fragrant air.
An old Italian saying goes 'Aprile, dolce dormire' (April, sweet sleeping) and indeed, April in Italy is a month that makes you want to go slow and rest.
This is until it starts pouring rain, when you want to find refuge as quickly as possible!
As sunny as April can be, this is still a spring month so changeable weather is a thing!
Since April is a transition month with changeable weather, the best places to visit in Italy in April are the cities.
Having a home base in a city such as Rome, Florence or Venice allows easy access to entertainment indoors when needed, yet easy day trip options to enjoy areas further afield.
I am from Rome and since April usually coincides with school holidays, I often travel around Italy with my kids in this season.
While layers and a portable umbrella are your best friend in April, I love traveling around Italy at this time. This is all you need to plan a trip to Italy in April, and my tips to make the most of your time!
Please note: this is a seasonal travel guide about Italy in April, meant to help you decide the best time of the year for your visit. For official information and travel advisory that may affect your trip, please refer to your Government travel advisory. Check here for official info if traveling from US, Canada, UK, Ireland, Australia, New Zealand.
Please note: this post contains affiliate links. Should you make a purchase, we might make a small commission.
Italy in April: what you will find in this article
Overview of weather in April in Italy
April festivities and events in Italy
Recommended places to visit in Italy in April
April in Italy with kids
What to book in advance for April in Italy
Please note: this post contains affiliate links and, should you make a purchase, we might make a small commission at no extra cost to you.
The weather in Italy in April: what to expect
April is spring in Italy and while you will find variations in the exact temperatures depending on where you are, you usually can expect mild to warm days and chilly but pleasant evenings.
At a glance, the weather in Italy in April is:
| | | |
| --- | --- | --- |
| Name of the place | Temperature Low/High | Rainy days (average) |
| Milan, Lombardy | 10C/50F – 18C/64F | 8 |
| Venice, Veneto | 8C/46F – 17C/63F | 7 |
| Florence, Tuscany | 8C/46F – 19C/66F | 9 |
| Rome, Lazio | 9C/48F – 19C/66F | 8 |
| Amalfi, Campania | 15C/59F – 19C/66F | 13 |
| Palermo, Sicily | 13C/F – 19C/66F | 5 |
In practice, this means that you will still need a jacket, which you may even be able to take off in the middle of the day,  but you can leave at home hats and gloves.
April is usually not shorts and sandals weather: long pants and sneakers are usually versatile items at this time.
April festivities in Italy you need to know about
The main festivity you need to be aware of if visiting Italy in the month of April is Easter.
Easter holidays often fall in April. When this happens, you will find Easter affects the opening of some museums and the availability of public transport (service is usually reduced).
Need to know: there is no general rule about opening hours at Easter. Each attraction sets their schedule independently: it is therefore paramount to check the website of each when making plans. You can find here >>> Find Italy's most famous attractions official websites here <<<
Eating out and basic sightseeing is usually not impacted by Easter festivities.
However, places such as the Vatican Museums are closed on this day, to host relevant religious ceremonies.
Italy sees celebrations for easter over 2 main days: Easter Sunday and Easter Monday.
Easter Sunday is usually a day for lunch with friends and family and many restaurants will have special menus for Easter specialties for the occasion.
Easter Monday is traditionally a day for getaways out of the city, a day of picnic with friends. This is something you want to remember if you are planning on driving today: traffic in and out of main cities will be intense and the lakes and the beaches will be full.
In 2024, Easter dates that may affect your trip are mostly in March/ 1st of April:
Friday 29 March – closures are unlikely but may occur if impacted by religious celebrations (for instance in Rome, the Colosseum closes in the afternoon to facilitate the Pope's Via Crucis)
Saturday 30 March – Easter Saturday. High affluence day for tourism everywhere in Italy. Expect crowds.
Sunday 31 March – Easter Sunday. Closures are possible; restaurants will be busy.
Monday 1st April – Easter Monday. Traditionally a day off, expect closure and crowds. Travel will be busy on trains and roads.
The best places to visit in Italy in April
April is such a lovely month in Italy it is hard to pick the best destination for it as, truly, you can visit almost anywhere in April in Italy and find it lovely.
That said, some places are, I believe, even better than others.
Weatherwise, the best places to visit in Italy in April with kids and without are Rome, Venice, Florence, Cinque Terre (end of the month especially), Pompeii, Amalfi Coast (later in the month especially).
Rome – the best city to visit in Italy in April
April brings very changeable weather to Rome however, it is one of my favorite months in the city, especially outside of the busy Easter weekend!
Flowers are already in full bloom in Rome in April and all outdoor attractions from piazzas to the Colosseum and the Forum are simply delightful to explore.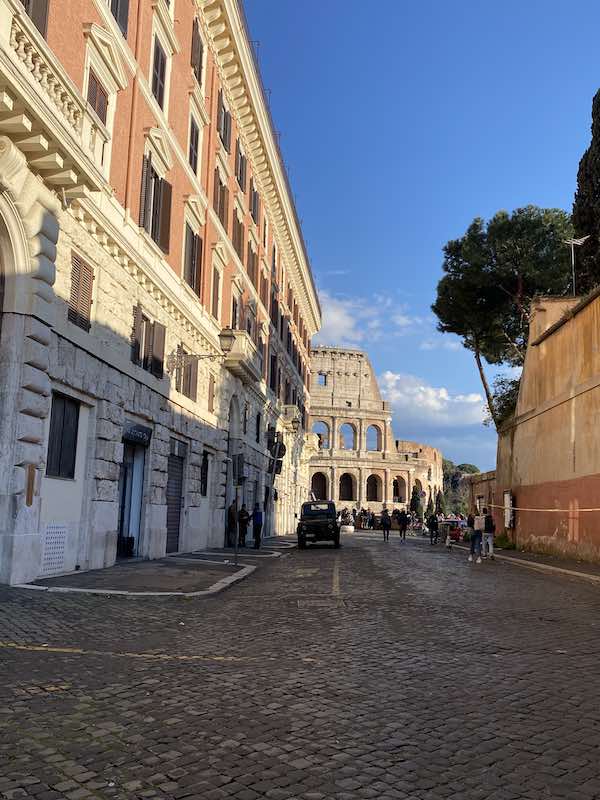 The infinite Rome museums and easy access to day trip destinations make Rome ideal also if you want to stay put yet occasionally wander further afield.
For kids in Rome in April you'll find plenty of fun options such as kids' tours, Explora Children Museum, Ikono Rome, Museum of Illisions, and more.
Since I am from the city, I have more than a couple of tips to give you about visiting in April!
You can find my full guide to visiting Rome in April here
Venice in April
April is one of the best months to visit Venice.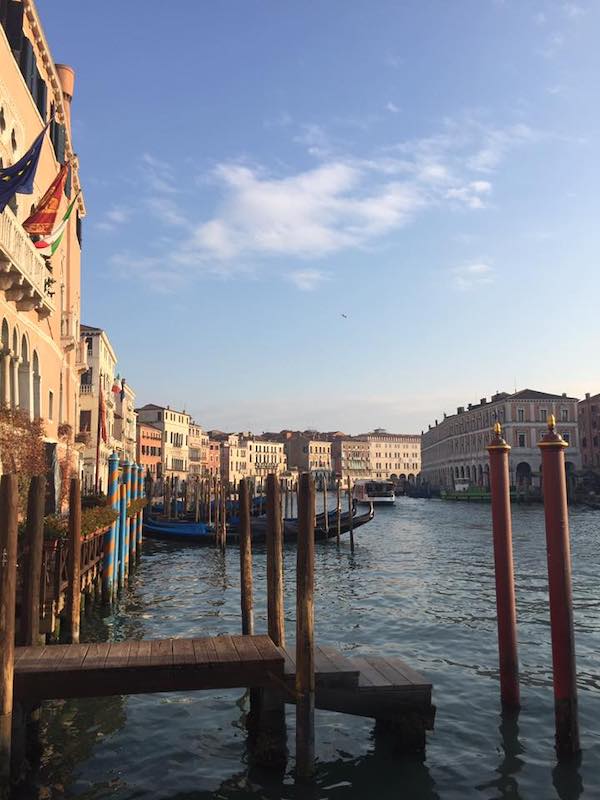 After the damp cold of the winter and the exciting yet tiring crowds of the carnival, Venice in spring welcomes better temperatures and the canals in the sunshine in all their splendor
Piazza San Marco, the Doge's Palace, Rialto but also Cannaregio can be wonderful at this time and, if you get a warm day, it can also be worth stretching to Lido, a lovely beach area in Venice with peculiar architecture.
The lagoon islands of Murano and Burano are also not to be missed at this time.
With kids, you can enjoy all the best Venice has to offer without worrying about Venice's mosquitoes, usually harmless but incredibly annoying for children especially!
You can find our guides to Venice at the following links:
Tuscany in April
Tuscany and its rolling hills go through a magical time in April.
On a sunny day, you can enjoy the stunning rolling hills of this area, go for long days of sightseeing and even sit in the sun on one of the many Tuscany beaches (no swimming, usually just admiring the sea and playing in the sand at this time!
If you are planning a trip to Tuscany with kids in April, I recommend setting expectations straight: pools will be closed at this time and rain is possible.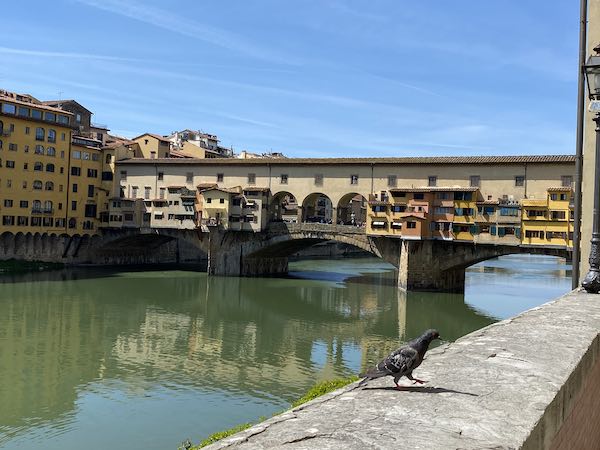 To compensate for this, I recommend considering activities such as cooking classes and kids' museums.
You can find here >>> my selection of the best family activities in Tuscany.
The best places to visit in Tuscany in April are:
Umbria in April
Often considered the little sister of Tuscany, Umbria is stunning in any season and can be a real treat in April.
Depending on the weather, you can enjoy long walks and days along the shores of the regions' lake Trasimeno or you can warm up in its lovely museums and restaurants.
Not to be missed are:
Orvieto – a stunning hilltop town with a long history and one of the most beautiful cathedrals in Italy (the Duomo)
Perugia – a wonderful medieval town
Assisi – the famous and stunning town of St Francis
Gubbio – one od the most beautiful medieval towns in central Italy
Citta' di Castello – a gorgeous Renaissance town
Puglia in April
Puglia is one of my favorite destinations in Italy in April
Further South and often (not always!) warmer than other destinations in this list, in April in Puglia you will be able to enjoy long days out and take in the beauty of Puglia's beautiful towns without the scorching temperatures of the summer.
If visiting with kids, you'll need a bit of luck with the weather as indoor attractions here are not common, yet you'll have enough pretty towns, caves and, on a dry day, Fasano Zoo, that will keep them happy.
You can read here >>> our guide to Puglia with kids
Wonderful places to visit in Puglia at this time are
Trani – a pretty, small village with a stunning church overlooking the sea (a vision!)
Martina Franca – a lovely, whitewashed town with wonderful churches in a unique Baroque style called 'Barocco Martinese'
Alberobello – the famous town of trulli, UNESCO World Heritage Site
Locorotondo – a delightful small town with whitewashed houses and pretty balconies everywhere (they win an annual prize for them, they are so special!)
You can see them all with a short road trip: you can find our 3 day Puglia itinerary here.
Matera in April
Close to Puglia but in the region of Basilicata, you have Matera, another wonderful destination to add to your April itinerary through Italy.
Matera is famous for its rupestrian churches and cave dwellings and can be lovely in spring.
Winter is rigid here and summer can be hot while spring can bring lovely temperatures that make sightseeing easy and do justice to this wonderful city.
You can find our guide to Matera here.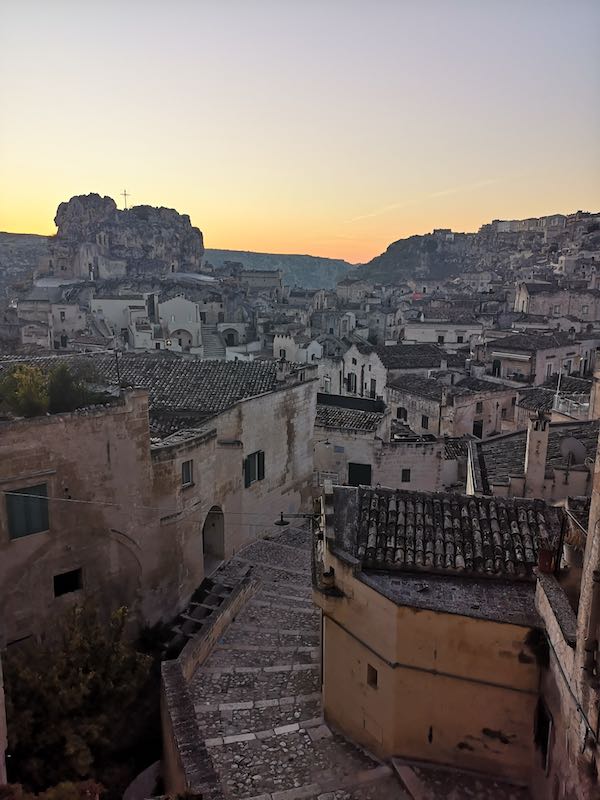 Sicily in April
April can be a good month to visit Sicily however here, like in Puglia, the weather can be hit and miss so I recommend wrapping up, or at least you have layers with you so you can enjoy wonderful Sicily whatever the weather.
April in Sicily is a good time for cultural tourism, rather than and sea and sun vacation since high temperatures, especially towards the end of the month, are not always guaranteed.
If traveling to Sicily in April with kids, I recommend making sure they don't expect a summer destination and it can get really cold here!
I recommend compensating for the potential cold weather with activities such as a visit to the Agrigento Temples, the Salt Plains, Siracusa and Mount Etna.
Sicily is not particularly well equipped with indoor entertainment so if you think your kids may not enjoy a more cultural/exploration type of stay, I recommend coming here later in the season when they can more likely enjoy the beach.
Places we love in Sicily are:
Scopello – a charming small village with a beautiful, historical 'tonnara' (tuna fishing station, not turned cultural/event venue)
Palermo – one of the most beautiful cities in Italy
Taormina – a town with a fantastic ancient theater and a glamorous town center with shops and hotels
Siracusa – a fantastic town with a historical city center and one of the best archaeological parks in Italy
Noto Valley – UNESCO World Heritage Site thanks to the presence of unique baroque towns
You can find our recommended Sicily itinerary here.
Amalfi Coast in April
April can be a wonderful time to visit the Amalfi Coast if you come here for views and food, rather than boating and swimming.
April is the month when tourism starts to resume in this area and while you may find the water too cold for bathing (and you may get rainy days, it is pretty rainy here at this time) on a sunny day the Amalfi Coast simply shines!
If you are in the area at this time, make sure you stay not just on the mainland but also stretch to the island of Capri, Ischia or Procida, a magical Mediterranean paradise this time of the year.
If you stay in the lovely towns of Sorrento, you can easily also use it as a base to discover Pompeii, climb Mount Vesuvius, explore local wineries, and of course stretch to unique Naples!
You can find our guides to the Amalfi Coast at the following links:
Visiting the Amalfi Coast with kids (see below)
Cinque Terre in April
April is the first of the good months for visiting Cinque Terre.
It is the first moment after winter when trails tend to reopen (always check specific conditions for the days of your trip) and a time when spring temperatures allow for drinks in the sun, taking in the stunning views of this area.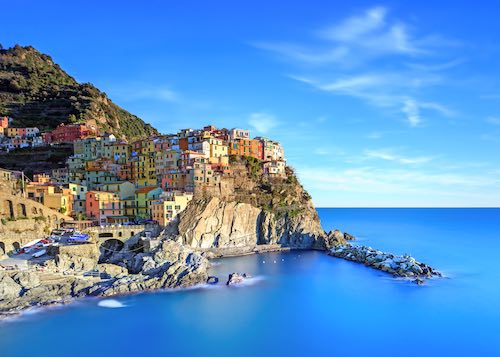 Make sure you book in advance if coming during the Easter holidays and do be ready for rain, always around the corner at this time!
Find our Cinque Terre guides at the following links:
April in Italy with kids
April can be a lovely time to visit Italy with kids as chances are the weather will allow them to spend time and the park and play in the spring sun at least for part of your stay.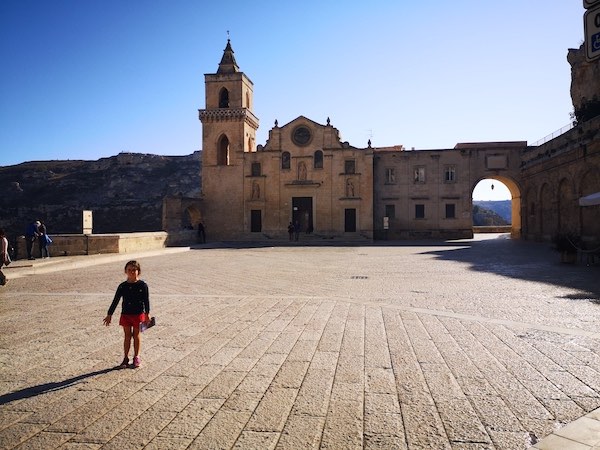 Destinations I feel work well with kids at this time are:
Florence – always lovely with children but way too hot in summer.
Venice – mild and devoid of mosquitoes, hungry and annoying in summer
Tuscany – April has the perfect temperature for hilltop town hopping
Rome – full of indoor and outdoor attractions for all ages
Sicily – mild and beautiful perfect for family sightseeing and the occasional day on the beach (for sandcastles, not swimming)
Looking for family destination ideas in Italy? Find my selection of the best places to visit in Italy with kids here.
What to book in advance for spending April in Italy
April tends to be very busy in Italy, especially around Easter. I recommend you book well in advance anything that is a must for you and this includes attractions, trains, hotels, and transfers.
You do not need to book your meals out unless you have your heart set on a specific place (the usual handful of names tends to go around the web meaning there are long waiting lists for those but don't worry: it is the exception and not representative of the eating out experience in Italy, you'll always find good food!).
The only time when I do recommend booking lunch is Easter, especially if not planning to be in a big center.
Attractions that need advance booking are:
Trains tend to be cheaper if booked in advance. You can find here >>> my guide to train travel in Italy.
I always recommend booking accommodation in advance and my favorite booking engine is booking.com.
They have a large selection of accommodation options and excellent free cancellation opportunities too.
Good to know! Easter Monday is traditionally a day when Italians go on excursions outside the main cities. This means that roads, in particular, can get very congested: should Easter Monday fall in April, it is a good day to stay put and explore locally.
I hope you enjoyed this quick guide to Italy in April. Don't forget to also check out our 101 travel tips for Italy, for extra info. Safe travel planning!